(1) RSR ASSESSES STRAHAN'S NEW BEST TOC. Rocket Stack Rank has prepared an annotated list of the 28 stories in Jonathan Strahan's new Year's Best Science Fiction series (highlights are free online), along with the tweet by Saga Press that shows the stories. To see how the 28 stories ranked among the 2019 Best SF/F, click this link (JStrahan TOC highlighted).
(2) MIDSOUTHCON CANCELLED. MidSouthCon has been "postponed until 2021", which is to say cancelled. The administrator of the Darrell Awards gave an update now that the presentation can't take place there.
What About the 2020 Darrell Awards?

First, they will be given.

Second, the Winners and Runners-up and other Finalists will be announced here and on other social media.

Third, the details of how and when for the above will be decided by the Jury shortly.
(3) ANOTHER SHUTDOWN. Add Anime Boston (April 10-12) to the list of cancelled cons: "Anime Boston 2020 Cancellation Announcement".
As you may be aware, Governor Charlie Baker recently announced a ban on all gatherings of 250 people or more in Massachusetts. This ban is set with no current end date, until the governor announces otherwise. With Anime Boston 2020 scheduled for less than four weeks from now, it is highly likely this ban will still be in place. Given the uncertainty around these new circumstances, we have no choice but to cancel Anime Boston 2020….
(4) PLAN FOR LEFTY AWARDS. The Left Coast Crime mystery convention was brought to an abrupt end on Thursday when the coronavirus outbreak caused local San Diego health officials to restrict gatherings. The event's Lefty Awards would have been voted on by members at the con. Now con committee member Stan Ulrich says they're working on an alternative plan.
As you may know, we vote with paper ballots, and of course the voting period was unexpectedly cut short within a 2-hour period, due to conflicting and poorly-worded San Diego edicts.

We told the assembled folks at the last event, where about 200 attendees were in the room, that we will not be counting the paper ballots that had been cast, but rather would conduct an online vote by all registrants to this convention.

I don't know when that will take place, but I'd hope we can do it very soon. We have many issues to deal with, ones we don't even know about yet, so it will depend on when I can find the time to concentrate on getting it done right. But for now, my intention is to get the e-ballots out in the next few days, after we get home to Santa Fe, and set the system up.
(5) VIRUS-FREE AUDIO. Scott Edelman invites listeners to chow down on crab cakes with Pulitzer Prize-winning book critic Michael Dirda in Episode 117 of the Eating the Fantastic podcast.
Early this week, before it occurred to me that leaving the house to break bread might not be the wisest thing to do considering the times in which we live, I headed to Silver Spring, Maryland for lunch with Michael Dirda at All Set restaurant. Luckily, you won't have to risk contagion from the coronavirus to take a seat at the table and eavesdrop on our conversation.

Michael is a Pulitzer Prize-winning columnist for The Washington Post Book World with a special love for genre fiction. He's the author of the memoir An Open Book, plus four collections of essays: Readings, Bound to Please, Book by Book and Classics for Pleasure. Since 2002, he's been a member of the Baker Street Irregulars, and his book On Conan Doyle was awarded the 2012 Edgar Award in the Best Critical/Biographical category. He's currently at work on The Great Age of Storytelling, an appreciation of British popular fiction of the late 19th and early 20th centuries.

We discussed the convention at which he thought he was about to be punched out by Harlan Ellison, the book he wants to write but which he realizes he could probably never publish, how discovering E. F. Bleiler's Guide to Supernatural Fiction opened a whole new world for him, whether he faced judgment from his peers for believing Georgette Heyer is as important as George Eliot, why he wants to be buried with a copy of The Count of Monte Cristo, how Beverly Cleary's Henry Huggins is like a Proustian madeleine, the way he navigates the tricky act of reviewing the fiction of friends, the word he used which annoyed Gene Wolfe, and much more.
(6) HIS FACE MASK ISN'T ENOUGH. SoraNews24 reports "Jason calls off Friday the 13th activities due to coronavirus".
Hockey-masked Jason has been creeping into everyone's nightmares since making his killing debut in the '80s, and later resurfacing for some more bloodshed in the early 21st century as well. While he's been keeping a curiously low profile recently, this year Jason appeared in Japan in the lead-up to Friday the 13th, giving a surprise press conference to inform everyone that the coronavirus would be impinging on this year's activities.
(7) GAMING THE SYSTEM. BBC finds "Minecraft 'loophole' library of banned journalism".
It started out as a project in an online forum and turned into the best-selling video game of all time, but now Minecraft is being used for something even its creator would not have dreamt of.

The iconic game based around placing Lego-like blocks with more than 145 million players each month has been turned into a hub of free speech.

A virtual library has been meticulously created to host articles written by journalists which were censored online.

Work by Jamal Khashoggi, the journalist killed by Saudi agents in 2018, can be read among the plethora of books in the library.

Minecraft has declined to comment.

The project was created by non-profit organisation Reporters Without Borders, which seeks to defend the freedom of information worldwide, and the Minecraft library itself was built by design studio Blockworks.

Christian Mihr, executive director of Reporters Without Borders Germany, told the BBC that Minecraft was good for the project as he believes it is not seen as a threat by governments which censor their media.

"We chose Minecraft because of its reach," he said. "It is available in every country. The game is not censored like some other games which are under suspicion of being political.
(8) WE DON'T NEED NO STINKIN' BABIES. [Item by Mike Kennedy.] GeekMom isn't shy about sharing this opinion. My advice is to not click through to the article unless you're prepared to read about several major bummer outcomes for these fictional tykes. "Stop With the Superhero Babies! It Never Works".
This is going to sound callous, but I wish creators would stop adding superhero babies to their stories.

Because I hate it when the big two superhero comic companies introduce babies and young children into their stories.

When I saw the teaser panel of a pregnant Catwoman for the upcoming Batman/Catwoman series, I winced.

Do I have anything against little kids and babies? No.

Do I think good stories of superhero parents can be told? Yes.

Do I think that's ever been done on a consistent basis at DC and Marvel?

Heck no.

There are only a few fates available for babies or little kids with superhero parents in comics.
(9) TODAY IN HISTORY.
March 14, 1994 — Robocop: The Series premiered. It stars Richard Eden as the title character. A Canadian produced and directed series, it lacks the graphic violence and intent of Robocop and Robocop 2 that preceded it, and adds a lot more humor. You can see the two-hour pilot episode here. It was adapted from the unused RoboCop 2 script, Corporate Wars which was from the writers of the first RoboCop film, Edward and Michael Miner.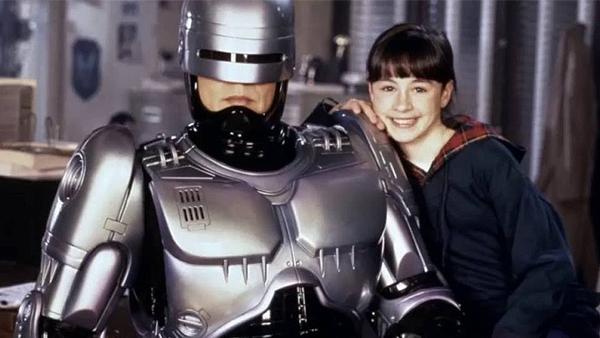 March 14, 1995 — Cyborg Cop II premiered. It's directed by Sam Firstenberg as written by Jon Stevens and Firstenberg. It's obviously the sequel to Cyborg Cop, and stars David Bradley, Morgan Hunter, Jill Pierce, and Victor Melleney. Needless to say, a Cyborg Cop IIII film followed. You can see it here. Unlike Robocop: The Series, it is R rated, so you'll need to sign in to prove you of an an appropriate age.
(10) TODAY'S BIRTHDAYS.
[Compiled by Cat Eldridge.]
Born March 14, 1869 — Algernon Blackwood. Writer of some of the best of the best horror and ghost stories ever done according to the research I just did. Most critics including Joshi say his two best stories are "The Willows" and "The Wendigo". The novel that gets recommended is The Centaur. If you're interested in reading him, he's readily available at the usual digital suspects. (Died 1951.)
Born March 14, 1918 — Mildred Clingerman. Most of her stories were published in the Fifties in F&SF whenBoucher was Editor. Boucher included "The Wild Wood" by her in the seventh volume of The Best from Fantasy and Science Fiction and dedicated the book to her, calling her the "most serendipitous of discoveries." A Cupful of Space and The Clingerman Files, neither available as a digital publication, contain all of her stories. (Died 1997.)
Born March 14, 1948 — Valerie Martin, 72. Her novel Mary Reilly is the retelling of The Strange Case of Dr. Jekyll and Mr. Hyde from the point of view of a servant in the doctor's house. It is a film of the same name with John Malkovich in the lead role. It was nominated for Nebula and World Fantasy Awards.
Born March 14, 1957 — Tad Williams, 63. Author of the Memory, Sorrow, and Thorn series, Otherland series, and Shadowmarch series as well as the most excellent Tailchaser's Song and The War of the Flowers.
Born March 14, 1964 — Julia Ecklar, 56. She's the Astounding Award–winning author for The Kobayashi Maru which is available in English and German ebook editions. She's also a filk musician who recorded numerous albums in the Off Centaur label in the early 1980s, including Horse-Tamer's Daughter, Minus Ten and Counting, and Genesis.
Born March 14, 1971 — Rebecca Roanhorse, 49. Her "Welcome to Your Authentic Indian Experience™" which was first published in the August 2017 of Apex Magazine won both a Nebula and a Hugo as best short story. She also won the 2018 Astounding Award for Best New Writer. Her novel Trail of Lightning was also a Nebula and Hugo nominee.
Born March 14, 1974 — Grace Park, 46. Boomer on the reboot of Battlestar Galactica. She's been on a fair amount of genre over the years with her first acting role being the Virtual Avatar in the "Bits of Love" episode of Outer Limits. After that, she shows up on Secret Agent Man, This Immortal, The Outer Limits again, Star Gate SG-1, Andromeda, and oddly enough, Battlestar Galactica in a number roles other than her main one. I'm sure one of you can explain the latter.
Born March 14, 1978 — Butcher Billy, 42. Brazilian artist and graphic designer known for his art pieces and illustration series based on popular culture. Though ISFDB only lists his Strange Stars: David Bowie, Pop Music, and the Decade Sci-Fi Exploded and Jurassic Park piece, he's active right to the present as he did artwork based on Black Mirrior which in turn led him to being commissioned to do work for the series by series creator Charlie Brooker.
(11) COMICS SECTION.
(12) HIGH CAPACITY. Alasdair Stuart's "The Full Lid 13th March 2020" has a report from planet-forming vessel The Future about their recent…Dalek…unpleasantness. Plus —
We've also got a detailed look at new James Bond sourcebook Bond Vs Bond, an offer of help for anyone whose projects are marooned due to the ever receding tide of events, an update on where I'm at right now and my favorite Kids in the Hall sketches! Which may not be the ones you think…

Signal Boost this week covers Ginger Nuts of Horror and their series on horror and mental health. It also takes a look at Geek Syndicate's latest project, The Nugeroom and the most recent episode of always excellent comics podcast House to Astonish.

Over on the dark side of the street, The Lurking Transmission are one of my favorite new horror podcasts and Dread Singles, home of my favorite esoteric postal deliveries, is launching a newsletter! We've also got the imminent end of season 3 of Flying In The Face of Fate, one of the Lid's favorite shows. Get caught up here.

Elsewhere, Kat Kourbeti is one of my favorite people and she's just started a writing/commentary/media newsletter. If you like The Lid you'll love Honest to Blog.
Finally, Liberty is a constellation of podcasts and comics. It's one of my personal high watermarks for cyberpunk/urban SF and they've just lost some listeners due to a server migration. Treat yourself and go check them out.
(13) THE WAY OUT OF HELL. James Davis Nicoll picks out "Five SFF Characters Seeking Redemption and Trying to Do Better". Here's one of them:
Harry Connolly's Twenty Palaces series protagonist Ray Lilly would have been right at home in a hardboiled crime novel. In the weird horror setting in which he lives, Ray's combination of criminal smarts, blind loyalty, and diminished executive function led him to dabble in the Dark Arts. Unlike most fools who flirt with inadvertently letting extradimensional predators into our world, Ray is given a chance to make amends for his bad judgement. Indeed, he's not given any choice: Ray will spend the rest of his life fighting the horrors he enabled.
(14) ARE YOU SMURFING ME? Never let it be said they blue their opportunity: "'It was the chance to say that we are alive': France hosted a record-breaking Smurf festival amid the escalating coronavirus epidemic".
The novel coronavirus has assailed more than 100 countries, infecting over 121,000 people and causing over 4,300 deaths. And while the outbreak sparked in China, Europe has not been spared: Italy is on lockdown, cases are escalating in Spain and France, and German leaders are bracing for nearly 70% of the country's population to contract the illness. Tourist haunts, shops, universities, and entire towns are deserted.

But the mounting fear of this contagion didn't stop people in western France from setting a Guinness World Record on March 7.

Some 3,500 people dressed up as Smurfs — in blue and white outfits, with painted faces, and toting the characters' trademark pointed hats — gathered in the town of Landerneau. Their goal was to set a record for the largest-ever gathering of the blue, human-like Belgian comic characters.
(15) TIMELY QUESTION. The BBC asks "How do you keep a space station clean?"
The astronauts and cosmonauts on board the International Space Station have brought with them a host of bacteria from Earth. How do they keep them from creating havoc?

By 1998, after 12 years in orbit, Russian space station Mir was showing its age. Power cuts were frequent, the computers unreliable and the climate control system was leaking. But when the crew began a study to assess the types of microbes they were sharing their living space with, even they were surprised at what they found.

Opening an inspection panel, they discovered several globules of murky water – each around the size of a football. Later analysis revealed the water was teeming with bacteria, fungi and mites. Even more concerning were the colonies of organisms attacking the rubberised seals around the space station windows and the acid-excreting bugs slowly eating the electrical cabling.

When each Mir module launched from Earth it was near-pristine, assembled in clean rooms by engineers wearing masks and protective clothing. All the unwanted life now living on the station had been carried into orbit by the multinational group of men and women who subsequently occupied the orbiting laboratory.

We share our lives, and bodies, with microbes. From the bacteria lining our gut, to the microscopic mites nibbling at our dead skin, it's estimated that more than half the cells in our body aren't human. Most of these microbes are not only harmless but essential, enabling us to digest food and fend off disease. Everywhere we go, we take our microbiome with us and – just like humans – it's learning to adapt to life in space….

Her research is timely. By November this year, the ISS will have been occupied continuously for 20 years. After the experience of Mir, biologists have been concerned about what else might be living on board and particularly any microbes that might endanger the station, or worse, the astronauts.
(16) SOUL TRAILER. Disney and Pixar's Soul, in theaters June 19.
Joe Gardner is a middle-school band teacher who gets the chance of a lifetime to play at the best jazz club in town. But one small misstep takes him from the streets of New York City to The Great Before – a fantastical place where new souls get their personalities, quirks and interests before they go to Earth. Determined to return to his life, Joe teams up with a precocious soul, 22, who has never understood the appeal of the human experience. As Joe desperately tries to show 22 what's great about living, he may just discover the answers to some of life's most important questions.
(17) THAT'S COOL. Lyles Movie Files praises the decision to speed up the release date: "Frozen 2 debuts on Disney+ tomorrow".
With little in the way of excitement with the box office delay of Mulan and likely Black Widow, Disney decided to give fans something to be exciting about by releasing Frozen 2 to Disney+ three months ahead of schedule starting Sunday. It was originally set to release June 26.

The film will also arrive on Disney Plus in Canada, the Netherlands, Australia and New Zealand on Tuesday, March 17.

In a statement, new Disney CEO Bob Chapek said "the themes of perseverance and the importance of family are messages that are incredibly relevant during this time, and we are pleased to be able to share this heartwarming story early with our Disney+ subscribers to enjoy at home on any device."
(18) MAN TROUBLE. Andrew Porter was tuned into Jeopardy! the other night when contestants collided with this topic:
Category: Male Writers

Answer: "Me, Alex. Him, this serial novelist who oldest WWII correspondent in South Pacific theatre at age 66"

Wrong question: "Who is Michener?"

Right question: "Who is Edgar Rice Burroughs?"
(19) BETTER THAN JURASSIC PARK. "Blood sucking insect stuck in amber with dinosaur DNA is nothing. Whole dinosaur skull preserved in Amber – now you're talking." — John Hammond.
In this week's Nature: "Tiny fossil sheds light on miniaturization of birds". Tagline "A tiny skull trapped in 99-million-year-old amber suggests that some of the earliest birds evolved to become miniature. The fossil illustrates how ancient amber can act as a window into the distant past."

Dinosaurs were big, whereas birds — which evolved from dinosaurs — are small. This variation is of great importance, because body size affects lifespan, food requirements, sensory capabilities and many other fundamental aspects of biology. The smallest dinosaurs weighed hundreds of grams, but the smallest living bird, the bee hummingbird (Mellisuga helenae), weighs only 2 grams. How did this difference come about, and why? In a paper in Nature, Xing et al. describe the tiny, fossilized, bird-like skull of a previously unknown species, which they name Oculudentavis khaungraae. The discovery suggests that miniature body sizes in birds evolved earlier than previously recognized, and might provide insights into the evolutionary process of miniaturization.
Full research paper abstract (subscribers only for full paper).
(20) STARGIRL. Here's the extended version of the Stargirl trailer. Stargirl debuts Monday, May 11 on DC Universe. It will debut on The CW the next day, Tuesday, May 12.
[Thanks to Mike Kennedy, Eric Wong, Chip Hitchcock, John King Tarpinian, JJ, Cat Eldridge, Martin Morse Wooster, Michael Toman, SF Concatenation's Jonathan Cowie, and Andrew Porter for some of these stories. Title credit goes to File 770 contributing editor of the day Nigel.]