(1) PLEASE, MAY I HAVE SOME MORE? "Editorial Resignations At Big Houses Spark Reckoning" reports Publishers Lunch. Of the four departed editors, one worked for Tor and two for Orbit.
Multiple resignations from the editorial departments at two big houses caused an online reckoning on Friday. Four editors, Angeline Rodriguez and Hillary Sames at Orbit, Erin Siu at Macmillan Children's, and Molly McGhee at Tor all announced their resignations, leading to a discussion about the workload of junior and mid-level employees and the difficulty of advancement across the industry. The online exchange brought into the open the frustrations of increased workload, burnout and turnover that have been brewing as the pandemic continues. Those feelings are intensified as big publishers report record sales and earnings, even as multiple people report on Twitter they believe their employers are not sufficiently reinvesting those proceeds in additional staff, systems and raises.
At the heart of the discussion was McGhee's resignation letter which she posted on Twitter….
McGhee's interview with the New York Times ran under the headline "When Will Publishing Stop Starving Its Young?"
… On March 11, McGhee joined a group of junior and midlevel employees who exited the publishing industry, blaming low pay, unrealistic workloads and burnout. For context: It is extremely difficult, if not impossible, to live in or near New York City (epicenter of bookmaking) on an entry-level publishing salary. Add school loans, subtract a second job or additional subsidy and you risk being factored out of a career in letters before the ink on your college diploma has had a chance to dry.

"As some of you may have heard, today is my last day at Tor Books," McGhee wrote in the resignation letter she shared on Twitter. "My promotion request was denied, and as such I am leaving as my first acquisition (the marvelous THE ATLAS SIX by Olivie Blake) debuts at number three on The New York Times Bestsellers List." She goes on, "Making the NYT is a career high for an editor. It is rare for an assistant to do so and, by all accounts, this should be 'a great beginning' and not a heartbreaking end."

McGhee also cites "the invisibility of the junior employee's workload" as one of her reasons for leaving Tor. As Blake writes in her novel, "We are the gods of our own universes, aren't we?" Indeed we are. But gods cannot live on ramen alone….
The text of McGhee's March 11 message follows: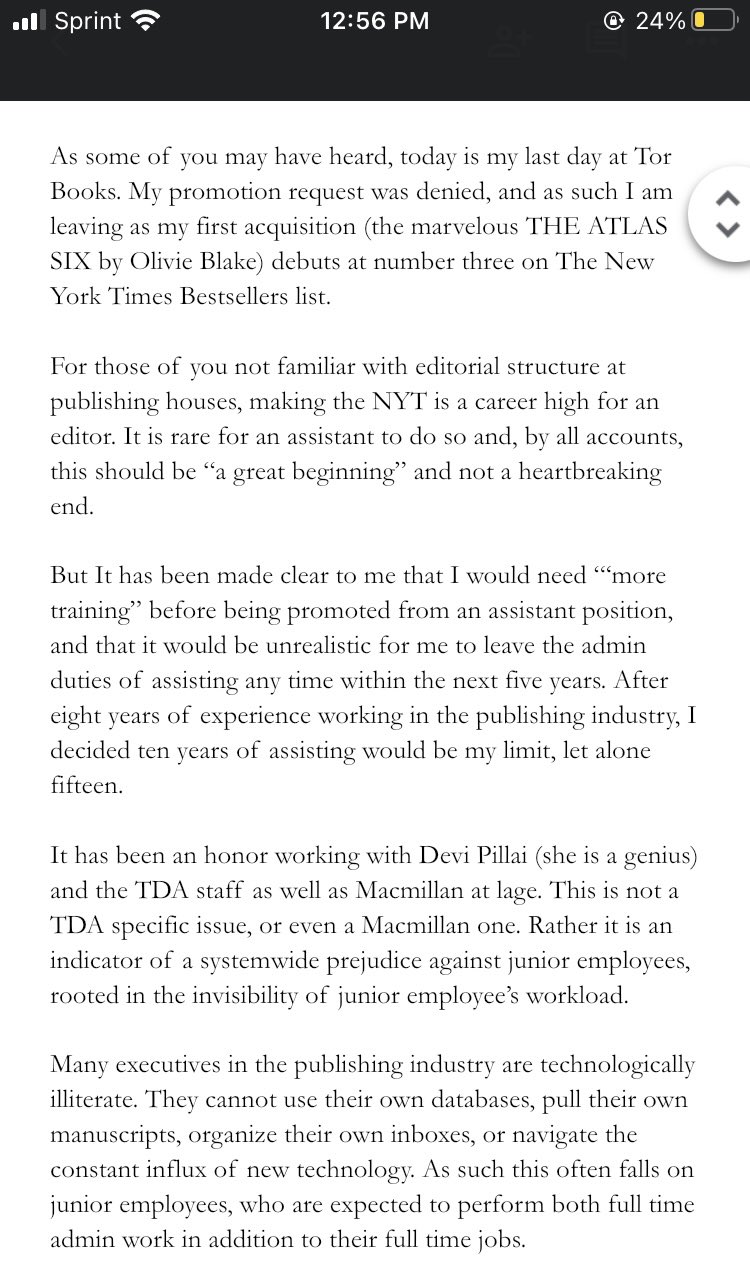 (2) ESA AND ROSCOSMOS BREAKUP. The European Space Agency has suspended the ExoMars rover after Russia's invasion of Ukraine. The ESA ruling council "acknowledged the present impossibility of carrying out the ongoing cooperation with Roscosmos on the ExoMars rover mission with a launch in 2022" – "ESA – ExoMars suspended".
As an intergovernmental organisation mandated to develop and implement space programmes in full respect with European values, we deeply deplore the human casualties and tragic consequences of the aggression towards Ukraine. While recognising the impact on scientific exploration of space, ESA is fully aligned with the sanctions imposed on Russia by its Member States.

ExoMars

ESA's ruling Council, meeting in Paris on 16-17 March, assessed the situation arising from the war in Ukraine regarding ExoMars, and unanimously:
acknowledged the present impossibility of carrying out the ongoing cooperation with Roscosmos on the ExoMars rover mission with a launch in 2022, and mandated the ESA Director General to take appropriate steps to suspend the cooperation activities accordingly;
authorised the ESA Director General to carry out a fast-track industrial study to better define the available options for a way forward to implement the ExoMars rover mission.
Space Transportation

Following the decision by Roscosmos to withdraw their personnel from Europe's Spaceport in French Guiana, all missions scheduled for launch by Soyuz have been put on hold. These concern essentially four institutional missions for which ESA is the launch service procurement entity (Galileo M10, Galileo M11, Euclid and EarthCare) and one additional institutional launch.

Consequently, the ESA Director General has initiated an assessment on potential alternative launch services for these missions, which will include a review of the Ariane 6 first exploitation flights. A robust launch manifest for ESA missions' launch needs, including for spacecraft originally planned for launch by Soyuz from Kourou, will be submitted to Member States.
Likewise, "Russia's War in Ukraine Threatens Joint Missions to Mars, Venus and the Moon" reports Scientific American.
… The strife is impacting otherworldly missions as well: Consider Russia's nascent Venera-D mission, a proposed orbiter and lander meant to blast off for Venus in 2029. The U.S. had been considering allowing NASA to collaborate on Venera-D, perhaps by contributing scientific instruments. But, citing retaliatory sanctions, Russia's space leadership deemed continued U.S. participation in the project "inappropriate."…
(3) RUNAWAY SUCCESS. Brandon Sanderson's record-breaking Kickstarter, "Surprise! Four Secret Novels by Brandon Sanderson by Dragonsteel Entertainment", had raised $29,710,529 when I checked today. With 14 days remaining it will obviously break $30 million and then some.
(4) MS. PRESIDENT. "Stacey Abrams makes surprise appearance on Star Trek as president of Earth" – Yahoo! has the story.
Stacey Abrams just boldly went where no Georgia gubernatorial candidate has gone before.

Abrams, the Georgia politician who's running for governor of the state this year, had a surprise cameo in the latest episode of Star Trek: Discovery, appearing as the president of United Earth.

A scene at the end of the season four finale, "Coming Home," introduces the United Earth president, and Abrams gets several lines, announcing that "United Earth is ready right now to rejoin the Federation, and nothing could make me happier than to say those words." She also has a discussion with Discovery's main character, Michael Burnham (Sonequa Martin-Green), about Earth rejoining the Federation, and this scene closes the episode….
(5) MOFFAT'S NEXT SHOW. "The Time Traveler's Wife shares trailer for new Steven Moffat series" – Radio Times sets the frame.
Sky has released the official teaser trailer for Steven Moffat's adaptation of The Time Traveler's Wife, which will air on Sky Atlantic and NOW in May.

… The six-episode series is the second major adaptation of Audrey Niffenegger's popular novel of the same name, following the 2009 film starring Rachel McAdams and Eric Bana, once again telling the story of a marriage that threatens to be torn apart by time travel. Alongside Leslie and James, the cast also includes Desmin Borges, Natasha Lopez, Kate Seigel and Michael Park.

Of course, it's not Moffat's first time dealing with time travel – following his hugely successful stint as Doctor Who showrunner between 2009 and 2017 – but he's been on record to explain that the two shows share little in common beyond that superficial similarity.
(6) I'VE SEEN THAT FACE BEFORE. [Item by Olav Rokne.] Well, this will certainly be out of the price range of us mere mortals… Virgil Finlay's "Portrait of Robert A. Heinlein" will be up for auction on April 15. "This lot is accompanied by a letter signed by the artist and dated August 5, 1953."
(7) MEDIA BIRTHDAY.
2006 — [Item by Cat Eldridge] Doctor Who ended back in 1989 when the Seventh Doctor as played by Sylvester McCoy had his final story, "Survival." No indication was given beforehand that the show was being cancelled. 
A year after the BBC revived by the show in the UK, Doctor Who returned in the U.S. "Rose" was broadcast in the States on March 17, an episode named for the Billie Piper character who was the first modern companion. Christopher Eccleston played the Ninth Doctor. Briefly. Note that there is no regeneration scene here. Of course as we know there were other Doctors between the Seventh Doctor and this Doctor. Indeed the numbering is suspect, isn't it?
So how was the reception for this new Who? The New York Times liked it: "In most previous versions of the show, so little was going on between the Doctor and his female companions that fans took to making up sex scenes on the Internet, much the way 'X-Files' buffs tried to fantasize a little action between Scully and Mulder. But between the Doctor and Rose there is genuine, old-fashioned chemistry, and their interaction, which occasionally takes on the aspect of screwball comedy, is much the best thing in the show."
And Radio Times succinctly put it, "Think big. Think bold. Think fantastic! For the very first time, Doctor Who achieves a perfect blend of big screen and small screen."
Season One over at Rotten Tomatoes holds a near perfect ninety-six percent rating among audience reviewers.
The entire new series is streaming on HBO Max. The older series is on a number of streaming services of a British nature.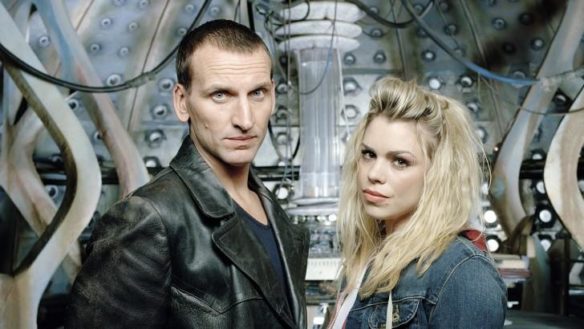 (8) TODAY'S BIRTHDAYS.
[Compiled by Cat Eldridge.]
Born March 17, 1846 — Kate Greenaway. Victorian artist and writer, largely known today for her children's book illustrations. So popular was she and her work that the very popular Kate Greenaway Almanacks appeared every year from 1883 to 1895. Among her best-known works was her edition of Robert Browning's The Pied Piper of Hamelin, Rosa Mulholland's Puck and Blossom and Bret Harte's Pirate Isle. (Died 1901.)
Born March 17, 1906 — Brigitte Helm. German actress, Metropolis. Her first role as an actress, she played Maria and her double, the Maschinenmensch, plus several uncredited roles as well. She's got some other genre credits including L'Atlantide (The Mistress of Atlantis) and Alraune (Unholy Love). Her later films would be strictly in keeping with the policies of the Nazis with all films being fiercely anti-capitalist and antisemitic. (Died 1996.)
Born March 17, 1945 — Tanya Lemani, 77. Iranian-born actress who is one of the victims of Star Trek's "Wolf in the Fold" as the dancer Kara. She has appeared on the original Fantasy Island, Get Smart, I Dream of Jeannie, The Bionic Woman, and The Man from U.N.C.L.E. in one-offs.
Born March 17, 1933 — Penelope Lively, 89. I've actually mentioned her before as Catherine Butler did a work in part on her, Four British fantasists: place and culture in the children's fantasies of Penelope Lively, Alan Garner, Diana Wynne Jones, and Susan Cooper. She's here because I'm very fond of one of her novels, The Wild Hunt of Hagworthy, having a great liking for fiction about that story. She's won the Booker Prize for Moon Tiger and the Carnegie Medal for British children's books for The Ghost of Thomas Kempe.
Born March 17, 1941 — Paul Kantner. A founder of Jefferson Airplane which would become Jefferson Starship. The Dragonfly album, particularly "All Fly Away" and "Hyperdrive" is very genre as well as much of the Jefferson Airship output is genre. "Hyperdrive" would be used in the opening ceremonies at MidAmeriCon (1976). (Died 2016.)
Born March 17, 1947 — James Morrow, 75. Author of the most awesome Godhead trio whose first novel, Towing Jehovah, won a Nebula and a World Fantasy Award and was nominated for a Hugo at Intersection. I'm also impressed by The Last Witchfinder as it's told by a sentient book, Isaac Newton's Principia Mathematica!
Born March 17, 1948 — William Gibson, 74. I've read the Sprawl trilogy more times than I can remember and likewise the Bridge trilogy and The Difference Engine. He won a Hugo at Aussiecon Two for Neuromancer, his only such win, though he had other nominations including for the other two novels in the Sprawl trilogy.
Born March 17, 1951 — Kurt Russell, 71. I know I saw Escape from New York on a rainy summer night in a now century-old Art Deco theatre which wasn't the one I later saw Blade Runner in. I think it's much better than Escape from L.A. was. Of course there's Big Trouble in Little China, my favorite film with him in it. And let's not forget Tombstone. Not genre, you say. Maybe not, but it's damn good and he's fantastic in it.
(9) COMICS SECTION.
(10) YOU BE THE JUDGE. All Squaxx dek Thargo may want to know there's going to be a "Star-studded online convention to celebrate 45 years of 2000 AD". It's free and happening on March 26-27.
Featuring celebrity fans and legendary creators, The Galaxy's Greatest will stream online and for free on 26 and 27 March on 2000 AD's social media channels and YouTube, and Rebellion's dedicated Twitch stream.

The two-day show will feature top flight guests on more than a dozen panels, all discussing the impact of 2000 AD on comics and culture over almost half a century, as well as announcements and new merchandise.

… The event will throw a spotlight on the people who have helped make 2000 AD the galaxy's greatest comic, with creators both new and legendary sharing their stories and insights on the comics-making process — including a feature interview with the co-creator of Judge Dredd and Strontium Dog, John Wagner, as well as panels with Garth Ennis (The Boys, Preacher), Rob Williams (Suicide Squad), Alex de Campi (Archie vs Predator), Sean Phillips (Criminal), Anna Morozova (Judge Anderson), John McCrea (Hitman), Dan Cornwell (Rok of the Reds), Aleš Kot (Zero), and more to be announced.

The next 45 years of 2000 AD will also be discussed with owners and publishers Chris Kingsley OBE and Jason Kingsley OBE, and current editor Matt Smith – now the longest serving editor in 2000 AD history….
(11) SQUELCH THAT RUMOR. Radio Times eavesdrops while "Catherine Tate addresses Doctor Who return rumours".
…The Donna Noble star has been heavily linked with a return to the sci-fi show in recent months, with rumours that she might rejoin the cast for the upcoming 60th anniversary special.

And she addressed those rumours during an appearance on The One Show to promote her new film The Nan Movie, telling Jermaine Jenas that she "probably started a lot of them" herself.

"What can I tell you? No, I wish it was [true]," she said. "Well, no one's been in touch."

But she added: "I'm on the same number, I'd just like to say. So, if you've got the money, I've got the time."
(12) OCTOTHORPE. John Coxon has COVID, Alison Scott wanted to do a podcast, and Liz Batty had no better offers. So it's a short episode of the hosts answering Cora Buhlert's questions. Listen to Octothorpe 53 here: "It Was John's Idea".
(13) BREAKFAST IS SERVED ON ARRAKIS. The New York Times was initiated into "The Secret Sounds of 'Dune': Rice Krispies and Marianne Faithfull".
…We were at Zuma Beach on the kind of warm March afternoon that New York readers would surely prefer I not dwell on, and Villeneuve's Oscar-nominated sound editors Mark Mangini and Theo Green were nearby, pouring cereal into the sand. This wasn't meant to provoke any sea gulls; Mangini and Green wanted to demonstrate the sound-gathering techniques they used to enliven Arrakis, the desert planet where the "Dune" hero Paul Atreides (Timothée Chalamet) discovers his destiny.

"One of the most compelling images in the film is when Paul first steps foot onto the planet," Mangini said. Since the sand on Arrakis is laced with "spice," a valuable and hallucinogenic substance, the sound designers had to find an audible way to convey that something special was underfoot.

By way of explaining it to me, Mangini ground his work boot into the soft patch of sand that he had dusted with Rice Krispies. The sand produced a subtle, beguiling crunch, and Villeneuve broke out into a big smile. Though he'd heard it plenty of times in postproduction, he had no idea what the sound designers had concocted to capture that sound.

"One of the things I love about cinema is the cross between NASA kind of technology and gaffer tape," Villeneuve said. "To use a super-expensive mic to record Rice Krispies — that deeply moves me!"…
(14) FLY LIKE AN EAGLE. [Item by Mike Kennedy.] Time keeps on slippin', slippin', slippin' into the future… At least that's what the Steve Miller Band assured me in their 1976 hit Fly Like an Eagle. Perhaps they assured Elon Musk the same thing (though he'd only have been 5 at the time).
In 2016, Musk told us that humanity would land on Mars by 2024. In late 2020, he revised the landing date to 2026. Now he's telling us 2029. This is hardly the first time that Musk has been forced to change projections for one of his ventures. Nor is it the first time a targeted date for anyone's space launch has slipped.

To me, 2029 still seems ambitious given where we are. But, if Musk (or someone else) does manage to hit that date, it'll be 60 years after the Eagle landed on the Moon. Assuming I live that long (and am still compos mentis), it'd be extraordinary to witness both landings in one lifetime. "Elon Musk Has New Estimate for When Humans Might First Step on Mars" at CNET.

… Starship, which SpaceX is designing to take astronauts to the moon for NASA and eventually to Mars, has made some successful high-altitude flights, but has yet to make it to space.

Musk has made noise over the past two years about federal launch regulations slowing the process of reaching Mars and recently even floated the specter of bankruptcy if SpaceX isn't able to produce Starship's raptor engines more rapidly.

Unsurprisingly, getting to Mars takes planning. As Mars and Earth move around the sun, the two planets move closer to one another and then farther away again. To take advantage of the times when the trip between the two worlds is shortest requires launching during certain windows. The ideal Mars launch windows for this decade are later this year, late 2024, late 2026 and late 2028/early 2029.

It's looking as though Musk's initial ambitions may have been overly optimistic. If his target date slips much further, into the 2030s, it will be more in the ballpark of when NASA has always been aiming in terms of sending the first astronauts to Mars….
(15) BEHIND THE LINES. Enjoy "Greener Grass" a Star Wars short film made with Unreal Engine 5.
(16) VIDEO OF THE DAY. [Item by Martin Morse Wooster.] In "Harry Potter and the Prisoner of Azkaban Pitch Meeting" Ryan George says in the third Harry Potter movie, Voldemort isn't around but Dumbledore still gets to give his annual address on the many ways Hogwarts students can die. And when asked why Hogwarts could produce a book of monsters that is an actual monster, the writer answers, "It's clear wizards don't have any consumer protection laws."
[Thanks to Cat Eldridge, Mike Kennedy, Martin Morse Wooster, JJ, Rich Horton, Gary Farber, Olav Rokne, SF Concatenation's Jonathan Cowie, John King Tarpinian, Andrew Porter, and Michael Toman for some of these stories. Title credit belongs to File 770 contributing editor of the day Olav Rokne.]