(1) BELATED RECOGNITION. BBC explores "Why Octavia E. Butler's novels are so relevant today".
The visionary sci-fi author envisaged an alternate future that foresaw many aspects of life today, from big pharma to Trumpism. Now she has a cult following, writes Hephzibah Anderson.

It's campaign season in the US, and a charismatic dark horse is running with the slogan 'make America great again'. According to his opponent, he's a demagogue; a rabble-rouser; a hypocrite. When his supporters form mobs and burn people to death, he condemns their violence "in such mild language that his people are free to hear what they want to hear". He accuses, without grounds, whole groups of people of being rapists and drug dealers. How much of this rhetoric he actually believes and how much he spouts "just because he knows the value of dividing in order to conquer and to rule" is at once debatable, and increasingly beside the point, as he strives to return the country to a "simpler" bygone era that never actually existed.

You might think he sounds familiar – but the character in question is Texas Senator Andrew Steele Jarret, the fictional presidential candidate who storms to victory in a dystopian science-fiction novel titled Parable of the Talents. Written by Octavia E Butler, it was published in 1998, two decades before the inauguration of the 45th President of the United States.

…Fourteen years after her early death, Butler's reputation is soaring. Her predictions about the direction that US politics would take, and the slogan that would help speed it there, are certainly uncanny. But that wasn't all she foresaw. She challenged traditional gender identity, telling a story about a pregnant man in Bloodchild and envisaging shape-shifting, sex-changing characters in Wild Seed. Her interest in hybridity and the adaptation of the human race, which she explored in her Xenogenesis trilogy, anticipated non-fiction works by the likes of Yuval Noah Harari. Concerns about topics including climate change and the pharmaceutical industry resonate even more powerfully now than when she wove them into her work.

And of course, by virtue of her gender and ethnicity, she was striving to smash genre assumptions about writers – and readers – so ingrained that in 1987, her publisher still insisted on putting two white women on the jacket of her novel Dawn, whose main character is black. She also helped reshape fantasy and sci-fi, bringing to them naturalism as well as characters like herself. And when she won the prestigious MacArthur 'genius' grant in 1995, it was a first for any science-fiction writer.
(2) HOT WORDS ABOUT A COLD CLASSIC. The report in yesterday's Scroll about Cora Buhlert's takeoff on a classic, "The Cold Crowdfunding Campaign", prompted Filers to remember Richard Harter's epic analysis "The Cold Equations – A Critical Study" (thanks to Andrew for finding the Usenet link.)
… Science fiction has been described as a literature of ideas, a literary arena in which the idea is hero. This may well be true. Too often, however, it is a flawed literature of ideas, marked by shoddy treatments received with uncritical enthusiasm. The Cold Equations has been cited an instance of the "literature of ideas" at its best.

In the original article I argued that the story is no such thing but rather that it is an example of systemic blindness to morally obtuse assumptions. This argument is considered in detail below. Given that, one asks: Why is the story so ardently defended – and attacked? Why has the story made such an impression?…
(3) HITLER BACK ON SALE. Amazon admits it simply makes criticism-driven decisions – "Amazon Bans, Then Reinstates, Hitler's 'Mein Kampf'" – the New York Times has the story.
Amazon quietly banned Adolf Hitler's manifesto "Mein Kampf" late last week, part of its accelerating efforts to remove Nazi and other hate-filled material from its bookstore, before quickly reversing itself.

The retailer, which controls the majority of the book market in the United States, is caught between two demands that cannot be reconciled. Amazon is under pressure to keep hate literature off its vast platform at a moment when extremist impulses seem on the rise. But the company does not want to be seen as the arbiter of what people are allowed to read, which is traditionally the hallmark of repressive regimes.

Booksellers that sell on Amazon say the retailer has no coherent philosophy about what it decides to prohibit, and seems largely guided by public complaints.

Over the last 18 months, it has dropped books by Nazis, the Nation of Islam and the American neo-Nazis David Duke and George Lincoln Rockwell. But it has also allowed many equally offensive books to continue to be sold.
(4) IN LIKE FINN. Camestros Felapton calls it "Perhaps the most significant story from a former Sad Puppy ever" – Declan Finn's account of touring Italy with his wife when the coronavirus outbreak shut down the country. Camestros ends his I-read-it-so-you-don't-have-to summary:
The short version therefore of how right wing blogs are reacting plays out in a personal level in Declan's story. Initial scepticism and eagerness to carry on as if it is all a fuss over nothing which then collides with an escalating reality and blaming the government.
Not that you really ought to deny yourselves – Finn fits quite an epic in between requests for money and Dragon Award nominations.
…We went to the Al Italia counter and the moderately long line. It was processed quickly. We came to the counter.

"Americans?"

I showed her the passports.

"No," she said.

No? What do you mean no? Are you going to cancel our flight again? Am I going to have to leap across your sad, pathetic Corona rope line and throttle you into giving us a boarding pass out of this Hell hole? How much more ransom do we have to pay to get us out of here!

She took an abnormally long breath, thought about what she had to say next, and continued, "Other check in, around the corner."

Whew. No manslaughter charges for me today….
While trying to get to their flight they stepped through the wrong door at the airport, ended up on the tarmac, and were corralled by security. Talk about the cold equations — for that violation Italian authorities slapped them with a 4000 euro fine, which is 4497.00 in US dollars. A friend has started a GoFundMe to try and help them recoup some of the money.
(5) WORKING AT HOME, LIKE USUAL. George R.R. Martin began his post "Strange Days" telling about how his theater and other ventures in Santa Fe are closed by the coronavirus outbreak, then gave his personal status:
For those of you who may be concerned for me personally… yes, I am aware that I am very much in the most vulnerable population, given my age and physical condition. But I feel fine at the moment, and we are taking all sensible precautions. I am off by myself in a remote isolated location, attended by one of my staff, and I'm not going in to town or seeing anyone. Truth be told, I am spending more time in Westeros than in the real world, writing every day. Things are pretty grim in the Seven Kingdoms… but maybe not as grim as they may become here.
Inverse took this to mean "Winds of Winter release finally back on track for one unexpected reason".
For now, we're just excited to hear that George is back at work on The Winds of Winter (of course, it's possible he's referencing the script for the upcoming HBO prequel House of the Dragon, but that seems unlikely given the phrasing here).

Winds of Winter was originally scheduled for release in November 2018, but the book got delayed so Martin could focus on Fire & Blood, a "historical" account of House Targaryen that serves as the basis for House of the Dragon. Back in May 2019, he joked in a blog post that if he hadn't finished the book by 2020 Worldcon New Zealand, he should be locked up on New Zealand's White Island until he finished it.

In other words, Martin really wants to be done with Winds of Winter by the end of July when the annual conference takes place.
(6) HYPERFEASANCE. The Balticon committee was surprised when the Renaissance Baltimore Harborplace Hotel started sending out room cancellation notices before they could make an announcement. On March 12, the Governor of Maryland established a ban, of indeterminate duration, on all gatherings of more than 250 people in response to the coronavirus outbreak. The con had been scheduled for May 22-24. The committee told Facebook readers:
After we shut down online registration over the weekend pending a conversation with the hotel, continuing developments with COVID-19 and discussions with the convention committee had convinced the Baltimore Science Fiction Society Board of Directors we likely needed to cancel the convention. However, we had not yet identified a process for doing that with minimal confusion, nor had we had a conversation with the hotel discussing the process. Today we learned that the hotel had started canceling registrations. We were as surprised as everyone else to hear about the canceled reservations and see that our reservations were getting canceled.
(7) NO ÅCON. Finland's Acon 11 has been postponed:
…We could have waited, made the decision closer the convention, but honestly, having spent some weeks following the evolving situation, listening to epidemiologists and public officials in both Finland and Sweden, our conclusion is that the chances of the situation having stabilised in May seem very slim indeed. It's not just a question of whether we would be legally permitted to hold the con in May, but whether we could do it in a responsible manner.

We need to spare everyone involved the unnecessary work and costs. Adlon, our hotel, will take a financial hit. We need to let them know and plan. We want to avoid our members paying for non-refundable travel at a time when the committee don't believe it will be possible to arrange a convention.

Fortunately, we have few costs we can't recoup. …
The con was to have been held May 21-24 in Mariehamn.
(8) A DREAMER ROLE. Trans actress Nicole Maines, who plays Nia Nal, aka Dreamer, on Supergirl, was interviewed by SYFY Wire. "Supergirl's Nicole Maines tells us why Dreamer is more than just a trans character".
Supergirl is not known for its subtlety. Aliens in the show are a thinly veiled metaphor for immigrants, LGBTQ people, and "others." The current story arc is coming to a head with the Agent Liberty storyline, in which a TV personality rises through the ranks of government thanks to his anti-alien rhetoric — which sounds familiar, even his real-world equivalent doesn't have Lex Luthor providing him with fancy gear.

That said, the show is remarkably subtle about a milestone it reached last year: Supergirl features TV's first openly transgender superhero, Dreamer. Rather than make Nia/Dreamer's trans-ness a huge deal, after she came out as transgender, the other characters matter-of-factly accepted her, and it never became an issue….
(9) WORDEN OBIT. Astronaut Al Worden died March 17 at the age of 88 reports Florida Today.
"We remember this pioneer whose work expanded our horizons," NASA Administrator Jim Bridenstine said in a statement.

Worden was one of only 24 people to have flown to the moon. He was also the first astronaut to conduct a deep-space extravehicular activity, or EVA, during Apollo 15's return to Earth in 1971.

During the mission, he orbited the moon dozens of times while astronauts David Scott and James Irwin explored the surface.
(10) TODAY IN HISTORY.
March 18, 1981 — The Greatest American Hero premiered on ABC. Created by producer Stephen J. Cannell, the series features William Katt, Robert Culp and Connie Sellecca. It had to fight off lawsuits from the owners of the Superman copyright who thought the concept and look of the suit was too close to their product. After that, a real Mr. Hinckley tried on March 30th of that year to assassinate President Reagan, so scripts involving protagonist Ralph Hinkley had to be rewritten to be named Ralph Hanley (or sometimes just "Mr.H"). You can see the pilot here. And yes, it's up legally courtesy of the copyright holders.
(11) TODAY'S BIRTHDAYS.
[Compiled by Cat Eldridge.]
Born March 18, 1888 — Alexander Leydenfrost. As an illustrator, he briefly worked for Planet Stories before being signed by Life magazine where the money was better. But his quite brief tenure at Planet Stories is credited with the creation of the enduring cliché Bug Eyed Monster as that's what his illustrations showed. (Died 1961.)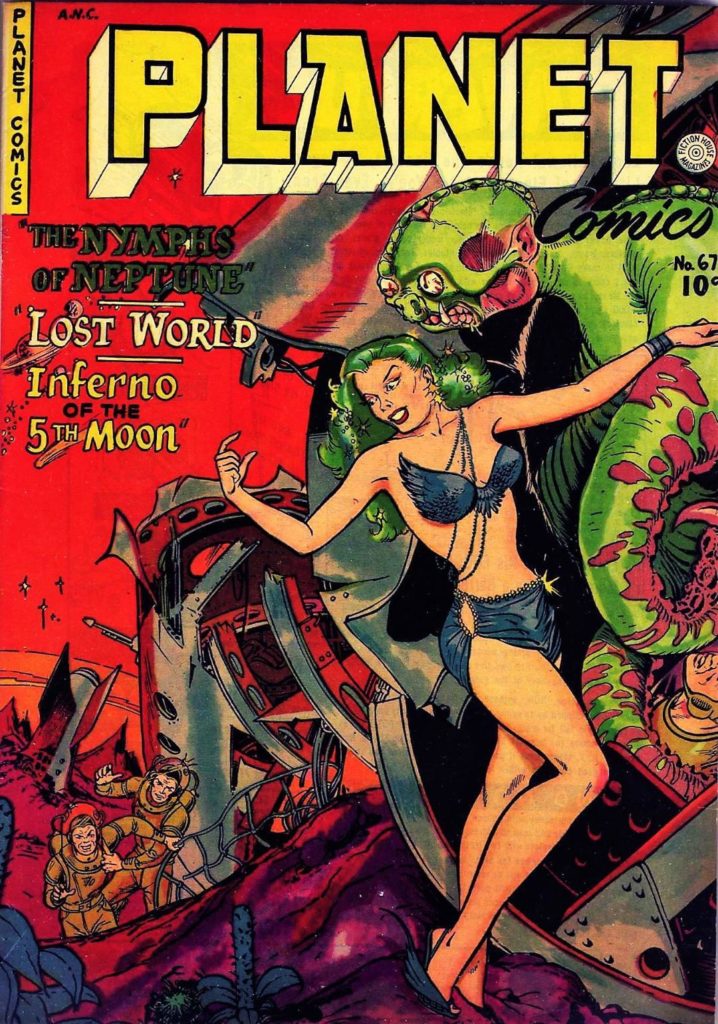 Born March 18, 1926 — Peter Graves. Star of Mission Impossible and the short lived Australian-based Mission Impossible which if you not seen it, you should as it's damn good. I'm reasonably certain his first genre role was on Red Planet Mars playing Chris Cronyn. Later roles included Gavin Lewis on The Invaders, Major Noah Cooper on Buck Rogers in the 25th Century, Doug Paul Martin in Killers from Space and Paul Nelson on It Conquered the World. It's worth noting that a number of his films are featured on Mystery Science Theater 3000 series. (Died 2010.)
Born March 18, 1932 — John Updike. It might surprise you to learn that there are two Eastwick novels, The Witches of Eastwick and The Widows of Eastwick, the latter set some three decades after the first novel ended. He wrote a number of other genre friendly novels including The Centaur, Brazil and Toward the End of Time. (Died 2009.)
Born March 18, 1950 — J. G. Hertzler, 70. He's best known for his role on Deep Space Nine as the Klingon General (and later Chancellor) Martok. He co-authored with Jeff Lang, Left Hand of Destiny, Book 1, and Left Hand of Destiny, Book 2, which chronicle the life of his character. His very TV first role was a genre one, to wit on Quantum Leap as Weathers Farrington in the "Sea Bride – June 3, 1954" episode. Setting aside DS9, he's been in Zorro, Highlander, The Adventures of Brisco County, Jr., Lois & Clark: The New Adventures of Superman, Lois & Clark: The New Adventures of Superman, Charmed, Roswell and Enterprise series; for film genre work, I see The Redeemer: Son of Satan, Treasure Island: The Adventure Begins and Prelude to Axanar (yet another piece of fanfic). In addition, he's done a lot of video game voice acting, the obvious Trek work but such franchises as BioShock 2, The Golden Compass and Injustice: Gods Among Us.
Born March 18, 1959 — Luc Besson, 61. Oh, The Fifth Element, one of my favorite genre films. There's nothing about it that I don't like. I've not seen Valerian and the City of a Thousand Planets and reviews leave me disinclined to do so. The Transporter is not genre but I recommend it as a great film none the less.
Born March 18, 1960 — Richard Biggs. He appeared as Dr. Stephen Franklin on Babylon 5, reprising the role in the final aired episode of Crusade, "Each Night I Dream of Home". Other genre roles included playing Roger Garrett on Tremors, Hawkes In The Alien Within, An Unnamed Reporter on Beauty and the Beast, Dr. Thomson on an episode of The Twilight Zone and a Process Server in an episode of The Magical World of Disney. (Died 2004.)
Born March 18, 1961 — James Davis Nicoll, 59. A freelance game and genre reviewer. A first reader for SFBC as well. Currently he's a blogger on Dreamwidth and Facebook, and an occasional columnist on Tor.com. In 2014, he started his website, jamesdavisnicoll.com, which is dedicated to his book reviews of works old and new; and which later added the highly entertaining Young People Read Old SFF, where that group read prior to Eighties SF and fantasy, and Nicoll and his collaborators comment on the their reactions.
Born March 18, 1973 — Max Barry, 37. He's written a number of novels of which I've read his superb dystopian Jennifer Government and Machine Man when it was online serial. His newest is Providence which sounds fascinating though his book tour in the US got canceled he notes on his blog.
(12) CRUSADING FOR A CAPE. The Guardian's "80 years of Robin: the forgotten history of the most iconic sidekick" is really a call for the character to be written as a woman again – and reminds fans that it wouldn't be the first time.
….Why we've not had more female Robins – or better served ones – is a symptom of a much wider problem. Of the 11 writers announced as contributing to DC's anniversary issue for Robin, only two are women: Devin Grayson and Amy Wolfram. Between January and March last year, women accounted for 16% of the credits on comics released by DC; of writers, only 13% were women. The studio celebrated 80 years of Batman last year, but in that time not a single woman has been at the helm of Batman or Detective Comics. Aside from Grayson's work on Nightwing and Gotham Knights, no female writer has ever written a Batman series. Given how many women are working on Batgirl, Catwoman and Batwoman, it would seem they are restricted to writing female heroes.
(13) A VERY SERIOUS QUESTION. This will make some folks cranky. Tom Morton asks "Avenue 5: Why Is Sci-Fi Comedy So Unfunny?" at Frieze.
… Given the impregnable humourlessness of most sci-fi – from the rigorously logical 'hard sf' of the novelist Isaac Asimov's Foundation trilogy (1951–53) to the dreamy vision of Andrei Tarkovsky's film Solaris (1972) – the genre's tropes should be an open goal for the comic imagination. Why, then, do so many sci-fi themed comedies fail to raise a smile? Partly, it's that parody, as a form, is hard to sustain – witness Seth Macfarlane's television series The Orville (2017–20), a directionless send-up of Star Trek (1966–69), or Mel Brooks's movie Spaceballs (1987), a staggering unfunny Star Wars (1977) take-off. Comparatively better were the first two seasons of British sitcom Red Dwarf (1988–2017). Drawing on the aesthetic of John Carpenter's slackers-in-space movie, Dark Star (1974), the show centred initially on a classic odd-couple relationship between the last human in existence, a warm-hearted scouse wastrel, and his foil, an uptight, socially ambitious hologram. However, when Red Dwarf's popularity and budget increased, it fell into two traps familiar to makers of 'straight' on-screen sci-fi: an overreliance on special effects and (fatally) a fan-servicing emphasis on the lore of its own fictional universe, which destroyed any tension that once existed between the show's 'situation' and its 'comedy'.
(14) CAN YOU DIG IT? Gizmodo says things are looking up for a NASA Mars probe: "And Now for Some Good News: The Mars InSight Heat Flow Probe Is Digging Again".
…But the probe faced trouble on deployment. Impeded by an unexpectedly crusty soil texture that didn't generate enough friction for the probe to dig, it only made it down to around a foot and a half.
(15) JEOPARDY! Some of tonight's Jeopardy! contestants didn't get these sff references. (Honestly, I'd have missed all three myself.)
Category: Places in Fantasy

Answer: The name of this 2-word ancestral dwelling in Tolkien is a play on the translation of the French "cul-de-sac".

Wrong question: "What is Middle Earth?"
Correct question: "What is Bag End?"
---
Answer: Much of the action in the "files" of this guy, the city's resident practicing professional Wizard, takes place in Chicago.

No one could ask, "Who is Harry Dresden?"
---
Answer: In Bill Willingham's graphic novels, Bigby, this foe of Rising Hood, is the sheriff of Fabletown.

Wrong question: "What is Nottingham?"

Correct question: "What is The Big Bad Wolf?"
(16) FUN WITH YOUR NEW HEAD. Will you be The One? An interview with the CEO of Valve: "Gabe Newell: 'We're way closer to The Matrix than people realize'".
"The area that I'm spending a lot of time on has been growing out of a bunch of research that occurred a while ago on brain-computer interfaces," Newell said. "I think that that's kind of long lead stuff, so that's kind of the background thread that I get pulled back into when other things aren't demanding my attention."

Human brains can already communicate with computers directly, though in very limited ways compared to the sci-fi systems of The Matrix or William Gibson's Neuromancer, where physical reality can be totally replaced with a simulated, virtual one. But Newell doesn't think that kind of sci-fi tech is as far off as it might seem.

"We're way closer to The Matrix than people realize," Newell said. "It's not going to be The Matrix—The Matrix is a movie and it misses all the interesting technical subtleties and just how weird the post-brain-computer interface world is going to be. But it's going to have a huge impact on the kinds of experiences we can create for people."
(17) I CAN GET A WITNESS. A participant remembers "Launching the Hubble Space Telescope: 'Our window into the Universe'" – video.
In 1990 the Hubble Space Telescope was launched, putting into orbit one of the most remarkable scientific instruments that has ever existed.

But initially the mission ran into problems, including a flawed mirror that meant the first images from Hubble were blurry.

Nasa astronaut Kathryn Sullivan was one of the five crew members who launched the Hubble.
(18) IT'S A BIRD. Free range dino — "Fossil 'wonderchicken' could be earliest known fowl".
A newly discovered fossil bird could be the earliest known ancestor of every chicken on the planet.

Living just before the asteroid strike that wiped out giant dinosaurs, the unique fossil, from about 67 million years ago, gives a glimpse into the dawn of modern birds.

Birds are descended from dinosaurs, but precisely when they evolved into birds like the ones alive today has been difficult to answer.

This is due to a lack of fossil data.

The newly discovered – and well-preserved – fossil skull should help fill in some of the gaps.

"This is a unique specimen: we've been calling it the 'wonderchicken'," said Dr Daniel Field of the University of Cambridge.

"It's the only nearly complete skull of a modern bird that we have, so far, from the age of dinosaurs and it's able to tell us quite a lot about the early evolutionary history of birds."
(19) TUB THUMPING. Don't miss the Special "Social Distancing" Edition of The Late Show.
If you're watching this from home right now, you're doing the right thing. If you're watching it from your bathtub bunker like our host, please remember to save some hot water for the rest of us. Either way, we're glad you're with us. So stay hunkered down and please enjoy this episode of The Lather Show with Scrubbin' Colbath!
[Thanks to Michael Toman, John King Tarpinian, JJ, Chip Hitchcock, Iphinome, Cat Eldridge, Andrew Porter, Mike Kennedy, Martin Morse Wooster, Contrarius, and Michael J. Walsh for some of these stories. Title credit goes to File 770 contributing editor of the day Jayn.]