(1) READ FOR LIFE. Inc. tells "Why Reading Books Should be Your Priority, According to Science".
People who read books live longer

That's according to Yale researchers who studied 3,635 people older than 50 and found that those who read books for 30 minutes daily lived an average of 23 months longer than nonreaders or magazine readers. Apparently, the practice of reading books creates cognitive engagement that improves lots of things, including vocabulary, thinking skills, and concentration. It also can affect empathy, social perception, and emotional intelligence, the sum of which helps people stay on the planet longer.
(2) SOMTOW. The Thailand Tatler covers Somtow Sucharitkul's fundraising concern for a U.S. orchestral tour: "Siam Sinfonietta Takes To The States".
As the local music scene continues to thrive and as Thai musicians of all ages and styles gain increasing recognition both at home and abroad, the talented youths of Siam Sinfonietta are getting ready to play at Carnegie Hall in the Big Apple for the third time this April as part of the New York International Music Festival.

Siam Sinfonietta is a scholarship orchestra that aims to provide local prodigies with the great opportunities to perform professionally, regardless of background or income. In order to ensure that all 70 musicians and orchestral staff can have a smooth tour of the States in April, Opera Siam is holding a series of fundraising events, such as a recent Star Wars-themed concert on March 15. Find out how you can still support them here.
Listen to the opening of their Star Wars marathon concert – and see his lightsaber conductor's baton!
(3) SOCIETY PAGE. Congratulations to Catherynne Valente!
Rolling up a new character!

First Adventure: September 27th, 2018. pic.twitter.com/rZLwWeShOB

— Catherynne Valente (@catvalente) March 19, 2018
(In case it's a bit obscure, the ultrasound pic is a clue.)
(4) ANOTHER CLUELESS ATTENDANT. Author Fran Wilde was lectured on a plane that her cane could be a weapon.
No ma'am a cane is an assistive device and we apologize for any misunderstanding. We realize Customer Service and positive interactions are key to any trip – please DM your flight details and we'll talk more. -Steve https://t.co/mQmfkXW4oV

— Southwest Airlines (@SouthwestAir) March 19, 2018
(5) BLUE MAN GROUP. Expedition 55 sets new standards in space fashion. Or as David Klaus ad libs, "Are we not Astromen? We are DEVO! Also, if you tailor those uniform coveralls to fit, you have the uniforms of the Starfleet of the NX-01 Starship Enterprise."
(6) BRIAN ALDISS, CURMUDGEON. Kim Huett had to take a short hiatus from Doctor Strangemind which he is determined to make up with a new 3,400 word article "about a story that Brian Aldiss assures me is only 3300 words long. Still, is 3400 words too many for what Brian also assures me is the WORST SCIENCE FICTION STORY EVER!!!"
You'll have to read the article and decide for yourselves: "Brian Aldiss & the Worst Story Ever!!!"
It is my impression that Brian Wilson Aldiss was generally considered to be a stern but fair elder statesman until he passed away in 2017. I, on the other hand, considered him to be far more curmudgeonly than that (he would never have made a passable member of the Beach Boys for example). It also my opinion that Brian Aldiss adopted his curmudgeonly persona relatively early in his career. Oh, but Doctor Strangemind I hear you all cry, Brian Aldiss was never a curmudgeon, at least not until he was old enough to carry the title with a suitable level of gravitas! Ah ha, my poor innocent audience! You have fallen into my cunningly constructed audience trap and now while you lay squirming in the metaphorical mud at the bottom of the pit of unwarranted assumption I'll just sit here on the lip above and tell you all about how in Australian Science Fiction Review #15 (published by John Bangsund in April 1968) that young curmudgeon, Brian Aldiss, did go so far as to accuse two fellow British authors of writing as he put it the, 'WORST SCIENCE FICTION STORY EVER!!!' To quote from Aldiss himself:

There was one story in particular in Authentic which, ever since I read it on its first appearance in 1954, had impressed me as reaching a really impressive level of badness. To my great delight, I found on reading it again that it has grown even worse over the intervening fourteen years. I therefore would like to nominate as the worst sf story ever published:

The Lava Seas Tunnel, by F.G. Rayer and E.R. James, (Authentic SF, edited by H.J. Campbell, Vol.1, no.43, March 1954.)
(7) BUJOLD AT RIVENDELL. The Rivendell Discussion Group of the Mythopoeic Society will host Lois McMaster Bujold at its April 7 meeting in Minneapolis.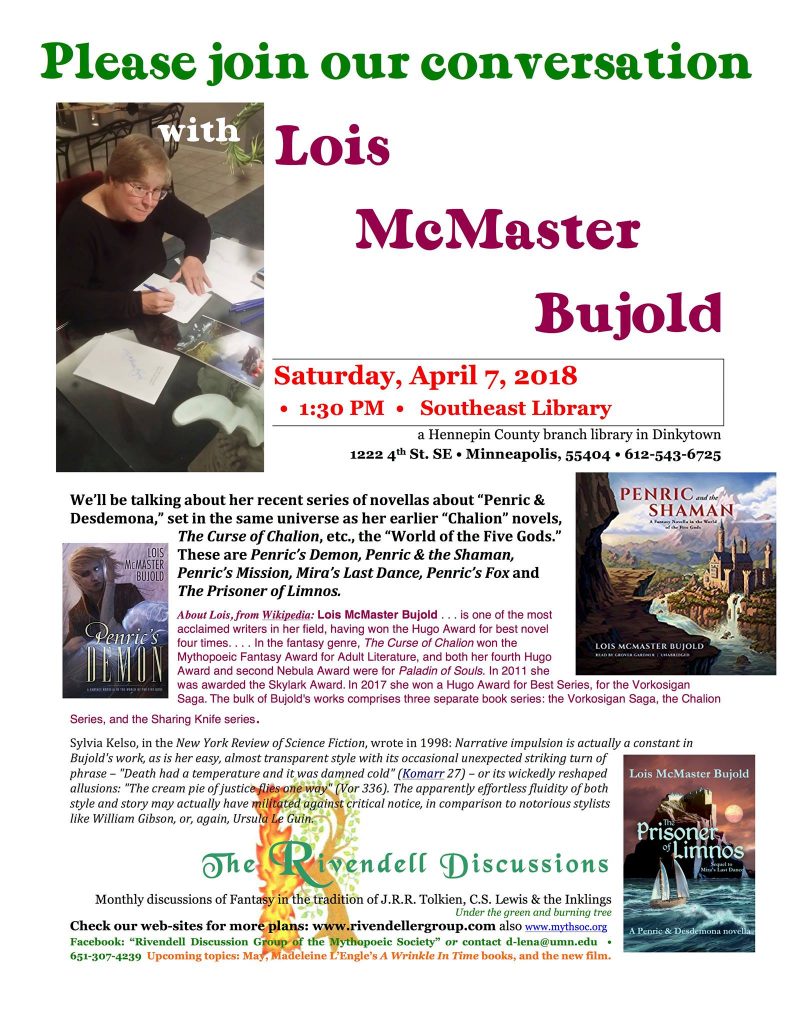 (8) NEED SHARPER HEARING? Cnet says "Spock's 'Star Trek III' ear tips can be yours".
An iconic set of pointy ears worn by Leonard Nimoy in "Star Trek III: The Search for Spock" are up for auction through Lelands.com and they look pretty funky when you see them up close. You'll notice pits and wrinkles in the flesh-colored appliances. On film, they were artfully blended with make-up to match Nimoy's own ears.
(9) CLARKE CENTER. A bonus podcast by the Arthur C. Clarke Center for Human Imagination's associate director sharing his personal reminiscence on Stephen Hawking, who passed away on March 14, 2018. Viirre was the medical director for Hawking's trip into weightlessness on a zero gravity flight in 2007.
Only last December, he accepted the Arthur C. Clarke Award for Lifetime Achievement (his citation and acceptance speech can be seen here), during which he said, "It is no small task to be judged as having met with what would have been Arthur's expectations for intellectual rigor powered by imagination, insatiable curiosity, and concern for our planet and its inhabitants."
(10) TODAY IN HISTORY
March 19, 1999 – Farscape premiered on Syfy.
(11) COMICS SECTION.
Cat Eldridge sent along xkcd's suggestion for multiplying internet outrage.
Mike Kennedy sent Non Sequitur's not exactly funny theory about a trend in closing bookstores.
(12) PRISONER COMICS. First shown on Canadian and UK TV screens in 1967, The Prisoner was co-created, written, directed and starred Patrick McGoohan (Scanners, Braveheart). Titan's new comic series is released for the 50th Anniversary of the first US broadcast in 1968.
Titan Comics are excited to announce that they are partnering with print and poster house Vice Press to create a Diamond UK exclusive cover for The Prisoner Issue #1. This first-ever Vice Press exclusive cover for The Prisoner Issue #1 – designed by Star Wars movie concept artist, Chris Weston – is based on his original silk-screen poster created for Vice Press to mark the 50th Anniversary of The Prisoner hitting US TV screens.

Titan's new The Prisoner comic series, licensed by ITV Studios Global Entertainment, is set in the world of The Prisoner – based on the celebrated cult TV series – from writer Peter Milligan (X-Statix, The Mummy) and artist Colin Lorimer (The Hunt, Harvest)…

"I've made no secret about how The Prisoner is my favourite television show of all time," said Vice Press cover artist Chris Weston, "I have always wanted to create my own artistic tribute to The Prisoner. Fortuitously, my friends at Vice Press offered me the chance to fulfil my lifelong ambition to create a loving artistic homage, timed to coincide with the show's 50th anniversary."
(13) OSCAR'S LOVECHILD C3PO. Joal Ryan, in "Let's revisit the spacy 'Star Wars' Oscars from 40 years ago" at Yahoo! Entertainment, has several clips from the 1978 Oscars, in which Star Wars was the only film of this series to be nominated for Best Picture and when Bob Hope, in his last time as Oscars MC, made some groaning Star Wars jokes.
Bob Hope, as he had done 17 times before, hosted the '78 Oscars. The icon was 74, and this would be his last show as emcee. But he was as quick as ever with the lecherous gag, and the rat-tat-tat monologue that had been punched up with current events. ("1977 will be known as the year of Star Wars, which has grossed over $200 million," one Hope line began. "That's more than even some baseball players make.")
(14) PLATYPUS NEWS. If you thought milking a cow was dangerous…. "Platypus milk: How it could combat superbugs"
Platypus milk could help combat one of humanity's looming problems, antibiotic resistance, scientists say.

The weird creatures have a duck's beak, venomous feet and are one of only two mammals able to lay eggs.

Australian scientists discovered in 2010 that the semi-aquatic animal's milk contains a potent protein able to fight superbugs.

They've now identified why, and say it could lead to the creation of a new type of antibiotic.
(15) ALEXA BASHING. Paris Martineau at The Outline says "Hey Alexa, shut up". My question is: would Paris say that if it was a man's voice?
Why do voice assistants need to talk so much? If you've ever used one of Amazon's ridiculous, yet rather addictive (I have two) Echo products, you know what I'm talking about: Whether you're setting a timer, or asking her to play a podcast, Alexa just won't shut the fuck up. Even when you give it a relatively simple command (like, "Alexa, set an alarm for 6 a.m.," or "Alexa, set timer for five minutes") it always responds with either a partial or total repetition of your phrase ("Okay, alarm set for 6 a.m. tomorrow," or "Timer set for five minutes"), which can be more than a little annoying when it's two in the morning and you don't exactly want a booming robot voice waking your roommates up a wall over.
(16) DRIVING WHILE BETAZOID. From Marina Sirtis' appearance at Dublin Comic Con last year.
Marina Sirtis (Counselor Deanna Troi) tells the hilarious story about driving the Enterprise as well as burning the bridge.
[Thanks to David K.M. Klaus, Mark Hepworth, John King Tarpinian, Danny Sichel, Cat Eldridge, JJ, Andrew Porter, Chip Hitchcock, Martin Morse Wooster, rcade, Brian Z., and Carl Slaughter for some of these stories. Title credit goes to File 770 contributing editor of the day Daniel Dern.]