(1) DON'T BLAB. Mary Robinette Kowal dispenses some wisdom in "Debut Author Lessons: So you've been nominated for an award…"
Over the years, I've learned a few things and so here's the stuff that I've told new Nebula, Hugo, and Campbell finalists.
When they say confidential… What they mean is that they don't want the news to get out into the wider world. There are two reasons for this.
They want to get as much traction with the news as possible. If it trickles out into the world a little at a time, it's less good for everyone, including you.
People are notified at different times. Sometimes this is because of categories and sometimes it is because a nominee declines and they go to the next person on the list.
And that's just the beginning….
(2) TRAILER TIME. Disney Pixar has put out a full trailer for Toy Story 4.
Netflix has released its trailer for the third season of Stranger Things.
(3) WHEN TO EREWHON. The Erewhon Literary Salon will feature Ilana C. Myer and Nicholas Kaufmann on April 11. The readings will take place in the offices of independent speculative fiction publisher Erewhon Books in the Flatiron/NoMad district of Manhattan. To RSVP click here.
ILANA C. MYER has worked as a journalist in Jerusalem and a cultural critic for various publications. As Ilana Teitelbaum she has written book reviews and critical essays for The Globe and Mail, the Los Angeles Review of Books, Salon, and the Huffington Post. Last Song Before Night was her first novel, followed by Fire Dance. She lives in New York.

NICHOLAS KAUFMANN is the Bram Stoker Award-nominated, Thriller Award-nominated, and Shirley Jackson Award-nominated author of six novels and two short story collections. His short fiction has appeared in Cemetery Dance, Black Static, Nightmare Magazine, Dark Discoveries, and others. In addition to his own original work, he has written for such properties as Zombies vs. Robots and The Rocketeer. He lives in Brooklyn, NY with his wife and two ridiculous cats.
(4) REGISTER ON THE RICHTER SCALE. Their ambition isn't to end with a bang, but with a big "Cha-ching!" "CBS Seeks Up to $1.5 Million for Ads in 'The Big Bang Theory' Series Finale".
The average cost for a 30-second ad in "Big Bang" for the current season hovers around $258,500, according to estimates from four media buyers. At $1.5 million, the price for a 30-second spot in the series finale would represent a 480% premium over current-season ad costs.

Yet series finales often draw bigger crowds than a normal episode. The last episode of "Seinfeld" drew 76 million viewers, for example, when NBC showed it on May 14, 1998. And the final original broadcast of "M*A*S*H" lured a whopping 105.9 million viewers when CBS ran it in 1983 – and remains one of the most-watched TV events of all time.

The cost to advertise in each of those shows was eye-popping: NBC sought between $1.4 million and $1.8 million for a 30-second spot in the "Seinfeld" ending, while CBS pressed for $450,000 to run a spot in the last broadcast of "M*A*S*H."
(5) WHEN YOU GIVE AWAY THE STORE. Neil Clarke says the low percentage of readers who subscribe to or financially support sff magazines that make their fiction available free online (obviously) has a big impact on how staff/authors/artists are paid. Discussion thread starts here.
(6) TODAY'S BIRTHDAYS.
[Compiled by Cat Eldridge.]
Born March 20, 1932 — Jack Cady. He won the Nebula Award, the World Fantasy Award, and the Bram Stoker Award, an impressive feat indeed. McDowell's Ghost gives a fresh spin on the trope of seeing seeing a War Between The States ghost, and The Night We Buried Road Dog is another ghost story set in early Sixties Montana. Underland Press printed all of his superb short fiction into two volumes, Phantoms: Collected Writings, Volume 1 and Fathoms: Collected Writings, Volume 2. (Died 2004.)
Born March 20, 1948 — John de Lancie, 71. Best known for his role as Q in the Trek multiverse. He also was Jack O'Neill's enemy Frank Simmons in Stargate SG-1. He has an impressive number of one-offs on genre shows including The Six Million Dollar Man, Battlestar Galactica (1978 version), The New Twilight Zone, MacGyver, Mission: Impossible (Australian edition), Get Smart, Again!, Batman: The Animated Series, Legend (if you've not seen it, go now and watch it) and I'm going to stop there. 
Born March 20, 1948 — Pamela Sargent, 71. She has three exemplary series of which I think the Seed trilogy ilogy, a unique take on intergenerational colony ships. The other two series, the Venus trilogy about a women determined to terraform that world at all costs, and the Watchstar trilogy which I know nothing about. Nor have I read any of her one-off novels. 
Born March 20, 1950 — William Hurt, 69. He made his first film appearance as a troubled scientist in Ken Russell's Altered States, a career-making film indeed. He's next up as Doug Tate in Alice, a Woody Allen film. Breaking his run of weird roles, he shows it's that not bad really Lost in Space as Professor John Robinson. Dark City and the phenomenal role of Inspector Frank Bumstead follows for him. He was in A.I. Artificial Intelligence as Professor Allen Hobby and performed the character of William Marshal in Ridley Scott's Robin Hood. Up next was horror film Hellgate and his role as Warren Mills, a lot more watchable than The Host, and Jebediah's character from Winter's Tale as adapted from the Mark Helprin novel was interesting as wax the entire film. His final, to date that is, is in Avengers: Infinity War as Thaddeus "Thunderbolt" Ross. Two series roles of note, the first being in the SyFy Frank Herbert's Dune as Duke Leto I Atreides. Confession: the digitized blue eyes bugged me so much that I couldn't watch it. The other role worth noting is him as Hrothgar in Beowulf: Return to the Shieldlands. 
Born March 20, 1955 — Nina Kiriki Hoffman, 64. Her first novel, The Thread That Binds the Bones, won the Bram Stoker Award for first novel. In addition, her short story "Trophy Wives" won a Nebula Award for Best Short Story. Other novels include The Silent Strength of Stones (a sequel to Thread), A Fistful of Sky, and A Stir of Bones. All are excellent. Most of her work has a strong sense of regionalism being set In California or the Pacific Northwest. 
Born March 20, 1958 — Holly Hunter, 61. Voiced Helen Parr / Elastigirl In The Incredibles and The Incredibles 2. Also was in  Batman v Superman: Dawn of Justice as Senator Finch. Her very first film role was as Sophie in The Burning, a slasher film. 
Born March 20, 1963 — David Thewlis, 56. His best-known roles to date have been that of Remus Lupin in the Harry Potter film franchise and Sir Patrick Morgan/Ares in Wonder Woman. He also voiced the Earthworm in the animated adaptation of Roald Dahl's James and the Giant Peach as envision by Tim Burton. Earthworms, werewolves, and war gods — great trifecta! 
Born March 20, 1974 — Andrzej Pilipiuk, 45. Polish writer with two genre series currently, the most long running being the one involving Jakub W?drowycz, an alcoholic exorcist. The other is his Ksi??niczka series with three women: a more than thousand-year-old apparently teenage vampire, a three hundred or so year old alchemist-szlachcianka, and her relative, a former Polish secret agent from the CB?. 
Born March 20, 1979 — Freema Agyeman, 40. Best known for playing Martha Jones in Doctor Who, companion to the Tenth Doctor. She reprised thot role briefly in Torchwood. She voiced her character on The Infinite Quest, an animated Doctor Who serial. Currently she's on Sense8 as Amanita Caplan. And some seventeen years ago, she was involved in a live production of Terry Pratchett's Discworld's Lords and Ladies held in Rollright Stone Circle Chipping Norton, Oxfordshire. It was presented out of doors in the centre of two stone circles. 
(7) PEEPS STEM. Let Vox tell you "How crafters are using Peeps to explain science".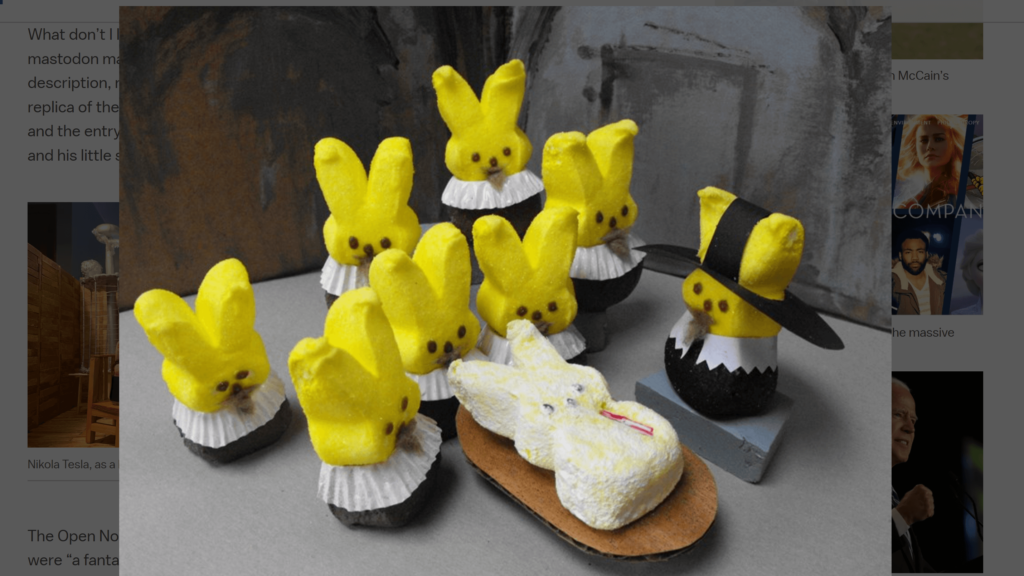 What don't I love about this Peep science contest? A Museum of Natural Peepstory with a mastodon made of Peeps? No, I love it. A diorama of Peepola Tesla which was, according to its description, made by "two teens" with "no input or assistance" from any adults? No, I love it. A replica of the Apollo 11 lunar module surrounded by Peep astronauts, created by "Ben (age 7)" and the entry is captioned, "All peeps and marshmallow material were safely retired into Ben and his little sister's stomach"? No, I love it!

…For the first annual Peep science contest, Mika McKinnon, a geophysicist and disaster researcher, submitted a cross-section of a landslide that took place in the town of Frank, Alberta, in 1903. "At 4:10 AM on April 29, 1903 on the eastern edge of the Rocky Mountains, 30 million cubic meters of rock slammed down Turtle Mountain," reads the horrifying description of the deadly event that, when acted out by Peeps, looks charming and delicious. "The 17 nightshift coal miners buried beneath the slide couldn't reopen the sealed shaft, but instead dug along a coal seam. Just three withstood the increasingly toxic air to break free into the rubble, dragging the others to safety despite their shock over the altered land." And true, there are 17 Peeps, all heroes.

"The problem with working with disasters is that it doesn't always fit in light-hearted ideas," McKinnon tells me. "If you're going to do death and doom and destruction and Peeps, you have to find a way to do it that's respectful to the situation and to history." She chose the Frank landslide because it happened more than 100 years ago, and because in the midst of all the death and destruction, 17 night-shift coal miners managed to pull each other out of the dirt.
(8) BEAR NECESSITIES From 2015: "You can buy 8ft tall teddy bears and no one can handle it".
They used to do a 53? bear but 4.5 feet of soft teddy loving just wasn't enough. Hugbear is only suitable for those aged years three and above. Presumably because it would crush a small child. It costs £199.99 and, amazingly, delivery's included.
(9) SKATING UP THE THAMES. BBC heralds news that "Frozen musical heads from Broadway to London's West End" but Chip Hitchcock adds, "Just in case people across the pond care — Time Out's reaction to the NYC production amounts to 'meh'."
The stage adaptation of Frozen, which opened on Broadway early last year, is coming to London's West End.

It will reopen the Drury Lane Theatre in Autumn 2020 after the theatre's refurbishment, producers confirmed.

The musical is based on the 2013 Disney movie of the same name – the most successful animated film ever, with box office takings of more than £1.25bn,

The storyline of the musical is broadly the same as in the movie, but extra songs have been written for the stage.

Actors currently starring in the Broadway production will stay in New York, while a new British cast will appear in the West End.
(10) THE DEAL IS SEALED. "Disney Officially Owns 21st Century Fox" – got to love this lede:
Homer Simpson probably won't become the newest member of the Avengers, but anything's possible now that Disney owns 21st Century Fox.

One year after Disney announced the $71.3 billion merger, it's finally official. The deal, which closed Wednesday at 12:02 a.m. eastern time, reshapes the media landscape and makes Disney an even greater entertainment behemoth. In bolstering its trove of characters and stories, the acquisition also puts Disney in a stronger position to take on Netflix and other streaming companies, when it launches its own service, Disney+, later this year.

Disney, which already owns the Pixar, Marvel and the Star Wars brands, will now also get Deadpool and the Fox-owned Marvel characters such as the X-Men and Fantastic Four, allowing for the full Marvel family to be united. Disney also now owns former Fox television networks such as FX Networks and National Geographic Partners. Disney will also get Fox's 30 percent ownership of Hulu, giving Disney a controlling share of 60 percent.
(11) IF ONLY. This was mentioned in comments, but here's the NPR story: "Economic Report Of The President … And Some Superhero Friends".
With great power, comes great responsibility.

Or the chance to pull a practical joke.

Pranksters included some whimsical credits buried in the fine print of an annual White House economic report, making it seem that Peter Parker and Aunt May had joined the staff of the president's Council of Economic Advisers.

Spider-Man's alter ego and his aunt are listed among the interns who contributed to the 705-page report, which is nearly a year in the making. Other high-profile interns listed include John Cleese of Monty Python fame, Star Trek character Kathryn Janeway and the uncaped Batman, Bruce Wayne — suggesting the CEA plays no favorites between the Marvel and DC Comics universes.
(12) PEBBLES IN THE SKY. "Hayabusa-2: Asteroid mission exploring a 'rubble pile'". "Brother Guy talked at Boskone about about remote findings that small asteroids aren't solid," remembers Chip Hitchcock. "Here's a locally-confirmed example."
The asteroid being explored by the Japanese mission Hayabusa-2 is a "rubble pile" formed when rocks were blasted off a bigger asteroid and came back together again.

The discovery means that asteroid Ryugu has a parent body out there somewhere, and scientists already have two candidates.

They have also found a chemical signature across the asteroid that can indicate the presence of water, but this needs confirmation.

Ryugu's unusual shape is also a sign that it must have been spinning much faster in the past.

Scientists from the Japanese Space Agency (Jaxa) mission and from Nasa's Osiris-Rex spacecraft, which is exploring a different asteroid called Bennu, have been presenting their latest findings at the 50th Lunar and Planetary Science Conference (LPSC) in The Woodlands, Texas.
(13) EXPLAINING THAT PANCAKE MAKEUP. "New Horizons: Ultima Thule 'a time machine' to early Solar System" – BBC has the story.
Scientists are getting closer to understanding how the distant object known as Ultima Thule came to be.

Nasa's New Horizons spacecraft flew by the 35km-long world on 1 January at a distance of 3,500km.

It's made up of two distinct pieces that once orbited each other before colliding at a gentle speed, team members told a major US conference.

The scientists may also be close to understanding why it's flattened like a pancake, rather than spherical.
(14) WROUGHTEN TO THE CORE. Readers of old SF may recall Heinlein's rolling Stones sifting through asteroids trying to find core: "Psyche: Metal world mission targets 'iron volcanoes'".
Up until now, the worlds we've visited with robotic spacecraft have been composed largely of rock, ice and gas.

But a Nasa mission due to launch in 2022 will visit an object thought to be made largely of metal.

…A widely held idea is that 16 Psyche is the exposed core of an extinct world, perhaps as large as Mars. This proto-planet must have been pounded by other objects, removing the rocky outer layers and leaving just the iron-nickel innards prone to the vacuum of space.

So, while we can't directly study the Earth's core, 16 Psyche provides an opportunity to study one in outer space.
(15) OLYMPIC ROBOTS. Maybe not in the events themselves, but everywhere else: "Tokyo 2020: Robots to feature at Olympic and Paralympic Games".
Sporting events rely on having an army of volunteers to help them run smoothly but Tokyo 2020 will be a little different – robots will be helping out.

The Tokyo 2020 Robot Project will assist wheelchair users at the Olympic Stadium with robots carrying food and drink and providing event information.

Power assisted suits will also be used at venues and athlete villages.

The suits are designed to ease human workload and will be used to move heavy objects and for waste disposal.

"This project will not simply be about exhibiting robots but showcasing their practical real-life deployment helping people," Hirohisa Hirukawa, leader of the project said.
"So there will be not only sports at the Tokyo 2020 Games, but some cool robots at work to look forward to as well.
(16) VIRAL VIDEO. Yesterday's news that dormant viruses reactivate during spaceflight inspired this sketch on Late Night with Stephen Colbert.
The original Star Trek cast suffers a new and very visible indignity…
[Thanks to Andrew Porter, John King Tarpinian, JJ, Chip Hitchcock, Martin Morse Wooster, Mike Kennedy, Carl Slaughter, and Cat Eldridge. Title credit goes to File 770 contributing editor of the day Anna Nimmhaus.]