(1) FACTS ON FILE. Mental Floss rolls out "90 Facts About William Shatner" today on the actor's 90th birthday.
Born March 22, 1931 in Montreal, Quebec, Canada, William Shatner has been an indelible part of popular culture for a good portion of a century. Though he's most recognizable as Captain James T. Kirk in the Star Trek film and television franchise, Shatner's career has encompassed everything from the earliest days of television to spoken-word recordings to his own sci-fi book series (TekWar)….
Yes! These are the kinds of things we need to know!
17. WILLIAM SHATNER WAS PRONE TO STEALING LEONARD NIMOY'S BICYCLE ON THE SET OF STAR TREK.

Ostensibly a prank, it was also Shatner's way of expressing his frustration at Nimoy being able to get to the commissary for lunch faster than everyone else in the cast.

18. WILLIAM SHATNER HAS SOME TROUBLE WITH THE VULCAN SALUTE.

Shatner is apparently unable to do the Vulcan salute, where the Vulcans of Star Trek spread their four fingers to form a "V" shape. When prompted to do so by Conan O'Brien in 2009, Shatner gave the talk show host the middle finger instead.
(2) GOOD COPY. William Shatner is one of the best things that ever happened to science fiction news blogs. File 770 has run 128 items about him over the past 13 years. Here are links to five of my favorites.
(3) FROZEN IN TIME. "William Shatner's Loblaws Commercial" on YouTube has Shat in the Seventies with a really bad toupee having to deal with a dude in a penguin suit while hawking a Canadian supermarket chain.
(4) NYRSF READINGS TOMORROW. The New York Review of Science Fiction Readings series continues with Karen Russell on March 23 at 7:00 p.m. Eastern. This free event can be viewed in the @NYRSF Readings group on Facebook, and on YouTube at https://youtu.be/L9N3j39kFr8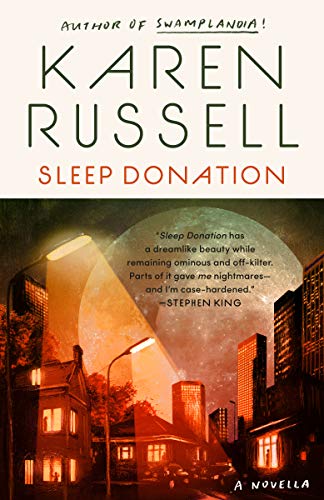 Karen Russell was already considered a great writer when she last read for us at the South Street Seaport in June, 2008, along with Thomas M. Disch. While we've conversed on the radio, it's been all too long since we've been honored to play host here.

Karen Russell's debut novel, Swamplandia!, was a finalist for the 2012 Pulitzer Prize for Fiction. She was also the recipient of a MacArthur Foundation "Genius Grant" in 2013. She has expanded her writing into the realm of non-fiction in the pages of The New Yorker, discussing how the pandemic has changed the English language. Her latest book is a collection of stories entitled "Sleep Donation."
(5) ADVICE FROM SOMEONE WHO'S BEEN THERE. After the close of Hugo nomination voting Cora Buhlert, a Best Fan Writer nominee last year, posted "An Open Letter to the 2021 Hugo Finalists, Whoever They May Be".
5. You can tell a few people you trust about your nomination as long as you know they won't blab it all over the internet. Before the official announcement, a handful of people knew I was a Hugo finalist. These include my parents (whose reaction was, "That's nice," before turning back to watch a rerun of Midsomer Murders), some folks from Galactic Journey and others in the SFF community, who knew not to say anything before the official announcement, as well as my accountant (because I asked her if buying an evening gown for the Hugo ceremony was tax-deductible) and the guy who repaired my patio, because he just happened to be there, when I got the e-mail. Neither the accountant nor the patio guy are SFF fans, so chances of a leak were zero. They both also probably thought I was quite mad.
(6) IT'S LONG. Comedian Leslie Jones did an extended commentary while watching the Snyder Cut of Justice League. Her tweets are not threaded. They are all tagged longassmovie, but so are hundreds of other people's. About all you can do is go to Jones' account and scroll down, down, down. BEWARE SPOILERS, obviously.
(7) MCU GAME EXPANSION. Marvel dropped a teaser trailer for The Avengers: Black Panther–War For Wakanda. Polygon explains: "Black Panther is coming to Marvel's Avengers later this year".
The Black Panther and his native home of Wakanda will be in a Marvel's Avengers expansion called War for Wakanda later this year, Crystal Dynamics and Square Enix announced Thursday during the Square Enix Presents digital showcase. The studio also highlighted the game's most recent update, featuring Hawkeye, which launched alongside the next-gen console version of Marvel's Avengers earlier today.

Klaw — the Vibranium thief played by Andy Serkis in the MCU — seems to be working alongside AIM in the new expansion, working to steal Wakanda's most valuable resource. 
(8) VOICE OF VAUGHN. In Odyssey Podcast #137, Carrie Vaughn, a guest lecturer at the 2020 Odyssey Writing Workshop, answers questions about revision, plot, and point of view during a Q&A session.
Carrie's latest novels include the post-apocalyptic murder mystery, Bannerless, winner of the Philip K. Dick Award, and its sequel, The Wild Dead. She wrote the New York Times bestselling series of novels about a werewolf named Kitty, along with several other contemporary fantasy and young adult novels, and upwards of 80 short stories, two of which have been finalists for the Hugo Award. She's a contributor to the Wild Cards series of shared world superhero books edited by George R. R. Martin, and a graduate of the Odyssey Fantasy Writing Workshop. An Air Force brat, she survived her nomadic childhood and managed to put down roots in Boulder, Colorado. Visit her at www.carrievaughn.com.
(9) MEMORY LANE.
2006 — Fifteen years ago, Neil Gaiman wins the Mythopoeic Fantasy Award for Adult Literature for his Anansi Boys novel, the sequel of sorts to American Gods, which had been published the previous year by William Morrow. It would also win the BFA August Derleth Fantasy Award and a Locus Award for Best Fantasy Novel. It was also nominated for the Grand Prix de l'Imaginaire.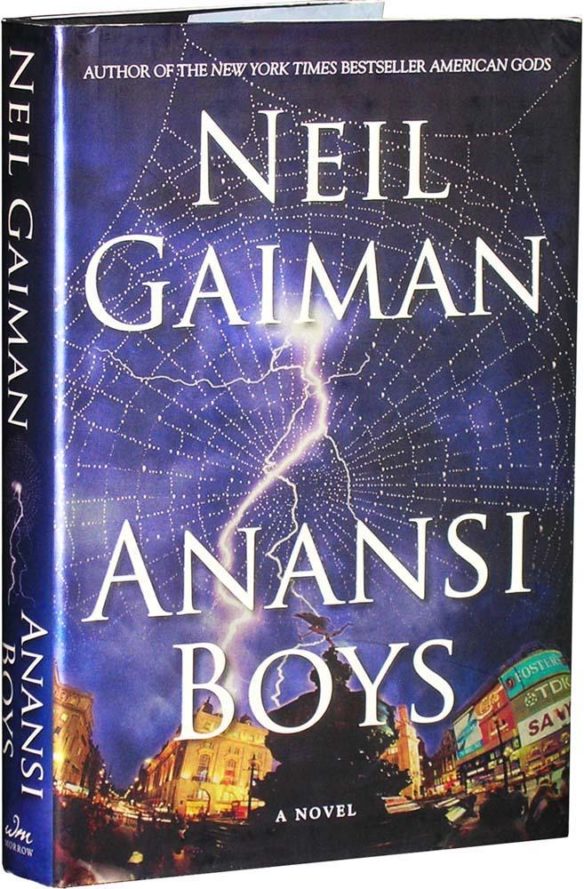 (10) TODAY'S BIRTHDAYS.
[Compiled by Cat Eldridge and John Hertz.]
Born March 22, 1855 – Dorothy, Lady Stanley.  Author, illustrator, painter (exhibiting in London, Glasgow, Liverpool, Manchester; here under her maiden name is His First Offence); married Sir Henry Stanley, edited his memoirs.  Miss Pim's Camouflage for us; Miss P can become invisible; you can read it here.  (Died 1926) [JH]
Born March 22, 1896 – Joe Doolin.  Two covers for Weird Tales, a hundred seventy interiors; Planet Comics, Planet Stories, and the range of air, detective, romance, Western magazines.  Here is the Dec 26 Weird Tales.  Here is a pencil page for "Mars, God of War" in Planet Comics 24.  Here is Planet Comics 54 with Mysta of the Moon.  More about JD here.  (Died 1967) [JH]
Born March 22, 1911 – Raymond Gallun.  Half a dozen novels, ten dozen shorter stories; various pseudonyms; "The Making of a Pulp Writer" with Jeffrey Elliot in Foundation; JE interviewed RG in Thrust, completed RG's memoir Starclimber after RG's death.  First Fandom Hall of Fame.  I-CON Lifetime Achievement Award, later named for him.  (Died 1994) [JH]
Born March 22, 1920 — Ross Martin. Best known for portraying Artemus Gordon on The Wild Wild West. I watched the entire series on DVD one summer some decades back (which included all the films) in less than a month from start to finish. Now that was fun!  It looks like Conquest of Space, a 1955 SF film, in which he played Andre Fodor was his first genre outing. The Colossus of New York in which he was the brilliant Jeremy 'Jerry' Spensser came next followed by appearances on Alcoa Presents: One Step Beyond, The Twilight Zone, Zorro, The Immortal, Night Gallery, Invisible Man, Gemini Man (a far cheaper version of Invisible Man), Quark (truly one of the dumbest SF series ever), Fantasy Island and Mork & Mindy. (Died 1981.) (CE) 
Born March 22, 1920 — Werner Klemperer. Yes, he was Colonel Wilhelm Klink on Hogan's Heroes, but he had a fair amount of genre of work starting with One Step Beyond, and continuing on with Men in Space, The Man from U.N.C.L.E., Voyage to the Bottom of the Sea, Lost in Space, Batman (where he appeared in a cameo as Col. Klink) and Night Gallery. (Died 2000.) (CE)
Born March 22, 1923 — Marcel Marceau. Professor Ping in Roger Vadim's Barbarella. A French mime, and I assume you know that, this is the first time Marceau's voice is heard on film. This is his only genre appearance unless you count the Mel Brooks film Silent Movie as genre adjacent in which case he says the only words in that film. (Died 2007.) ( CE) 
Born March 22, 1946 — Rudy Rucker, 75. He's certainly best known for the Ware Tetralogy, the first two of which, Software and Wetware, both won the Philip K. Dick Award. Though not genre, I do recommend As Above, So Below: A Novel of Peter Bruegel.(CE)
Born March 22, 1950 — Mary Tamm. She's remembered for her role as Romana as the Companion to the Fourth Doctor in "The Key to Time" storyline. It seemed liked she was there longer only because another actress, Lalla Ward, played her in the following season. Ward was soon to be married to Tom Baker.  She also appears briefly in the 20th Anniversary special The Five Doctors through the reuse of footage from the uncompleted story Shada that Douglas Adams wrote. Tamm had only one other genre gig as  Ginny in the "Luau" episode on the Tales That Witness Madness series. (Died 2012.) (CE) 
Born March 22, 1950 — Alex Irvine, 51. I strongly recommend One King, One Soldier, his offbeat Arthurian novel, and The Narrows, a WW II Detroit golem factory where fantasy tropes get a severe trouncing. He's also wrote The Vertigo Encyclopedia which was an in-house project so, as he told me back then, DC delivered him one copy of every Vertigo title they had sitting in the warehouse which was a lot. For research purposes of course. And he's written a fair number of comics, major and minor houses alike.  His newest novel, Anthropocene Rag, sounds intriguing. Has anyone read it? (CE) 
Born March 22, 1954 – John Purcell, age 67.  One short story I know of; current fanzines Askance and Askew; hosted the Fanzine Lounge at LoneStarCon 3 the 71st Worldcon; TAFF (Trans-Atlantic Fan Fund) delegate; chaired Corflu 37 (fanziners' con; corflu = mimeograph correction fluid).  Correspondent of Banana Wings, Flag, Lofgeornost, SF Commentary, The White Notebooks.  College English teacher.  Jazz musician.  [JH]
Born March 22, 1967 – Suzanne Frank, age 54.  Author, journalist.  Five novels for us; one of women ornithologists; detective fiction.  "I see connections everywhere…. identifying and understanding them deepens my appreciation and joy".  [JH]
Born March 22, 1986 – Tara Crowl, age 35.  Two novels, one shorter story.  Has read Notes of a Native Son, We Have Always Lived in the Castle, The Little Prince, Sense and Sensibility, both of Carroll's Alice books, Lolita. [JH]
(11) SHIELD BEARER. David Betancourt in the Washington Post interviews head writer Malcolm Spellman and director Kari Skogland about The Falcon And The Winter Soldier amid speculation that at the end of the series Anthony Mackie as the Falcon will become the first Black Captain America. "Will 'The Falcon and the Winter Soldier' finally bring us a Black Captain America on-screen?"
"The Falcon and the Winter Soldier," the next Marvel Studios event for Disney Plus, debuted the first of six episodes on Friday. The show will follow two Captain America sidekicks, the Falcon/Sam Wilson (Mackie) and Bucky/the Winter Soldier (Sebastian Stan), as they become reluctant partners tasked with carrying the weight of the star-spangled Avenger's legacy. America needs someone to wield the shield once more. Does Uncle Sam think another Sam is the right man for the job? Or will there be resistance to a Black Captain America — and what, exactly, will that imply about the country he has sought to protect?

Series head writer Malcolm Spellman gives credit to the billion-dollar box-office success of 2018's "Black Panther," which gave him the chance to write the journey of the Falcon, another of Marvel Comics' most recognizable Black superheroes. "Black Panther's" story of a secret, wealthy, powerful and technologically advanced African nation going up against a fallen son who was left on his own as a Black man in the American diaspora proved Marvel Studios could approach the subject of race and not lose a global audience.

"'Black Panther' shattered old superhero movies," Spellman said. "Part of why it did that isn't just by what you saw, it's how positively the fans reacted. It proved that you could be relevant and tackle real stuff without alienating people. 'Black Panther' paved that runway for us to bring the America-ness and the obvious struggles that's going to come from a Black man in America going through this [superhero] thing."

Spellman would not specify if Sam Wilson does indeed become Captain America in this series. This is Marvel Studios, after all. No spoilers. The fun is always in the secrets that are discovered along the way.
(12) UNDO OVER. Paul Weimer reviews a time travel novel in "Microreview [book]: One Day All of This Will be Yours by Adrian Tchaikovsky" at Nerds of a Feather.
…Time travel is as old as H G Wells (and there is lovely leitmotif to his time machine) and Time Travel Wars as mentioned above go to Jack Williamson. And guarding time is something that Marvel comics has done with Kang turned Immortus. So the ideas that are on display here are not new, but Tchaikovsky puts his own spin and speculations on the premise of how a Time War would look, and most importantly for the point of the novella, how would someone "win" such a Time War, and what would happen afterwards.

My additional  touchstones for this story, although the novella is very different in tone and style, are Isaac Asimov's The End of Eternity, and Amal El-Mohtar and Max Gladstone's This is How You Lose the Time War. This novella is, spoiler, very much not a romance in the same nature as the Gladstone and El-Mohtar novella is, our protagonists here are very different people, but the novella has the same sort of breezy look at history that their story has. 

One thing I had hoped for in This is How You Lose the Time War, despite its near perfection, was a bit more historical changes and bits. We get them here in Tchaikovsky's novella in spades…
(13) UNREAL ESTATE. Bon Appétite's M.M. Carrigan needs to get out of the house. Maybe out of the planet. "A Eulogy for Mars 2112".
Mars 2112 was a science-fiction themed restaurant and tourist trap in New York City. Few mourned it when it closed in 2012, one hundred years ahead of its time. It was like a Rainforest Cafe, except with aliens, craters, and a spaceflight simulation ride that dropped space travelers off at the hostess stand. Patrons dined in the three-story high Crystal Crater, decorated with neon lights and bubbling lava pools. Martians with names and backstories mingled among the tables for photo ops and conversation. Having been there just once, when I was 18 years old, I can say it was tacky. It was overpriced. It was basically a space-themed version of Applebee's. And goddamn it, I miss it. I miss all of it.

We're over a year into the pandemic. I've been trapped in my house with my wife and children. I'm bored. I'm depressed. And I'm fantasizing about partying with martians.

…We've written so many eulogies for beloved restaurants over the last year. I guess I just wanted to write a eulogy for an unloved one. I miss restaurants. Nah, it's more than that. I miss impromptu stupidity with other people in places designed to make it easy. I miss that magical type of food that's bland and greasy when you're alone but amazing when you're with friends. It's easy to laugh at the unreality of these themed restaurants, the Hard Rock Cafes and Planet Hollywoods and Medieval Times of the world. But after a year in the pandemic, in my 341st day of wearing gym shorts, I've begun to question what real even is….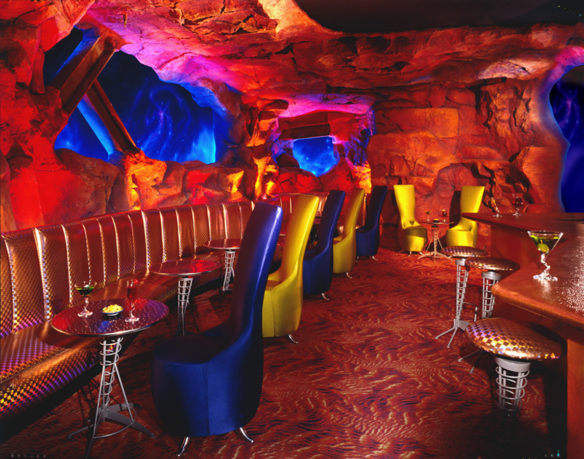 (14) JEOPARDY! Andrew Porter spotted another genre miss on tonight's Jeopardy! epsisode.
Category: Words in books

Answer: We use this word to describe a boy or girl of 11 or 12; Tolkien used it to mean a Hobbit not yet an adult.

Wrong question: What is an adolescent?

Right question: What is a tween?
(15) VIDEO OF THE DAY. in "Zack Snyder's Justice League Pitch Meeting" on Screen Rant, Ryan George says that the four-hour Zack Snyder's Justice League has plenty of room for character development because "you can dedicate a lot of time to characters if you devote half a work day" to your movie.
[Thanks to Cat Eldridge, JJ, Mike Kennedy, Andrew Porter, Michael Toman, John King Tarpinian, Martin Morse Wooster, John A Arkansawyer, and John Hertz for some of these stories. Title credit goes to File 770 contributing editor of the day Paul Weimer.]