An abbreviated Scroll today. You might want to add your own items of interest in comments.
(1) INTERNATIONAL ENTERTAINMENT. [Item by Daniel Dern.] The Social Distancing Festival —
This is a site for celebrating art from all over the world, showcasing amazing talent, and coming together as a community at a time when we need it more than ever.
(2) PENGUINCON 2020 CANCELLED. The announcement was made today.
It is bittersweet news we bring to you today. As you know we have diligently kept our eyes on the situation surrounding COVID-19 and evaluating what we should do in the best interest of our community, our organization, and the community at large.

It is with both sadness, but also with hope, that I am able to announce that the Westin has offered to move our contract to April 2021. This means that Penguicon 2020 has officially been cancelled.
(3) TODAY IN HISTORY.
March 26, 1989 — Quantum Leap premiered. Created by  Donald P. Bellisario (Tales of The Golden Monkey, AirWolf), it starred Scott Bakula as the  time-travelling Sam Beckett and Dean Stockwell as his holographic contact from the future, Admiral Al Calavicci. The series would air on NBC for five seasons gaining a large following after a mediocre start. It has a stellar 97% rating by the audience at Rotten Tomatoes. You can se the pilot here.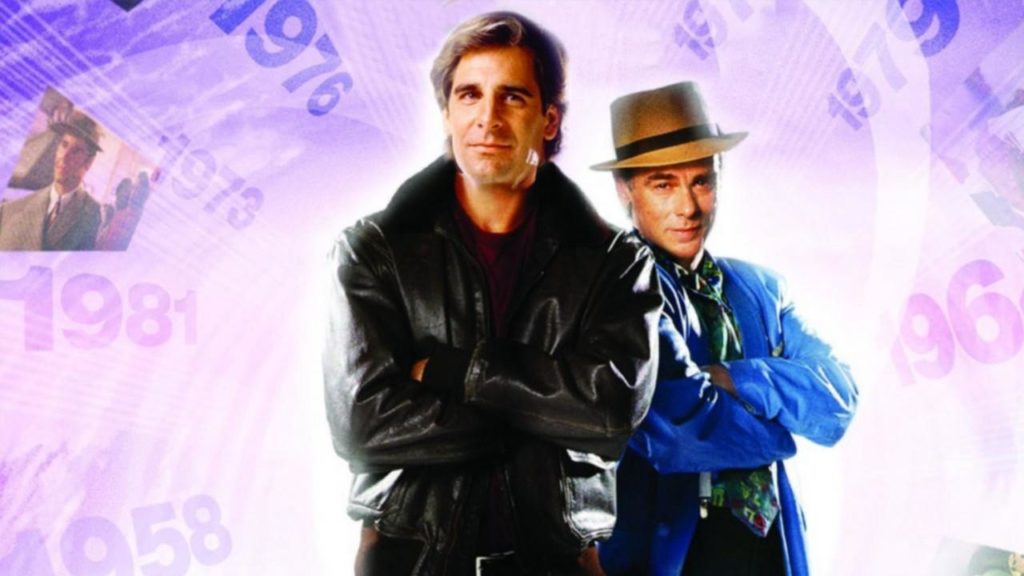 March 26, 2005 — The modern era of Doctor Who premiered with the airing on BBC  of "Rose". Starring Christopher Ecclestone as the Ninth Doctor and Billie Piper as Rose Tyler with Camille Coduri  as Jackie Tyler and Noel Clarke  and Mickey Smith, Russell T Davies was the showrunner snd scriptwriter for that episode which you can see here.
(4) TODAY'S BIRTHDAYS.
[Compiled by Cat Eldridge.]
Born March 26, 1850 — Edward Bellamy. Looking Backward: 2000–1887 is really the only work that he's remembered for today. It's interesting if more than a bit stifled in its language style. He wrote two other largely forgotten works, Dr. Heidenhoff's Process and Miss Ludington's Sister: A Romance of Immortality. (Died 1898.)
Born March 26, 1920 — Alex Comfort. No smirking please as we're adults here. Yes, he's the author of The Joy of Sex but he did do some decidedly odd genre work as well. Clute at EoSF notes  that his "first genuine sf novel, Come Out to Play (1961), is a near-future Satire on scientism narrated by a smug sexologist, whose Invention – a potent sexual disinhibitor jokingly called 3-blindmycin (see Drugs) – is accidentally released over Buckingham Palace at the Slingshot Ending, presumably causing the English to act differently than before." (Died 2000.)
Born March 26, 1931 — Leonard Nimoy. I really don't need to say who he played on Trek, do I? Did you know his first role was as a zombie in Zombies of the Stratosphere? Or that he did a a lot of Westerns ranging from Broken Arrow in which he played various Indians to The Tall Man in which at least his character had a name, Deputy Sheriff Johnny Swift. His other great genre role was on Mission: Impossible as The Great Paris, a character whose real name was never revealed, who was a retired magician. It was his first post-Trek series. He of course showed up on the usual other genre outings such as The Twilight Zone, The Man from U.N.C.L.E., The Outer Limits, Night Gallery and Get Smart. And then there's the matter of "The Ballad of Bilbo Baggins." (Died 2015.)
Born March 26, 1942 — Erica Jong, 78. Witches which has amazing illustrations by Joseph A. Smiths is very much still worth your time nearly forty years on. ISFDB also lists Shylock's Daughter: A Novel of Love in Venice which is a time travel story but it certainly sounds more like a romance novel to me.
Born March 26, 1950 — K. W. Jeter, 70. Farewell Horizontal may or may not be punk of any manner but it's a great read. Though I generally loathe such things, Morlock Night, his sequel  to The Time Machine , is well-worth reading. I've heard good things about his Blade Runner sequels but haven't read them. Opinions please.
Born March 26, 1951 — Brian Bolland, 69. Best remembered as one of the most memorable Judge Dredd artists for 2000 AD, he also did crack work on Camelot 3000 and The Killing Joke as well. The latter received an Eisner Award for Best Graphic Album. 
Born March 26, 1953— Christopher Fowler, 67. I started reading him when I encountered his Bryant & May series which though explicitly not genre does feature a couple of protagonists who are suspiciously old. Possibly a century or more now. The mysteries may or may not have genre aspects (some such as Seventy Seven Clocks are genre) but all are wonderfully weird. Other novels by him which I'd recommend are Roofworld and Rune which really are genre, and Hell Train which is quite delicious horror.
Born March 26, 1985 — Keira Knightley, 35. To my surprise and this definitely shows I'm not a Star Wars geek, she was Sabé, The Decoy Queen., in The Phantom Menace.  Next up for her is Princess of Thieves, a loose adaptation of the Robin Hood legend. Now I didn't see that but I did see her in Pirates of the Caribbean: The Curse of the Black Pearl as Elizabeth Swann though I'll be damned if I remember her role. (She's in several more of these films. Rinse. Lather. Repeat.) I saw her as Guinevere, an odd Guinevere indeed, in King Arthur. Her last role I must note was as The Nutcracker and the Four Realms in which she was the Sugar Plum Fairy! 
(5) WHERE WILL YOU PIN YOUR BADGE? You'll need to decide, because Adri Joy is getting a head start on badge ribbons for the virtual Worldcon.
(6) ALSO IN NEW ZEALAND, Wellington Paranormal is helping out in their own way.
[Thanks to Chip Hitchcock, JJ, Cat Eldridge, Michael Toman, Mike Kennedy, Martin Morse Wooster, John King Tarpinian, Errolwi, and Andrew Porter for some of these stories. Title credit goes to File 770 contributing editor of the day Brian Z.]