(1) VENTURING BEYOND. In "Let's talk about wonderful Indian science-fiction and fantasy novels", Silvia Moreno-Garcia and Lavie Tidhar introduce Washington Post readers to an array of South Asian works.
Amitav Ghosh made history in 1997 as the first Indian author to win the Arthur C. Clarke Award, for "The Calcutta Chromosome." But Ghosh is just one of many writers of must-read Indian science-fiction and fantasy novels. Thankfully, many of these books are becoming more available to American readers — let's hope this trend continues.There are many traditions of science fiction in South Asia, in several languages. "Runaway Cyclone," by the brilliant polymath Jagadish Chandra Bose, first published in 1896 and anticipating the concept of the "butterfly effect," is one of the earliest examples of Indian science fiction. A fantastic introduction to the Tamil pulps is "The Blaft Anthology of Tamil Pulp Fiction," edited by Rakesh Khanna and translated by Pritham K. Chakravarthy. It really is a blast. A more recent anthology is "The Gollancz Book of South Asian Science Fiction," edited by Tarun K. Saint, which includes several new translations….
(2) SIDE BY SIDE. [Item by Danny Sichel.] Music producer Andrew Huang has put up a video called "4 Composers Score The Same Show ft. Virtual Riot, Christian Henson, Tori Letzler, Mark Hadley", which is exactly what the title implies: four different composers produce theme music for the intro sequence to a show about space exploration. As far as I can tell, "Spacetime" doesn't actually exist. Not yet, anyway,
(3) ONCE AROUND THE BLOCK. [Item by Martin Morse Wooster.] In the March 24 Financial Times, gaming columnist Tom Faber discusses "pervasive gaming" or games that take place in the real world.
In 2004 a group of students at New York University developed Pac-Manhattan, a physical simulation of the 1980s arcade game which took the grid of streets around Washington Square park as it stage.  Five people dressed as Pac-Man and his neon ghost nemeses chased each other through the neighborhood, each communicating via walkie-talkie with a 'player' in a control room who gave advice on direction and speed.  Excited passers-by couldn't resist joining in, tipping off the ghosts that they had just seen Pac-Man slip away down a side-road.

One player found Pac-Manhattan such a tough workout that he felt sick. It didn't take long for developers to realise that video games could be beneficial in getting people to exercise in real life, perhaps best articulated in the 'exer-game' Zombies, Run!  This app turns your weekly jog into a gripping story of zombie outbreak as you listen to audio narratives that urge you to run faster to outpace the brain-hungry horde, pick up supplies for base camp, and unravel mysteries which include a cameo from writer Margaret Atwood.
(4) SHOULD DRAGON CON TAKE A STANCE? The discussion continues.
(5) A VERY BIG DEAL. After reading this Hollywood Reporter scoop, "George R.R. Martin Signs Massive Five-Year Overall Deal with HBO", you might expect to see the streaming service renamed GRRM Max.
George R.R. Martin is founding a new content kingdom at HBO.

The Game of Thrones author just signed a massive overall deal to develop more programming for the network and its streaming service, HBO Max.

Sources say Martin's contract spans five years and is worth mid-eight figures.

The news comes on the heels of a surge of Game of Thrones prequels being put into development. All told, the network has five projects based on Martin's A Song of Ice and Fire fantasy world in the development stage and one (House of the Dragon) that's been greenlit to series.

The four-time Emmy winner is also developing for HBO the series Who Fears Death (an adaptation of Nnedi Okorafor's award-winning 2011 postapocalyptic novel) and Roadmarks (an adaptation of Roger Zelazny's 1979 fantasy novel), both of which he will executive produce.
(6) WHERE GOMER AND GOOBER TROD. So, it only took me 50+ years to notice this: "40 Acres" at Memory Alpha. (Hat tip to John King Tarpinian and Steven Paul Leiva.)
…The last time Star Trek utilized the backlot was for the filming of "The City on the Edge of Forever" on Friday 3 February 1967, where the "Mayberry" sets represented 1930 New York City. Several buildings and signs from The Andy Griffith Show can be seen in the episode, including Floyd's Barber Shop.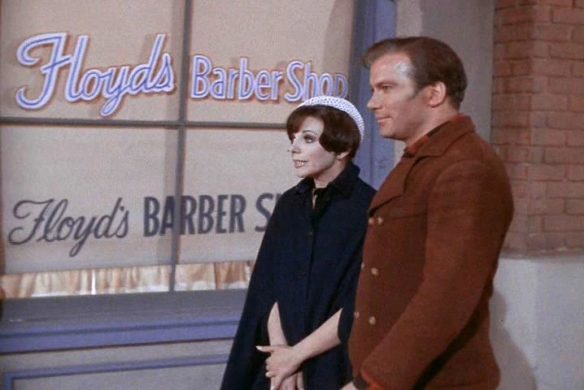 (7) MEDIA BIRTHDAY.
March 27, 1968 — On this day in 1968, Planet Of The Apes had it a full U.S. wide release after several smaller city wide openings. It was directed by Franklin J. Schaffner. It starred Charlton Heston, Roddy McDowall, Kim Hunter, Maurice Evans, James Whitmore, James Daly and Linda Harrison. The screenplay was by Michael Wilson and Rod Serling, and was somewhat based on Pierre Boulle's La Planète des Singes. It was not on the final Hugo ballot in either 1968 or 1969 for Best Dramatic Presentation, though it was met with critical acclaim and is widely regarded as a classic film and one of the best films of 1968. Audience reviewers at Rotten Tomatoes give it an 87% rating with over 117,000 having expressing an opinion! 
(8) TODAY'S BIRTHDAYS.
[Compiled by Cat Eldridge and John Hertz.]
Born March 27, 1901 – Carl Barks.  If invention + execution + comedy isn't the whole of greatness in comics – notice I presuppose there can be greatness in comics – it's much, and that was Barks.  Will Eisner called him the Hans Christian Andersen of comic books, which CB's work with Donald Duck would be enough to sustain: invented Duckburg, Scrooge McDuck, the Junior Woodchucks, the Beagle Boys, Gyro Gearloose, and the duck adventure stories.  Shazam, Inkpot, Disney Legends Awards.  Academy of Comic Book Arts, Eisner, and Hearst Cartoon Halls of Fame.  (Died 2000) [JH]
Born March 27, 1917 – Stanley Meltzoff.  A score of covers for us; outside our field, The Atlantic, Life, National Geographic, The Saturday Evening Post, Scientific American; became known for studies of marine life, particularly saltwater game fish.  Here is The Demolished Man.  Here is the May 55 Magazine of Fantasy & Science Fiction.  Here is Revolt in 2100.  Here is The War Against the Rull.  Posthumous artbook Stanley Meltzoff.  (Died 2006) [JH]
Born March 27, 1935 – Race Mathews, age 86.  Founding member of the Melbourne SF Club, with Membership No. 1.  Went into politics, held Government office during Aussiecon 2 the 43rd Worldcon; read his speech here and here.  Later reflections on SF in Victoria, Andromeda Spaceways Inflight Magazine 3.  [JH]
Born March 27, 1942 — Michael York, 79. I remember him in the Babylon 5  "A Late Delivery from Avalon" episode as a man who believed himself to be King Arthur returned. Very chilling. I also enjoyed him as D'Artagnan in the Musketeers films and remember him as Logan 5 in Logan's Run. So what on his genre list that really impresses you? (CE) 
Born March 27, 1952 — Dana Stabenow, 69. Though better known for her superb Kate Shugak detective series, she does have genre work to her credit in the excellent Star Svensdotter space series. The latter is available at the usual digital suspects. (CE)
Born March 27, 1953 — Patricia Wrede, 68. She is a founding member of The Scribblies, along with Pamela Dean, Emma Bull, Will Shetterly, Steven Brust and Nate Bucklin. Not to be confused with the Pre-Joycean Fellowship which overlaps in membership. Outside of her work for the the Liavek shared-world anthology created and edited by Emma Bull and Will Shetterly, there are several series she has running including Lyra (Shadow Magic), Enchanted Forest Chronicles and Cecelia and Kate (co-written with Caroline Stevermer). She's also written the novelizations of several Star Wars films including Star Wars, Episode I – The Phantom Menace and Star Wars, Episode II – Attack of the Clones in what are listed as 'Jr. Novelizations. (CE) 
Born March 27, 1962 – Kevin J. Anderson, age 59.  A hundred thirty novels, some with co-authors including wife Rebecca Moesta, a hundred eighty shorter stories; anthologies; essays, letters, prefaces, reviews; interviewed in Clarkesworld, Galaxy's Edge, Lightspeed, SF Chronicle, Vector.  Geffen, Golden Duck Awards.  Guest of Honor at Baycon 1999, Philcon 2004, Ad Astra 27, MidSouthCon 28, Rustycon XXX, Archon 34 (all with Moesta), OryCon 27, LepreCon 31, LibertyCon 26 – to name a few.  [JH]
Born March 27, 1969 — Pauley Perrette, 52. Though she's best known for playing Abby Sciuto on NCIS, she does have some genre roles. She was Ramona in The Singularity Is Near, a film based off Ray Kurzweil's The Singularity Is Near: When Humans Transcend Biology. Next up is the most excellent Superman vs. The Elite in which she voices Lois Lane. Let's see… she had a recurring role on Special Unit 2 as Alice Cramer but I never watched that series so I've no I idea what it was. (CE) 
Born March 27, 1970 – Gina Ochsner, age 51.  A novel, two shorter stores for us.  Outside our field, stories in Glimmer Train, The Kenyon Review, The New Yorker, Ploughshares, Tin House.  Grub Street Book Prize, Shirley Jackson and Flannery O'Connor Awards, Kurt Vonnegut Prize.  [JH]
Born March 27, 1971 — Nathan Fillion, 50. Certainly best known for being Captain Malcolm "Mal" Reynolds in Firefly 'verse. An interesting case of just how much of a character comes from the actor I think. In his case, I'd say most of it. He voiced Green Lantern/Hal Jordan in Justice League: Doom, Justice League: The Flashpoint Paradox and Justice League: Throne of Atlantis, The Death of Superman and Reign of the Supermen. Oh, and he appeared in a recurring role in Buffy the Vampire Slayer as Caleb. (CE) 
Born March 27, 1981 – Liliana Colanzi, Ph.D., age 40.  Four short stories, one collection available in English.  Premio Internacional de Literatura Aura Estrada.  Co-editor of Latin American Speculative Fiction.  Teaches at Cornell.  [JH]
(9) COMICS SECTION.
Lio finds that "real" robots scoff at sitcom robots.
(10) FALCON 9 BLAZES BACK INTO ATMOSPHERE. [Item by rcade.] Video shot in Cannon Beach, Oregon, Thursday night shows the spectacular breakup of an object coming back to Earth as a girl asks, "Mom, are we OK?"
Ars Technica senior space editor Eric Berger reports that it was the second stage of the SpaceX Falcon rocket breaking up three weeks after the launch put 60 Starlink satellites in low-Earth orbit. "A Falcon 9 rocket making an uncontrolled re-entry looked like an alien armada".
The entire mission was nominal, except for a problem with the rocket's second stage. Typically, within an orbit or two of launching, the Falcon 9 rocket's Merlin vacuum engine will relight and nudge the second stage downward so that it harmlessly re-enters Earth's atmosphere into the Pacific Ocean. …

However, there was not enough propellant after this launch to ignite the Merlin engine and complete the burn. So the propellant was vented into space, and the second stage was set to make a more uncontrolled re-entry into the atmosphere.
(11) WRITING CHALLENGE ACCEPTED. John Scalzi is auditioning a sentence for his new book.
(12) LEFTOVER CANDY. [Item by Dann.] Mark "Minty" Bishop has a "10 things" video about the movie Willy Wonka and the Chocolate Factory. He managed to have most of his list be things that I had not already heard about this classic movie. "10 Things You Didn't Know About Willy Wonka and the Chocolate Factory".
(13) PAN, TEXT AND MOVIE COMPARED. [Item by Dann.] The Disney Story Origins podcast has released a two-episode review of Peter Pan. Author and podcaster Paul J. Hale compares the classic movie with the book and the play written by JM Barrie. He, perhaps unwittingly but probably not, also provides some illumination on the Disney movie Hook. As always, Paul provides an extensive bibliography for those that want to read a bit more.
(14) JUPITER'S LEGACY. SYFY Wire has revelations about a new series in "Mark Millar teases Jupiter's Legacy at WonderCon 2021".
Earlier this week, we reported on some quotes from Mark Millar about Netflix's upcoming television adaptation of his seminal comic book: Jupiter's Legacy. Millar, who created the IP with artist Frank Quitely, teased the sheer scope of the show, stating: "The story starts in 1929 and runs until the end of time. It runs through all time and space and explains the mystery of human existence." He also described the project as "the greatest superhero epic of all time."

The show's ensemble cast doubled down on that bold sentiment during a virtual WonderCon panel released Friday.

"I feel like this is the ultimate [superhero story] because it's so detailed and you get to stay with these characters — with all their flaws — for over a hundred years," said Mike Wade, who plays the role of Fitz Small/The Flare, the heart and soul of the world's greatest team of heroes known as The Union. "It's like an evolution of the genre. I don't think there's any going back after Jupiter's Legacy."…

Ben Daniels (Walter Sampson/Brain-Wave, older brother of Josh Duhamel's Sheldon Sampson/The Utopian) added that there's some real "gravitas" to the story. "It's first and foremost a drama," he said, "and then suddenly, we are superheroes as well. But it's the drama of it all that is really strong … these characters are all shades of gray and it's really exciting to see how that becomes a metaphor for America. But then it's much more universal well … It feels really fresh and current. It feels like it could be written now with the state of the world."
(15) A LITTLE MISTAKE. CrimeReads' Olivia Rutigliano reminds everyone about "That Time Scientists Discovered a Creature in Loch Ness and Then Realized It Was a Sunken Prop from The Private Life of Sherlock Holmes".
I just wanted to remind you all of the time, in 2016, when a Norwegian organization called Kongsberg Maritime sent a high-tech robot down into Loch Ness to scan the depths, and it sent back sonar scans of a creature that looked exactly like the Loch Ness monster. Sadly, very sadly, this turned out to be a model of the Loch Ness Monster built for Billy Wilder's film The Private Life of Sherlock Holmes, which had accidentally sunk into the Loch during filming in 1969….
(16) VIDEO OF THE DAY. In "The Snyder Cut and The Power of Fandom" on YouTube, the Royal Ocean Film Society notes the Snyder Cut is the latest episode of fans demanding director's cuts or continuing series (remember the campaign for Jericho?) but that the Snyder Cut fracas shows "there are more fans now and they're louder than ever before."
[Thanks to Martin Morse Wooster, JJ, Cat Eldridge, Danny Sichel, Andrew Porter, rcade, Dann, Rob Thornton, John Hertz, Michael Toman, John King Tarpinian, and Mike Kennedy for some of these stories. Title credit goes to File 770 contributing editor of the day Soon Lee.]