(1) CALLING BLACK SFF WRITERS. The 2022 BSF Writer Survey conducted by FIYAH closes March 4 at 11:59 p.m. Eastern. See complete guidelines at the link.
The BSF Writer Survey is back! FIYAH will be inheriting Fireside Fiction's #BlackSpecFic Reports, and this survey will be used to provide context to those results in a report being released in the fall of 2022.

We invite Black SFF writers to submit information about their practices and insights on submission to SFF short fiction markets with a focus on the 2021 calendar year, as well as the impact of and experience with special offerings made during the summer of 2020. The responses we receive will allow us to:
Quantify the existence of Black speculative fiction writers seeking publication.
Provide submission context to existing publication data.
Expose the impact of doleful publication statistics on Black writers.
Enable markets to pinpoint their failings in attracting or publishing Black writers.
(2) FIYAH GRANTS. FIYAH is taking applications for The FIYAH Literary Magazine Grant Series Rest, Craft, and Study grants until May 15. Full information at the Grants – FIYAH link.
The FIYAH Literary Magazine Grant Series is intended to assist Black writers of speculative fiction in defraying costs associated with honing their craft. 

The series includes three $1,000 grants to be distributed annually based on a set of submission requirements. All grants with the exception of the Emergency Grant will be issued and awarded as part of Juneteenth every year. The emergency grant will be awarded twice a year in $500 amounts.

Applications for the Rest, Craft, and Study grants close May 15th.

1: The Rest Grant

The FIYAH Rest Grant is for activists and organizers with a record of working on behalf of the SFF community, but who are in need of respite or time to recommit to their personal projects.

3: Study Grant

This grant is to be used for defraying costs associated with attending workshops, retreats, or conducting research for a writing project.

4: Craft Grant

This grant is awarded based on a writer's submitted WIP sample or project proposal, in the spirit of assisting with the project's completion.
(3) AUCTION TO AID RED CROSS UKRAINE. Fan and editor Johnny Mains has set up an online auction of genre-related items in support of Red Cross Ukraine; it runs until March 12: "Authors And Artists Auction For The Ukraine" at Will You Send a Dinghy, Please? Lots include signed books from Kim Newman, Ramsey Campbell, Nicholas Royle, and participation in an online interview with Ellen Datlow.
I, like many, have been shaken by Russia's horrific attack on Ukraine. I stand in solidarity with all Ukranians. I'm aware I have a miniscule public profile, but if I can do some good with it, then it's a privilige and my duty. Plus, children in Ukraine being put through that? It's sickening. So I'm doing a charity auction – with all proceeds going to directly to Red Cross Ukraine as you'll be donating the money directly to them after the auction ends. 95% of goods will be posted by those donating them – in one or two cases I've been asked to post on that person's behalf.

For the next two weeks, until the 12th of March, I'll be running a live auction. I have asked people to donate things and I'll be donating stuff myself….
(4) SANDERSON KEEPS ROLLING. Brandon Sanderson's editor at Tor, Moshe Feder, sounds like he's in a bit of shock: "To say it's a massive surprise is a massive understatement. While the immediate overwhelming response on Kickstarter is quite a coup for Brandon and his team. I hope I get to be involved."
"Surprise! Four Secret Novels by Brandon Sanderson" approached $20 million in pledges today. At this rate it could become the number one Kickstarter of all time by tomorrow night.
(5) GUESS WHO LEARNED IT'S HARD RUNNING A BOOKSTORE. Even building your house of brick can't keep it from being blown down. Shelf Awareness reports "Amazon Closing All Amazon Books Stores".
Big news from Amazon: the company is closing all of its Amazon Book books and electronics stores, as well as all of its pop-up and "4-star" stores, a move that was first reported yesterday by Reuters. Altogether, 68 stores are involved–66 in the U.S. and two in the U.K. There are some 24 Amazon Books stores around the country.

The company said it was making the move to concentrate its bricks-and-mortar efforts on Amazon Fresh, Whole Foods, Amazon Go and a new venture, Amazon Style fashion and accessories stores, the first of which is set to open in Los Angeles this year, and will feature a variety of high-tech touches, including "just walk out" cashierless technology….
(6) CAN'T KEEP UP. Charles Stross admits how hard it is to stay ahead of reality.
(7) DOCTOR WHO. RadioTimes.com sees the next Thirteenth Doctor special on the horizon: "Doctor Who Legend of the Sea Devils new writer, director and cast".
We're finally getting to learn a bit more about upcoming Doctor Who special Legend of the Sea Devils, with the episode's co-writer, director and other new details confirmed in the latest edition of Doctor Who Magazine.

"It's a bit of a swashbuckler," executive producer Matt Strevens told DWM. "It's the last 'regular' adventure story before you go into the machinations of a regeneration story."

So who is behind this penultimate peril for Jodie Whittaker's Doctor? Well, co-writing the episode with Chibnall is Ella Road, a playwright and screenwriter who wrote Olivier-nominated play The Phlebotomist (later adapted for BBC radio) as well as episodes of upcoming Call My Agent remake Ten Percent. Legend of the Sea Devils marks the first time a guest writer has co-written a special alongside Chibnall, as well as Road's Doctor Who debut….
And a RadioTimes.com writer thinks "Doctor Who's 60th anniversary special should go full nostalgia".
… David Tennant or Matt Smith coming back for a quick victory lap, on the other hand, is something everyone can enjoy, no matter how casual their relationship with the show. The polar opposite of fan-serving indulgence, it's actually the biggest, most populist, most crowd-pleasing, big tent move Doctor Who could possibly make. (And this was true even in the 1980s, by the way, when the return of the Cybermen after an absence of seven years was an exciting event for everyone – including the kids who'd never heard of them.)

Even the return of Paul McGann, whose Eighth Doctor has had only fleeting screen-time, would be pretty simple to explain to viewers who aren't familiar with him. And not just simple, but fun. Exciting. A strange man in strange clothes rocking up and telling everyone he used to be the Doctor? That's drama. That's a story. Who on Earth is going to take flight at that?…
(8) ONCE LESS INTO THE BREACH, DEAR FRIENDS. In "The Sci-Fi Crime Novel That's a Parable of American Society", The Atlantic's Cullen Murphy points out "What China Miéville's The City & the City tells us about the state of the nation."
… A few weeks ago, a long-ago conversation with a friend came to mind as I tried to bring some order to my bookshelves. My friend was not yet of a certain age, but he had, he confessed, crossed a line: He had made a transition from the curating stage of life to the editing stage. He was no longer collecting; he was deaccessioning. I lack his wisdom and maturity, and rather than editing as I sorted, I instead paused to thumb through and scan. And then I came across a book that made me stop and reread: The City & the City (2009), by the British writer China Miéville. It is a police procedural novel with a background environment that recalls Philip K. Dick. A crime needs to be solved in a society where two different cities—two separate polities, with separate populations, customs, alphabets, religions, and outlooks—coexist within the same small patch of geography. The names of the overlapping cities are Beszel and Ul Qoma….
(9) DID YOU MISS THIS WORLDCON PROGRAM? Morgan Hazelwood posts her notes about the DisCon III panel "Breaking A Story: Hollywood Style" at Writer in Progress. (Hazelwood also has a YouTube video version.)
The panelists for the titular panel were: Michael R Underwood, Nikhil Singh, Sumiko Saulson, and Rebecca Roanhorse as moderator….
(10) NEXT FANTASTIC BEASTS. "Set in the 1930s, the film centers on the lead-up to Wizarding World's involvement in World War II" says IndieWire about the "'Fantastic Beasts 3' New Trailer". See it on YouTube.
Professor Albus Dumbledore (Jude Law) knows the powerful Dark wizard Gellert Grindelwald (Mads Mikkelsen) is moving to seize control of the wizarding world. Unable to stop him alone, he entrusts Magizoologist Newt Scamander (Eddie Redmayne) to lead an intrepid team of wizards, witches and one brave Muggle baker on a dangerous mission, where they encounter old and new beasts and clash with Grindelwald's growing legion of followers. But with the stakes so high, how long can Dumbledore remain on the sidelines?
(11) MEDIA BIRTHDAY.
1940 — [Item by Cat Eldridge] Eighty-two years ago this day, Larry "Buster" Crabbe starred in Flash Gordon Conquers the Universe, a black-and-white twelve-part movie serial from Universal Pictures. It would be the last of the three such Universal serials made between 1936 and 1940.
It was directed by Ford Beebe and Ray Taylor, neither of whom had any background in genre undertakings of this sort beyond Taylor directing Chandu on the Magic Island and its sequel The Return of Chandu, serials which starred Béla Lugosi. This serial was written by George H. Plympton, Basil Dickey and Barry Shipman. George H. Plympton would go on to write the Forties versions of The Green Hornet, Batman and Robin and Superman.
The primary cast beyond Buster Crabbe as Flash Gordon was Carol Hughes as Dale Arden, Frank Shannon as Dr. Alexis Zarkov and Charles B. Middleton as Ming the Merciless. It actually had a very large cast for such a serial.
I couldn't find any contemporary reviews but our present day reviewers like it with the Movie Metropolis reviewer saying of it that "Of course, it's corny and juvenile but that's the point", and one Audience reviewer at Rotten Tomatoes noted "Of curiosity value to film buffs. Those who want to see how these old matinee serials influenced George Lucas' Star Wars films will enjoy this." It doesn't get a great rating over there garnering only a fifty-seven percent rating.
(12) TODAY'S BIRTHDAYS.
[Compiled by Cat Eldridge.]
Born March 3, 1863 — Arthur Machen. His novella "The Great God Pan" published in 1890 has garnered a reputation as a classic of horror, with Stephen King describing it as "Maybe the best horror story in the English language." His The Three Impostors; or, The Transmutations 1895 novel is considered a precursor to Lovecraft and was reprinted in paperback by Ballantine Books in the Seventies. (Died 1947.)
Born March 3, 1876 — David Lindsay. Best remembered for A Voyage to Arcturus which C.S. Lewis acknowledged was a great influence on Out of the Silent Planet, Perelandra and That Hideous Strength. His other genre works were fantasies including The Haunted Woman and The Witch. A Voyage to Arcturus is available from the usual suspects for free. And weirdly it's available in seven audio narratives. Huh.  (Died 1945.)
Born March 3, 1920 — James Doohan. Montgomery "Scotty" Scott on Trek of course. His first genre appearance was I think in Outer Limits as Police Lt. Branch, followed by being a SDI Agent at Gas Station in The Satan Bug film before getting the Trek gig. His first genre series would've been Space Command where he played Phil Mitchell. He filmed a Man from U.N.C.L.E. film, One of Our Spies Is Missing, in which he played Phillip Bainbridge, during the first season of Trek. After Trek, he was on Jason of Star Command as Commander Canarvin. ISFDB notes that he did three Scotty novels co-written with S.M. Stirling. (Died 2005.)
Born March 3, 1936 — Donald E. Morse, 86. Author of the single best book done on Holdstock, The Mythic Fantasy of Robert Holdstock: Critical Essays on the Fiction which he co-wrote according to ISFDB with Kalman Matolcsy. I see he also did two books on Kurt Vonnegut and the Anatomy of Science Fiction on the intersection between SF and society at large which sounds fascinating. 
Born March 3, 1945 — George Miller, 77. Best known for his Mad Max franchise, The Road Warrior (nominated for a Hugo at ConStellation), Mad Max Beyond Thunderdome and Fury Road. He also directed The Nightmare at 20,000 Feet segment of the Twilight Zone film, The Witches of Eastwick (nominated for a Hugo at Nolacon II), Babe and 40,000 Years of Dreaming. 
Born March 3, 1948 — Max Allan Collins, 74. Best remembered for writing the Dick Tracy newspaper strip for many years and has numerous novels featuring the character as well. He's novelized Waterworld and all of The Mummy films. He won the Faust Award for Lifetime Achievement. 
Born March 3, 1955 — Gregory Feeley, 67. Reviewer and essayist. Clute says of his reviews "Sometimes adversarial, unfailingly intelligent, they represent a cold-eyed view of a genre he loves by a critic immersed in its material." Writer of two SF novels, The Oxygen Barons and Arabian Wine, plus the Kentauros essay and novella.
Born March 3, 1982 — Jessica Biel, 40. A number of interesting genre films including The Texas Chainsaw Massacre, Blade: Trinity, Stealth, The Illusionist, the remake of Total Recall which I confess I've not seen, and the animated Spark: A Space Tail. 
(13) FANAC.ORG FANHISTORY ZOOM. The latest fanhistory Zoom at Fanac.org is now online: "Death Does Not Release You – LASFS Through the Years (Pt 1 of 2)."
From the YouTube description: "Legend (and John Trimble) has it that the slogan "Death Does Not Release You" came about when Ray Bradbury gave a talk at the Los Angeles Science Fantasy Society and was asked to pay his dues. When Bradbury said his membership had expired,  Ernie Wheatley told him "death does not release you, even if you die". Bradbury paid his 35 cents… 

This notable group of panelists, including artist Tim Kirk, TV writer and producer Craig Miller, filmmaker Ken Rudolph and convention runner Bobbi Armbruster are all current or former members of LASFS. They are fan artists, convention runners, fanzine editors and club officers. 

In part 1, the panelists talk about how they were welcomed into science fiction fandom and into LASFS (including how Ray Bradbury talked teenager Craig Miller into going to his first club meeting). There are stories about the drug culture of the 60s and its barbarian invasion of the club, as well as about the big movers and shakers of the 60s and 70s, many no longer with us, such as Bruce Pelz and Len Moffat. Even if you've never been to a LASFS meeting, this feels like a nostalgic family reunion. See Part 2 for the continuation."
(14) ASK JMS ANYTHING. J. Michael Straczynski did an Ask Me Anything for Reddit yesterday: "I'm J. Michael Straczynski, aka JMS, here for an AMA about my new novel Together We Will Go and my work across TV series like Babylon 5 and Sense8, films like Changeling, graphic novels, comic books, and more." One person asked for an update about Harlan Ellison's house:
…I will be taking photos and videos for my patrons (I don't actually mean to keep flogging that, isn't my intention, just came up thrice in a row in answer to this.) We're busy fixing the place up, doing repairs, making it tour-friendly. It's been a ton of work, as well as setting up the Harlan and Susan Ellison nonprofit foundation that will ensure his work and legacy are protected long after I've gone to dust. This is important because some writers' estates have been ransacked in the past, but by setting up a nonprofit that is directly answerable to state and federal regulators, with a strong board of directors, it guarantees that not a dime goes in or out that's unaccounted for or unchecked. Will have a lot more on that count to say soon.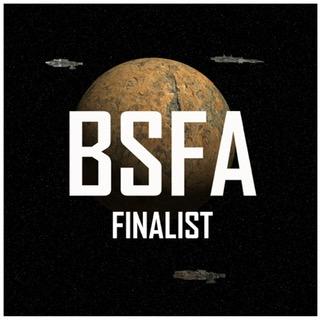 (15) OCTOTHORPE. Episode 52 of the Octothorpe podcast, "Who's Robert Picardo?", celebrates an award nomination with a victory lap.
John Coxon, Alison Scott and Liz Batty have been nominated for a BSFA Award! (Also, Liz is on holiday, naturally.) We discuss that with worse audio quality than usual, before normal service is resumed and we talk about Hugo nominations and Eastercon bids.
(16) DAVID M. KELLY. Meet David M. Kelly, the author of Kwelengsen Storm, Book One of the Logan's World Series.
Originally from the wild and woolly region of Yorkshire, England, David emigrated to Canada in 2005 and settled in Northern Ontario with his patient and supportive wife, Hilary. Foot surgery in 2014 temporarily curtailed many of his favorite activities – hiking, camping, piloting his own personal starfighter (otherwise known as a 1991 Corvette ZR-1). But on the plus side, it meant a transition from the world of IT into life as a full-time writer—an opportunity he grasped enthusiastically.

David is passionate about science, especially astronomy and physics, and is a rabid science news follower. Never short of an opinion, David writes about science and technology on his blog davidmkelly.net. He has supported various charity projects such as the Smithsonian's Reboot The Suit and the Lowell Observatory Pluto Telescope Restoration. He also contributes to citizen science projects such as SETI@home.
What's his book about?
When Logan Twofeathers takes on the job of head of engineering on Kwelengsen, the first habitable planet discovered by Earth, he thinks he's leaving conflict far behind. But when he investigates the loss of a deep-space communications relay, his ship is attacked and crash-lands back on the planet.

With his new home destroyed by the invaders, Logan is stranded deep in the frozen mountains with an injured sergeant who hates him almost as much as the enemy. Against the ever-present threat of capture, he must battle his way through icy surroundings in a treacherous attempt to find his wife.

And when he's forced to ally himself with a disparate group of soldiers and their uncompromising captain, Logan must face the reality that he may have lost everything—and everyone—he loves. Will he choose to fight? And what will it cost him?
Available from Amazon.com and Amazon.ca,
(17) WAVES HELLO. If Mars is the Red Planet, could we call Venus the Infra-Red Planet? Well, not exactly. But this New York Times article prompted the question: "Venus Shows Its Hot, Cloudy Side".
Venus is so hot that its surface glows visibly at night through its thick clouds.

That is what pictures taken by NASA's Parker Solar Probe have revealed.

The planet's average temperature hovers around 860 degrees Fahrenheit, and thick clouds of sulfuric acid obscure the view. Until now, the only photographs of the Venusian surface were taken by four Soviet spacecraft that successfully landed there in the 1970s and 1980s, operating briefly before succumbing to the hellish environs.

During flybys of Venus, the Parker spacecraft pointed its cameras at the night side of Venus. It was able to see the visible wavelengths of light, including the reddish colors that verge on the infrared that can pass through the clouds.

"It's a new way of looking at Venus that we've never even tried before — in fact, weren't even sure it was possible," said Lori Glaze, director of NASA's planetary division.

In the Parker photographs, hotter locales like low-lying volcanic plains appeared brighter while those at higher altitudes like Aphrodite Terra, one of three continent-size regions on Venus, were about 85 degrees cooler and darker.
(18) THE SKY'S NO LIMIT. "Asteroid With Three Moons Sets A Record" reports Nature.
Astronomers have discovered an unprecedented three moons in orbit around an asteroid.

'Binary' asteroids, which have one moon, are fairly common. Triple asteroids, with two moons, are rare. Now, the identification of the first known quadruple asteroid — Elektra, which orbits the Sun in the asteroid belt between Mars and Jupiter — shows that two is not the limit.

Previous observations had shown that two moons circle Elektra, which is roughly 200 kilometres wide. A team led by Anthony Berdeu at the National Astronomical Research Institute of Thailand in Chiang Mai re-assessed Elektra by analysing images of the asteroid taken in 2014 by the European Southern Observatory's Very Large Telescope at Cerro Paranal, Chile. The scientists used sophisticated image-processing techniques to detect the third, faint moon….
(19) ELDEN RING. George R.R. Martin had a hand in the Elden Ring video game, which is now available.
…Of course, almost all the credit should go to Hidetaka Miyazaki and his astonishing team of games designers who have been laboring on this game for half a decade or more, determined to create the best videogame ever.   I am honored to have met them and worked with them, and to have have played a part, however small, in creating this fantastic world and making ELDEN RING the landmark megahit that it is…
View a short live-action intro trailer below, or see the full six-minute overview trailer here.
[Thanks to Michael Toman, Cat Eldridge, Mike Kennedy, Chris Barkley, Rob Thornton, Jennifer Hawthorne, SF Concatenation's Jonathan Cowie, Martin Morse Wooster, JJ, John King Tarpinian, and Andrew Porter for some of these stories. Title credit belongs to File 770 contributing editor of the day Xtifr.]