(1) READ THESE. BBC's Culture assembled a list of "The most overlooked recent novels" – "Eight acclaimed authors reveal their favourite hidden gems outside the literary canon." There are several sff writers among the respondents, and sff books among their recommendations.
Helen DeWitt writes: "In the summer of 1994 I was in despair. It seemed to me that books were predictable and unexciting compared with the astonishing variety and inventiveness of art – why bother with a novel? Mooching glumly around a museum bookshop, I came across a book plastered with raves by the likes of Anthony Burgess. I opened to the first page and read: 'On my naming day when I come 12 I gone front spear and kilt a wyld boar he parbly ben the las wyld pig on the Bundel Downs…' It was like nothing I'd ever seen. Russell Hoban's Riddley Walker is set on a post-apocalyptic post-British landmass thousands of years after a nuclear holocaust. All scientific knowledge has been lost, but its traces linger on in a loss-marked language which repurposes the mangled terms to mythology. The book had come out in 1980 to acclaim; I'd never heard of it. And yet this extraordinary book seemed to me to be the equal of The Waste Land; it was embarrassing to have to recommend it to people, as if one were to go about saying 'I've just discovered this amazing poem by someone called TS Eliot.'"

Hoban was an American who lived in Britain. He wrote across genres: fiction, the fantastic, poetry, children's literature. Anthony Burgess said of Riddley Walker: "This is what literature was meant to be." Max Porter (see below) has called it a "stone-cold classic".
(2) MAGIC INSIDE. Below, Paste TV Editor Allison Keene and Editor-in-Chief Josh Jackson offer "An Appreciation of The Magicians". (A show in its last season, it was announced very recently.)
Naturally, there are friends and enemies and Big Bads along the way, and plenty of fast-moving plot points, but one of the things that has made the show so unique and worthy is that it addresses mental health issues in thoughtful, compelling ways, and how that colors the experiences of the cast (which includes Stella Maeve, Olivia Taylor Dudley, Hale Appleman, Arjun Gupta, and Summer Bishil). And that—even in a world with magic—magic doesn't necessarily solve everything.
(3) TICKETS TO RIDE. Take that extra weight out of your wallet and you might get off the ground: "There Are 2 Seats Left for This Trip to the International Space Station" reports the New York Times.
If you have tens of millions of dollars to spare, you could as soon as next year be one of three passengers setting off aboard a spaceship to the International Space Station for a 10-day stay.

On Thursday, Axiom Space, a company run by a former manager of NASA's part of the space station, announced that it had signed a contract with SpaceX, Elon Musk's rocket company, for what might be the first fully private human spaceflight to orbit.

"I think you'll see a lot more energy in the market as people come to realize it's real, and it's happening," said Michael T. Suffredini, the president and chief executive of Axiom.

The spaceflight, Axiom officials said, could take off as soon as the second half of 2021.

SpaceX developed its Crew Dragon capsule for taking NASA astronauts to and from the space station. But just as the company's development of its Falcon 9 rocket for taking cargo to the space station led to a vibrant business of launching commercial satellites, SpaceX is also looking to expand Crew Dragon passengers beyond just NASA astronauts.
(4) IT'S A THEORY. Everybody who ever wrote a plague story seems to be getting a feature article this month. Adam Roberts wrote this one for The Guardian: "Fever dreams: did author Dean Koontz really predict coronavirus?" Koontz is just one of many sff writers he references.
According to an online conspiracy theory, the American author Dean Koontz predicted the coronavirus outbreak in 1981. His novel The Eyes of Darkness made reference to a killer virus called "Wuhan-400" – eerily predicting the Chinese city where Covid-19 would emerge. But the similarities end there: Wuhan-400 is described as having a "kill?rate" of 100%, developed in labs outside the city as the "perfect" biological weapon. An account with more similarities, also credited by some as predicting coronavirus, is found in the 2011 film Contagion, about a global pandemic that jumps from animals to humans and spreads arbitrarily around the globe.

But when it comes to our suffering, we want something more than arbitrariness. We want it to mean something. This is evident in our stories about illness and disease, from contemporary science fiction all the way back to Homer's Iliad. Even malign actors are more reassuring than blind happenstance. Angry gods are better than no gods at all….
(5) ANTEBELLUM. Coming to theaters April 24, 2020: "'Antebellum' Trailer Turns Back the Clock to Tease Future Horror" – The Hollywood Reporter frames the visuals.
To the surprise of no one paying attention to her for the past few years, Janelle Monáe is the future — but the question at the heart of the first trailer for upcoming horror movie Antebellum is, what if she was also the past, as well …?

Monáe plays author Veronica Henley, a figure who finds herself seemingly trapped in the past, or a terrifying recreation of it, and forced to discover the truth behind her experience before it's too late.
(6) SCOOB TRAILER. The final trailer dropped – movie arrives in theaters May 14.
The first full-length animated Scooby-Doo adventure for the big screen is the never-before told stories of Scooby-Doo's origins and the greatest mystery in the career of Mystery Inc. "SCOOB!" reveals how lifelong friends Scooby and Shaggy first met and how they joined with young detectives Fred, Velma and Daphne to form the famous Mystery Inc. Now, with hundreds of cases solved and adventures shared, Scooby and the gang face their biggest, most challenging mystery ever: a plot to unleash the ghost dog Cerberus upon the world. As they race to stop this global "dogpocalypse," the gang discovers that Scooby has a secret legacy and an epic destiny greater than anyone imagined.
(7) HATCHER OBIT. Kate Hatcher, Chair of SpikeCon (2019 NASFiC/Westercon 72) died March 5, reportedly of complications of pneumonia. Her conrunning experience also included Westercon 67, LTUE, Westercon 70, 71 (tech), and as staff on Worldcon 76 and LTUE 2018. David Doering, who worked with her on several of these conventions, says: "She always gave 110% to Fandom and will be sorely missed."
(8) TODAY IN HISTORY.
March 7, 1980 — The Brave New World film premiered on NBC. (It would show on BBC as well.) It was adapted from the novel by Aldous Huxley by Robert E. Thompson and Doran William Cannon, and was directed by Burt Brinckerhoff. It starred Kristoffer Tabori, Julie Cobb and Budd Cort. You can see it here. Strangely it has no ratings at Rotten Tomatoes, not very much of a web presence. You can watch it here.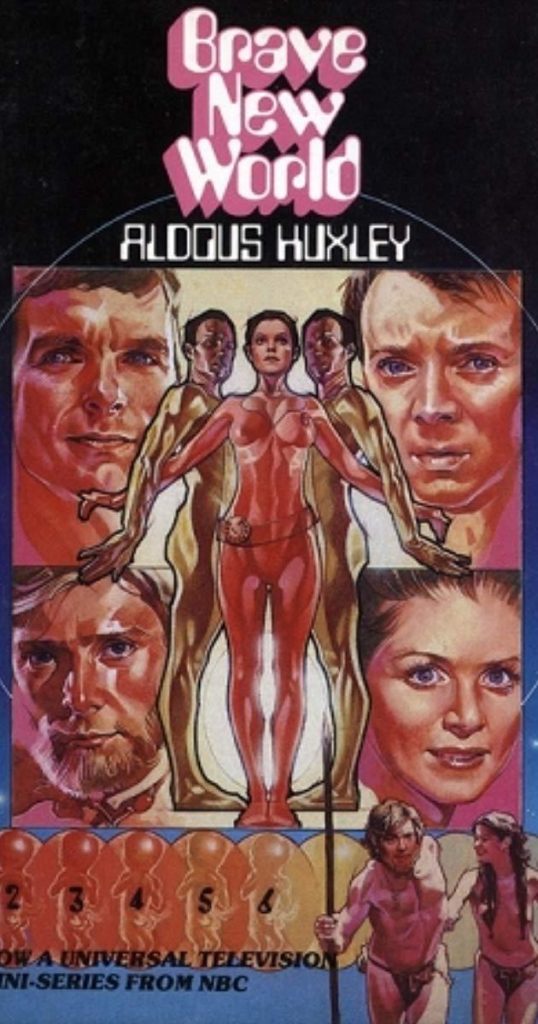 March 7, 1988 — The Probe series premiered. It was created by Michael I. Wagner and  Isaac Asimov as a sort of live action version of Jonny Quest. Wagner wrote the two-hour pilot, and became Executive Producer for the series. Parker Stevenson had the lead in the series and Ashley Crow was his secretary. It was a mid-season replacement that wasn't renewed and thus lasted but six episodes. You can see the first half of the pilot here. There's a link to the second half on that YouTube page.
(9) TODAY'S BIRTHDAYS.
[Compiled by Cat Eldridge.]
Born March 7, 1873 — J. D. Beresford. Now remembered for his early horrors and SF stories including The Riddle of The Tower which was co-written with Esme Wynne-Tyson. He was a keen admirer of Wells, and wrote the first critical study of him in 1915, coincidentally called H. G. Wells: A Critical Study. The latter is free at the usual digital suspects and his fiction ranges from free to reasonably priced there.  (Died 1947.)
Born March 7, 1905 — Beatrice Roberts. Her most notable role was that of Queen Azura in Flash Gordon's Trip to Mars, a 1938 serial which you can see the beginning of here. She also shows up in Frankenstein Meets the Wolf Man as Varja the Barmaid, and she's a Nurse in The Invisible Man's Revenge. (Died 1970.)
Born March 7, 1944 — Stanley Schmidt, 76. Between 1978 and 2012 he served as editor of Analog Science Fiction and Fact magazine, an amazing feat by any standard! He was nominated for the Hugo Award for Best Professional Editor every year from 1980 through 2006 (its final year), and for the Hugo Award for Best Editor Short Form every year from 2007 (its first year) through 2013 with him winning in 2013.  He's also an accomplished author with more than a dozen to his name. I know I've read him but I can't recall which novels in specific right now. 
Born March 7, 1945 — Elizabeth Moon, 75. Since I'm not deeply read in her, I'll let JJ have her say on her: "I've got all of the Serrano books waiting for when I'm ready to read them.   But I have read all of the Kylara Vatta books — the first quintology which are Vatta's War, and the two that have been published so far in Vatta's Peace. I absolutely loved them — enough that I might be willing to break my 'no re-reads' rule to do the first 5 again at some point. Vatta is a competent but flawed character, with smarts and courage and integrity, and Moon has built a large, complex universe to hold her adventures. The stories also feature a secondary character who is an older woman; age-wise she is 'elderly,' but in terms of intelligence and capability, she is extremely smart and competent — and such characters are pretty rare in science fiction, and much to be appreciated."
Born March 7, 1949 — Pat Mills, 71. He is best remembered for creating the 2000 AD zine and playing a major role in the development of Judge Dredd. He has also written two Eighth Doctor audio plays, "Dead London" and "The Scapegoat" for Big Finish Productions. 
Born March 7, 1954 — Elayne Pelz, 66. She is a member of LASFS (and officer) and SCIFI who worked on myriad cons, mainly in art show and treasury.  She was married to famous SF fan Bruce Pelz and assumed leadership of Conagerie, the 2002 Westercon, upon Bruce's death and the con was held successfully. She was the Chair of Loscon 20.
Born March 7, 1965 — E. E. Knight, 55. I'd swear I should know this author but he's not ringing even a faint bell. He's written two series, Vampire Earth and Age of Fire. What do y'all know about him? 
Born March 7, 1970 — Rachel Weisz, 50. Though better known for The Mummy films which I really, really love, and her first genre film was Death Machine, a British-Japanese cyberpunk horror film. I've also got her in Chain Reaction and The Lobster. 
(10) COMICS SECTION.
When a sff movie literally delivers what its title promises, you get something like this installment of Lio.
(11) SHAT'S PROPERTY SETTLEMENT. [Item by Martin Morse Wooster.] Juli Gugliemi, in the People story "William Shatner Will Get 'Horse Semen' For Animal Breeding in Divorce Settlement", says that while his ex-wife, Elizabeth Shatner, gets most of the horses in the divorce, Shatner gets two horses and all the horse semen the horses have produced for breeding new horses.
I confess, having "horse semen" in a headline about Shat is the greatest Shat story since the time he dropped trousers while going through airport security and "the captain's log was clearly visible."
As for their shared property, William will keep their Studio City home and Three Rivers ranch in California. However, they've agreed to let Elizabeth visit the ranch to "occasionally harvest fruit" and visit the graves of her first husband and several horses.

Elizabeth also gets their homes in Malibu Cove and Versailles, Kentucky.
(12) EFFECTIVE FX. The Maltin on Movies podcast interviews "John Dykstra".
Three-time Oscar winner John Dykstra may go down in history as the man who devised the Light Saber for Star Wars, but that's just one achievement in a lengthy career in visual effects. In fact, he helped usher in the modern era of fx and has adapted to digital sleight-of-hand…but he misses the scrappy days when he built actual models and then blew them up! His credits range from Spider-man and Stuart Little to Quentin Tarantino's last four films. Best of all, from Leonard and Jessie's point of view, he has retained his youthful enthusiasm and is exceptionally articulate about his work. 
(13) MEMORY, ALL ALONE IN THE MOONLIGHT. CBR.com lists its candidates for the "10 Most Memorable Anime Cats".
For some reason, cats are major staples of the anime world. It is "neko" this and "neko" that. The answer may be the same reason that the internet itself is obsessed with cats. They are cute, have strong personalities, and can go from mysterious to totally goofy in an instant….

8 Artemis And Luna From Sailor Moon

Technically Luna and Artemis are not cats. They are aliens from a planet called Mau. Luna even has a human form in the anime. However, they will always be truly remembered as cats. They are pretty cute cats too and really played a part in the trope that magical girls have animal companions/mentors.

Luna and Artemis eventually get romantically involved, which is proved by having a kitten together. However, there is one part of the anime where Luna fell in love with a human man.
(14) HUGO RECOMMENDATIONS. Rich Horton shares his "Hugo Nomination Thoughts, 2020" with Strange at Ecbatan readers. His section on Best Fan Writer begins —
I'll reiterate my admiration for John Boston and John O'Neill. John Boston's most publicly available recent stuff is at Galactic Journey, where he reviews issues of Amazing from 55 years ago, month by month. (It will be noted, perhaps, that I also review issues of Amazing from the same period, at Black Gate.) John's work there is linked by this tag: http://galacticjourney.org/tag/john-boston/.

As for John O'Neill, of course his central contribution is as editor of Black Gate, for which he writes a great deal of the content, often about, "vintage" books he's found on Ebay or at conventions, and also about upcoming fantasy books.

Another Black Gate writer, and fan writer in general, who did great work last year was Steven Silver, particularly his "Golden Age Reviews".
Rich adds some kind words for File 770, much appreciated, but remember I have withdrawn myself and the zine from further Hugo consideration.
(15) AROUND THE BLOCH. Cora Buhlert calls our attention to another Retro-Hugo eligible story in "Retro Review: 'Iron Mask' by Robert Bloch". BEWARE SPOILERS. It was the cover story in an issue of Weird Tales, for which Margaret Brundage did the artwork.
"Iron Mask" is a novelette by Robert Bloch, which was first published in the May 1944 issue of Weird Tales and is therefore eligible for the 1945 Retro Hugos. The story may be found online here.
(16) THE BOY WONDER TURNS 80. The New York Times looks at "Batman and His Many Robins":
Robin, a.k.a. the Boy Wonder, celebrates his birthday this week: He made his debut in Detective Comics No. 38 on March 6, 1940, and he and Batman became nearly inseparable in the war on crime. But while Bruce Wayne has nearly always worn Batman's cowl, there have been many different characters behind Robin's mask. Here is a look at some of the men and women who have called themselves Robin.

 1940

Dick Grayson

First and foremost is Dick Grayson. Like Batman, Dick lost his family to crime. His parents, circus acrobats, were casualties in a mob-protection racket. Batman (Bruce Wayne) trained Dick to help bring the culprit to justice. The two orphans were a positive influence on each other.
(17) WHO SEASON 12 VERDICT. Whatever others may say, RadioTimes Huw Fullerton thinks fans should be pleased: "Doctor Who series 12 review: 'A big step up'". BEWARE SPOILERS.
Doctor Who's 12th modern series brought a darker, more personal storyline for Jodie Whittaker's Doctor, more characterisation for her companions (even if the show still wasn't entirely successful on this front), interesting new takes on old-school series elements and delved more deeply into Doctor Who lore than would have been thought possible in 2018.

Really, looking at the bare facts of the latest series, Chris Chibnall almost couldn't have done more to address fans' basic wishes after series 11.

When we consulted Whovians in 2019 about what changes they'd like to see in series 12, they asked for "more two-parters, long episodes and cliffhangers," a proper series arc, the return of old monsters, more cold opens, a comeback for John Barrowman's Captain Jack Harkness, a darker side to Jodie Whittaker's Doctor and more background for her companions Graham, Ryan and Yaz (played by Bradley Walsh, Tosin Cole and Mandip Gill).
(18) A DIFFERENCE OF OPINION. FastCompany tells "How Wikipedia's volunteers became the web's best weapon against misinformation". "My ass," responds Cat Eldridge, who submitted the link.
Amid the chaos of partisan battles, epistemic crises, and state-sponsored propaganda, it's nice to think that good-hearted people who care about a shared reality could defeat all the b.s. out there. And there's so much of it. If 2016 was the debut of a new kind of information war, this year is promising to be something like the darker, more expensive sequel. Yet while places like Facebook, YouTube, and Twitter struggle to fend off a barrage of false content, with their scattershot mix of policies, fact-checkers, and algorithms, one of the web's most robust weapons against misinformation is an archaic-looking website written by anyone with an internet connection, and moderated by a largely anonymous crew of volunteers.
(19) AND A HEARTY HI-YO SILVER. "Betelgeuse: Astronomers determine the reason for strange dimming of far-away star" – Inverse has the story.
…The red giant star is on its way to recovery, regaining its brightness and crushing the hopes of astronomers everywhere who wanted to witness a supernova unfold in our skies.

But while astronomers are no longer wishing upon the star to explode, Betelgeuse's dimming has left them wondering what may have caused this odd behavior in the first place.

The findings suggest Betelgeuse's signature bright light was temporarily blocked from our view by material shed by the star, in the form of a cloud of dust.

The study is based on observations of Betelgeuse taken on February 14, 2020, at the Lowell Observatory in Arizona. There, astronomer Philip Massey, an astronomer with Lowell Observatory, and co-author of the new study, and his colleagues had their instruments trained on Betelgeuse to get a reading on the star's average surface temperature. The reason? If Betelgeuse was truly dimming, its surface would be cooler than usual.
(20) CAT WIDE AWAKE ON SFF.
[Thanks to JJ, Cat Eldridge, John King Tarpinian, Mike Kennedy, Martin Morse Wooster, Chip Hitchcock, Michael Toman, Mlex, Hampus Eckerman, and Andrew Porter for some of these stories. Title credit goes to File 770 contributing editor of the day Andrew.]