(1) STRAHAN'S NEXT PROJECT. The Barnes & Noble Sci-Fi Fantasy Blog caught everyone's attention by "Announcing Year's Best Science Fiction, a New Annual Anthology from Saga Press":
In 2020, Jonathan Strahan and Simon & Schuster's Saga Press will launch Year's Best Science Fiction: The Saga Annual Anthology of SF.
That will fill the gap left when Strahan's current annual from Solaris ends with The Best Science Fiction & Fantasy of the Year: Vol. 13.
(2) LE GUIN DOCUMENTARY. Screenings are happening all over the world in the next few weeks. See the schedule in Arwen Curry's Kickstarter update "Worlds of Ursula K. Le Guin premieres in China!"
I wanted to let you know about upcoming March and April screenings of Worlds of Ursula K. Le Guin.

February was a busy month for the film. We're honored to have been awarded Best of Fest at the Boston SciFi Film Festival and made the cover story of the National Endowment for the Humanities magazine, written by Ursula's biographer Julie Phillips. As always, we are grateful for the support of the NEH.
The list includes showings all over the West Coast.
(3) ENDEAVORING TO IMPROVE ON STAR TREK. [Item by Dann.] It has taken 10 year's worth of effort, but Ron "AAlgar" Watt and Matt Rowbotham have created the most comprehensive Star Trek-focused podcast in history. They have watched and reviewed every episode of every professional Star Trek franchise on their Post Atomic Horror podcast.
Along the way, they have invited friends to the party to broaden the number of perspectives on Star Trek.And along the way, they have pointed out episodes that they could have written better.
It is one thing to say you can do something better than the professionals. It is quite another thing to put your money and/or ego where your mouth is.
To that end, the duo has created the Endeavor podcast. This is the story of the Endeavor; a Federation starship exploring the Andromeda galaxy with crew members ranging from Klingons to Romulans to Cardassians to an assortment of people from the United Federation of Planets. The first episode of fanfiction dropped on March 1 on iTunes and Stitcher. Matt and Al hope to create radio theater that compares favorably with more professional efforts. They have assembled an outstanding stable of vocal performers to aid them in their attempt.
Their efforts can also be followed via Facebook.
(4) THE LONG CON. Scott Edelman urges you to binge on brisket benedict with Michael J. Walsh in episode 90 of his Eating the Fantastic podcast.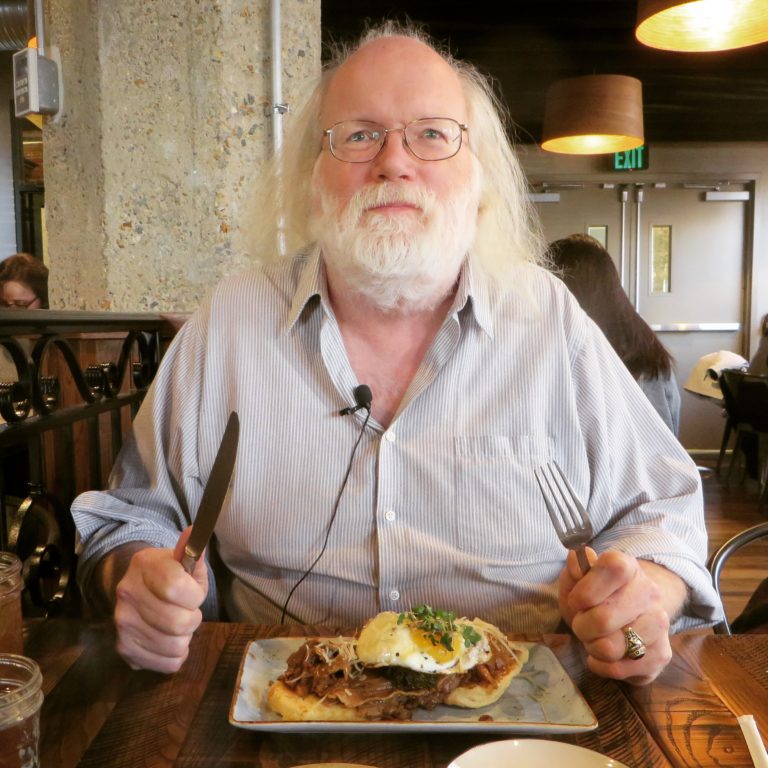 It's time to join me at the table with someone who's been part of the community of the fantastic even longer than I have — Michael J. Walsh. Over the past half century, he's been a fan, a book dealer, a convention chair, and a publisher. He's attended every World Fantasy Convention since the first in 1975, including the last one, where he and I were two of the Guests of Honor. Through his small press, Old Earth Books, he's published Avram Davidson, Christopher Priest, Allen Steele and many others, plus two Howard Waldrop collections, which won him a special award from the World Fantasy Convention in 2009. 

We got together for lunch last month the same day I attended the Midwinter Midway fundraising function put on at the Peale Museum by Submersive Productions, the immersive theatrical troupe I adore, four of whose members were my guests in Episode 86 of the podcast, where we discussed the science fictional nature of their diverse happenings.

Michael and I met at Ida B's Table on the same block in Baltmore as the Peale. Ida B's is perhaps my favorite recent restaurant discovery, one I try to visit whenever I'm in that city for great fried chicken, or shrimp and grits, or in this case, brisket benedict.

We discussed what it is about the annual World Fantasy Conventions that drew him to attend all 44 of them, how a generous teacher's gift of an Ace Double led to his first exposure to true science fiction, the big score which induced him to become a book dealer, the way Ted White was able to do so much with so little when he edited Amazing Stories in the '70s, what witnessing Anne McCaffrey and Isaac Asimov singing Gilbert and Sullivan tunes made him realize about writers, what his time in fandom taught him which made him realize he could make it as a publisher, the time he was left speechless by Robert Heinlein offering him a drink, why it would have been wrong for a certain book he published to have won a Hugo, what con-goers most misunderstand about con runners, and much more.
(5) DESCRIBING DISABILITIES. Ben Mattlin in the Washington Post, who has spinal muscular atrophy, was hired to be a sensitivity reader for a book on the subject and wants people to know he is disabled, and does not "have a disease" — "Disability and disease aren't interchangeable".
Disability is the more inclusive choice.  A disability can result from illness, injury, accident, genetics and more.  That broad base gives it power.  If 'my disease' refers to a specific condition within my body, 'my disability' connects me with a diverse array of other people, a common cause….

To my ears, though, "disease" will always be troubling. I'm okay with "disorder," "impairment" and other neutral, science-y sounding terms. I'm not a stickler for politically correct language either. Call me a "disabled man" (#SayTheWord) or a "man with a disability" (#PersonFirstLanguage) — I honestly don't care which. Growing up, I was called handicapped, and that's still fine with me in most contexts (especially because it doesn't come from a begging reference, contrary to popular belief, but from an advantage that's forfeited to make a game fair). I was also taught that "cripple" is a dirty word, yet many of us have reclaimed it with pride.
(6) THE RIGHT MENTOR. Sandra M. Odell found a connection made through SFWA's mentorship program helped her to cope with the effects of mental illness on her productivity: "More Writerly Than Thou" at the SFWA Blog.
I have struggled with the titanic highs and crushing lows of severe mental illness and PTSD most of my life, yet nothing quite prepared me for the psyche shitstorm that followed the release of my second collection, Godfall & Other Stories. 
The collection got a good response; however, Odell experienced a months-long period of being unable to resume writing, and when she was finally brave enough to reach out to other authors, rather than getting understanding and support, she was frequently reminded that she should just be thankful for the success of her collection:
…The after book blahs had become tangled in the web of my mental illness.  So many writers, some my closest friends, sought to help by applying the panacea of one-word-then-the-next that I nearly suffocated beneath the weight of my own failure and self-loathing because I couldn't keep up.  I would never write again, the success of my collection was a fluke, I'd failed my agent and my friends, the stories were worthless, and no one would miss me when I was gone.  I almost missed the voices I needed to hear most.  "Are you okay?  How can I help?"

Almost.

Help came from an unexpected source.  I applied for the SFWA mentorship program, certain I was too broken to find a match.  To my surprise, I was paired with a mentor familiar with the bitter trials of writing and mental illness.  My mentor allowed me to lead the conversation, asked gentle, non-judgemental questions, and shared their own struggles with post-publication depression and tips on what had worked for them to set priorities and reclaim their words.  The idea that more experienced writers could be paired with those seeking to learn more about how to manage their craft had proven itself.  After our first email exchange, I cried for an hour.  I was no longer alone….
(7) MESSAGE FICTION? A BBC writer delves into "The surprisingly radical politics of Dr. Seuss".
"Step with care and great tact
and remember that Life's
a Great Balancing Act.
Just never forget to be dexterous and deft.
And never mix up your right foot with your left."
– Oh, The Places You'll Go! (1960)

There's a healthy dollop of wisdom percolating through the slapstick silliness and anarchic absurdity of Dr Seuss. More perhaps than any other children's author, the musings of US writer and illustrator Theodor Seuss Geisel – who adopted the pen name Dr Seuss while at college – amount to a kind of philosophy. It's one that has entered popular consciousness, contributing to pop song lyrics and even being cited by a Supreme Court judge. Yet there's also a political edge to Dr Seuss that is often overlooked.

… "Dr Seuss, beloved purveyor of genial rhyming nonsense for beginning readers, stuff about cats in hats and foxes in socks, started as a feisty political cartoonist who exhorted America to do battle with Hitler? Yeah, right!" exclaims Art Spiegelman, the graphic novelist who created Maus, in the foreword to a 1999 book. Historian Richard Minear's Dr Seuss Goes to War features nearly 200 cartoons that were left unseen for half a century –  cartoons that help redraw the beloved king of the kooky.
(8) TODAY IN HISTORY.
March 8, 1994 — Wheeled suitcase with collapsible towing handle patented…and every CON goer is forever grateful.
(9) TODAY'S BIRTHDAYS.
[Compiled by Cat Eldridge.]
Born March 8, 1859 — Kenneth Grahame. The Wind in the Willows  of course which to my surprise has but only two film adaptations, one animated and one live. Did you know A.A. Milne dramatized it for BBC Radio 4 back in the Seventies? Oh, and he did write one other fantasy, The Reluctant Dragon. (Died 1932.)
Born March 8, 1921 — Alan Hale Jr. The Skipper on Gilligan's Island which most likely isn't genre but he did show up in such films as Captain Kidd and the Slave Girl, The Fifth Musketeer and The Giant Spider Invasion which is most decidedly SF if of a pulpish variety. Series wise, I see he was on The Wild Wild West and Fantasy Island. (Died 1990.)
Born March 8, 1934 — Kurt Mahr. One of the first writers of the Perry Rhodan series, considered the largest SF series of the world. He also edited a Perry Rhodan magazine, wrote Perry Rhodan chapbooks and yes wrote many, many short stories about Perry Rhodan.  He did write several other SF series. Ok what's the appeal of Perry Rhodan? He runs through SF as a genre but I've not read anything concerning him. (Died 1993.)
Born March 8, 1939 — Peter Nicholls. Writer and editor. Creator and co-editor of The Encyclopedia of Science Fiction with John Clute. His other publications were Science Fiction at Large, The Science in Science Fiction edited by Nicholls and written by him and David Langford, and Fantastic Cinema. (Died 2018.) He became the first Administrator of the United Kingdom-based Science Fiction Foundation. He was editor of its journal, Foundation: The Review of Science Fiction, from 1974 to 1978.
Born March 8, 1945 — Micky Dolenz, 74. Voiced the Min Max character in the two part "Two Face" episode of Batman: The Animated Series. Voiced Ralph on The Secret Files of the SpyDogs, an animated where Adam West voiced the Dog Zero character and Robert Culp provided additional voices. He also voiced, and I kid you not, Wendell the Love Grub on Mighty Magiswords. [Editor's note: Maybe Cat can keep himself from mentioning Circus Boy and The Monkees, but I can't!]
Born March 8, 1950 — Peter McCauley, 69. Best known I'd say for being on Sir Arthur Conan Doyle's The Lost World in which he played Professor George Challenger. Lovely show which I'll really like. Running for three three seasons, it's his only major genre role to date though he's shown up on The Ray Bradbury Theater, Mysterious Island (a New-Zealand television series based on Jules Verne's novel L'Île mystérieuse), Xena: Warrior Princess, Tales of the South Seas and Legend of the Seeker. 
Born March 8, 1959 — Aidan Quinn, 60. Ok, I really l liked him in Practical Magic, but will admit that I've not seen nor plan on seeing The Handmaid's Tale which he was in. Yes, he was in Jonah Hex but let's not hold that against him. He also had the title role in Crusoe, and was Cpt. Robert Walton in Mary Shelley's Frankenstein. He was in The Eclipse as Nicholas Holden, and showed up in The Last Keepers playing John Carver. He was in a production of Scheherazade produced in Chicago, and played in Prince Hamlet in a Promenade Theatre, NYC production of that play.  Series wise, he's currently in the Elementary series as Captain Thomas 'Tommy' Gregson. 
Born March 8, 1976 — Freddie Prinze Jr., 43. I'm fairly sure his genre role was in Wing Commander as Lt. Christopher Blair followed by the animated Mass Effect: Paragon Lost in which he voiced Lieutenant James Vega. Speaking of animated endeavours, I've got him in Kim Possible: A Sitch In Time voicing Future Jim / Future Tim followed by being in all in all four seasons of the animated Star Wars Rebels as Kanan Jarrus. And that series I highly recommend. 
(10) COMICS SECTION.
Frank and Ernest shows when walking while looking at your phone is actually safer!
(11) MORE TO BE SAID. The Humanist posted a tribute to the late author and nontheist: "In Memoriam: Janet Jeppson Asimov, 1926 – 2019".
Janet Opal Jeppson Asimov died on Monday, February 25, 2019. She was ninety-two years old. Janet is remembered for her significant contributions to psychiatry, psychoanalysis, science fiction, and her dedication to humanism. AHA Executive Director Roy Speckhardt, who was in regular communication with her for years, recalled, "Janet was a whirlwind well into her eighties, racing from place to place but taking time to engage in lifelong learning, to write in her unique and compelling style, and to appreciate the arts and culture. Her direct approach, generous demeanor, and clever humor will be sorely missed."
(12) WALLS GO UP IN THE PRIVATE SECTOR. Escape Artists' Alasdair Stuart has dropped The Full Lid for March (I really need a better action verb there), which features a look inside the business, "Podcasting Does A Thing II: Welcome to the Montage."
Podcasting is doing a thing again. Last time it did a thing that thing was 'Be partially absorbed by Hard Drive Galactus'. This time round it's Luminary, a major new podcast developer, announcing their launch line up. 40 shows, including Cameron Mitchell's follow-up to legendary musical Hedwig and The Angry Inch, podcasts from Conan O'Brien, Malcolm Gladwell, Trevor Noah and the sequel to beloved superhuman audio drama The Bright Sessions.

All of them behind an $8 a month paywall, apparently intended as the 'Netflix of podcasting'.

…That paywall though and what it means is much more interesting not to mention complex. Whether we like it or not, and that's a nuanced answer that we're all working on, paywalls are going to be a thing in podcasting for a while. As my partner in all things pointed out, this is the exact same thinking behind the plethora of streaming platforms we're all about to be expected to pay for. Everyone's seen Netflix's money. Everyone wants some of it and the attempt to replicate that model is already spilling into other media with podcasting. Witness the Disney streaming platform, the conclusion of the Netflix/Marvel relationship, the Spotify assimilation of Anchor and Gimlet Media and the astonishing amount of money Himalaya just threw at their podcasting slate. That's not cash anyone spends lightly.
(13) LEST DARKNESS FALL. Did social media cause this neighborhood to be overrun? "Paris street to 'shut out Instagrammers'". Chip Hitchcock adds, "One is reminded that in the Niven story there were, deliberately, no teleport booths on Rapa Nui — a choice that wouldn't help this site."
A pretty cobbled street in Paris has become a huge hit on Instagram, with thousands of pictures and "likes".

But residents of Rue Cremieux have now had enough and are calling on the city council to restrict access at certain times.

One has even launched an Instagram account logging all the unwanted activity on the street.

It illustrated how the search for the perfect picture could become a problem, said travel blogger Kris Morton.

Residents have asked the city council to provide a gate that can be closed at peak times – evenings, weekends and at sunrise and sunset, when good light attracts people searching for a perfect Instagram picture.
(14) HE'S SEEN THE CAPTAIN. Camestros Felapton provides a spoiler-free review of Captain Marvel:
…Three years ago, I'd have said this was a particularly good entry in the Marvel film series but Captain Marvel has the tough act of following up Thor Ragnarok, Infinity War and the frankly deliciously good Black Panther. There's certainly enough feminism in the film to wind up the worst sections of society but I sometimes feel they pulled some of those punches and maybe dialled things back a notch when turning it up to 11 might have been smarter.
(15) WHAT EFFECT DOES TROLLING HAVE? In the Washington Post, Steven Zeitchik says that while trolls "can have a highly scarring effect on individual targets" such as Leslie Jones, the success of targeted films shows that "there's actually little evidence that trolling accomplishes its primary objective" of depressing movie attendance. "Captain Marvel: How the trolls always win — until they don't".
In fact, if one looks at previous movies with significant trolling campaigns — the 2016 "Ghostbusters" reboot, "Star Wars: The Last Jedi" and "Black Panther" — it's clear how ineffective they can be. "Ghostbusters" performed somewhat underwhelmingly with $128 million domestically. But "Last Jedi" was the highest-grossing movie of 2017, with $620 million in the United States. And "Black Panther" is the third-highest-grossing domestic film in history.
(16) ROTTEN TROLLMATOE. Meantime, Rotten Tomatoes is taking steps of its own to control the trollbot population. There's an article in The Hollywood Reporter but this is more succinct —
(17) NOT A BOT. Ever seen a 1-star review by a genuine human? Here's one by Bonnie McDaniel, "Review: How to Invent Everything: A Survival Guide for the Stranded Time Traveler", at the Red Headed Femme.
This is basically a gimmick book, and for me, the gimmick wore thin real fast….
(18) FREE ON EARTH. Almost 50 years after a comparable achievement: "Watch: SpaceX Crew Dragon Splashes Down In Atlantic Ocean".
The SpaceX Crew Dragon hit its splashdown time of 8:45 a.m. ET right on target Friday, landing in the Atlantic Ocean after undocking from the International Space Station and re-entering Earth's atmosphere.

The successful test and splashdown is "an amazing achievement in American history," said NASA Administrator Jim Bridenstine, who called the SpaceX flight the "dawning of a new era in American human space flight."

The Atlantic Ocean landing is the first in nearly 50 years for a capsule that was designed for humans, NASA says. The last such incident: the Apollo 9 splashdown on March 13, 1969.
[Thanks to Mike Kennedy, Martin Morse Wooster, John King Tarpinian, Dann, Cat Eldridge, Chip Hitchcock, JJ, Carl Slaughter, and Andrew Porter. Title credit goes to File 770 contributing editor of the day Anna Nimmhaus.]