(1) THE MAN WHO WOULD BE WHO. An actor who's already accumulated a lot of experience traveling in time one day in front of the next has his eye on the prize. Metro News says "Brian Blessed wants to be the next Doctor Who after Peter Capaldi"
The actor, who is fast approaching the ripe old age of 80, has been speaking to Calibre magazine about his desire to be the next Time Lord after Peter Capaldi; he said:

'I would love to play the Doctor, absolutely!'

Doctor Who fans may remember Blessed as King Ycarnos in 1986's The Trial Of A Time Lord, where his character went on to marry the Sixth Doctor's companion, Peri.

If Blessed were to become the next Doctor, he would be the oldest actor to do so, with some twenty years on current TARDIS pilot Capaldi.
(2) BEANS IN SPACE. Whereas the poster for the Australian competition referenced Mad Max: Fury Road, the "2016 Hungarian Aeropress Championship" post goes with a Star Wars icon.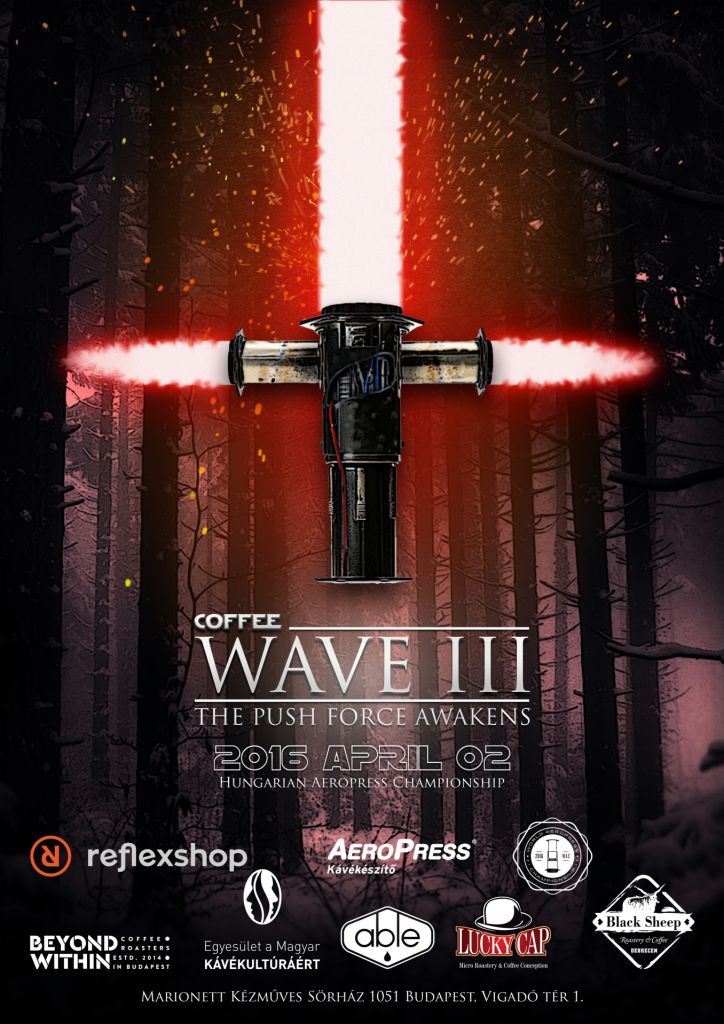 Fast circulating rumours, perhaps with the assistance of a HyperDrive, are suggesting the coffee has been sourced by coffee's home planet of Alderaan. Unfortunately these rumours have been denied by Ewoks on the forrest moon of Endor who have hand-picked all the rainforest alliance coffee. The variety of the coffee is mostly heirloom, sometimes also know as Degu(bah) and is famous for having very high midi-chorian levels, but low caffeine.  The coffee was fermented and de-pulped in the now re-purposed garbage disposal units on the detention level of the Death Star. That's enough lame Star Wars references for now i think…
(3) HPL ON THE AUCTION BLOCK. FineBooks & Collections reports "Found: Lovecraft-Houdini Manuscript".
Whispered about by hopeful collectors and scholars for decades, the manuscript of H.P. Lovecraft's The Cancer of Superstition, commisssioned and co-written by magician Harry Houdini, has finally come to light. It was rather incredibly "discovered by a private collector among the records of a now-defunct magic shop," according to Chicago's Potter & Potter Auctions, which will auction the 31-page typewritten story on April 9.
A brief description of the manuscript is provided in the Potter & Potter auction catalog available for download here [PDF file]. The bidding will open at lucky $13,000….
(4) OCTAVIA BUTLER. From Southern California Public Radio, "The life and legacy of Octavia Butler – and 5 stories you should read".
It's been a decade since science fiction writer Octavia Butler passed away.

The California native fell in love with storytelling as a kid at the Pasadena Library, and later grew up to be the only sci-fi writer to receive a MacArthur Genius Fellowship. She was also the first African American woman in the genre to achieve international fame.

According to her friend and fellow writer Steven Barnes, Butler anticipated the challenges of presenting black characters in her stories.

"In her early novels, they would put green people or aliens on the covers of her books," Barnes said.

"Or blond, white women," added Tananarive Due, also a friend of Butler's.

As a teacher and another African American female author, Due knows firsthand how influential Butler's work is.

"I wish I had discovered Octavia's work when I was a learning writer," Due said. "When I wrote my first novel, I had no idea whether or not there would be an audience for speculative fiction — speculative fiction being science fiction, fantasy or horror novel — with black characters, you know, not necessarily intended for black readers."
(5) JONESING. Everyone who's still alive in 2019 can see if the iconic star of the Indiana Jones movies can claim the same. The Walt Disney Company announces, "Spielberg and Ford Reunite as Indiana Jones Returns to Theaters July 19, 2019".
Indiana Jones will return to the big screen on July 19, 2019, for a fifth epic adventure in the blockbuster series. Steven Spielberg, who directed all four previous films, will helm the as-yet-untitled project with star Harrison Ford reprising his iconic role. Franchise veterans Kathleen Kennedy and Frank Marshall will produce.

"Indiana Jones is one of the greatest heroes in cinematic history, and we can't wait to bring him back to the screen in 2019," said Alan Horn, Chairman, The Walt Disney Studios. "It's rare to have such a perfect combination of director, producers, actor and role, and we couldn't be more excited to embark on this adventure with Harrison and Steven."
(6) GAVEL RAPPER. Kevin Standlee says a Business Meeting chair has "No Magic Bullets". Nor any other kind, to be sure.
A couple of days ago, I got into a conversation on billroper's LJ about the "Heckler's Veto" and that led to me thinking about something that had worried me about running the WSFS Business Meeting. After all, the entire meeting process, and parliamentary procedure itself, assumes that the people gathering actually are willing to play by the rules. If a significant number of the people showing up won't play by the rules, the meeting will dissolve. It would be like a bunch of football players deciding during a match that they don't like the rule book and that they can ignore the officials and do anything they want. There's not a lot the officials can do in that case, other than leave.

I did give a lot of thought to this approaching the 2015 WSFS Business Meeting, what with doomsday scenarios of thousands of people overrunning the meeting and refusing to obey any rules and shouting down anything they didn't like and generally causing chaos. I concluded that a meeting whose members refuse to follow their own rules is not a meeting, but a mob, and I'm not chairing a mob. Had such a thing happened, I would have ordered the meeting adjourned "at the call of the chair" and turned to the convention for help. The convention would then in turn have had to ask the convention security to clear the area, and potentially even call the police if non-members (including any people who had their memberships revoked) refused to leave on their own accord.
(7) TO HAL WITH IT. 2001 A Space Odyssey: A Look Behind the Future is a 1960s promotional film. The 10-minute color documentary includes production of props, revolving spaceship set, etc.
(8) CURRENT EVENTS. A much more recent sf film will also be the subject of a documentary: Secrets of The Force Awakens: A Cinematic Journey.  It will be a bonus on the movie's Blu-Ray disc, to be released April 5.
(9) GROWING UP AI. At The Way Finder, Hugh C. Howey says he has observed "The Birth of Artificial Intelligence".
…This was not the week, however, that AI was born. This was the week that I realized that AI was born quite some time ago…..

It's in the early years of human development where I think we can see the current state of AI being somewhere post-birth and yet pre-awareness. But the development of strong AI will have incredible advantages over the human acquisition of general intelligence. This arise from the modular nature of intelligence.

Our brains are not one big thinking engine; they are collections of hundreds of individual engines, each of which develop at different rates. What's amazing about AI is that the learning does not need to be done twice for every module. When we build a chess-playing module, and a Go-playing module, and a Jeopardy-playing module, all of these can be "plugged in" to our general AI. Our baby girl is growing every day, and thousands of people are pouring billions of dollars of research into her education. We, the general public, are contributing with petabytes of data. It is already happening, and we won't even recognize when our first daughter graduates into strong AI. Every day will be — as parents know — one small miracle added to the last, a succession of amazing little first steps that result in them going off to college and being their own person.

Each headline you read is us — as collective parents — gasping to our spouse at what our baby girl just did for the first time.

Google has already taught our daughter to drive a car. Amazon is doing amazing things with their Alexa device, creating the beginnings of the virtual assistant seen in Her. IBM is building the best medical mind the field has ever known. In the last five years, AI has taken strides that even the optimistic find startling. The next five years will see similar advances. And this progress will only accelerate, because we're operating in the realm of Moore's Law. We are building the tools that help us build faster tools, which help us build faster tools.
(10) IRENE LARSEN OBIT. Magic Castle co-founder Irene Larsen died February 25 reports Variety.
Irene Larsen, co-founder of the Academy of Magical Arts and the private clubhouse the Magic Castle, died unexpectedly on Thursday morning at her Los Angeles home. She was 79.

After she assisted her late husband William "Bill" Larsen Jr. in his various magic acts for years, the two launched the Magic Castle together in 1963. Larsen's dedication to the role of ambassador of magic helped elevate the AMA to an internationally renowned and respected organization within the art's community.
(11) WRITING WHILE WAITING FOR THE EMERGENCY. Amanda S. Green's "Putting things into perspective" at Mad Genius Club demonstrates how a professional writer honors her real-life priorities — a friend's health and her writing commitments .
…One of my oldest and dearest friends is facing a challenge the vast majority of us will only ever read about. She is going to need me with her as she faces this challenge. Even if she hadn't asked, I would be there for her. Why? Because she has always been there for me and mine.

That's what friends and family do. You rally around those you care about.

But, when you do, work is impacted.

I know that the next few weeks and months will see us waiting for the shoe to drop. In some ways, it will be like those last weeks of pregnancy. A bag will be packed, the gas tank filled and we will all be waiting for the phone to ring to tell us it is time to leave. No, not a bug-out, at least not in a Ringo-esque sort of way. This is the call to get to the hospital within a certain amount of time. The clock is ticking and it is very loud….

It has also meant changing what I have with me at any time. I've always had my phone and a small notepad squirreled away in my purse in case I needed to make a note about something. Smart phones are great for being able to use for dictation and look up things, etc. Now, however, the small purse — my preference — has been traded for a larger one. The smartphone and pad have been joined by my Surface Pro 3, stylus and charger. Why? Because the SP3 gives me everything my laptop does but at a fraction of the weight. The screen, while small, is still larger than my Android tablet and the keyboard is much better than the virtual keyboard on the Android. Add in the thumb drive with all my working files and I have my office on the go….

The result has been that I can and have been getting the job done despite the worry that is constantly there right now. I am working hard to not only meet the schedule I set for myself at the beginning of the year but to get ahead. I want that cushion for the day when we get the call telling us it is time to meet my friends at the hospital. I want to be able to be there for them and not worry about falling behind on "work". I need to know that I am keeping with my schedule so the money can and will keep coming in. I need to know that, no matter what the time of day or day of the week, I am able to continue working without worry about where I happen to be….
(12) COMIC-CON HQ TO LAUNCH. San Diego's Comic-Con International will brand a video-on-demand service.
The Hollywood Reporter: "Lionsgate, Comic-Con Set Launch Date for Streaming Service"
Lionsgate and Comic-Con International will launch Comic-Con HQ, their newly-named fanboy streamer, on May 7, ahead of an official launch in June. The subscription video-on-demand service will have a soft launch in May, with an official bow to follow in June in the lead up to Comic-Con International: San Diego in July.
Deadline: "Lionsgate & Comic-Con's SVOD Channel Comic-Con HQ Sets Launch Date"
The ad-free streaming service will feature "an evolving slate of programming including original scripted and unscripted series, recurring daily and weekly entertainment commentary, plus unique access to a growing library of live and archival programming from their world-class events, a highly-curated selection of film and TV genre titles, and behind-the-scenes access and bonus features from genre titles that defy and define pop culture," per the announcement.
Variety: "Lionsgate to Launch Comic-Con Channel in May"
Monday's announcement disclosed that gaming personality Adam Sessler, former host of G4's X-Play, will executive produce programs on comics, science and gaming, along with hosting his own interview series. Other formats being developed include a general pop culture news show, a late-night talk show, a weekly movie talk in partnership with Complex's Collider and an all-female panel on pop culture from women's perspectives.
(13) ONCE AROUND THE BLOCK. Mr. Sci-Fi has something to say about the Paramount/CBS suit against the maker of Axanar.
Sci-Fi Writer-Producer Marc Zicree discusses Paramount's lawsuit against Star Trek Axanar and puts it in context with the long history of science fiction fan fiction and fan films — and suggests several possible win-win strategies for a successful outcome.
[Thanks to Will R., Steven Johnson, Andrew Porter, and John King Tarpinian for some of these stories. Title credit goes to File 770 contributing editor of the day Steve Davidson.]