(1) SIAM SINFONIETTA. Somtow Sucharitkul conducts at Carnegie Hall tonight! On Facebook, he posted a picture of his dressing room.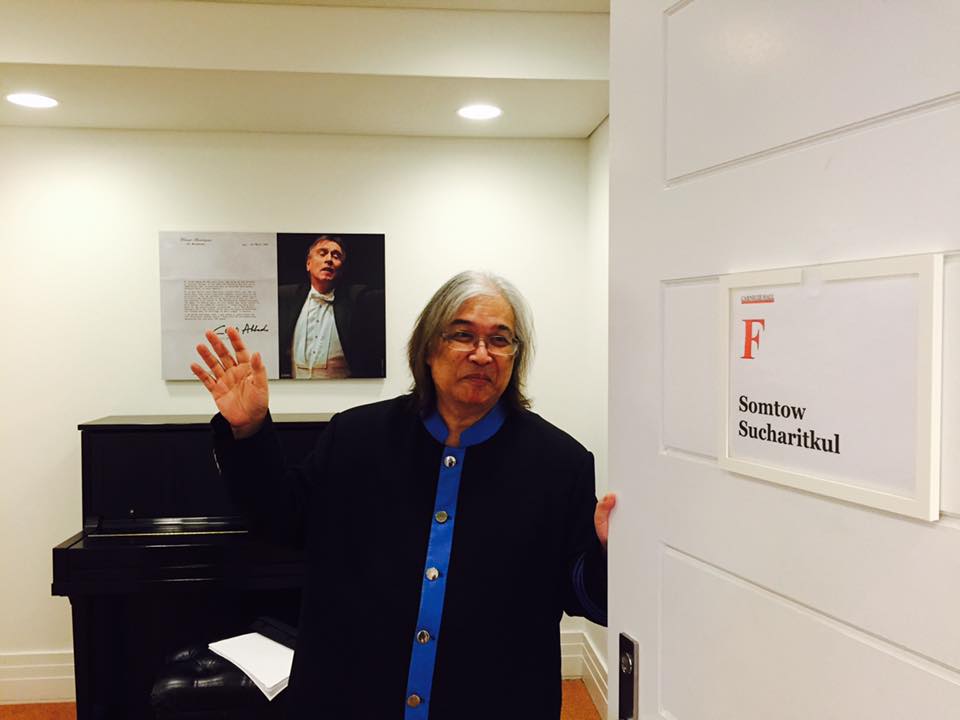 (2) SOCIETY PAGES. The Planetary Society has released the second installment of The Planetary Post with actor and Society board member Robert Picardo, their newsletter featuring the most notable space happenings.
For this issue, we took a trip to the set of the scientist-produced musical called "Boldly Go!" to celebrate the 50th anniversary of Star Trek.
(3) HOP ON POP. "William Shatner sued for $170 million by man claiming to be his long-lost son"
William Shatner is being sued for $170 million by a radio host who claims to be the "Star Trek" legend's long-lost son.

Peter Sloan has boldly gone and filed legal paperwork in Florida demanding Shatner submit to a DNA test and cease claiming he isn't his father.

Sloan, 59, claims his birth mother, late Canadian actress Kathy McNeil, had a brief affair with Captain Kirk in Toronto. She gave him up for adoption at 5 days old.

But Shatner, 85, denies Sloan is his son, and claims the local radio host is trying to unfairly live long and prosper from the connection.
(4) MEMORY NUMBER ONE. Madeleine E. Robins makes a riveting anecdote out of her earliest memory, in "My Mother Went Out for Lemons" at Book View Café.
As a small child my family lived in the top two floors (or more properly, the top floor and an attic) of a brownstone on 11th Street in New York City. Four years after this story we moved to another brownstone, also on 11th Street, where we lived in the bottom two floors.  But that's neither here nor there in terms of this memory.

My brother would have been about six months old–I know this because it was spring (and both my brother and I were December babies, but it wasn't swelteringly hot the way that summer in New York City so often is). I would have been about two and a half. And my mother was making dinner and realized that she needed a lemon. Rather than waking the baby and packing us both into the stroller and going down to the corner to fetch a lemon, Mom made a different call: she sat me down on the couch, told me not to move, and went out to buy a lemon….
(5) ONE RULE TO BIND THEM ALL. Jeffe Kennedy warns against violating the One Rule, in "Romance Tropes for SFF Writers" at the SFWA Blog.
The romance in the book does not end happily. It does not end with even the promise of happiness. The heroine and the hero part ways with every indication that this will be a permanent separation.

Now, there is nothing wrong with this ending for a science fiction novel. However, for a book marketed as SFR, it's a huge violation of reader trust. It's an ending that makes romance readers throw the book against the wall. It's a profound betrayal that destroys their trust in an author.

An argument that gets introduced in a lot of these conversations – always from non-romance readers – is that the HEA/HFN is not mandatory. That it's okay for a story to end tragically. Romeo and Juliet gets trotted out. And sure, that's true! But Romeo and Juliet is one of Shakespeare's tragedies! Sure, there's a romance in it. You can even say the romance is the core of the story, but that doesn't make it a romance. Why not?

Because it ends tragically, not happily.
(6) TRUST. R. S. Belcher says "Trust Your Editor" in a post at Magical Words.
Like I said, I was pissed. I had been doing this job of writing and getting paid for it for a long time, years. I paid bills, mine and my family's bills, on my words, and I thought, after busting my hump on this piece that it was one of the best journalism pieces I had written.

The first chicken McNugget of "wisdom" I'll throw out here, is whatever you write, if you expect to get paid for it, expect to deal with criticism…from all corners. You have to learn how to deal with that anger or it will eat you up like acid, or worse, it will influence how you write. It will affect how fearless you get in your writing, what you do, how you say it, and what you decide to not say. If you can't handle that, pack it in, take up alpaca herding or something, 'cause you will be a bitter, miserable, and poor writer (in more ways than one).

So, I took a few days, because my deadline allowed me to, and did nothing in regards to the article. I did not email this editor and tell him exactly what I thought of his revisions, and where he could stuff them. I did not quit in a funk, or bad-mouth the guy and his publication in social media. In other words, I didn't shoot my career in the face with a bazooka. I raged in private, I calmed the hell down, and I got back to work.

I did every single thing this editor had wanted me to do; when all was said and done, when all the ego, and emotional sturm und drang was over, it was a better piece, a better creation of my writing, my words. My editor was right, and he was damn good at his job. The moral of this story is trust your editor.

Now, I'm not saying trust every editor, I'm saying trust your editor.
(7) TWO DADS. The View from the Cheap Seats by Neil Gaiman, on sale May 31. The Fireman by Joe Hill, on sale May 17. John King Tarpinian says, "Joe Hill gave Ray Bradbury credit for the title. Both books are dedicated to the authors' newborn babies."
(8) PATTY DUKE OBIT. Patty Duke passed away March 29 at the age of 69. Sean Astin paid tribute to his mother online:
Shortly after the news was made public that his famous mother Patty Duke had passed, Sean Astin took to social media to post a heartwarming tribute — and announce that he's launching a mental health initiative in her honor.

"I love you mom," he wrote alongside a photo of his mother holding him as a baby. The message also included the statement that the family released to announce the passing.

Along with image, Sean posted the words, "Her work endures," along with a link to the Patty Duke Mental Health Project.

"My mother's life touched tens of millions of people. Her ground breaking portrayal of iconic American legend Helen Keller, launched a career that would span six decades," Sean wrote of the crowd-funded project. "First on broadway and then on the silver screen, Patty Duke's characterization of the extraordinary development of the blind/deaf child brought global attention to the plight of people living with those challenges.

"The nature of this kind of illuminating and compassionate work become the sacred mission of her life," he continued. "She became a voice for the voiceless, a reassuring presence for the scared, the intimidated and the lost. She was a healer of many souls and a champion for so many in need."
(9) TODAY IN HISTORY.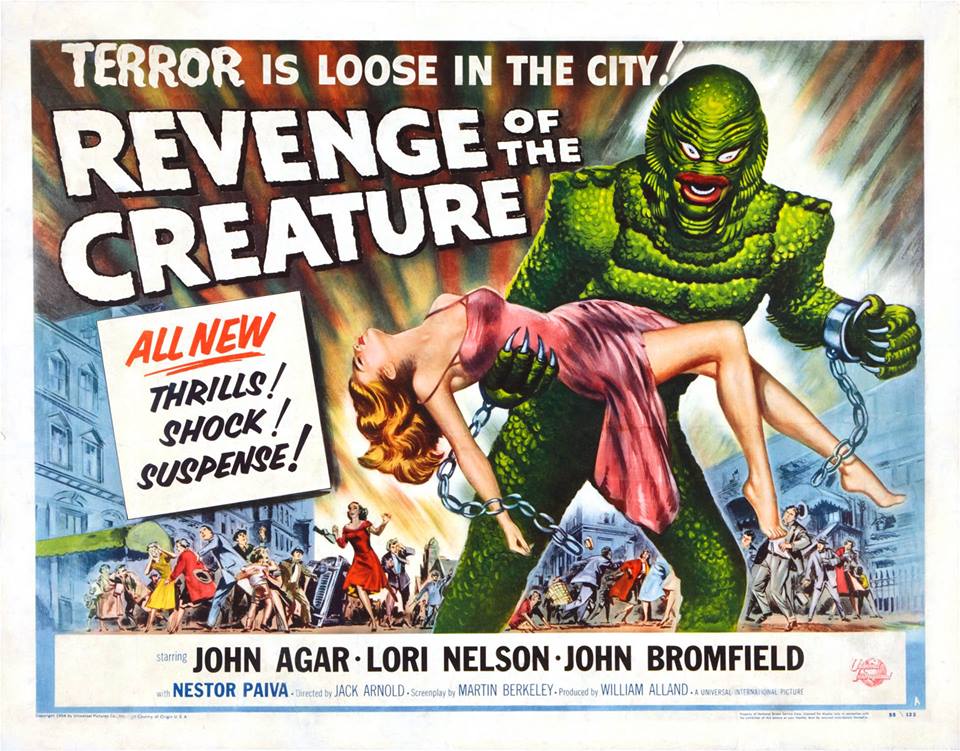 March 29, 1955 – Revenge of the Creature was seen for the first time.  Clint Eastwood, uncredited, makes his first screen appearance in this movie as the goofy white coated lab assistant.
March 29, 2004 – Shaun of the Dead premieres in London.
(10) TODAY'S BIRTHDAY GIRL.
March 29, 1968 – Lucy Lawless of Xena fame.
(11) A LENS MAN LOOKS AT NARNIA. Vishwas R. Gaitonde has some thoughts about the worldwide popularity of Lewis' Narnia stories. "With No Inkling of the Contents: Viewing Narnia Through a Hindu Lens" at The Mantle.
Recognizing Hindu Philosophy in Narnia

I began to wonder: what would Narnia be like if it were viewed through a Hindu lens? Perhaps part of the worldwide popularity of the Narnian saga lies in people from other cultures discovering a resonance of their own spiritual beliefs—meanings that Lewis never consciously intended. But then, works of imagination are open to interpretation. As I contemplated the Christian themes in Lewis' work, I began to wonder: what would Narnia be like if it were viewed through a Hindu lens? Could a reader find such themes throughout Narnia?

…In viewing Narnia through a Hindu lens, I have largely drawn from the Hindu school of philosophy called Advaita Vedanta, which is arguably the most popular contemporary concept of Hinduism.

Atman, Brahman, and Maya: Hindus believe that the human soul (Atman) intuitively knows that existence within a physical body is not its true nature—that it is part of the Godhead, the Universal Spirit (Brahman). But in its body prison, the soul has forgotten its real identity. This ignorance (avidya) forms the human quandary and its accompanying sorrows….

Mythology awakens within us the desire for our true selfIn The Silver Chair, Prince Rilian has similarly forgotten who he is for years whilst bewitched by the Lady of the Green Kirtle. When liberated, Rilian regains full knowledge that he is the heir to the Narnian throne. He declares, "For now that I am myself, I can remember that enchanted life, though while I was enchanted, I could not remember my true self." Similarly, in The Horse and His Boy, Shasta is clueless about his true identity, but he knows that he isn't who he and others think he is (a slave or serf). His intuition sets him on a quest that ultimately reveals he is the lost heir of Archenland. In The Voyage of the Dawn Treader, Lord Rhoop is trapped on Dark Island where subconscious dreams come to life, where one is a prisoner of his or her own mind. In The Silver Chair, Jill Pole sees boulders and is fooled into thinking they may have given rise to the old wives' tales of giants—until the boulders turn out to be actual giants. In The Last Battle, Puzzle the Donkey cloaked in a lion's skin deceives others into thinking he is Aslan. And in Prince Caspian, Caspian longs for the old Narnia, just as the soul instinctively knows that there is a better place and a better experience (viz., Brahman, Spirit) than its current surroundings. Mythology awakens within us the desire for our true self—so just as Caspian clings to his myths, Hindus hang on to theirs.
(12) JOHN JOSEPH ADAMS. Here's how John Joseph Adams said it, in "NEWS: Hugo Award Nomination Deadline is March 31":
If you like a thing, and you think it's deserving of a Hugo Award, nominate it! If you're not familiar with a thing, but you saw it on a suggested nominations list or something of the sort, either read/watch it, and then nominate it because you like it, or don't nominate it because you didn't like it. Point being, please don't nominate stuff just because it's on somebody's list somewhere; only nominate things you personally think are deserving.
(13) DOGGED EFFORT. At Chaos Horizon, Brandon Kempner continues "Estimating the 2016 Hugo Nominations, Part 2".
A pretty simple model and not terribly informative so far. What you'll glean from this is that the Rabid Puppies are likely to deliver a large block of votes to the works on their list. When we combine this chart with the estimated chart from the Typical vote and the Sad Puppy vote, that's when we'll be in business.

The core question is whether or not this block will be larger than other voting groups. In more lightly voted categories like Best Related Work or categories where the vote is more dispersed like Best Short Story, 400 votes is likely enough to sweep all or most of the ballot. Think about Best Related Work: the highest non-Puppy pick last year managed only around 100 votes. The top non-Puppy short story only managed 76 votes last year. Even if you triple those this year, you're still well under 400 votes. In a more popular category like Best Novel or Best Dramatic Work, I expect the impact to be substantial but not sweeping. Perhaps 3 out of 5? 2 out of 5?
(14) WHAT A WAG. The Good Dog News can be found in this Maximumble cartoon.
(15) SHOPPING ONLINE IN THE STONE AGE. Martin Morse Wooster advises, "The YouTube video 'Internet Shopping–Database—1984' is another installment of the 1984 ITV series Database, in which the manager of the Nottingham Building Society reveals 'If we give away one of these' (keyboards) 'We won't have to build any more branches!'
"The excitement of shopping and looking up your bank statements on your TV is palpable!"
[Thanks to Martin Morse Wooster, John King Tarpinian, and Will R. for some of these stories. Title credit goes to File 770 contributing editor of the day Brian Z.]