(1) THE WEED OF CRIME. The Washington Post has an article by Rachel Weiner about Amil Chaudry being sentenced to nine years for identity theft, visa fraud, and money laundering.  Prosecutors said that Chaudry was part of a ring that charged $25 million on phony credit cards, and when banks challenged the charges used phony passports to back the claims.
"The scheme was uncovered in part because an FBI agent recognized actress Laura Vandevoort in one of these passports," Weiner reports.  "The image was taken from a scene from the television show 'V' involving visas, authorities said."
Vandevoort also played Supergirl in "Smallville" and Indigo in "Supergirl."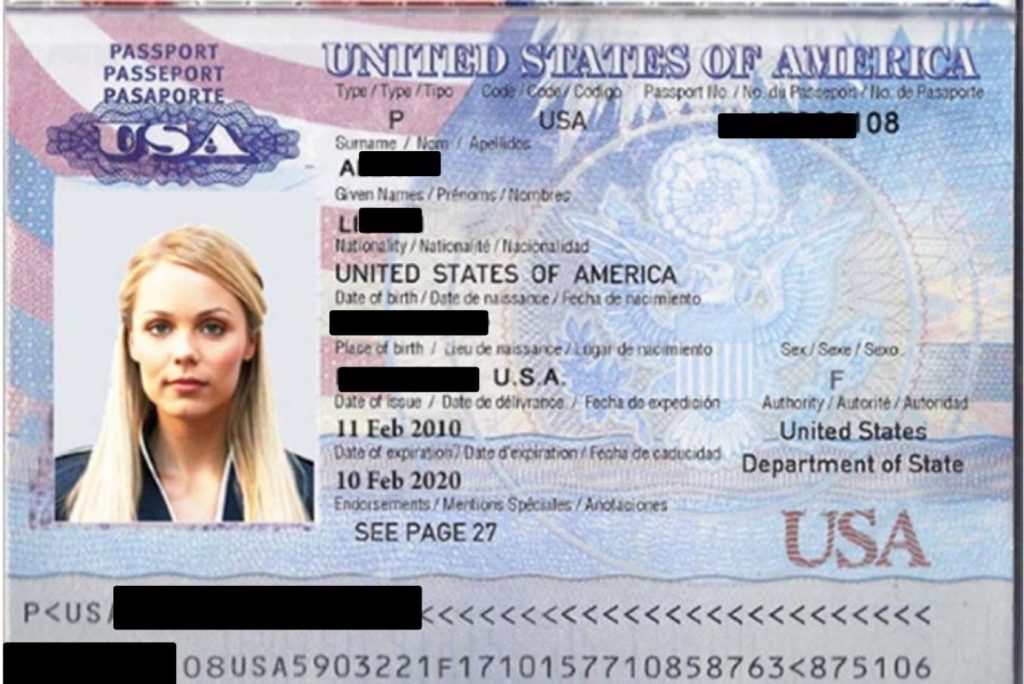 (2) AN EVEN LISTIER LIST. Von Dimpleheimer has updated his ebook compilation of people's lists of 2017 award recommendations. The latest version adds the File 770, Shadow Clarke, and SFWA recommendations and the finalists of the Asimov's Readers', Crawford, and Phillip K. Dick awards. JJ has approved his handling of the File 770 entry. The ebook is available as a free download.
(3) LEARN ABOUT AFRICAN SFF.  Geoff Ryman's "100 African Writers of SFF" series continues at Strange Horizons.
(An earlier version of this chapter was published at Tor.com in November 2016.) In Part Two of 100 African Writers of SFF, you'll meet: a crime writer whose grandfather was a king—one who made a Western artist a priestess in the Ogun religion. A white South African anti-apartheid activist whose sister was tried under the security laws—and introduced him to the work of Joanna Russ. A Rastafarian from Zimbabwe whose experience of life under Mugabe has made him a free-market neoliberal. A South African rap/ jazz-rock star, illustrator, and author who models his look on the Wicked Witch of the West.
In Part Three of 100 African Writers of SFF, you'll meet the editors of Cape Town: the people who make things happen. They include Constance Myerberg/Jenna Dann, co-founder of Jungle Jim; Kerstin Hall, founder of Luminous Worlds; Nerine Dorman, writer and editor of the anthology Terra Incognita; Ntone Edjabe, founder and editor of Chimurenga; and Rachel Zadok, a force behind Short Story Day Africa.
(4) BAD GUYS WHO WEREN'T VERY GOOD. Factory seconds from the comic book industry — "The Legion of Regrettable Supervillains explores ill-thought comic book bad guys".
Sometimes even comic greats can have terrible ideas — and in a fascinating new book, The Legion of Regrettable Supervillains: Oddball Criminals from Comic Book History, author Jon Morris explores the history of ill-thought and sometimes laughable antagonists you've probably never heard of. Below, check out a few highlights, complete with captions Morris has written for EW exclusively, to get a sneak peek before The Legion of Regrettable Supervillains hits shelves on March 28.
For example:
MIRROR MAN Created by: Mike Sekowsky and an uncredited writer Enemy of: Captain Flash Debuted in: Captain Flash #1 (Sterling Comics, November 1954)

© 1954 by Sterling Comics

The courageous Captain Flash fought a surprising number of menaces in his abbreviated career, but none quite as deadly, implacable and likely to jump out of a medicine cabinet as Mirror Man. A silicon-starved, glassy nogoodnik from a malevolent dimension, Mirror Man comes to Earth to destroy its finest scientific minds. Why? It's never explained, but at least it gives Captain Flash something to do while running out the clock on his short-lived series. Boasting the ability to disappear into any reflective surface, and to appear from any other, Mirror Man is one of the first alien menaces to make his initial salvo against Earth from the convenience of a men's restroom.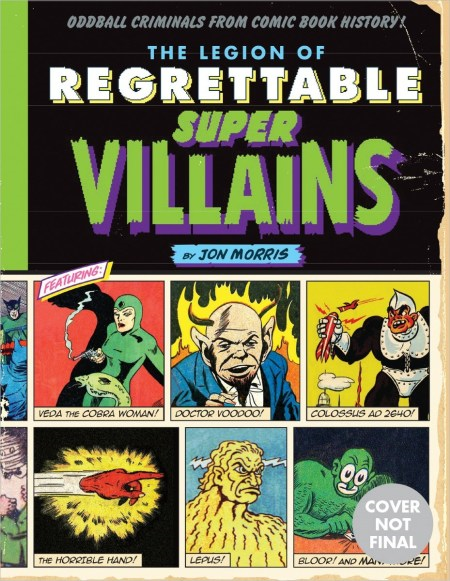 (5) A FINE POINTILLIST. The Washington Post's Michael Cavna interviews Bob Mankoff, who is ending his tenure as the New Yorker's cartoon editor in April.  Mankoff discusses how he created the Cartoon Bank to provide another income source for cartoonists and how he imagines his late mother being asked about his job and told, 'They paid you for that?"
Since he became editor, "the biggest change was that cartoons, even of the very benign variety that appear in the New Yorker, now have great power to offend — at least among the easily offended, a class whose numbers grow even as I write," Mankoff says. "Now, even Canadians take offense at being stereotyped as polite."
(6) TODAY IN HISTORY
March 4, 1952 — Ernest Hemingway completes his short novel The Old Man and the Sea. He wrote his publisher the same day, saying he had finished the book and that it was the best writing he had ever done. The critics agreed: The book won the Pulitzer Prize in 1953 and became one of his bestselling works.
March 4, 2017  — People read the above and demand to know why Mike is posting this item about a non-genre work.
(7) GONE BATS. Given enough time, critics will talk themselves into redeeming the irredeemable — "Why this ridiculous 1966 Batman movie is the most important Batman movie ever" by Greg Cwik in The Week.
You may look back affectionately on Batman's innocently zany antics of the 1950s and early '60s. But Batman was almost ruined by those robots and radioactive big bugs and kitschy toys and gimmicks and the definitely not-gay Bat-Family of Bat-Hound, Bat-Girl, Batwoman, Bat-Mite, and Mogo the Bat-Ape. Sales sunk. In fact, "they were planning to kill Batman off altogether" in 1964, said co-creator Bob Kane.

But then editor Julius Schwartz took over, and tried to save the comic by eradicating the Bat-Family. He was aided by artist Carmine Infantino, who redesigned Batman to be "more realistic." Sales went up. But ironically, it was another gimmick-laden endeavor that truly rescued the Dynamic Duo: the Adam West-starring camp comedy Batman, which premiered in 1966, the year Kane retired.

Batman fans, particularly Frank Miller acolytes, like to say West's show and movie "ruined" Batman. Actually, the parodic depiction made Batman a cultural icon after a decade of mail-in toys and cynical strategies. It presented a starkly different kind of Batman, at once refuting Wertham's provocations while slyly embracing them through its ostensible innocence.

A genuine fad, the show and movie came and went in 26 months. But its influence altered the legacy of the Caped Crusader. The movie, which came out July 30, 1966, was the first official Batman movie since the serials of the 1940s. A generation of television viewers and moviegoers, unfamiliar with Kane and Bill Finger's brooding detective (Batman killed people — by noose, by gun, by defenestration) now knew Batman only as a campy crusader with painted-on eyebrows and a syncopated delivery that sounds, to modern ears, like a lascivious cross between William Shatner and Jeff Goldblum. The juxtaposition between Walter Cronkite's 1968 Vietnam expose on the dinnertime news and Burt Ward yawping, "Holy Diversionary Tactics!" must have been dizzying.
(8) BEAU OF THE BALL. Mets pitcher Noah Syndergaard will appear in Game of Thrones.
According to Ken Davidoff at the New York Post, Syndergaard filmed his cameo in Spain in November when he had some free time after the Mets were eliminated from the postseason in the NL Wild Card Game.

"They just know that I'm a fan and they invited me to do that," Syndergaard told MLB.com's Anthony DiComo. "I couldn't say no."
(9) NERDS IN HELL. Nerds of a Feather is launching an ambitious series on dystopianism in SF/F that will continue for the next two months.
This series, conceived of as a sequel to Cyberpunk Revisited, seeks to explore questions of what dystopianism is and what purpose(s) it serves. What are the tropes and conventions of modern dystopian fiction? How have dystopian visions evolved over time, both in terms of approach and theme? And what do dystopian visions about the points in time and space in which they are written?

Equally, we will ask questions about why we like to read about dystopias. Is it possible that we even find them comforting, and if so, why?

Finally, but perhaps most importantly, we will consider dystopianisms's complex relationship to its forebear, utopianism. We will explore works where dystopianism serves to negatively define utopia, as well as those where dystopia and utopia are presented side-by-side. Just how essential or intrinsic is the concept of utopia to that of dystopia?

We will explore these and other questions through a series of essays and dossier-style reviews, including of works not commonly associated with dystopianism, but which present dystopian themes. Our dossiers will have the following subheadings:

Filetype: whether the work under review is a book, film, game, etc.

File Under: whether the work presents a statist, stateless, fantasy or hybrid-form dystopia.

Executive Summary: summary of the plot.

Dystopian Visions: discussion of dystopian themes/content present in the work.

Utopian Undercurrents: whether and to what degree the work's dystopianism underlies a utopian understanding of politics, society, etc.

Level of Hell: a quantitative rating of how terrible the presented dystopia is, from first to ninth—with an explanation of the rating.

Legacy: the importance of the work in question within its field.

In Retrospect: an editorial commentary on how good/not good the work is, from the vantage point of 2017.

Interspersed with these dossier reviews, we and a selection of guest writers will explore how to contextualize dystopia and dystopianism within literature and other media, as well as the moments in time and space when it has surged forward into popular consciousness.
(10) ACTING WITHOUT THE ACTOR. What if Leonard Nimoy's Spock could be digitally resurrected for appearances in future productions of the Star Trek franchise? Here's what Adam Nimoy has to say about it at CinemaBlend.
Adam Nimoy, who directed the 2016 documentary For The Love Of Spock that focused on his father, made this admission to Trek Movie.com, insisting that he wouldn't have a problem with seeing his dad up on screen again as Spock. He also admitted that he was blown away by what Rogue One had achieved with Peter Cushing and Carrie Fisher. Adam Nimoy remarked,

Yeah I think it's an interesting idea. I loved what they did in Rogue One. I thought it was pretty clever, and I was blown away by it, frankly. All of the stuff that Peter Cushing was doing was mind-boggling to me. I'm a sucker for that stuff. I think it should certainly be explored, but I'm not the final arbiter as to whether it's going to happen, but I think it's a great idea, personally.

There's every chance that an opportunity to resurrect Leonard Nimoy, who died back in 2015, as Spock could present itself in the near future. As the question was being posed to Adam Nimoy, the interviewer explained that Star Trek: Discovery will take place a decade before the events of the original Star Trek series, during which time Spock served under Captain Pike on the Enterprise.
(11) THINKIN' UP SH*T. This reminds me of Bruce Willis' line in Armageddon about what he assumed NASA spent its time doing. ASU's workshop where "AI Scientists Gather to Plot Doomsday Scenarios (and Solutions)" is covered by Bloomberg Technology.
Artificial intelligence boosters predict a brave new world of flying cars and cancer cures. Detractors worry about a future where humans are enslaved to an evil race of robot overlords. Veteran AI scientist Eric Horvitz and Doomsday Clock guru Lawrence Krauss, seeking a middle ground, gathered a group of experts in the Arizona desert to discuss the worst that could possibly happen — and how to stop it.

Their workshop took place last weekend at Arizona State University with funding from Tesla Inc. co-founder Elon Musk and Skype co-founder Jaan Tallinn. Officially dubbed "Envisioning and Addressing Adverse AI Outcomes," it was a kind of AI doomsday games that organized some 40 scientists, cyber-security experts and policy wonks into groups of attackers — the red team — and defenders — blue team — playing out AI-gone-very-wrong scenarios, ranging from stock-market manipulation to global warfare.

Horvitz is optimistic — a good thing because machine intelligence is his life's work — but some other, more dystopian-minded backers of the project seemed to find his outlook too positive when plans for this event started about two years ago, said Krauss, a theoretical physicist who directs ASU's Origins Project, the program running the workshop. Yet Horvitz said that for these technologies to move forward successfully and to earn broad public confidence, all concerns must be fully aired and addressed.
[Thanks to JJ, John King Tarpinian, Von Dimpleheimer, and Martin Morse Wooster for some of these stories. Title credit goes to File 770 contributing editor of the day Hampus Eckerman.]