(1) I DUB THEE. Mr. Sci-Fi, Marc Scott Zicree, shares with his audience "The Amazing Secret Behind the Woman Who Named Spock — Only Here! Don't Miss It!". He also observes about the original Star Trek —
…[The pilot] did not get picked up but now in 2022 the future that show is getting greenlighted. It is the only pilot made in 1964 and picked up in 2022, two different centuries, so if that isn't science fiction I don't know what is….
(2) PUBLISHING STAFF ORGANIZES. "Why Condé Nast Staffers Are Unionizing: 'Prestige Doesn't Pay the Bills'", as they tell the New York Times.
… Late last month, hundreds of employees at Condé Nast, including those at Vogue, Vanity Fair, Architectural Digest and Allure, noting that "prestige doesn't pay the bills," announced that they were forming a union and had asked company management for voluntary recognition. In another time, indifferent to the scourges of entitlement and unfairness, the jokes would have written themselves: The assistants at Vogue are mobilizing … for bigger Town Cars; they demand that all corporate retreats be held in Portofino; they'll hijack negotiations until Keith McNally runs the cafeteria.

But the world, of course, is not what it was. Editorial, video and production staff were demanding better pay, job security and stronger commitments to diversity. Young workers were drawn to Condé Nast because it embodies a certain culture, a representative of the News Guild of New York pointed out. (The guild is currently in contract negotiations with the Times.) Today, however, that isn't enough.

In a moving video laying out the need for collective action, writers, editors, social-media managers, graphic artists, fashion assistants and researchers explained that they were fed up and burned out, and they were seeking overtime compensation for relentless hours, pay transparency and salary floors, which previously unionized colleagues at The New Yorker obtained last year. They worried about layoffs without severance and meetings where minority representation often amounted to the presence of a single person in the room.

A spokesman for Condé Nast declined to address specific grievances but said, "We plan to have productive and thoughtful conversations with them over the coming weeks to learn more."…
(3) DOCTOR WHO REDACTED. "Doctor Who Reveals Spinoff Podcast Series Featuring the Thirteenth Doctor" – CBR.com says we're going to get an earful.
Jodie Whittaker might only have a few Doctor Who episodes left before she regenerates, but the Thirteenth Doctor is about to receive even more adventures in podcast form.

The official Doctor Who website announced that Episode 1 of a ten-part podcast series called Doctor Who Redacted will drop on April 17, the same day as the 2022 special episode "Legend of the Sea Devils." Instead of being directly Doctor-centric, Redacted follows "three broke university drop-outs" and podcast co-hosts Cleo Proctor (Charlie Craggs), Abby McPhail (Lois Chimimba) and Shawna Thompson (Holly Quin-Ankrah), whose series "The Blue Box Files" analyzes the reoccurrence of a mysterious object (i.e. the Doctor's TARDIS) throughout historical records. However, Cleo, Abby and Shawna soon become the universe's best chance at survival, thanks ironically to poor viewership numbers, after getting "caught in a supernatural conspiracy as they learn that everyone who's ever met the Doctor is disappearing and being forgotten."
(4) SPINDIZZY? NO, SPINLAUNCH. The space agency is going to give them shot. "NASA to Test SpinLaunch, a Huge Accelerator Built to Slingshot Payloads to Space" at CNET. This version is suborbital. A version is on the drawing board that could be used to achieve orbital insertion (in conjunction with a small upper stage). The system is strictly for uncrewed launch.
On the long, desolate road between Las Cruces, New Mexico, and the main terminal of Spaceport America over an hour to the north, a bizarre structure looking something like a huge yo-yo with a small smokestack can be seen rising out of the desert floor to the east. 

But the spinning that happens at this facility run by California-based SpinLaunch takes place on the inside of what is really a steel vacuum chamber 300 feet (91 meters) in diameter.  A payload attached to an internal carbon fiber arm is spun up to a speed of 5,000 miles per hour (8,000 kilometers per hour) before being released and fired out of the stack toward space. 

The company completed its first public test of its suborbital mass accelerator in October and now NASA has signed up to try out the huge centrifugal slingshot later this year.

The space agency has signed a contract with SpinLaunch to fly and recover a payload as part of a developmental test flight that could lead to future launches.
(5) SILVERSTEIN BOOK ON STAMP. The U.S. Postal Service honored author and illustrator Shel Silverstein with a Forever stamp featuring artwork from his book, The Giving Tree. The first-day-of-issue event was held April 8 at the school Shel Silverstein attended, Chicago's Darwin Elementary School. "USPS To Release Shel Silverstein Stamp".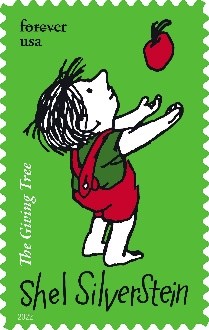 (6) MEDIA BIRTHDAY.
1981 — [Item by Cat Eldridge.] Forty-one years ago, one of those truly great genre films premiered in Excalibur. I saw it in a movie theatre virtually empty at the time but it still was a wonderful experience. It's directed and produced by John Boorman off a script by him and Rospo Pallenberg who later got on to The Emerald Forest with Boorman.
Lest you think those are the only Boorman connections, they're not as it was shot was filmed in Irish locations in County Wicklow, County Tipperary, and County Kerry. The Count Wicklow locations were just a few miles from where Boorman was living at the time. No idea if the cast popped by his manor house for drinks after filming ended for the day.
I say that as it has a stellar cast: Gabriel Byrne as Uther Pendragon, Nicholas Clay was Lancelot, Ciarán Hinds as Lot, Cherie Lunghi was Guenevere, Helen Mirren was Morgana, Liam Neeson was Gawain, Corin Redgrave was Gorlois, Patrick Stewart was Leondegrance, and Nigel Terry was Arthur, and Nicol Williamson was Merlin. What a group that they would've been to party with!
So what did the critics at the time think of it?
Well Roger Ebert of the Chicago Sun-Times summed it rather appropriately in his lead to his review: "What a wondrous vision 'Excalibur' is! And what a mess. This wildly ambitious retelling of the legend of King Arthur is a haunting and violent version of the Dark Ages and the heroic figures who (we dream) populated them. But it's rough going for anyone determined to be sure what is happening from scene to scene."
And Gary Arnold of the Washington Post said that "In 'Excalibur,' opening today at area theaters, Boorman can't seem to master the ironic approach to high adventure that allows a movie to satisfy heroic longings without getting ridiculous. This stilted reenactment of the Arthurian saga finds Boorman evolving into a modernist parody of Cecil B. De Mille, whipping up a kitschy costume spectacle."
It was nominated for a Hugo at Chicon IV finishing second to Raiders of the Lost Ark.
It has a sterling eighty percent rating among audience reviewers at Rotten Tomatoes, and it earned thirty-five million at the box office against a rather small budget of just eleven million dollars.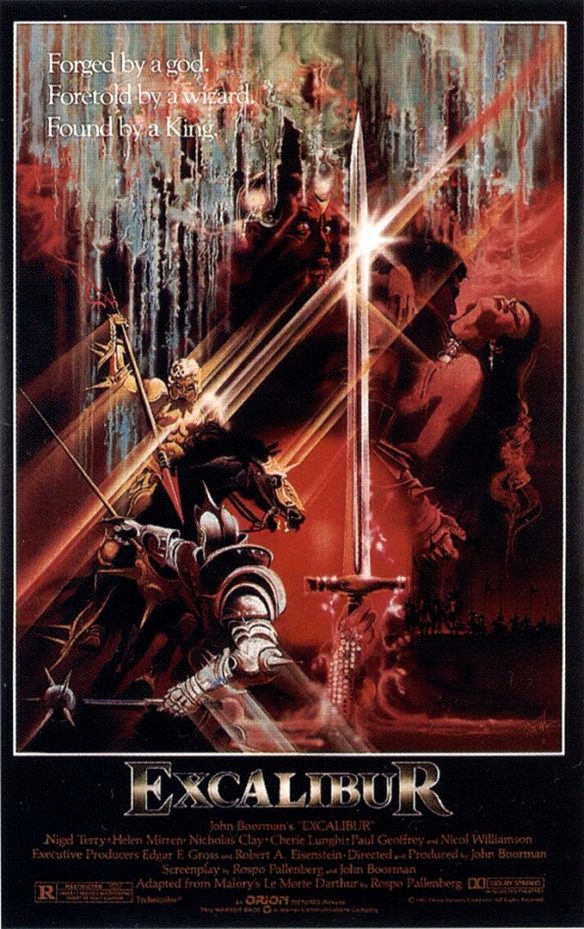 (7) TODAY'S BIRTHDAYS.
[Compiled by Cat Eldridge.]
Born April 10, 1932 — Hari Rhodes. Actor who had an impressive and very extensive genre history starting where he was the Black Man at the piano in The Lost Missile (1958) written by John McPartland and SF writer Jerome Bixby. He shows in The Satan Bug and Conquest of the Planet of the Apes. Series wise he was in I-Spy, Mission: Impossible, Outer Limits, Earth II, The Six Million Dollar Man, The Bionic Woman, Logan's Run, Wonder Woman, Salvage 1, Beyond Westworld, The Powers of Matthew Star and Automan. (Died 1992.)
Born April 10, 1929 — Max von Sydow. He played Ernst Stavro Blofeld in the Never Say Never Again and Ming the Merciless in Flash Gordon. He shows up in the Exorcist II: The Heretic as Father Lankester Merrin while being King Osric in Conan the Barbarian. Dreamscape sees him being Doctor Paul Novotny while he's Liet-Kynes the Imperial Planetologist in Dune. He was Judge Fargo in Judge Dredd (and yes I still like it), in Minority Report as Director Lamar Burgess, Sir Walter Loxley in Ridley Scott's Robin Hood and finally in Star Wars: The Force Awakens as Lor San Tekka. (Died 2020.)
Born April 10, 1953 — David Langford, 69. And how long have you been reading Ansible? If he's not noted for that singular enterprise, he should be noted for assisting in producing the second edition of the EoSF, not to mention some 629,000 words as a principal editor of the third (online) edition of the publication, and contributed some eighty thousand words of articles to the most excellent EoF as well. And let's not forget his genre writing as well that earned him a Short Story Hugo at the Millennium Philcon (2001) for "Different Kinds of Darkness". Langford holds the all-time record for most Hugo Awards, with a total of 29 wins. In addition to his short story, he has won 21 Hugos for Best Fan Writer, five for Ansible as Best Fanzine, another for Ansible as Best Semiprozine, and one for The Encyclopedia of Science Fiction as Best Related Work
Born April 10, 1957 — John M. Ford. Damn, he died far too young! Popular at At Minicon and other cons where he would be Dr. Mike and give silly answers to questions posed to him while wearing a lab coat before a whiteboard. His most interesting novel I think is The Last Hot Time, an urban fantasy set in Chicago that might have been part of Terri Windling's Bordertown series but wasn't. Possibly. (And no, the Suck Fairy hasn't gotten near when I last read it.) The Dragon Waiting is also excellent and his Trek novels are among the best in that area a of writing.  He's finally coming back into print after a very long time. (Died 2006.)
Born April 10, 1962 — James H. Burns. Every search I did in putting together this late Filer's Birthday ended back here. That he was beloved here, I have no doubt. In OGH's obituary for Burns in 2016 he said Burns' pride was this trio of posts that paid tribute to the influence of his father — My Father, And The Brontosaurus, Sons of a Mesozoic Age, and World War II, and a Lexicon in Time. Burns also wrote for File 770 about memories of "growing up fannish," such as the very popular Once, When We Were All Scientists, and CLANKY!. And his good friend Steve Vertlieb also has reminisced about Burns here. (Died 2016.)
Born April 10, 1973 — Dean Hsieh, 49. He's best known as the animator of A Scanner Darkly which was nominated for Best Dramatic Presentation, Long Form at Nippon 2007 which was the year that Pan's Labyrinth won. 
Born April 10, 1992 — Daisy Ridley, 30. Obviously she played the role of Rey in The Force Awakens, The Last Jedi and The Rise of Skywalker. She was also in Scrawl, a horror film as well as voicing Cotton Rabbit in Peter Rabbit. Though stretching to even call it genre adjacent even, she was Mary Debenham in Murder on The Orient Express which was rather well done.  Not as nearly good I'd say as the Seventies Murder on The Orient Express film whose original poster I have on my living wall but I'm biased. 
(8) CAKE DISCUSSION. Mike Kennedy joins Geek Tyrant in encouraging all fans to "Check Out This STAR WARS Death Star Trench Run Cake". Like the Force, this cake has two sides; sponge cake and carrot cake. It's up to you to deduce which is the dark side. If only we could queue up for a slice after the photographer finishes.
Star Wars fan Evie Rees used her talented skills to make this birthday cake that's clearly inspired by the LEGO diorama of the Star Wars Death Star trench run. Everything you see on the cake is edible, except for the little ships and their stands.

… You can see a gallery of ten larger images of the cake in this reddit post.
(9) HOUSTON, DO YOU READ? "MLB World Reacts To Houston Astros' New Uniform" – and MSN.com collected the tweets. Here's one example.
On Sunday, the Houston Astros became the second MLB team to launch its new Nike City Connect uniforms. The "Space City" uni's pay homage to the ballclub's 1970's look and the city's history with the space program.
(10) LITERARY DESIGNS. Here are three intriguing product designs from Holly Sewsephine.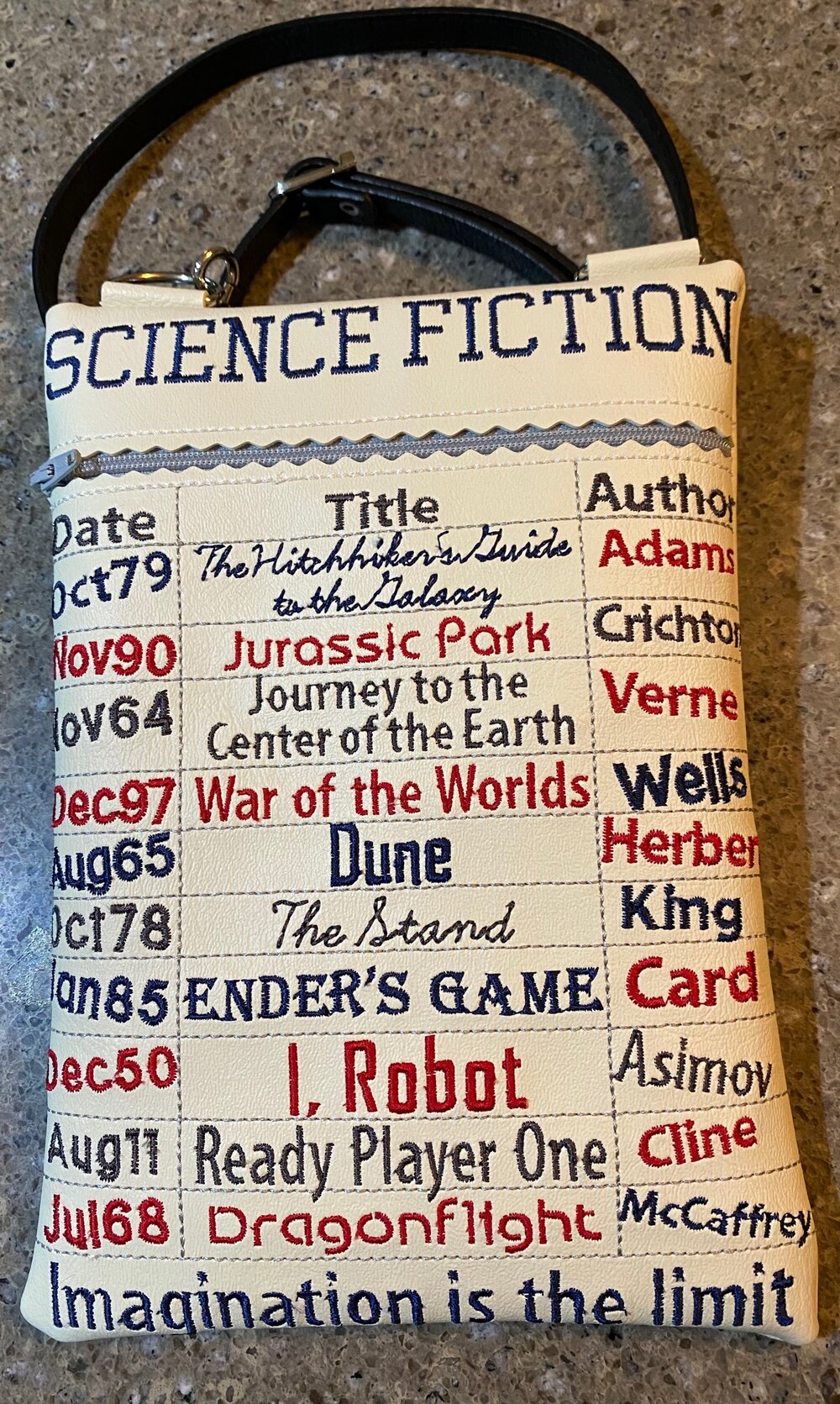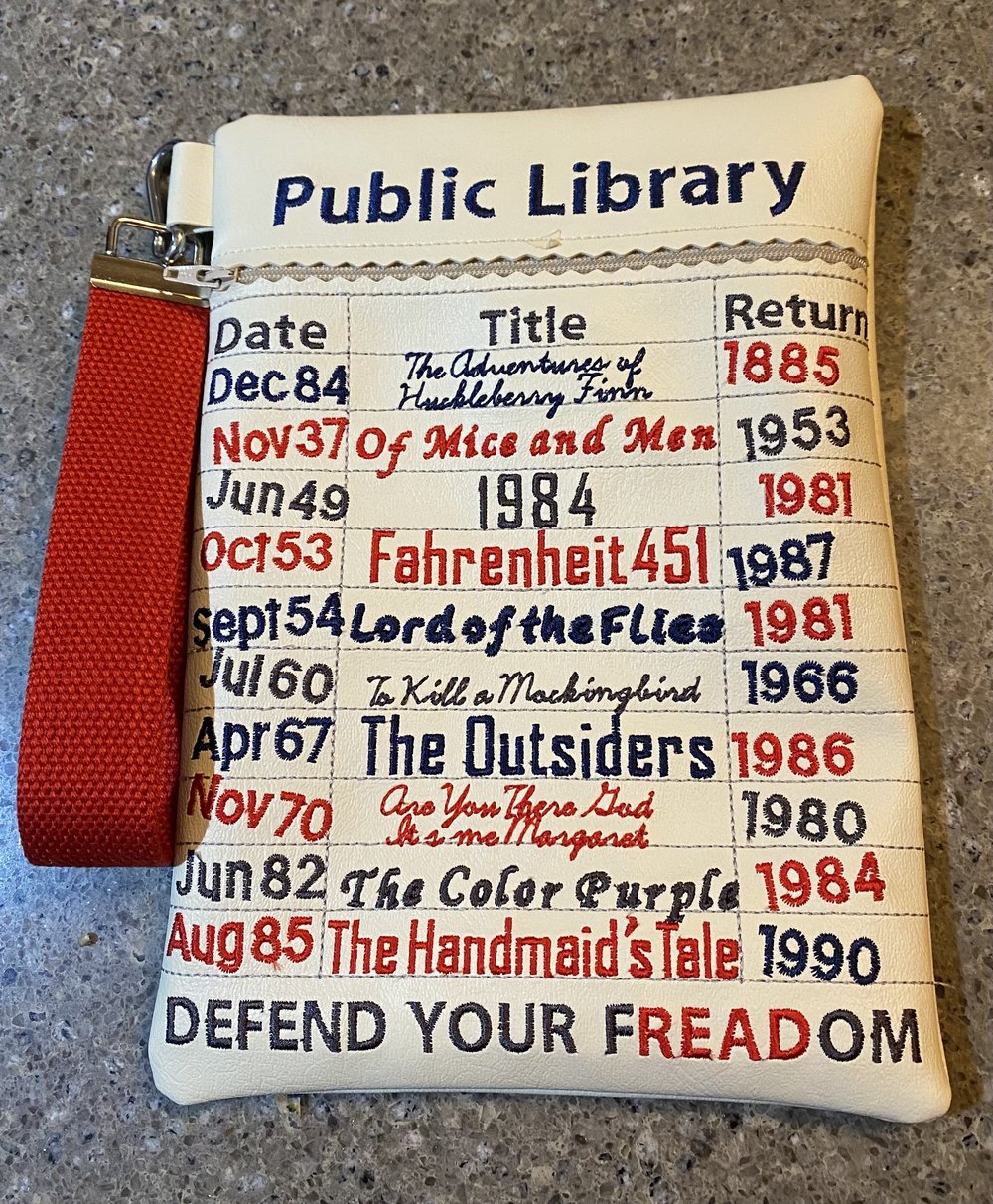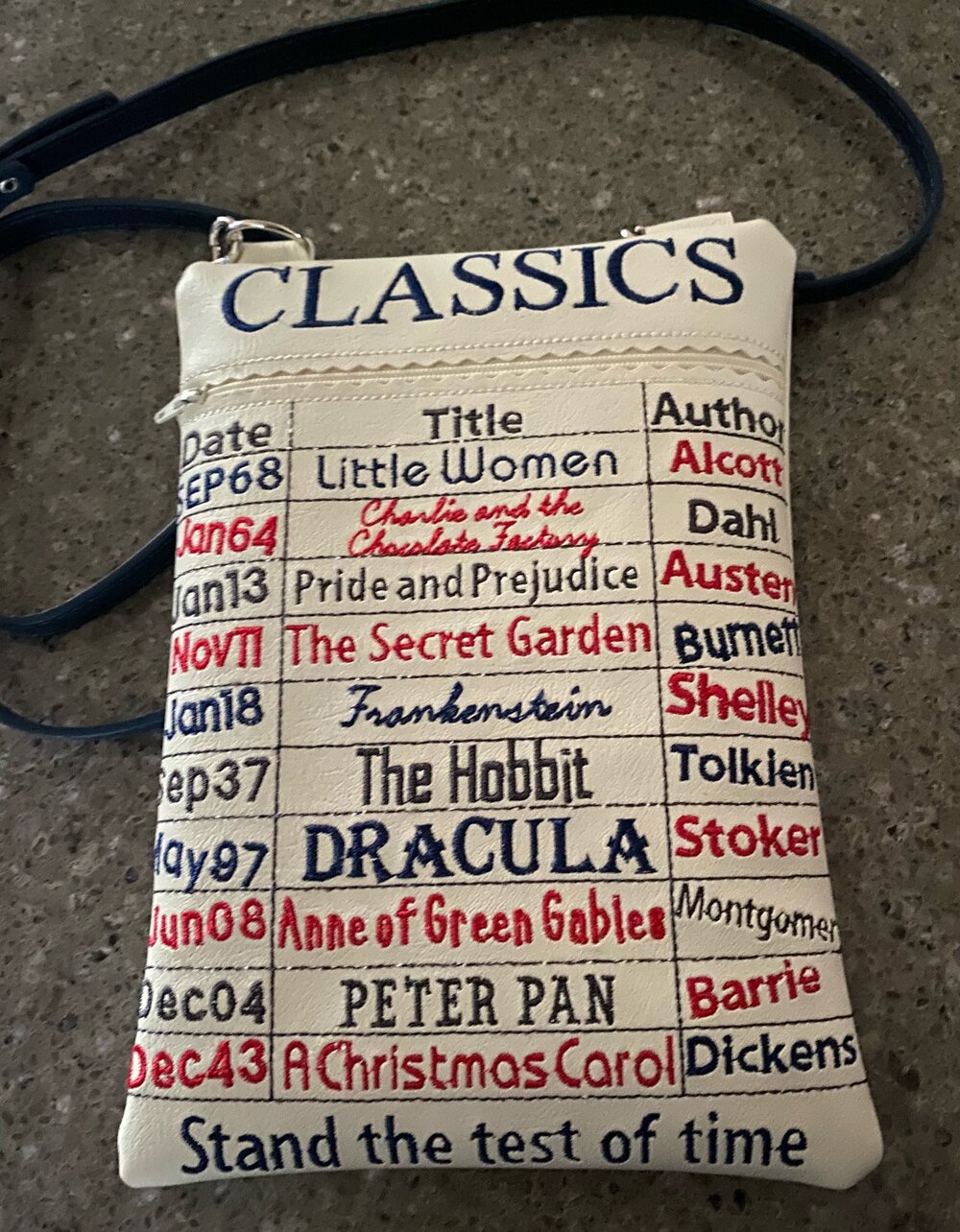 (11) SFF IN THE CURRICULUM. Colby College posts about how "Government Professor Joe Reisert Uses Science Fiction 'To Make the World Better'".
…Interesting novels that illustrate complex situations are more likely to resonate with students than conventional works of scholarship, Reisert said, explaining his reasoning for including unlikely texts in his coursework. One of his go-to books is the novel Brave New World by Aldous Huxley. Published in the early 1930s and set hundreds of years in the future, Brave New World imagines a society dominated by technology, where citizens are engineered to perform specific jobs, programmed to love their society without question, and where "mother" and "father" are dirty words, and where genuine human emotions are unknown. Reisert, who is also the Harriet S. Wiswell and George C. Wiswell Jr. Professor of American Constitutional Law, uses other books as well, including Ursula K. Le Guin's The Dispossessed and Yevgeny Zamyatin's We, to help students envision and think about Marx's social ideals….
(12) NOW, TALKABLE FUNGI! "Mushrooms communicate with each other using up to 50 'words', scientist claims" reports the Guardian.
Buried in forest litter or sprouting from trees, fungi might give the impression of being silent and relatively self-contained organisms, but a new study suggests they may be champignon communicators.

Mathematical analysis of the electrical signals fungi seemingly send to one another has identified patterns that bear a striking structural similarity to human speech.

Previous research has suggested that fungi conduct electrical impulses through long, underground filamentous structures called hyphae – similar to how nerve cells transmit information in humans….
Daniel Dern sent the link with a comment: "And with the right fifty words, they could do 'Green Eggs And Ham'"
(13) ART CLASS. This six-part series has Disney animators teaching you how to draw Disney characters: "Disney's Sketchbook".
Check out the trailer for Sketchbook, an upcoming Disney Plus series featuring six artists from Disney Animation. Disney's Sketchbook will be available to stream on Disney+ from April 27, 2022. The show covers iconic Disney characters, including The Lion King's Simba, Frozen's Olaf, Encanto's Mirabel, Aladdin's Genie, Peter Pan's Captain Hook, and The Emperor's New Groove's Kuzco.
(14) CONSIDER YOURSELVES WARNED. This is grotesque. Why am I including it in the Scroll? Chucky takes a star turn in this (mean-spirited) office segment from last night's Saturday Night Live.
[Thanks to JJ, John King Tarpinian, Andrew Porter, Daniel Dern, Chris Barkley, Michael Toman, Cat Eldridge, Mike Kennedy, and Martin Morse Wooster for some of these stories. Title credit belongs to File 770 contributing editor of the day Camestros Felapton.]