(1) STOKER AWARDS LIVESTREAM. The Horror Writers Association will stream the Bram Stoker Awards ceremony on YouTube on April 18. Link URL in the graphic.
(2) DOCTOR WHO DURING LOCKDOWN. Neil Gaiman wrote "Rory's Story" for the April 11 watchalong.
It's 1946. Eight years after he was sent back in time by the Weeping Angels, Rory Williams is dictating his biography… 'Rory's Story' was specially created as an introduction to #BiggerOnTheInside, the worldwide watchalong of the Doctor Who episode 'The Doctor's Wife' , which took place online on Saturday 11 April 2020. Written by Neil Gaiman and starring Arthur Darvill as Rory, 'Rory's Story' was home-produced remotely during the 'lockdown' period of the COVID-19 outbreak in April 2020.
(3) ICONIC ROBOTS. For a short time you can still see Eric Joyner's collection of "Machine Man Memories" online at the Corey Helford Gallery.
Eric Joyner attended the Academy of Art and the University of San Francisco and went on to establish himself as a commercial artist, creating illustrations for Mattel Toys, Levi's, Microsoft and Showtime. A member of San Francisco Society of Illustrators and New York Society of Illustrators, Joyner has been an instructor and speaker at San Francisco's Academy of Art University and California College of the Arts. His work has been featured in San Jose Museum of Art's exhibition "Robots: Evolution of a Cultural Icon", and he has shown in numerous galleries and cultural institutions worldwide. For additional information about the artist, please visit www.ericjoyner.com.
(4) HYPHENATED HISTORY. [Item by Scott Edelman.] My reread of old comics led to this ad on the back cover of House of Mystery #21 (December 1953).
The founding of this SCIENCE-FICTION BOOK CLUB is a recognition of the fact that Science-Fiction has won a place as an important *new kind* of literature — that it is a valuable addition to the library of every imaginative reader. Science-Fiction has grown so fast it's hard to keep with it!
I wonder when they dropped the hyphen?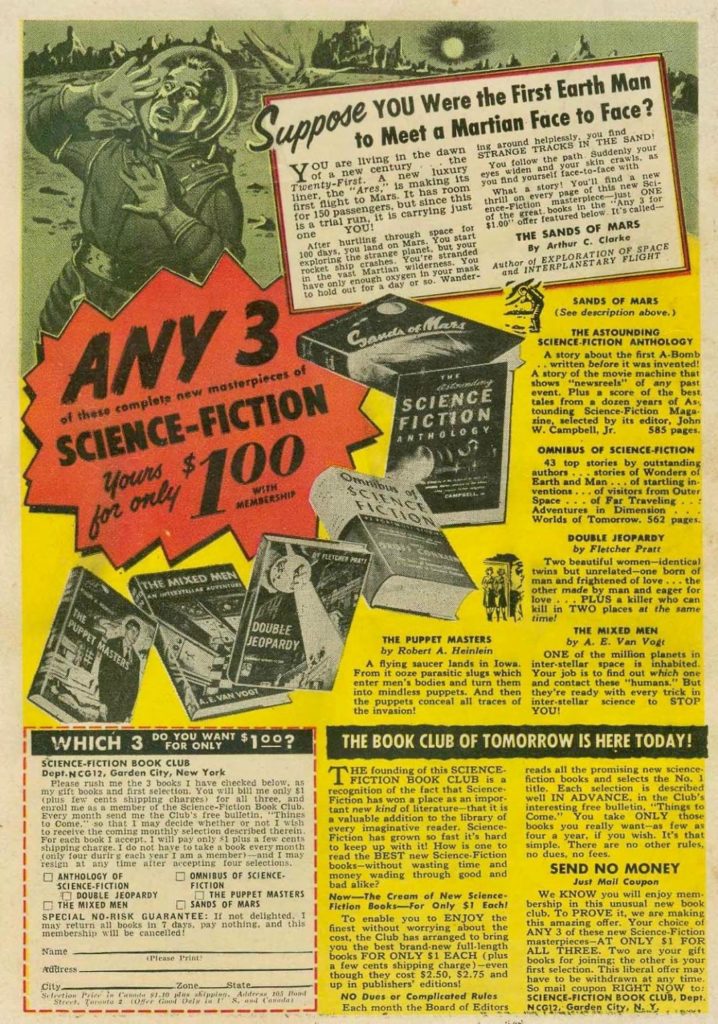 (5) STEAMPUNK RAILROAD LAYOUT. BBC reports "The steampunk model railway enthusiast having designs used by Hornby". (Video.) These are awfully cool.
A model enthusiast has had his own steampunk designs patented by the British railway brand Hornby.

Laurie Calvert made his first model in 2012 and took the idea to Hornby the following year.
(6) BEWARE PICARD SPOILERS. The Hugo Book Club Blog thought today would be a timely occasion to discuss the theme of resurrection in sff: "The Phoenix Farce". And did I mention, BEWARE SPOILERS!
Picard is dead for fewer than three and a half minutes of screen time. He literally spends more time saying that he will lay down his life for a cause than he spends being dead. Why should viewers get emotionally invested in Picard putting his life on the line when his life costs him nothing?

Although the finale of Star Trek: Picard's first season provides a case example of this trend, we'd like to be clear that his pointless death and meaningless resurrection is by far not the most underwhelming. Even within the past few years of Star Trek, we'd note Dr. Hugh Culber's resurrection in Star Trek: Discovery, and Kirk's resurrection in Star Trek: Into Darkness.

This latter example offers an interesting comparison between resurrections of fictional characters, and what makes some more egregious than others. Into Darkness is a soft remake of The Wrath of Khan, and follows many of the same character moments: a reactor overloading, and a beloved protagonist sacrificing themselves for the greater good. In the case of The Wrath of Khan, it's Spock who gives his life for the greater good, while in Into Darkness, it's James Kirk. In both cases, the character who dies gets a prolonged death scene, and an emotional farewell. The narrative asks audiences to grieve for the character's demise…
(7) DIXON OBIT. Actor Malcolm Dixon has died at the age of 66. SYFY Wire has details of his career.
…Dixon had roles in some of the most well-known fantasy and science fiction movies in the '70s and '80s. He was an Oompa Loompa in the legendary Willy Wonka and the Chocolate Factory. He also had roles in movies such as the cult classic Flash Gordon, Jim Henson's Labyrinth, and Ron Howard's Willow.

His two biggest movies were 1981's Time Bandits, directed by Terry Gilliam. He played Strutter among an all-star cast including Sean Connery, John Cleese, and Shelley Duvall. Two years later, he played an Ewok warrior in the conclusion to the original Star Wars Trilogy, Return of the Jedi.
(8) SNOW OBIT. Condolences to Ben Bird Person, whose cat Snow (2008-2020), featured in "Cats Sleep on SFF: Barry Malzberg" just passed. She was twelve years old.
(9) TODAY IN HISTORY.
April 12, 1940 — Black Friday premiered. It was directed by Arthur Lubin from a screenplay by Curt Siodmak (who won a Retro Hugo last year for Frankenstein Meets the Wolf Man) and Eric Taylor. Though  Boris Karloff and Béla Lugosi were co-billed, Lugosi only has a rather small part in the film and does not appear on screen with Karloff.  Universal Had cast Lugosi as the Doctor and Karloff as the Professor, but Karloff insisted on playing the Doctor. So Lugosi was given the minor role of a rival gangster, while Stanley Ridges was brought in to play the Professor. Reception was mixed with some critics loving the double billing, but the NYT noted that "Lugosi's terrifying talents are wasted".  Over at Rotten Tomatoes, the audience reviewers give it a rating of 49%.  It is in the the public domain now, so you can watch it here.
April 12, 1940 — Dr. Cyclops premiered. It was produced by Dale Van Every and Merian C. Cooper, and directed by Ernest B. Schoedsack. It starred Thomas Coley, Victor Kilian, Janice Logan, Charles Halton, Frank Yaconelli, and Albert Dekker. It was written by Tom Kilpatrick from a short story by Henry Kuttner which first appeared in the June 1940 of Thrilling Wonder Stories. Critics thought it cheesy but were generally favorable in their reviews overall. Audience reviewers at Rotten Tomatoes give it a 56% rating.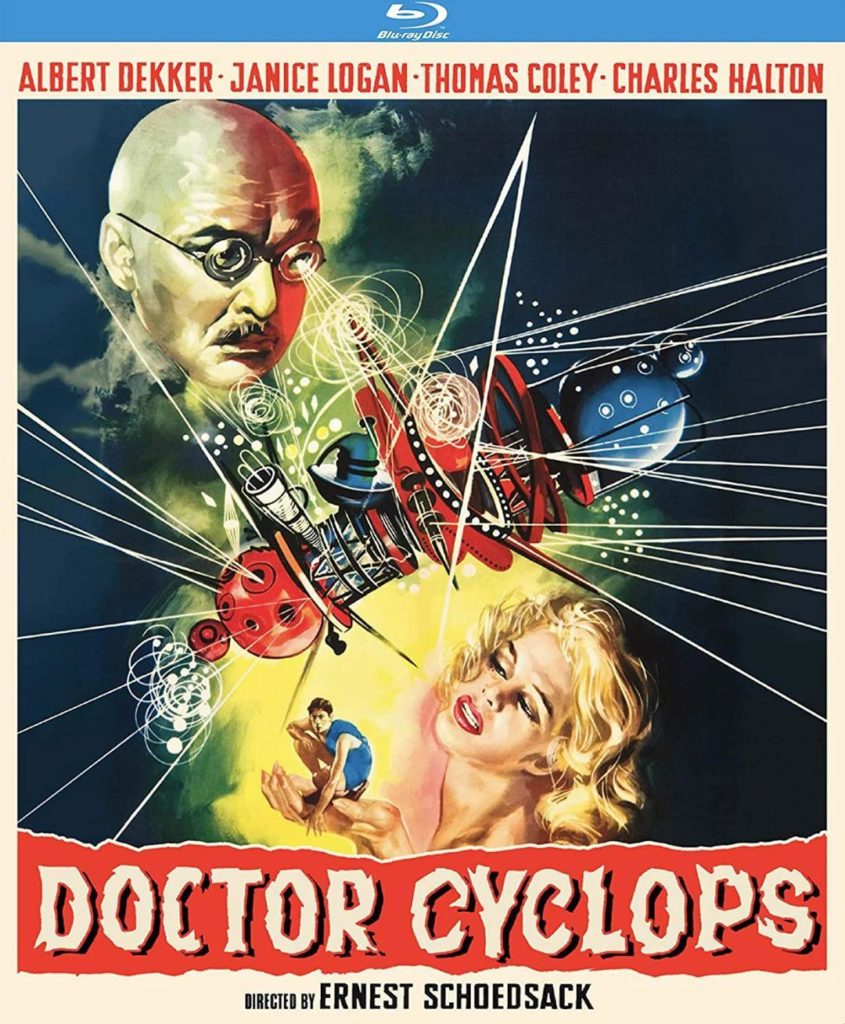 (10) TODAY'S BIRTHDAYS.
[Compiled by Cat Eldridge.]
Born April 12, 1884 — Bob Olsen. He wrote twenty-seven poems and stories that were published in Amazing Stories in the late Twenties and early Thirties. He's one of the first authors to use the term "space marines". A search of both print and digital publishers does not show any indication that any of his genre or mystery fiction is now in-print. (Died 1956.)
Born April 12, 1915 — Emil Petaja. He considered his work to be part of an older tradition of 'weird fiction.' He published thirteen novels and some one hundred fifty short stories. His Otava series, published by Ace Books in the Sixties, is based on the Finnish national myth, The Kalevala. (Died 2000.)
Born April 12, 1916 — Beverly Cleary, 104. The oldest living author ever to get Birthday honors. One of America's most successful living authors, almost a hundred million copies of her children's books have been sold worldwide since her first book was published in seventy years ago. Some of her best known characters are Ramona Quimby and Beezus Quimby, Henry Huggins and his dog Ribsy, and Ralph S. Mouse.
Born April 12, 1921 — Carol Emshwiller. I think her short stories are amazing and The Start of the End of It All and Other Stories collection won a World Fantasy Award. She'd later receive a Life Achievement from the group of judges chosen by the World Fantasy Awards Administration. I've not read her novels, so which would you recommend I read? (Died 2019.)
Born April 12, 1922 — Vince Clarke. He first made acquaintance with fandom in the late Thirties, and was active as a fanwriter and editor from a decade hence including Science Fantasy News. He'd be the winner of the first TAFF in the early Fifties but was unable to attend. He ran the 1957 Worldcon, Loncon I, and he was Fan Guest of Honor at the 1995 Worldcon, Intersection. He's responsible for creation of the British Science Fiction Association. (Died 1998.)
Born April 12, 1929 — Elspet Gray. She had two great roles, first as Lady Collingford in Catweazle, a Richard Carpenter series. Second she played Chancellor Thalia in "Arc of Infinity" a Fifth Doctor story. She also played Mrs. Dresland in The Girl in a Swing based on the Richard Adams novel. (Died 2013.)
Born April 12, 1936 — Charles Napier. Adam in one of the worst original Trek episodes done, "The Way to Eden". He had one-offs, and this is not a complete list, on Mission Impossible, The Incredible Hulk, Knight Rider, Tales of The Golden Monkey, The Incredible Hulk Returns, Lois & Clark: The New Adventures of Superman, Deep Space Nine and voiced Agent Zed in the animated Men in Black series. (Died 2011.)
Born April 12, 1974 — Marley Shelton, 46. She's been in such pulp undertakings as Sin City, Grindhouse and Scream 4, not to overlook Hercules in the Underworld and Pleasantville in which she was Margaret Henderson. She was to be Victoria Winters in the unsold Dark Shadows pilot done fifteen years ago.
(11) MASKED WISDOM. On Fast Company, "Sam Bee looks to furries to guide us through the coronavirus crisis".
Why we care: Good ideas sometimes come from unexpected places. Consider the furry community, prone to the kink of wearing Disney World mascot-style animal costumes in public. Is it an unusual lifestyle? Absolutely. However, it just might be one that presents a path toward thriving in these antimicrobial times.

On the first episode of Full Frontal with Samantha Bee since the rapid spread of COVID-19 plunged much of America into quarantine, the hygienic wisdom of the furry community is on display. Correspondent Amy Hoggart infiltrates a furry convention that took place earlier this month to interview people who are used to wearing protective covering over their entire bodies while interacting with others.
(12) SHELL GAME. Last night on Saturday Night Live, "Middle-Aged Mutant Ninja Turtles."
The Mutant Ninja Turtles aren't teenagers anymore in an update of the animated series that shows how the superheroes face problems as middle-aged adults.
[Thanks to Scott Edelman, John King Tarpinian, JJ, Cat Eldridge, Martin Morse Wooster, Chip Hitchcock, Mike Kennedy, Michael Toman, and Andrew Porter for some of these stories. Title credit goes to File 770 contributing editor of the day Chris S.]