This is going to be a bit short because I have to leave early to attend a movie premiere across town. At a drive-in – which is good, I don't own a tux.
(1) IMAGINARIUM BOOK FESTIVAL. The Imaginarium Book Festival is a free virtual event happening May 8-9, the first held by Nadège Richards and Diantha Jones, two fantasy authors who seek to spotlight the importance of "imagination escapism" in literature. Tosca Lee and Rebecca Roanhorse are among the many authors who will participate. RSVP at the link.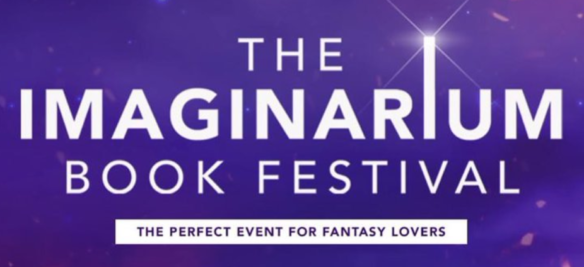 The changeover to an online platform for 2021 will allow a space for many to safely participate in discussions face-to-face. It is free to RSVP to the virtual event, so readers of all ages are welcome to attend and celebrate novels in the fantasy, paranormal, and science fiction genres. Panels will be held at 10 a.m. to 4:10 p.m. EDT on Saturday and 10 a.m. to 5 p.m. EDT on Sunday. In addition, there will be interactive games and giveaways for book lovers to play and enjoy.
The author lineup features over 30 diverse fantasy and sci-fi authors, including New York Times bestselling authors Tosca Lee, Hafsah Faizal, Brigid Kemmerer, Emily A. Duncan, Shelby Mahurin, Roshani Chokshi, Roseanne A. Brown, and Jodi Meadows. IBF is also honored to welcome Hugo and Nebula award-winning author Rebecca Roanhorse.  
(2) STRESS FREE SFF. James Davis Nicoll has sieved the mighty Amazon to find "Five Upbeat SF Classics Featuring Barely Any Doom!" at Tor.com. (James, that is a sly title!)
"With Folded Hands…" by Jack Williamson (1947)

Salesman Underhill sells robots, but even he would admit that the best robots often fall short of perfection. Too many of the robots and other mechanicals on sale have been poorly designed or badly made. Not only that, but the market for such contrivances has become oversaturated. The appearance of a new competitor is an unwelcome development. At first.

Underhill soon learns that Humanoid Institute's mechanicals deliver what lesser companies can only promise. Equipped with a crystal-clear knowledge of humans' best interests, the Humanoids leave no human need unaddressed. Before the Humanoids, humans had to labour by the sweat of their brow. Now that they have arrived, humans can look forward to an eternity of perfect tranquility, as the robots have taken over every aspect of human existence…
(3) HELP WANTED. Pixar has issued a casting call for a voice-over actress who can play the character of a 14-year-old transgender girl in an animated production.
(4) MORE HELP WANTED. Another company is looking for help with Star Trek Lower Decks, if this can be taken at face value.
(5) WHERE TO GET POTTER MERCH IN NEW YORK. "Harry Potter store coming to NYC sets June opening with first images" – SYFY Wire shares the view. They say the address is 935 Broadway, so not that near to the familiar Flatiron Building at 120 where Tor used to be. The Potter specialty store in LA folded several years ago, but that hasn't discouraged this outfit.
…After stepping inside, fans of J.K. Rowling's Wizarding World can browse three floors of the 21,000 square-foot space as they shop for exclusive items transfigured straight out of the Potter and Fantastic Beasts franchises across 15 different themed areas. In addition, visitors can indulge in a number of photo opportunities. Pose inside of a London phone box (aka the secret entrance to the Ministry of Magic), or else see what it's like to step into Hagrid's massive leather boots (which are described as "baby dolphins" in the first book).
(6) MEMORY LANE.
1971 — Fifty years ago, the Noreascon I Hugo for Best Dramatic Presentation went to no one as No Award won out over a field of Colossus: The Forbin Project, Firesign Theater's Don't Crush That Dwarf, Hand Me the Pliers, Hauser's Memory,  Paul Kantner and Jefferson Starship's Blows Against the Empire and No Blade of Grass.
(7) TODAY'S BIRTHDAYS.
[Compiled by Cat Eldridge and John Hertz.]
Born April 21, 1911 — John Lymington. Between the late Fifties and the mid Eighties, he wrote twenty-six genre novels, an astonishing number. All of his short fiction was done in 1964 and published in his Night Spiders collection. He's not made it into the digital realm and I'll admit that I've not heard of him, so I'm hoping the brain trust here can tell me about him. (Died 1983.) (CE) 
Born April 21, 1924 – Wrai Ballard.  Active in the apas FAPA and SAPS (where he served as Official Editor).  Promoted Lee Jacobs' typo "filk music", which stuck; today many fans are vigorous filkers.  Invented Non-Poetry.  More here.  (Died 2009) [JH]
Born April 21, 1928 — Dee Hartford. Miss Iceland, companion of Mister Freeze in two episodes of the Sixties Batman series.   She also had appearances on Time Tunnel, Lost in Space, Land of The Giants, The Man from U.N.C.L.E., The Twilight Zone, The Outer Limits and The Alfred Hitchcock Hour.  Yes, she was very pretty and that really counted in that time. (Died 2018.) (CE)
Born April 21, 1933 – Jim Harmon.  One novel, fifty stories; three collections, one posthumous.  Associate editor of Riverside Quarterly.  Fanzine, Harmony (naturally).  Outside our field, loved what came to be called old-time radio, had a program about it on Radio Station KPFK, edited two anthologies.  First Fandom Hall of Fame.  (Died 2010) [JH]
Born April 21, 1939 — John Bangsund. Australian fan from the Sixties through the Eighties. He was instrumental with Andrew Porter with Australia winning the 1975 Aussiecon bid, and he was Toastmaster at the Hugo Award ceremony at that con. His fanzine, Australian Science Fiction Review is credited with reviving Australian Fandom in the Sixties. And he was the instigator of the term Muphry's law which states that "If you write anything criticizing editing or proofreading, there will be a fault of some kind in what you have written." (Died 2020.) (CE) 
Born April 21, 1954 — James Morrison, 67. Lt. Col. Tyrus Cassius 'T.C.' McQueen on the short-lived but much loved Space: Above and Beyond series. Starship Troopers without the politics. He's got a lot of one-off genre appearances including recently showing up as an Air Force General in Captain Marvel, guesting on the Orville series and being Warden Dwight Murphy on Twin Peaks. (CE) 
Born April 21, 1954 – Jon Wallace, age 67.  Reviewer for Vector, also Paperback Inferno in its day.  I think this isn't the author of three Kentsibec novels.  [JH]
Born April 21, 1959 – Tim Jacobus, age 62.  Ten dozen covers; memoir It Came from New Jersey!  Here is The Invisible Man.  Here is Doomsday Book.  Here is Earth Winter.  Here is Egg Monsters from Mars ("they're no yolk", aiee) – he's done lots for Goosebumps.  [JH]
Born April 21, 1963 – Suga Hiroe, age 58.  (Personal name last, Japanese-style.)  Three Seiun Awards.  Also detective fiction; Mystery Writers of Japan Award.  Qualified as natori (mistress) in Wakayagi traditional Japanese dance.  So far only two short stories available in English.  [JH]
Born April 21, 1978 – Lola St. Vil, age 43.  Two dozen novels for us; much else.  Has read two dozen books by Agatha Christie, seven by James Baldwin.  Website.  [JH]
Born April 21, 1980 — Hadley Fraser, 41. His first video acting role was as Gareth in the superb Tenth Doctor story, "Army of Ghosts". He'd later be Chris in The Lost Tribe, a horror film, and play Viscount Raoul de Chagny in The Phantom of The Opera, as well as being being Tarzan's father in The Legend of Tarzan. And though not even genre adjacent, I'm legally obligated to point out that he showed up as a British military escort in the recent production of Murder on the Orient Express. (CE) 
(8) MORE VICTORIES. Publishers Weekly has a "Q & A with Charlie Jane Anders".
What can we look forward to from the Unstoppable series and from you? Will you be writing more books for teens?

So currently, I have two more books in this trilogy after Victories Greater Than Death. In the second book, we get to see a lot of the stuff that I hinted at in the first book. We get to see a little bit more of the heart of the galaxy, more of the politics and more of how things are run. We get to visit some more alien worlds and get to know some of these cultures a little bit better. I really believe in not making people wait for too long. The second book answers all the questions that are set up in the first book and then there are new questions that will get answered in the third book, which I'm writing now. It's a race against time to save everything because, without giving too many spoilers, stuff gets worse in the second book in a lot of ways. It's that middle book where things just start to go down the tubes! So far the third book is so much fun to write because it's just nonstop action. There isn't time to let the grass grow under our feet; we're just going to keep trying to solve problem after problem as fast as we can. The characters are under a lot of pressure, which is also really fun to write, but it's the most fast-paced of the three books. I'm really loving that; it's going in some really wild and wacky directions.

I would love to write more books for teens. I'd like to live more in the Unstoppable universe. I feel like there's a ton of stuff that I came up with for this universe that I've barely even touched on in the books. I created a giant wiki with all these different aliens and things. There's just so much that I could easily spend another 10 books getting into it.
(9) KRAKEN WAKER. British science-fiction author, John Wyndham is in the spotlight in this tv film from 2005: "John Wyndham – Invisible Man of Science Fiction".
(10) VIDEO OF THE DAY. From NASA: "The Doubly Warped World of Binary Black Holes."
A pair of orbiting black holes millions of times the Sun's mass perform a hypnotic dance in this NASA visualization. The movie traces how the black holes distort and redirect light emanating from the maelstrom of hot gas – called an accretion disk – that surrounds each one.
[Thanks to John Hertz, Cat Eldridge, Rich Lynch, Martin Morse Wooster, Cliff, Danny Sichel, Andrew Porter, John King Tarpinian, Michael Toman, JJ, and Mike Kennedy for some of these stories. Title credit goes to File 770 contributing editor of the day OGH.]