(1) IS CLI-FI PART OF THE PROBLEM? BBC World Service's The Climate Question asks a panel including Ken Liu "Is science fiction holding back climate action?" (23 minute audio.)
For centuries, we've been reading, watching and listening to science fiction. And all too often, it's pretty pessimistic about our future, especially when it touches on the topic of climate change.

This is leading some to ask whether these doom and gloom stories are doing the climate fight more harm than good – causing us to feel so anxious and powerless that we don't take action.

So for this week's climate question, we're asking: Is sci-fi holding us back?

Graihagh Jackson is joined by:

Amy Brady, editor-in-chief of the Chicago Review of Books, where she writes a monthly column called Burning Worlds. In it she explores how fiction addresses climate change.

Cheryl Slean is a playwright, filmmaker and educator working with the National Resource Defense Council's Re-write the Future campaign to increase accurate climate stories in film and television.

Ken Liu is a futurist and author of speculative fiction. He has won the Nebula, Hugo, and World Fantasy awards. His debut novel, The Grace of Kings, is the first volume in a silkpunk epic fantasy series.
(2) LAWSUIT EVAPORATES. The case has now been dismissed: "Guillermo del Toro named 'true creator' of The Shape of Water as plagiarism suit ends" reports Entertainment Weekly. Del Toro had won the lower court decision, which the plaintiff appealed in the federal Ninth Circuit.
Guillermo del Toro and his Oscar-winning Shape of Water team have emerged unscathed from the depths of a copyright lawsuit claiming that the Best Picture winner plagiarized the work of the late playwright Paul Zindel.

In a statement provided to EW, film distributor and production company Searchlight Pictures (formerly Fox Searchlight) indicated that the legal action against del Toro and associate producer Daniel Kraus had been dismissed after the Zindel estate's attorney, Marc Toberoff, previously cited 69 points of alleged similarities between the 1969 stage play Let Me Hear You Whisper (about a woman who bonds with a lab dolphin) and del Toro's movie (about a woman, played by Sally Hawkins, who bonds with a humanoid sea creature, played by Doug Jones, in a research facility).

"David Zindel, the son of Paul Zindel, author of Let Me Hear You Whisper, acknowledges, based on confidential information obtained during the litigation process, that his claims of plagiarism are unfounded," the statement said. "He acknowledges Guillermo del Toro as the true creator of The Shape of Water. Any similarity between the two works is coincidental."

… Both sides were reportedly slated to present additional information this year, and a trial had been set for July before the case was dropped.
(3) HOMETOWN PAPER SALUTES NEW F&SF EDITOR. The Daily Memphian profiles Sheree Renée Thomas: "Memphis writer emerges as a major player in the sci-fi world".
… She says her family's gathering and bonding time was spent watching movies and television, and they were big horror fans. And then she would realize that movies that she watched had sometimes been classic books. Then she would read those.

"That's what I remember getting really excited about early on," she said. "And then I started reading more science fiction work. And the writer that stood out the most for me, that I enjoyed consistently, was Ray Bradbury."

Bradbury told stories in clear, sometimes lyrical prose, she said. And he had a great sense for characterization.

"People came alive in his writing," Thomas said.

She can't pinpoint when she moved from reading to writing, too. "I don't know if it was a conscious thing. I felt like, 'I'm consuming these other stories, whether it was a movie or I'm reading it, someone sat down to write those and my head was full of thoughts.'"

Thomas recalls that her interest in science fiction waned for a time because of the way Black people were depicted in the stories: "Either we weren't in the future, or if we were present in the storytelling it wasn't in a very complimentary light or wasn't in a way which characters had agency, or operated or moved in ways that you could recognize as having been a person that is part of the Black community or a community at all."

So she started reading mostly Black literature, specifically Black women writers, from her mother's shelves and the public library. Reading work by Alice Walker, Gayle Jones, Gloria Naylor and Toni Morrison was formative to her….
(4) SECOND SEASON OF PICARD. Paramount + dropped a trailer for Star Trek: Picard, Season 2 which includes the return of Q.
(5) IS IT A PEARL? In the latest Young People Read Old SFF, James Davis Nicoll turns his readers loose on "All the Seas with Oysters," a 1958 story that won a Hugo the same year (because those wacky LA fans running Solacon set the eligibility period from July 1957 to July 1958.)
Avram Davidson (April 23, 1923 – May 8, 1993) was (as so often true for authors of his vintage) prolific across an expanse of genres, including fantasy, science fiction, and mysteries, to name a few. His SFF awards include a World Fantasy Life Achievement award, World Fantasy Awards for The Enquiries of Doctor Eszterhazy, and ?"Naples", and the Hugo Award for ?"All the Seas with Oysters", not coincidentally the subject of this month's Young People Read Old SFF.

… Young readers encountering the tale for the first time do so without the rosy patina of uncritical nostalgia concealing whatever issues the story might have. Still, this is a widely loved classic. What are the odds generations of SF readers overlooked something? Let's find out!
(6) SECOND LOKI TRAILER. [Item by Daniel Dern.] Not that I wasn't already psyched to watch this…
Loki's time has come. Watch the brand-new trailer for "Loki," and start streaming the Marvel Studios Original Series June 11 on Disney+.
And the first trailer, I believe.
BTW, the TVA (Time Variance Authority) is an established Marvel Comics organization. My main memories are from Walt Simonson's fabulous run in Fantastic Four with the TVA. (Simonson also brought us Beta Ray Bill, and Thor as Frog, among many, many other delightful creations)
Wikipedia: The Time Variance Authority
The Time Variance Authority (or TVA) is a fictional organization, a group of timeline monitors appearing in American comic books published by Marvel Comics. They first appeared in Thor vol. 1 #372 (October 1986). Created by Walt Simonson and Sal Buscema, the TVA originally paid homage to long-time Marvel writer/editor, and continuity expert, Mark Gruenwald: the TVA staff were all clones of Gruenwald.
Other resources:
(7) NYRSF READINGS. Ilana C. Myer will read from the third book in her Harp and Ring Sequence, The Poet King, and will talk will host Amy Goldschlager at the next NYRSF Readings on Facebook on Tuesday, April 6, 2021 at 7 p.m. Eastern. Viewers can ask questions and comment via the chat channel. Will be available later on YouTube.
Ilana C. Myer has worked as a journalist in Jerusalem and a cultural critic for various publications. As Ilana Teitelbaum she has written book reviews and critical essays for The Globe and Mail, the Los Angeles Review of Books, Salon, and the Huffington Post. Last Song Before Night was her first novel, followed by Fire Dance and The Poet King. A native New Yorker and longtime Jerusalem resident, she now lives in the mountains of Pennsylvania.
(8) CONFUSION AFTER ACTION REPORT. Farah Mendlesohn's writeup about last weekend's virtual Eastercon (UK) — "ConFusion FM's con report" [PDF file] – covers the positive and negative con experiences, including how it was to use the Gather Town app, and delivers a withering comments about accessibility issues.
… I am not going to pretend here. I felt utterly betrayed. My sneaking feeling at other conventions that 'only wheelchair users really mattered', a feeling for which I'd berated myself, was utterly confirmed. Hearing, sight, neurodivergence, hand or co-ordination issues…. None of these things apparently mattered, yet all of them could have been addressed with good design, a careful choice of discussion platforms, and over and above all with conversation.

I didn't go to the Feedback meetings because for much of the convention I was too angry. What would I have asked after all; "will the convention chair make a full and unqualified apology for the utter disregard of issues of accessibility in the planning and delivery of this convention?"

In future I will not vote for any bid that does not have a clear statement on access and inclusion. I will not go to a convention that does not support access and inclusion (I began declining conferences for this reason some time ago).
(9) KGB. Fantastic Fiction at KGB reading series hosts Ellen Datlow and Matthew Kressel present via livestream Nalo Hopkinson and Bruce McAllister on April 21 at 7 p.m. Eastern. Check back for the link here.
Bruce McAllister
Bruce McAllister has been writing science fiction, fantasy and horror for some decades. He began as an sf writer but these days writes more fantasy of the uncanny kind. His most recent novel is a little thing called The Village Sang to the Sea: A Memoir of Magic. His Hugo-nominee short story "Kin" launched the new podcast Levar Burton Reads.
Nalo Hopkinson
Nalo Hopkinson is a Jamaican-born Canadian author and maker of objects. She has won the World Fantasy Award, the Andre Norton Nebula Award, and the Sunburst Award for Canadian Literature of the Fantastic. She authored and co-authored the series "House of Whispers" for DC Comics, set in Neil Gaiman's "Sandman" universe. SFWA recently honored her with the "Grand Master" award for lifetime achievement.
(10) SOVIET LOTR VIDEO AVAILABLE. Ars Technica surprises with news that a"30-year-old Soviet TV adaptation of The Lord of the Rings surfaces on YouTube".
After 30 years, a TV adaptation of J.R.R. Tolkien's The Lord of the Rings long thought lost has resurfaced. The 1991 Soviet television adaptation has been uploaded to YouTube in two one-hour videos.

The film focuses on the events of the first book in the trilogy, The Fellowship of the Ring, and features many elements that were excluded from the popular global theatrical release by director Peter Jackson, including an extended sequence featuring the character Tom Bombadil—one of the biggest omissions by the bigger-budget 2001 film far more of us have seen.

Originally broadcast on TV in 1991 (and then never aired again), the film was thought lost to time by those who had seen it. But as reported in The Guardian, Leningrad Television successor Channel 5 uploaded the film to its YouTube page with little fanfare, surprising fans who had given up on seeing the production again. It is believed to be the only adaptation of these books produced in the Soviet Union….
(11) TODAY'S DAY.
(12) MEDIA BIRTHDAY.
April 5, 1992 — On this day in 1992, Mann & Machine premiered on 1992. It would last for only nine episodes. Starring David Andrews, Yancy Butler and S. Epatha Merkerson, it was a Dick Wolf production, he of the eventually myriad Law & Order series. Yancy Butler would go on to be the lead a decade late in Witchblade. It has no audience rating at Rotten Tomatoes but the critic rating there is 20%. NBC has the pilot available here for your viewing.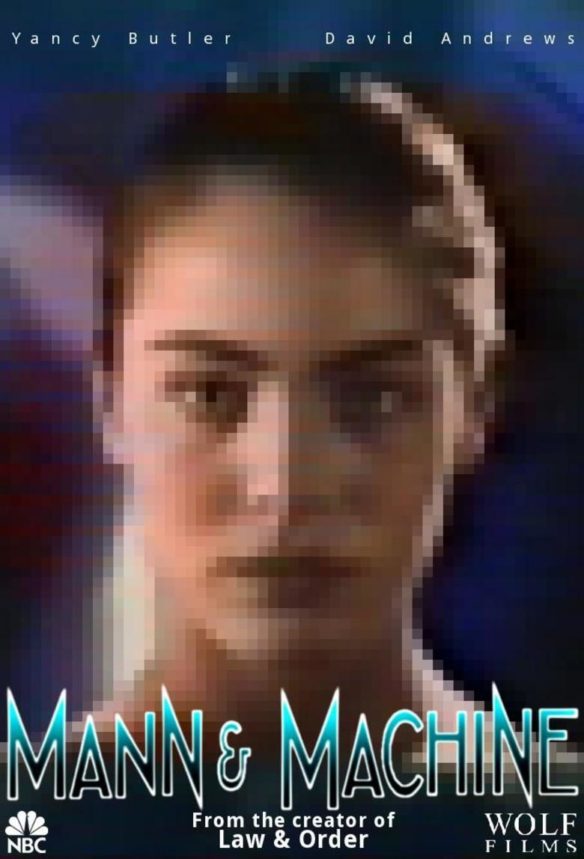 (13) TODAY'S BIRTHDAYS.
[Compiled by Cat Eldridge and John Hertz.]
Born April 5, 1526 – Giuseppe Arcimboldo. More than his work as a court painter, like this, his portraits composed of pertinent objects appeal to our fantasy. Here is the Emperor Rudolf II portrayed as Vertumnus, the god of plant growth and fruit trees. Here is a librarian. Here is a waiter. (Died 1593) [JH]
Born April 5, 1867 – Helen Stratton. Illustrator in monochrome and color. Three editions of H.C. Andersen, three of The Arabian Nights, three of Grimm, The Princess and the Goblin (G. MacDonald), Marie of Romania's Lily of Life, many more. Here is The Wild Swans. This is from "The Tinderbox". This is from "The Snow Queen". (Died 1961) [JH]
Born April 5, 1917 — Robert Bloch. His Wiki Page says he's best known as the writer of Psycho, but I'll guarantee that only film geeks and many of y'all know that. I know him best as the writer of the Trek "Wolf in the Fold" episode. His Night of the Ripper novel is highly recommended by me. And I know that "That Hellbound Train" which won the Hugo Award for Best Short Story is the piece of fiction by him that I've read the most. He's not well represented at the usual digital suspects. (Died 1994.) (CE)
Born April 5, 1926 — Roger Corman, 95. Ahhhh, popcorn films! (See popcorn literature for I mean.) Monster from the Ocean Floor in the early Fifties was his first such film and Sharktopus vs. Whalewolf on Syfy just a few years back was another such film. He's a man who even produced such a film called, errr, Munchies. A Worldcon guest of honor in 1996. (CE)
Born April 5, 1931 – Al haLevy, age 90. Chaired Westercon 16 (2nd appearance of B. Trimble's Project Art Show! rumor – false – that F. Pohl lost Galaxy to B. Bernard at late-night poker!), co-chaired Pacificon II the 22nd Worldcon. Revived Rhodomagnetic Digest awhile. [JH]
Born April 5, 1935 – Helen M. Hoover. A dozen novels for us, two others. Golden Duck Award. Two American Lib'y Ass'n Best Books. Alas, Children of Morrow and Treasures of Morrow are about a person, not a place, although come to think of it one could still tell people "Go to Morrow." (Died 2018) [JH]
Born April 5, 1950 — A.C. Crispin. She wrote several Trek and Star Wars novelizations and created her own series called Starbridge which was heavily influenced by Trek. She also co-wrote several Witch World novels, Gryphon's Eyrie and Songsmith, with Andre Norton. Pirates of the Caribbean: The Price of Freedom was her last novel prior to her death from bladder cancer while in hospice care. (Died 2013.) (CE)
Born April 5, 1955 – Toriyama Akira, age 66. (Personal name last, Japanese style.) So successful in manga and animé that he won not only Shogakukan Publishing's Manga Award, but also the 40th Anniversary Festival Award at the Angoulême Int'l Comics Festival, and was made a Chevalier of the Ordre des Arts et des Lettres. Dragon Ball has sold 300 million copies worldwide, plus animé, video games. See more here. [JH]
Born April 5, 1963 – Arthur Adams, age 58. Artist and writer for Marvel, Legend (Monkeyman and O'Brien still appears here and there), DC, Wildstorm. Diana Schutz got him to draw Gumby Summer Fun Special 1, so of course he drew this – and won an Eisner. Front and back covers for Ron Goulart's Great Comic Book Artists vol. 2. Frequently in Spectrum. Inkpot Award. Here is Wolverine. Here is Phoenix. [JH]
Born April 5, 1965 — Deborah Harkness, 56. She's the author of the All Souls Trilogy, which consists of A Discovery of Witches and its sequels Shadow of Night and The Book of Life. I listened to the Jennifer Ikeda-narrated audiobooks which are an amazing experience. Highly recommended as Harkness tells a remarkable story here. I'm not even fond 'tall of vampires in any form and hers actually are both appealing and make sense. I've not seen the series made from the novels. (CE)
Born April 5, 1982 — Hayley Atwell, 39. Agent Carter with her as Peggy Carter I'll freely admit has been the only series or film in the MCU repertoire save the first Iron Man and Avengers films being the ones that I've flat out enjoyed so far. Even the misogyny of the males though irritating in that setting made sense. Oh and I'm interested to see her in Christopher Robin as Evelyn Robin. (CE)
(14) COMICS SECTION.
The Far Side has a different opinion about what really happened to Godzilla. (OK, you're right. That's not really what it's about.)
(15) LIVING UNDER A CLOUD. [Item by rcade.] A Brazilian science fiction film that presciently anticipated the Covid-19 pandemic has won the top prize at the Sofia International Film Festival. "Brazil's 'The Pink Cloud' wins top prize at lockdown-hit Sofia film festival" at Screen Daily.
The Pink Cloud, written and directed by Iuli Gerbase, is about a couple whose one-night stand becomes a permanent arrangement when a killer cloud drifts into cities across the globe and forces people to shut their windows and quarantine at home. A film that seems like a painfully obvious metaphor for the pandemic was written in 2017 and filmed in 2019, according to a disclaimer that precedes the opening credits.
Guy Lodge writes in Variety ("'The Pink Cloud' Review: Brazil's Effective, Accidental Lockdown Drama":
It's not often one sees a film arguing against its own topicality, but that's what happens at the outset of The Pink Cloud, a subtly fevered quarantine drama that is so of the moment, you all but wonder how they had time to shoot and cut it just last week. But they didn't …

Not even sure they like each other to begin with, Giovana and Yago try things out as platonic roommates, friends with benefits and eventually lovers, never comfortable settling into any of those modes. Early in the lockdown, Giovana jokes that their setup is akin to an arranged marriage: It's a comparison that seems less amusing as weeks turn to months, and months to years.
Public screenings at the film festival were stopped by a new pandemic lockdown caused by surging cases in Bulgaria.
(16) THE WAIT IS OVER. A.V. Club introduces readers to a Korean sff author: "I'm Waiting For You by Kim Bo-Young review: Cosmic tales of love, loss".
In the title story of I'm Waiting For You, the first of Korean science fiction writer Kim Bo-Young's works to be translated into English, the unnamed protagonist says he felt he was prepared for solo space travel because he'd once spent a few months without leaving his home. After a year in which so much of the world has experienced an even more extreme version of such isolation, that idea might seem trite. But then the character goes on to explain how wrong he was:

That wasn't actually living alone. I have never once really lived alone. Someone cleared away the trash I left out for collection, and emptied the septic tank… In another place they boiled noodles and put them in a dish and delivered them… I had never lived alone, not once. How would really living alone even be possible?

"I'm Waiting For You" was originally written in 2015 at the request of a fan who wanted Kim to write a story he could use to propose to his girlfriend. The tale of a man journeying through time and space in an increasingly desperate and unlikely attempt to reunite with his fiancée has taken on new power as we look toward the end of more than a year of isolation that has also produced a newfound understanding of how connected we are to the communities around us….
(17) HISTORIC WARNING. "Ghosts of the Future: A Conversation with Larry Achiampong" is a Critierion Channel Q&A with the maker of the Relic film series.
The London-based, British Ghanaian artist and filmmaker Larry Achiampong explores race, class, and history in a multidisciplinary practice that, as described in the biography on his website, seeks to "examine his communal and personal heritage—in particular, the intersection between pop culture and the postcolonial position." First devised in 2016, partially as a response to the sociopolitical shock of Brexit, Achiampong's Relic Traveller is an ambitious project that has manifested as performance, sound installation, moving image, prose, and a remarkable public commission in which Achiampong reimagined London Underground's iconic roundel in Pan-African colors—green, black, and red—that spoke symbolically to various African diasporic identities.

A central pillar of the project is a suite of four science fiction–inflected short films—Relic 0, Relic 1, Relic 2, and Relic 3—now streaming on the Criterion Channel.

… Clearly, these films engage deeply with long, painful histories and would be resonant at any time. But in the past few years, particularly in the UK, there's been a real resurgence of empire fetishism, and seemingly more reluctance than ever among the media and ruling classes to address the reality of this history. To what extent are the films a reaction to that context?

For me, the films represent a warning to the West about its negligence, ignorance, mythical approach to history, omission of the histories and legacies of empire, slavery and colonization, and how those things affect the way that we live today: the way that Black people are still disenfranchised. They're a stark warning that the West will undo itself as a result of the lies it has celebrated, taught, and disseminated for a while. It's almost as if it will eat itself unless an understanding of the truth—or what has not been allowed to be revealed as the truth—is opened up….
(18) CURB APPEAL. SYFY Wire says "We might need to see the Earth like aliens would if we intend to find them".
Suppose there really are aliens out there who are creeping around on the surface of some faraway planet and have managed to survive everything space has thrown at them so far. How could we find out they exist?

The answer might lie in how they would (hypothetically) see us. We may never know whether there really are intelligent beings who have spotted our planet as it passed by the sun, but observing it from their perspective could help us see through extraterrestrial eyes. This is the objective of the Earth Transit Observer (ETO) mission concept. Led by a research team from the Johns Hopkins Applied Physics Laboratory (APL), ETO will watch Earth in transit as if it was a spacecraft sent out here by other intelligent beings.

Researchers Noam Izenberg and Kevin Stevenson, who will be the project leads if this mission becomes reality, and co-led a study recently presented at the 52nd Lunar and Planetary Science Conference, and Laura Mayorga, who also co-led the study, believe that observing Earth from the perspective of a being who never knew it existed could give us new insight on how to look for habitable—and possibly inhabited—planets….
(19) VIDEO OF THE DAY. In "Godzilla vs. Kong Pitch Meeting" on Screen Rant, Ryan George's screenwriter tells the producer, "We're just going to keep cutting to monsters punching each other so that no one has time to digest the mumbo-jumbo we use as explanation" for why Godzilla and King Kong fight each other. SPOILER WARNING.
[Thanks to Michael Toman, Lise Andreasen, N., Martin Morse Wooster, JJ, Mike Kennedy, rcade, Daniel Dern, Nicholas Whyte, Andrew Porter, John Hertz,John King Tarpinian, Rich Lynch, Nina Shepardson, and Cat Eldridge for some of these stories. Title credit goes to File 770 contributing editor of the day Bruce Baugh.]