(1) BEARING IT ALL. John Scalzi gives his fans a gift in "A New Story For You: Grizzly Bear Conflict Manager" at Whatever.
Whenever I go on book tour, I like to write up a short story to read at the events; a thank you, as it were, to the people who show up, who get to hear me read something no one else has gotten to yet. …

… This year, the short story I wrote (which I performed first on the 2022 edition of the JoCo Cruise) is called "Grizzly Bear Conflict Manager," and it comes with a backstory, which is, there's an actual job with the US National Park Service called a Grizzly Bear Conflict Manager. This job was pointed out to me by a friend who works with the park service; they were going to go into detail about the job actually entailed, but I stopped them before they could do so. "No, no," I said. "I want to write a story about this job, and I do not want it sullied by mere facts."

Thus, this story is a fanciful interpretation of what I imagine a Grizzly Bear Conflict Manager does, which I am almost entirely certain has nothing to do with what someone with this job actually does…
(2) PRECIOUS MOMENTS. Andy Serkis returns as Gollum in the new audiobook of J.R.R. Tolkien's The Lord of the Rings.
Award-winning actor Andy Serkis (The Lord of the Rings, The Hobbit) returns to Middle-earth this September in the brand new unabridged audiobook of J.R.R. Tolkien's masterpiece, The Lord of the Rings. In this scene, he reprises his role as Gollum.
(3) DO KNOW MUCH ABOUT HISTORY. Scott Oden talks about "The Landscape of Historical Fiction, Circa Now".
…Certain topics are perennial. The Tudors, for example, seem always in fashion. So, too, the Romans. The latter are split into two camps: the pulpier sword-and-sandal novels of war and great deeds, emperors and kings, and the "quieter" histories that also bear some resemblance to romance novels. Scottish books are still holding steady, with their shirtless Highlanders and fiery gingers. Civil War novels have all but vanished, and there are a few Revolutionary era out there. I've seen more set in medieval India that I'd previously noticed.

Discordant to me, the Sixties have edged into historical fiction. The 1960s. The decade of my birth. This reminds me I'm slowly fossilizing ….
(4) WRAP ARTIST. At CrimeReads, Lisa Tuttle says "Forget Frankenstein. It's Time To Read The Mummy!", about a little known early science fiction novel from 1827.
…FRANKENSTEIN, published in 1818, established Mary Shelley's monster as a permanent icon of horror, and is considered by many to be the first true science fiction novel. Yet The Mummy! A Tale of the Twenty-Second Century, published nine years later, has a much stronger claim to that position. It was also the first work of fiction to feature an Egyptian mummy restored to life, but it was too far ahead of its time to become the foundational text for the later wave of horror featuring vengeful mummies.

Despite some Gothic flourishes, The Mummy! is not strictly a tale of horror. It does not deal in ancient curses or dark magic, and if at first the mummy of Cheops appears as a grim, imposing figure with flashing eyes and an eerie laugh, striking terror into the hearts of all who see him, he turns out to be a strangely helpful Machiavellian operator as he swiftly involves himself in political machinations following the death of Queen Claudia in twenty-second century London….
(5) IF YOU WANT OGRES. The Hugo Book Club Blog reviews Adrian Tchaikovsky's Ogres in "Monstrously Wealthy". Maybe you'd like to read it, too? They have three copies to give away. Here's what you need to do.
(6) Q&A WITH NOMMO NOMINEES. The BSFA interviews past nominees for the Nommo Awards: Innocent Chizaram Ilo; Tlotlo Tsamaase; Oghenechovwe Donald Ekpeki; Tochi Onyebuchi; NIkhil Singh; Stephen Embleton.
(7) THAT OLD GANG OF MINE. "Star Trek: Picard to Reunite Next Generation Cast for Season 3" – Variety tells who'll be aboard.
"Star Trek: The Next Generation" stars LeVar Burton, Michael Dorn, Jonathan Frakes, Gates McFadden, Marina Sirtis and Brent Spiner will join Patrick Stewart for the third and final season of the Paramount Plus series "Star Trek: Picard."

Spiner has played several characters on "Picard" in Season 1 and 2 (which is currently streaming), including his original role of the android Data; Frakes and Sirtis appeared in one memorable episode of "Picard" in Season 1 as William T. Riker and Deanna Troi. And Whoopi Goldberg reprised her role as Guinan in the Season 2 premiere. But this will be the first time the main "TNG" cast — including Burton as Geordi La Forge, Dorn as Worf, and McFadden as Dr. Beverly Crusher — has performed on screen together since the 2002 feature film "Star Trek: Nemesis."
(8) MEDIA BIRTHDAY.
1974 — [Item by Cat Eldridge.] Forty-six years ago, the Golden Voyage of Sinbad premiered in the United States on this day. It was based as these things are somewhat loosely upon on Sinbad the Sailor from One Thousand and One Nights, better known as the Arabian Nights.
It was directed by Gordon Hessler, previously known for his long association with the Alfred Hitchcock Presents series. It was scripted by him from a story by himself and Ray Harryhausen who of course did the special effects here. Harryhausen and Charles Schneer, whose career was spent mostly working with Hartyhausen, produced it.
It has a cast of John Phillip Law, Tom Baker, Takis Emmanuel, Caroline Munro, Douglas Wilmer and Martin Shaw. Munro was given the female lead, though they had to hew to a G rating here. And it is said that Baker's performance in this film was what landed him the role of the Fourth Doctor, because the show's producer, Barry Letts, was impressed with his performance here.
So how was the reception at the time for it?
Well, Time magazine (remember them?) rather liked it though Baker they did not: "The movie is short on talk, except for the windbag wizard (Tom Baker) who plays the villain, and long on action, quite the proper proportion for entertainments like this. Sinbad is light, silly fun, and kids will probably appreciate both the skillful technique of the fantasy and the fact that the film makers have had the good sense not to include a single—yecchh!—kissing scene."
And Variety was likewise impressed: "As with producer Charles H. Schneer's Jason and the Argonauts, Ray Harryhausen encores as coproducer and special effects collaborator. Among his creations: an animated ship's figurehead, a grotesque centaur, a many-armed religious idol and swordplay adversary, and a couple of small bat-like creatures performing intelligence duty for the black artsy heavy of the piece. Good enough conjuring tricks to impress the kids. Neither story nor running time are belabored under Gordon Hessler's capable direction. And the play-acting is up to snuff for this kind of throwback, in which John Phillip Law impersonates Sinbad with appealing understatement."
Currently it holds decent though not outstanding sixty-four percent rating among audience reviewers at Rotten Tomatoes. You can purchase or rent it pretty much anywhere.
(9) TODAY'S BIRTHDAYS.
[Compiled by Cat Eldridge.]
Born April 5, 1909 — Albert Broccoli. American film producer responsible for all the Bond films up to Licence to Kill, either by himself or in conjunction with others. He also was the producer of Chitty Chitty Bang Bang, and executive produced The Gamma People which is in the public domain, so you can see it here. (Died 1996.)
Born April 5, 1916 — Bernard Baily. A comics writer, editor and publisher. Best remembered as co-creator of The Spectre and Hourman. For DC Comics precursor National Comics, Baily co-created and drew the adventure feature "Tex Thomson" in Action Comics #1 (June 1938), the landmark comic book that introduced Superman. In 1943, he founded his own studio. Among the artists who started out in the industry there were Frank Frazetta, Carmine Infantino and Gil Kane. (Died 1996.)
Born April 5, 1917 — Robert Bloch. His Wiki page says he's best known as the writer of Psycho, but I'll guarantee that only film geeks and many of y'all know that. I know him best as the writer of the Trek "Wolf in the Fold" episode, one of three Trek episodes he did. His Night of the Ripper novel is highly recommended. And I know "That Hellbound Train" which won him first Hugo at Detention is the piece by him that I've read the most. He received a special committee award at L.A. Con II, where they were honored him for fifty years as SF professional. Impressive indeed. And yes, he's a member of First Fandom as he should be. (Died 1994.)
Born April 5, 1926 — Roger Corman, 96. Ahhhh, popcorn films! (See popcorn literature for what I mean.) Monster from the Ocean Floor in the early Fifties was his first such film and Death Race: Beyond Anarchy was his final film just a few years back. He's a man who even produced a film called, errr, Munchies. A Worldcon guest of honor in 1996. A very, very long career.
Born April 5, 1933 — Frank Gorshin. To my amazement, I've not written him up before! He of course played The Riddler eleven times on The Batman counting the film. And he appeared on Star Trek playing Bele in "Let That Be Your Last Battlefield", though I'll be damn if I remember which of the two he was. He had one-offs on The Munsters, Wonder Woman, Buck Rogers in the 25th Century (well a two-parter there), Monsters, Are You Afraid of the Dark, The Ren & Stimpy Show (voice role), Black Scorpion and coming full circle finally voicing Professor Hugo Strange on The Batman. One of the figure companies is doing a one-sixth scale figure of his Riddler this Autumn. (Died 2005.)
Born April 5, 1950 — Anthony Horowitz, 72. He wrote five episodes of Robin of Sherwood, and he was both creator and writer of Crime Traveller. He's also written both Bond and Holmes novels. If you can find a copy, Richard Carpenter's Robin of Sherwood: The Hooded Man is a very nice fleshing out of that series in literary form.
Born April 5, 1950 — A.C. Crispin. She wrote several Trek and Star Wars novelizations and created her series called Starbridge which was heavily influenced by Trek. She also co-wrote several Witch World novels, Gryphon's Eyrie and Songsmith, with Andre Norton. Pirates of the Caribbean: The Price of Freedom was her last novel prior to her death from bladder cancer while in hospice care. (Died 2013.)
Born April 5, 1965 — Deborah Harkness, 57. She's the author of the All Souls Trilogy, which consists of A Discovery of Witches and its sequels Shadow of Night and The Book of Life. I listened to the Jennifer Ikeda-narrated audiobooks which are an amazing experience. Highly recommended as Harkness tells a remarkable story here with lots of Library-related material. I'm not even fond 'tall of vampires in any form and hers actually are both appealing and make sense. I've not seen the series made from the novels.
(10) SPOT ON. Cora Buhlert has posted another Fanzine Spotlight for "Science Fiction and Other Suspect Ruminations" by Joachim Boaz.
Tell us about your site or zine.

Science Fiction and Other Suspect Ruminations maps the varied landscape of SF produced during the turbulence of the post-WWII to the mid-1980s world. I am fascinated by the ways authors responded to the advent of nuclear weapons, the rise of 50s suburbia and commercialism, the Civil Rights movement, the Counterculture and radical student politics, the Vietnam War, and the 1970s political backlash. I chart what's produced in a specific time and territory to understand the people who dwelled at that moment—their dreams for the future, their fears of the present, and all the manifestations of estrangement and elation generated by a rapidly transforming world. Science fiction is a fantastic way to get at the zeitgeist of an era.

I am particularly receptive to New Wave science fiction of the late 60s and early 70s that attempted to tackle our oblique interiors via radical structure/politics, non-standard characters and perspectives, and experimental prose. Sometimes it's beautiful. Sometimes it doesn't work. But it's all fascinating.
(11) 2021 HUGO SWAG. Also, congratulations to Cora Buhlert who is celebrating the arrival of her DisCon III Hugo finalist goodies.
(12) UP YOUR LIBRARY I WILL PROP. The "Yoda Illusion Bookend" seems like an entertaining idea.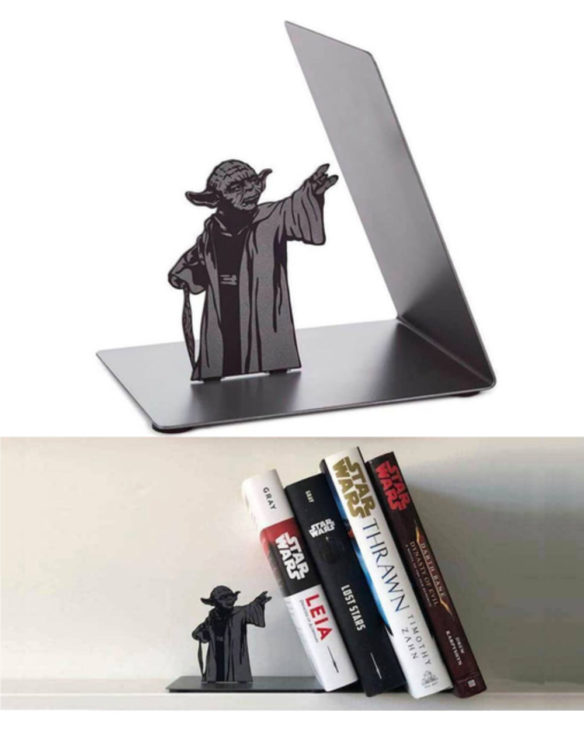 (13) CUT-AND-PAST. The 2014 trailer for graduate film student Ricky Kennedy's feature length film "The History of Time Travel" is news to me!
(14) VIDEO OF THE DAY. [Item by Martin Morse Wooster.] In "Honest Trailers: Ghost Rider 1 and 2," the Screen Junkies say the two Ghost Rider movies "Feel like going on a 48-hour Coke bender with Nick Cage. They're a bad idea, but still pretty fun." The two films are "loud, fun, and barely make sense. They're dumb, but comic books are dumb."
[Thanks to Andrew Porter, Michael Toman, Cat Eldridge, Chris Barkley, Cora Buhlert, Mike Kennedy, Martin Morse Wooster, JJ, and John King Tarpinian for some of these stories. Title credit belongs to File 770 contributing editor of the day Bill.]