(1) WILL R., MICRO-CELEBRITY. When the new Independence Day: Resurgence trailer went online, Will R. immediately got busy looking for his own face.
I got to be an extra in a couple of scenes, and I've been wondering if I'd get any screen time. Technically, it appears yes, as I am in the crowd just about where the arrow's pointing here. (If it's CGI, they sure made that, um, pixel look just like me.)
Will is from New Mexico. He and the family spend summers there. And Albuquerque, the largest city in the state, is where some of the location shooting was done.
It was quite an experience. Of course we're sworn to reveal no details, but it's no secret that the scale of these productions is staggering.
Learning that Will is in the movie was almost as surprising as discovering Brent Spiner is in it, too —
(2) HE'S NOT DEAD, JIM. "Brent Spiner Explains How His 'Independence Day' Character Is Still Alive in Sequel 'Resurgence'" to a Yahoo! Movies reporter.
The last shot of [Spiner's character] Okun (not included in the video above) shows the motionless character being picked up by Major Mitchell (Adam Baldwin), who then checks Okun's pulse. It's not definitive, but after the beating and strangling and alien-exorcism and whatnot, audiences could be forgiven for assuming the doctor was dead as a doornail.

"It is the resurgence of Dr. Okun, that is why they call this movie Resurgence, that is the whole idea," Spiner joked to Yahoo Movies last week at CinemaCon, where he was joined by his co-star (and jazzmaster) Goldblum shortly after Fox's presentation of the film in front of movie theater exhibitors.

But seriously, how is Okun still alive? It's simple, Spiner argued, he never died. "People jumped to that. They always jump to 'You must be dead' if you're laying on the ground. But they're wrong." Goldblum agreed, then pointed to their surroundings in Caesar's Palace: "Yeah how many people do you see laying on the ground just passing through the casino? And so few of them are dead," he cracked.

"I'm back, I'm alive, I couldn't be happier," Spiner said. "I hope everyone else is, but no one more than me."
(3) GUILLERMO DEL TORO. The few who have seen del Toro's private horror collection rave about it, and there will be a chance for the public to see it — "The Creepy Collection Guillermo del Toro Has Spent a Lifetime Curating is Getting an Exhibit".
From the way he describes it, it's obvious that nothing suits him more than Bleak House – what he calls the house that accommodates his collection. "This morning I woke up in the Dickens room, which is a room that is dedicated to Dickens, and all the furniture is Dickensian and Victorian, and it's surrounded by books from the Victorian era…," he told the Hollywood Foreign Press Association. "And I exited through the Nosferatu corridor by pushing the secret painting on the wall into my kitchen."

Come July, part of his treasures will be featured at the Los Angeles County Museum of Art (LACMA). GdT describes it as "an exhibit of my movie stuff!" Only 500 of his pieces will make the cut, but according to the New York Times, Bleak House has at least 700 pieces of original art.
(4) WHAT A HIGH SECURITY CLEARANCE GETS YOU. George R.R. Martin is profiled by Isabel Berwick in the Financial Times.
Game of Thrones has become more popular and expensive every year. Each new episode has reportedly cost more than $10m, from $6m in 2012. It is worth it for HBO: the show picked up a record 12 Emmy Awards in 2015, including best drama. It also holds the dubious honour of being the world's most pirated show and is one of the most sexually explicit shows on television.

HBO has imposed tight secrecy on its prize asset in an attempt to prevent leaks. With one exception. Barack Obama is a fan and, as Game of Thrones' showrunner David Benioff revealed at the series launch, "When the commander-in-chief says, 'I want to see the advanced episodes', what are you going to do?"
(5) COPING. Monica Valentinelli offers a plan: "On Writing and Bad Stress".
What I do about Bad Stress Realization time! Every rotten moment I have had as a writer originates from bad stress, and the vast majority of those moments come from what I couldn't control. Why am I not beating myself up over it? 1) That's in the past. 2) I can only manage what I can control, but the number one thing I need to do is write. Period. And 3) Encountering bad stressors is normal, because it happens to everybody. What matters, then, is what I do next. How do I use those moments to inspire me to keep at it? To this end, I use the K.I.S.S. system which I am quite fond of….
(6) UNLOCKING THE ACHIEVEMENT. Suvudu also chose today to publish another Monica Valentinelli post, "Beyond Diversity in Fiction as a Catchphrase".
To Bill [Campbell of Rosarium Publishing], the word "diversity" is not just about having a wide array of characters from various ethnic backgrounds, it's about supporting multiculturism by seeking and working with diverse authors. This, however, doesn't just "happen", for the other side to hiring writers and artists, is to ensure that the business is running smoothly and folks are aware of the many books and comics he has to offer. To that end, he recently launched an IndieGoGo campaign to take Rosarium to the next level to help support his bottom line.

Advances in printing technology appears to have given Bill a lift, initially, as he used print-on-demand technology to publish books such as Mothership: Tales from Afrofuturism and Beyond and Stories for Chip: A Tribute to Samuel R. Delany. Now, with his recently announced titles like The SEA is Ours: Tales of Steampunk Southeast Asia, he hopes to ensure his profitability is stronger on a per copy basis.Though the technology is in place to facilitate digital publishing, many readers prefer print to digital or, in some cases, both. From a financial perspective, it makes total sense to me why Bill would launch a crowdfunding campaign to that effect, as the margins on print-on-demand books remain small. But, why should the rest of us care what happens to Rosarium? And, how does that impact diversity in publishing?

In my mind, the success of small press publishers, like Rosarium Publishing, is crucial to ensure that diversity in fiction has a life beyond heated conversations, strategy sessions, and break room chats. Diversity in fiction, in other words, isn't about a specific aspect of the genre, like lovesick vampires or white walkers, it's an opportunity for new and exciting voices to debut and share culturally-rich stories that we can all enjoy. Of course, Rosarium's emphasis doesn't mean larger publishers don't publish or support diversity in fiction as well, but size works to both their advantage and disadvantage. Once you explore Rosarium's catalog, you'll see for yourself the emphasis on speculative multiculturism, and might expect to see stories by a broad range of authors in the future.
(7) TODAY'S BIRTHDAY BOYS
Born April 22, 1894 — Soldier, journalist, and actor Rondo Hatton.
Born April 22, 1946 — Tim Curry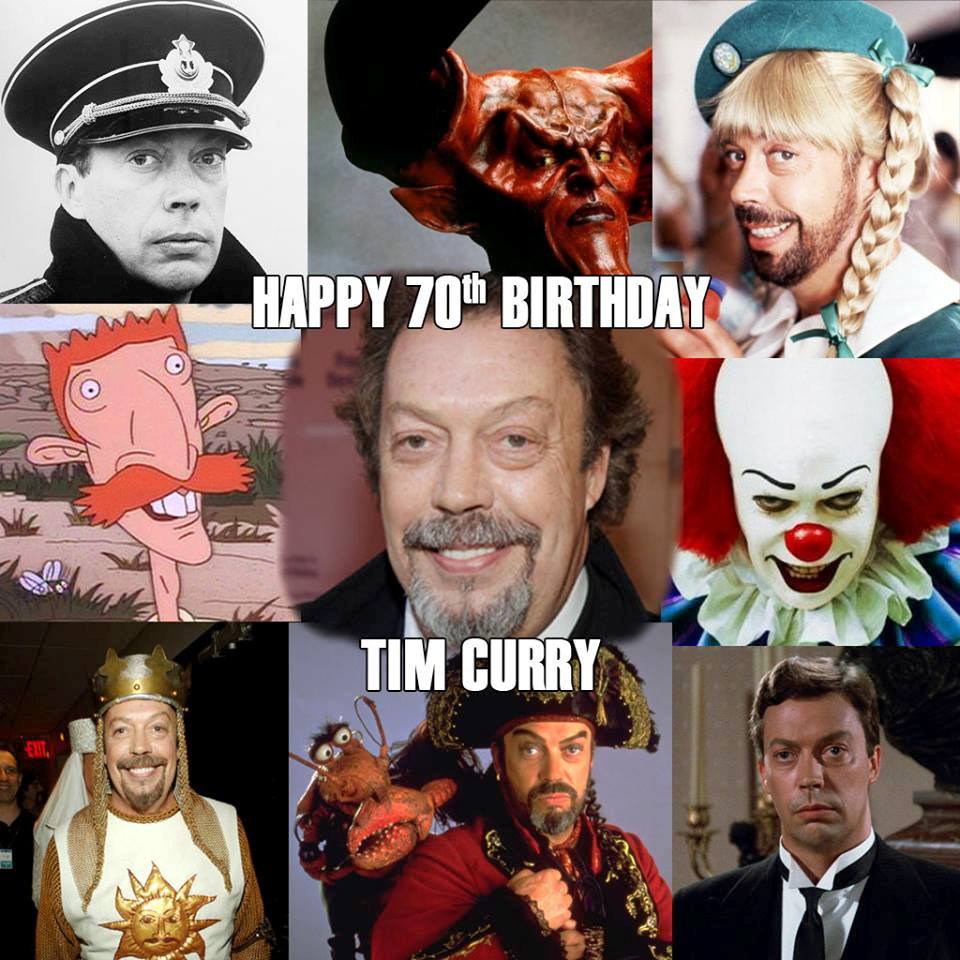 (8) TODAY'S SHINING BIRTHDAY BOY
Born April 22, 1937 – Jack Nicholson
(9) CAPTURING BOOK READING DATA. This was discussed in comments last month, but I haven't linked it in the Scroll yet – "Moneyball for Book Publishers: A Detailed Look at How We Read" in the New York Times.
Here is how it works: the company gives free e-books to a group of readers, often before publication. Rather than asking readers to write a review, it tells them to click on a link embedded in the e-book that will upload all the information that the device has recorded. The information shows Jellybooks when people read and for how long, how far they get in a book and how quickly they read, among other details. It resembles how Amazon and Apple, by looking at data stored in e-reading devices and apps, can see how often books are opened and how far into a book readers get.

Jellybooks has run tests on nearly 200 books for seven publishers, one major American publisher, three British publishers and three German houses. Most of the publishers did not want to be identified, to avoid alarming their authors. The company typically gathers reading data from groups of 200 to 600 readers.

Mr. Rhomberg recently gave a workshop at Digital Book World, a publishing conference in New York, and some of his findings confirmed the worst fears of publishers and authors.

On average, fewer than half of the books tested were finished by a majority of readers. Most readers typically give up on a book in the early chapters. Women tend to quit after 50 to 100 pages, men after 30 to 50. Only 5 percent of the books Jellybooks tested were completed by more than 75 percent of readers. Sixty percent of books fell into a range where 25 percent to 50 percent of test readers finished them. Business books have surprisingly low completion rates.
(10) SHE LEAVES THE LEDE UNBURIED. Sue Granquist has "Goth Chick News: Waist Deep in the Horror or Covering the Halloween and Haunted Attractions Show 2016" at Black Gate.
…But trust me when I say getting an inside peep at this "industry only" show is well worth the long day and the dry cleaning bill to get the smell of rotting flesh (courtesy of Sinister Scents) out of our Black Gate polo's.

TransWorld's Halloween & Attraction show is the only industry trade show that has this many exhibitors (over 300) and industry related products. For two decades haunt industry professionals have gathered to network, get new ideas and purchase products. There are booths with vendors representing every aspect of the horror business including special effects, makeup, costumes, animatronics and every piece down to the smallest necessary to create realistic, terror-inducing scenes.
(11) ORIGIN STORY. Scott Van Wynsberghe tells "The strange story of Hugo Gernsback, who brought science fiction magazines to America" at the National Post.
… Gernsback reached the U.S. just in time to exploit the radio revolution started by Italian inventor Guglielmo Marconi. Indeed, Marconi'sbiographer Gavin Weightman credits Gernsback, not Marconi, with the insight that the average person might want to tinker with radio technology. In 1905, says Weightman, Gernsback opened the first store for such buffs in the world, in New York. He then branched into publishing and started his own magazine, Modern Electrics, in 1908. According to science fiction historian David Kyle, he teamed up with prominent inventor Lee de Forest to form the Wireless Association of America in 1910.

Next came science fiction. In 1911, Gernsback enlivened Modern Electrics by serializing a novel he had written, the awkwardly titled Ralph 124C 41 +. One of the most unusual of all science fiction works, it depicts the year 2660, when humanity has achieved a technological pinnacle through anti-gravity, climate control, geothermal energy, and so on. But this is not a utopia. Amid relentless rhapsodies about machines, Gernsback unaccountably added disconcerting bits that undermined the optimism of the story. Communications systems break down, labour unrest still occurs, crime persists (with some death-row prisoners being used for scientific experiments) and inter-racial marriage — between humans and Martians — is outlawed. Much of the novel deals with a woman imperilled by crazed stalkers. Largely offered without comment, these details are enigmatic.
(12) 88 KEYS. The Digital Antiquarian recalls the horrible, litigious end of Infocom in "The Bruce Youth".
But if more games didn't help, what would? Drowning as they were, they cast about desperately, giving serious consideration to ideas at which the older, prouder Infocom would have scoffed. Some seriously mooted suggestions were described even by those who did the suggesting as "schlock," such as partnerships with Judith Krantz, Sidney Sheldon, or the rather vague category of "Hollywood stars." (The sad reality, of course, was that Infocom's own star had now burned so low that they wouldn't have had much chance of tempting even the lowest-wattage such fodder into working with them.) The most shocking and patently desperate suggestion of all was for a "serious XXX porn game," although they wouldn't put their own name on it. After all, one must have some dignity.

In this atmosphere of magic-bullet hunting, it was natural to turn back to the glory days, to the names that had once made Infocom one of the glories of their industry. Thus the Zork name, left unused since Zork III in 1982, was resurrected at last for Brian Moriarty's Beyond Zork, begun in late 1986 and released a year later.

Yet there was another of their old games that Infocom looked back upon with if anything even more wistfulness than the original Zork trilogy. The Hitchhiker's Guide to the Galaxy was the very personification of Infocom's glory days, selling well over 300,000 copies, attracting considerable mainstream-press coverage, and marking the high-water point of their commercial fortunes. The game itself hadn't so much ended as stopped midstream, its final paragraphs explicitly promising a sequel. If only they could finally get that sequel made…

The problem with doing the Hitchhiker's sequel was it must entail trying to work yet again with the charmingly insufferable Douglas Adams, a black hole of procrastination who seemed to suck up the productivity of every Imp he came into contact with. Bureaucracy, first proposed by Adams as a sort of light palate cleanser between Hitchhiker's and its sequel, had turned into the most tortured project in Infocom's history, involving at one time or another most of the development staff and consuming fully two years in all (the average Infocom game required about six to nine months). Released at last in March of 1987 only thanks to a last-minute rescue mission mounted by Adams's good friend and semi-regular ghostwriter Michael Bywater, the end result had left no one entirely happy….
[Thanks to Andrew Porter, Martin Morse Wooster, Will R., and John King Tarpinian for some of these stories. Title credit belongs to File 770 contributing editor of the day Mister Dalliard.]