(1) YA AWARD NAME. Annalee Flower Horne makes a preemptive strike.
All I want out of the Worldcon YA award is for them not to name it after Heinlein.

Or any dude, actually, but especially not him.

— Annalee (@leeflower) April 27, 2017
Is this just gratuitous Heinlein hatred? Dude hatred? Have I missed a news item? Or maybe I haven't. Kevin Standlee recently wrote that if the YA Award passes the Helsinki Business meeting, then the Business Meeting can take up the issue of what its name should be.
There was a nonbinding survey  asking fans' preferences among six names (Anansi, Lodestar, Ouroboros, Spellcaster, Tesseract, and Worldcon), but that places no limits on the Business Meeting.
(2) A REAL VIKING. Hampus Eckerman recommends, "For those Filers that will combine their visit to WorldCon with a visit to Sweden, a new Viking Museum, called Viking Life, opened this weekend. Some comments about being the only real place to see Vikings in Stockholm has already sparked a fight with the Historical Museum. The Historical Museum retorted that they had largest Viking exhibition in the world and that all authentic artifacts displayed at the Viking Museum had, in fact, been borrowed from the Historical Museum.
"But the thing that put Swedish twitter on fire was not this spat. It was the pictures of the Swedish king at the inauguration. Please enjoy a real Viking King."
(3) HE'S THIRSTY. OK, Steve Drew is sold on going to the Worldcon.
Finland – where you can buy a 1,000 pack of beer pic.twitter.com/RHTKOqLFQm

— Steve Drew (@elquesogrande1) April 28, 2017
(4) VON BRAUN'S HUGO. Bill Mullins visited a space shrine:
I was at the U.S. Space and Rocket Center today for my son's graduation from Space Camp. After the ceremonies, we toured the museum and saw Wernher von Braun's retro-Hugo (1954, from Boston's Noreascon 4 in 2004) in the Best Related Work category, for his book Conquest of the Moon, co-written with Fred Whipple and Willy Ley. His office at Marshall Space Flight Center has been recreated there as a permanent exhibit, and his award is sitting on his desk.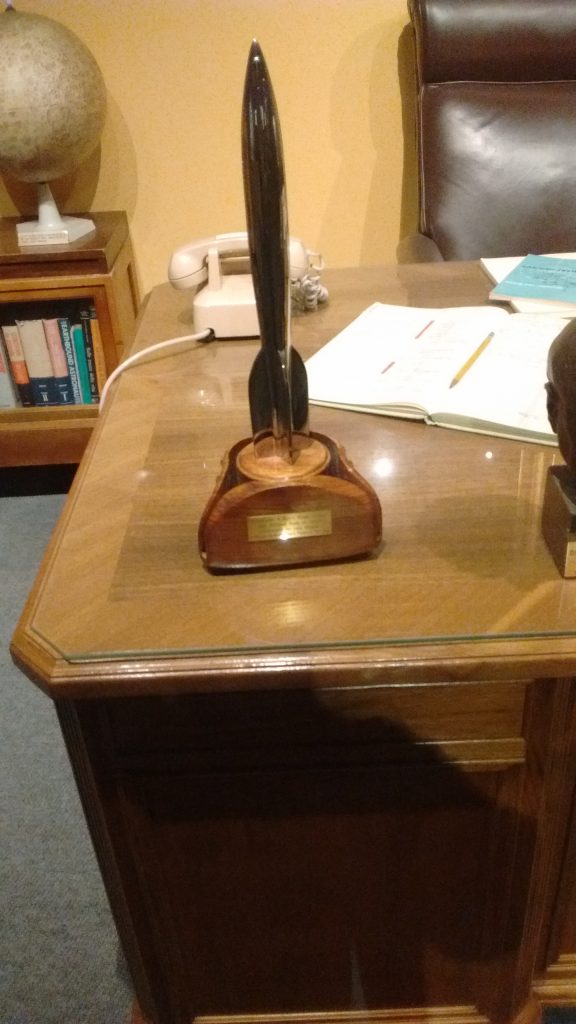 Patrick Molloy also wrote about it here in 2012.
(5) CONTROVERSIAL EDITS. Natalie Luhrs articulates how "Failures of Empathy" are an sff community issue.
Recently, Seanan McGuire (1, 2, 3) and J.Y. Yang (thread) have talked on Twitter about copyeditors making changes which fundamentally alter the story, and not for the better. The change in question: redacting the use of the singular they—used by nonbinary characters—to whichever binary gender the copyeditor felt like substituting. This is an act of erasure and, as Yang points out in the linked thread, an act of violence.

Many nonbinary people use the singular they as their pronoun—while this is a relatively new usage, it is not incorrect (copyeditors of the world, take note). I have seen it become more widely used over the last few years and at this point anyone griping about it is basically using it as an opportunity to be a prescriptivist jerk.

…We have an empathy problem in the SFF community. These failures are more obvious when a convention dismisses the safety concerns of their female Guest of Honor in favor of their friend the serial harasser, but you can also see it at a smaller scale: World Fantasy's initial decision to retain the H.P. Lovecraft pin and Brian McClellan suddenly deciding to tweet about how unprofessional it is to talk about your bad copyedit is when a person of color is the one talking. It's an entire spectrum of failure, this lack of empathy.
(6) COMPANIONABLE ALIEN. ScreenCrush catches up with "Karen Gillan on 'Guardians of the Galaxy Vol. 2,' 'Avengers: Infinity War,' and Nebula's Near-Death Experience in 'Guardians 1'".
I think it's fair to say that when the first Guardians came out, these were the most obscure characters to get their own Marvel movie. Now, of course, the first movie is beloved and everyone knows the characters. Did that change anything about how you guys went about making the sequel? Was there new pressure that wasn't there before?

That was quite an interesting thing for me as well, because I was wondering if anyone was going to be feeling the pressure; like second album syndrome or something. Maybe they did and they didn't really show it, but I didn't because I didn't feel I had the responsibility of the film on my shoulders. I just got to come in and play this fun character.
(7) ANCESTRY. I can't believe a spellchecker did this – but how else would you get that typo?
@HelenWheels1 @BrexitBin @KeloidKrown His Great-grandmother's father was the German immigrant. He's still patrilineally an Hugoaward, the remaining 14 sixteenths are unnaccounted

— Witch Burner?? (@Witch_Burner) April 28, 2017
(8) COMICS EVERYONE BOUGHT. You can infer these are not all that rare, right? Yahoo! News lists "The top 10 best selling comic books of all time".
#10. The Amazing Spider-Man (Vol. 1) #583 – 530,000 copies sold

This comic, featuring Spidey's encounter with then President Barack Obama, became a must-have collectible after being highlighted on news programs around the country.

#9. The Amazing Spider-Man (Vol. 3) #1 – 533, 000 copies sold

After a yearlong storyline that involved Doctor Octopus posing as Spider-Man, fans were more than happy to celebrate this back-to-basics approach to the friendly neighborhood wall crawler.
(9) FOUNDATION AND EMPIRE. Here's the moos – The Boozy Cow, a restaurant chain with a charitable foundation and donates all its profits to charity, has opened a fourth location in Scotland: "Charity restaurant chain opens fourth Scottish eatery".
The Boozy Cow chain – launched by philanthropist Garreth Wood two years ago – already has premises in Aberdeen, Stirling and Edinburgh, has now opened a venue in Dundee.

Mr Wood also revealed that a further five charities will receive a share of the profits from The Boozy Cow chain – Hot Chocolate Trust, Mid-Lin Day Care, Dundee Woman's Aid, Art Angel and Help for Kids.

This brings the number of good causes currently supported by the company to 18.

Last month, the organisation announced it was giving away £210,000 to charities including CHAS, The Archie Foundation and the Youth and Philanthropy Initiative in Edinburgh, with almost half a million pounds given away since the company opened its first venue in Aberdeen in 2014.
(10) DAVIS OBIT. SF Site News reports the death of Grania Davis (1943-2017) on April 28.
Author Grania Davis (b.1943) died on April 28. Davis was married to Avram Davidson for 3 years and served as his primary editor after his death. She co-authored several works with Davidson as well as writing works on her own.
(11) DEPARTMENT OF ANTIQUE COMPAINTS. Nevertheless, back in 1962, The Traveler tells Galactic Journey readers he is giving a vote of no confidence in new F&SF editor Davidson's handiwork: "[Apr. 28, 1962] Changing of the Guard (May 1962 Fantasy and Science Fiction)"
I never thought the time would come that reading The Magazine of Fantasy and Science Fiction would be the most dreaded portion of my duties…and yet, here we are.  Two issues into new Editor Avram Davidson's tenure, it appears that the mag's transformation from a great bastion of literary (if slightly stuffy) scientifiction is nearly complete.  The title of the digest might well be The Magazine of Droll Trifles (with wry parenthetical asides).

One or two of these in an issue, if well done, can be fine.  But when 70% of the content is story after story with no science and, at best, stream-of-consciousness whimsy, it's a slog.  And while one could argue that last issue's line-up comprised works picked by the prior editor, it's clear that this month's selections were mostly Davidson's.

Moreover, Robert Mills (the outgone "Kindly Editor") used to write excellent prefaces to his works, the only ones I would regularly read amongst all the digests.  Davidson's are rambling and purple, though I do appreciate the biographical details on Burger and Aandahl this ish.
(11a) TODAY'S BIRTHDAY BOY
Born April 29, 1923 — Irvin Kirschner, filmmaker, director of The Empire Strikes Back.
(11b) TODAY'S DAY
International Astronomy Day

Astronomy allows us to see the history of the universe with our own eyes. The stars that twinkle as you look out on a dark, clear night may not exist right now. They existed at whatever point in history they emitted that light, which has taken millions of years to reach Earth.
(12) LATE EASTER EGG STANDING. Hey, I'd already forgotten there was one — "Explaining the mid-credits scene in Suicide Squad". BEWARE SPOILERS.
Suicide Squad's mid-credits scene features a meeting between Amanda Waller and billionaire playboy Bruce Wayne. The conversation starts off simply enough: Waller needs help when it comes to keeping everything that happened in Midway City (and her involvement) on the down low. In order to protect herself from Enchantress' wrath and keep her reputation in the green, Waller makes a deal with Wayne to maintain damage control surrounding the movie's events. Of course, she has to bring something to the table to make the deal happen…
(13) EXPANSIVE. Aaron Pound reviews Leviathan Wakes by James S.A. Corey at Dreaming About Other Worlds.
Full review: The first book in the Expanse series, Leviathan Wakes is a kind of hard-ish medium future science fiction almost Space Opera story that feels a little bit like Firefly and a little bit like a Dashiell Hammett novel. The book is full of adventure, intrigue, and excitement, but it is the kind of industrial, oil-covered adventure, intrigue, and excitement that results in broken bones, bullet holes, and dead characters. Alongside the truckers and detectives in space in the book is just enough alien weirdness to shake things up and add a bit of inhuman horror to the impersonal dangers of living in a hostile environment that will probably kill you if you make a mistake.
(14) NEWS TO SOMEBODY. Vox (the website, not the Rabid Puppy) said in its February review,, "Forget 'white saviors': The Great Wall is really about fighting giant lizard monsters".
A few things you should know about The Great Wall: It's simultaneously 400 percent more movie than most and 10 percent as much movie as most — huge, bombastic, colorful, explosive, and containing almost no story at all. It's roughly equivalent to watching the assault-on-Mordor bits of The Lord of the Rings: The Return of the King for 103 minutes. It was filmed in 3D, and I ducked a few times while watching. It also made me seasick, but that's my own damn fault for sitting too close to the screen.
(15) THE LONG VIEW. AI viewed with alarm: "Viewpoint: Is inequality about to get unimaginably worse?". Chip Hitchcock snarks, "He probably wouldn't have been paid if he'd just posted a link to 'With Folded Hands'…"
Inequality goes back at least 30,000 years.

Hunter-gatherers were more equal than subsequent societies.

They had very little property, and property is a pre-requisite for long-term inequality.

But even they had hierarchies.

In the 19th and 20th Centuries, however, something changed.

Equality became a dominant value in human culture, almost all over the world. Why?

It was partly down to the rise of new ideologies such as humanism, liberalism and socialism.
(16) AND THE THIRD LITTLE MARTIAN PIG… There may be no straw or timber, but — "Scientists just discovered something awesome about the soil on Mars".
The research, which was published in Scientific Reports, reveals that the soil on Mars is particularly well-suited to brick making. In fact, the dirt is so easily formed into bricks that building a rigid structure out of it wouldn't require any special substance or even heat to bake them, and it's all thanks to the same material that gives the Mars surface its reddish hue.

At first, engineers at the university were trying to figure out exactly how much additional polymer would be needed for the Mars soil to be shaped into bricks. As they gradually reduced the amount of additive used with their soil simulant they eventually realized that they didn't need any at all. The team was able to successfully compact iron-oxide-rich Mars dirt with a flexible container which was then pressurized. The result was small, firm blobs of soil which were stable enough to be cut into brick-like shapes.
(17) SHINY. The New York Times tells where to buy "A Solid Gold Darth Vader for the Sith Who Has Everything".
For less than the cost of a trip to Tatooine, one lucky Star Wars fan will soon be able to own a solid gold Darth Vader mask — perfect for bartering, though perhaps not so good for heavy breathing.

On Tuesday, the Japanese jeweler Ginza Tanaka unveiled the imposing headgear and announced that it would go on sale at the company's flagship store in Tokyo on May the fourth (do we need to spell this out for you?) to celebrate Star Wars' 40th Anniversary.

The price? A mere 154 million Japanese yen, or about $1.4 million. Tax included!
(18) ON ICE. This is the lede of an article by Helen Brown in the April 22 Financial Times (behind a paywall.)
A survey recently found that the most popular song among prison inmates in the UK was 'Let it Go,' the big number from Disney's 2013 blockbuster Frozen.

Despite the incongruity of old lags carrolling along to a song more easily associated with preschoolers dressed as animated princesses, anyone alive to the emotional truths of the film would not be surprised to find it resonating with prisoners struggling to own the guilt of the past and move on…..
(19) AI SCRIPTWRITER RETURNS. "It's No Game–A Sci-Fi Short Film Starring David Hasselhoff" is a commentary on the forthcoming writer's strike, featuring David hasselhoff as an android, that explains what happens when writers are replaced by the Golden-Age-Ophile and the Sorkinator.
 [Thanks to Dawn Incognito, Martin Morse Wooster, Bill Mullins, JJ, John King Tarpinian, and Carl Slaughter for some of these stories. Title credit goes to Fie 770 contributing editor of the day Matthew Johnson.]
Update: Corrected item one to the name Annalee Flower Horne. (Not Newitz, as I mistakenly wrote to begin with.) Apologies to all concerned.