(1) I WAS A FAN FOR THE FBI. Rob Hansen's THEN documents the FBI informant who joined the LASFS and enjoyed fandom so much he stuck around — Samuel D. Russell. I heard the story from Milt Stevens, who made sure the legend was handed down to future club members, but I never had the opportunity to read these articles before.
…The name of the Los Angeles Science Fantasy Society was brought into the proceedings of the trial of eleven local communist leaders, currently taking place in this city. The eleven men and women being tried for the alleged act of advocating the use of violence for overthrowing the government of the United States.

The prosecution introduced various witnesses who had joined the communist party as informers for the FBI. One of these witness was the once well-known fan, Samuel D. Russell. Among many other activities, Russell was co-editor and publisher, with Francis T. Laney, of THE ACOLYTE, which was for many years one of the leading fan mags of the nation.
(2) MISSING IN ACTION. Joseph Loconte, author of A Hobbit, a Wardrobe, and a Great War, says the new biopic fails to present a key moment of Tolkien's life in "Tolkien Film Fails to Capture the Majesty of His Achievement" at National Review.
…Yet the film devotes more time to idle bantering and boozing than it does to the group's literary and moral purposes. It also overlooks a crucial exchange: a meeting in December 1914, dubbed "the Council of London," which was transformative for Tolkien. "In fact it was a council of life," writes John Garth, author of the magisterial Tolkien and the Great War. The prospect of the trenches had a sobering effect. Late into the night they talked and debated — about love, literature, patriotism, and religion. It was at this moment, and among this fellowship, that Tolkien began to sense his literary calling. "For Tolkien, the weekend was a revelation," Garth concludes, "and he came to regard it as a turning point in his creative life."

If the film's writers wanted to depict such a revelatory scene — which they don't — it would have required familiarity with an ancient source of wisdom. We no longer appreciate how the educated classes of Tolkien's generation were schooled in the classical and medieval literary traditions….
(3) DET. PIKACHU. The BBC's Ali Plumb also likes Detective Pikachu — even if it doesn't make sense: "Ali Plumb reviews Detective Pikachu".
21-year-old insurance salesman Tim hasn't seen his police detective dad for years, but when news arrives that his old man has mysteriously disappeared, he heads to the Pokemon paradise of Ryme City – where humans and Pokemon live side by side – to look into what's happened.

Poking around his father's flat, he discovers his dad's Pokemon partner, "Detective Pikachu", wandering around with no memory of what has occurred.

Together, Tim and Pikachu must solve the case and save the world, meeting a whole host of different Pokemon along the way, battling the occasional Charizard and negotiating with Mr. Mimes. As you do.
(4) ROAD TRIP. The BBC asks, "How do you learn to drive on Mars?" I don't know, but Ray Bradbury had a license!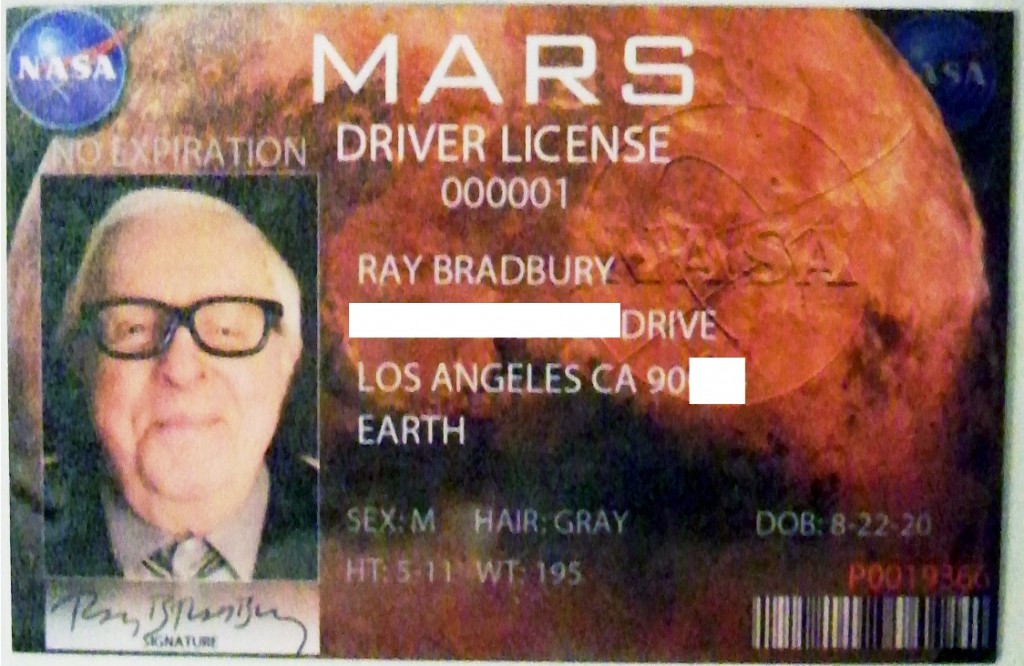 Time is of the essence. It's now little more than a year until the Rosalind Franklin rover is sent to Mars.

Engineers across Europe and Russia are busy assembling this scientific vehicle. and the hardware that will both carry it to the Red Planet and put it down safely on the surface.

In parallel to all this are the ongoing rehearsals.

These needed to ensure controllers can easily and efficiently operate the robot from back here on Earth.

The videos on this page show the latest locomotion verification tests that have been conducted at the RUAG company in Switzerland.
Not at the above link: debarkation, on video.
(5) BOLGEO MEDICAL UPDATE. Marcia Kelly Illingworth alerts friends of Tim Bolgeo that he has entered hospice care:
I am getting damned sick and tired of having to write to you about things like this. My dear, old friend, Tim "Uncle Timmy" Bolgeo, a well-known, Southern fan, founder of LibertyCon, in Chattanooga, TN, is in the hospital in Chattanooga TN, and has been placed in Hospice care.

I know that a lot of old school fans have problems with Timmy, due to his Conservative political views, and his old school, unconscious, presumed racist jokes. Be that as it may, I am here to say that he is a good man, a caring man, and a better friend anyone would be hard pressed to find. He's been active in Southern fandom for more years than I can say. His electronic fanzine, The Revenge of Humpday, was nominated for a Hugo.

Timmy has been fighting health issues for years. He started having heart trouble back in the nineties. I remember when his first heart surgery had to be postponed, because his cardiologist had a heart attack that morning and had to have heart surgery himself that day. Some guys just can't get a break! He has been battling congestive heart failure for some time now, with ever increasing medication. He was hospitalized last Friday, and today the family has advised us that he has been placed in Hospice care. They are asking prayers for a peaceful passing. We were so hoping that he would make it to one last LibertyCon.
(For anyone who needs more background, File 770 reported when Bolgeo's fanzine made news in 2014.)
(6) LEWIS OBIT. The Reverend Allen L. Lewis, 77, of Sioux Falls, SD passed away on Monday, April 29 at the age of 77. The family obituary is here.
…Over the course of several decades Father Al amassed one of the largest private collections of Science Fiction and Fantasy hard bound first edition books in the world. The bulk of his collection was donated to the University of Iowa in 2015.
The donation was noted in Pixel Scroll (item 4) on July 28, 2015:
After 20 years of collecting, he is donating his one-of-a-kind collection of 17,500 books worth an estimated three quarters of a million dollars.
(7) TODAY'S BIRTHDAYS.
[Compiled by Cat Eldridge.]
Born May 11, 1899 — E.  B. White. He's a co-author with William Strunk Jr.of The Elements of Style. In addition, he wrote Stuart Little and Charlotte's Web. (Died 1985.)
Born May 11, 1916 — Maurice Nahum. ISFDB credits him with being Editior in the Fifties of the Futuristic Science Stories, Out of This World Magazine, Supernatural Stories and several other publications. Langford at the usual source says of them that 'All were juvenile, undated and of poor quality.' (Died 1994.)
Born May 11, 1920 — Denver Pyle. His first genre performance is in The Flying Saucer way back in 1950 where he was a character named Turner. Escape to Witch Mountain as Uncle Bené is his best known genre role. He's also showed up on the Fifties Adventures of Superman, Commando Cody: Sky Marshal of the Universe, Men Into Space, Twilight Zone and his final role was apparently in How Bugs Bunny Won the West as the Narrator. (Died 1997.)
Born May 11, 1918 — Richard Feynman. Ok, not genre as such but certainly genre adjacent. I wholeheartedly recommend Genius: The Life and Science of Richard Feynman by James Gleick for an entertaining look at his life. (Died 1988.)
Born May 11, 1936 — Gordon  Benson Jr. Publisher and bibliographer who released the first of his many SF bibliographies around the early Eighties. Writers such as Anderson, Lieber and Wellman were covered. Early bibliographies written solo were revised for the Galactic Central Bibliographies for the Avid Reader series, are listed jointly with Phil Stephensen-Payne as later ones. (Died 1996.)
Born May 11, 1952 — Frances Fisher, 67. Angie on Strange Luck and a recurring role as Eva Thorne on Eureka. Have I mentioned how I love the latter series? Well I do! She's also shown up on Medium, X-Files, Outer Limits, Resurrection, The Expanse and has some role in the forthcoming Watchmen series. 
Born May 11, 1976 — Alter S. Reiss, 43. He's a scientific editor and field archaeologist. He lives in Jerusalem, he's written two novels, Sunset Mantel and Recalled to Service. He's also written an impressive amount of short fiction in the past ten years, most published in places that I've never heard of. 
Born May 11, 1997 — Lana Connor, 22. Jubilation "Jubilee" Lee in X-Men: Apocalypse, Koyomi in Alita: Battle Angel which is based on the manga series Gunnm, and she voices Kaoru in the Netfix series Rilakkuma and Kaoru.
(8) COMICS SECTION.
Bizarro depicts state-of-the-art medicine for robots.
(9) YEAR'S BEST. Congratulations to Jim C. Hines for scoring a first –
(10) FANAC.ORG UPDATE. The award-winning resource site, Fanac.org, is continuing to put up classic old fanzines. All the zines listed, except Innuendo, were provided by Rob Jackson from Paul Skelton's collection and scanned at Corflu 2019. Innuendo was provided by Joe Siclari and scanned at Corflu 2019.
Also from Corflu, a recording of the Saturday panel, "The Void Boys Speak!" Thanks Rob Jackson, and thanks Bill!
VOID was a focal point fanzine of the 1950s, and launched the science fiction careers of Jim and Greg Benford. This panel, held at the 2019 Corflu, covers the history of VOID. With original editors Jim and Greg Benford, co-editor Ted White, and with Luis Ortiz (who is publishing a book on the topic) , the panel covers all aspects of VOID. If you are familiar only with the professional careers of Jim and Greg Benford, and Ted White, this video will give you perspective on their fannish careers. The video ends with a rousing rendition of the Void Boys song! Note that the video was streamed live, and there are slides in use showing the VOID covers that are not visible in the video. If you are interested in seeing the covers, or reading Void, check out http://fanac.org/fanzines/VOID.
(11) HELPING AN SJWCC. Florida Man does something nice for a change — "Bobcat coaxed down from Florida power pole".
A wild bobcat perched high on a post by a busy road in the US state of Florida was encouraged down by workers in a cherry picker truck who used an extendable tool to tap it continuously on the head.

The cat, which was sat atop the pole used to support power cables in Collier County, eventually climbed down before leaving the scene in a hurry.

The power had been switched off to prevent electrocution, local media reported.
(12) ADVANCED CREDENTIAL. Science challenges academics — "Cats rival dogs on many tests of social smarts. But is anyone brave enough to study them?"
Toddlers pass this test easily. They know that when we point at something, we're telling them to look at it—an insight into the intentions of others that will become essential as children learn to interact with people around them. Most other animals, including our closest living relative, chimpanzees, fail the experiment. But about 20 years ago, researchers discovered something surprising: Dogs pass the test with flying colors. The finding shook the scientific community and led to an explosion of studies into the canine mind.

Cats like Carl were supposed to be a contrast. Like dogs, cats have lived with us in close quarters for thousands of years. But unlike our canine pals, cats descend from antisocial ancestors, and humans have spent far less time aggressively molding them into companions. So researchers thought cats couldn't possibly share our brain waves the way dogs do.

Yet, as cats are apt to do, Carl defies the best-laid plans of Homo sapiens. He trots right over to the bowl Vitale is pointing at, passing the test as easily as his canine rivals. "Good boy!" Vitale coos.
(13) DOG AND PONY TIME. BBC is there when "Jeff Bezos unveils Moon lander concept".
Amazon entrepreneur Jeff Bezos has unveiled a mock-up of a new lunar lander spacecraft that aims to take equipment and humans to the Moon by 2024.

The reusable Blue Moon vehicle will carry scientific instruments, satellites and rovers.

It will feature a new rocket engine called BE-7 that can blast 10,000lb (4,535kg) of thrust.

"It's time to go back to the Moon, this time to stay," said Mr Bezos.

Mr Bezos presented the Moon goals of his space exploration company Blue Origin at the Washington Convention Center in Washington DC, to an audience consisting of potential customers and officials from Nasa.
(14) VIDEO OF THE DAY. After School on Vimeo is a cartoon by Hanna Kim about the adventures of a girl coming home from school.
[Thanks to Cat Eldridge, Mike Kennedy, John King Tarpinian, JJ, Chip Hitchcock, Martin Morse Wooster, Microtherion, Carl Slaughter, and Andrew Porter for some of these stories. Title credit goes to File 770 contributing editor of the day Jack Lint.]