(1) DOCTOR'S ORDERS. Mark Oshiro is winding down his Mark Reads videos for medical reasons: vocal cord damage. He'll still be doing the reviews, just not the live readings. Oshiro is a two-time Best Fan Writer Hugo nominee (2013, 2014). "Announcing the next Mark Reads project and the future of videos"
First, the not-so-great news. I ask that you please respect my privacy in terms of like… not asking invasive questions about my medical stuff. Thank you in advance! The short of it is: I got sick in January 2019, did not go to the hospital (as I assumed it was a cold), and have been dealing with some ramifications of that since then. The main issue, though, is that over 2019, I sustained damage to my vocal chords. If we were not in a pandemic, I might have just taken a break from videos and then jumped back into things, but since this is not an emergency, most non-essential stuff is postponed here in NYC.

So, doctor's orders: I need to stop doing Mark Reads videos. (Not Mark Watches, though, since it is not me continuously talking/yelling for 30-40 mins straight.)

… But also: I'M NOT GOING ANYWHERE. Because it's time to start a NEW SERIES here on Mark Reads and YES, SERIES.

…I will be reading N.K. Jemisin's Broken Earth trilogy next!!!

There won't be videos, but there will be REVIEWS! And it's kinda exciting to get to go back to the old style of reviews, where I have to put my immediate reactions into the review instead of relying on videos for that part.
(2) FREEDOM. Not a small press but a publishing cooperative – here's how and why they did it: "Nerine Dorman on Making a Cooperative Initiative Work" a guest post on Cat Rambo's blog.
It all started innocently enough about five or so years ago. A fellow author sent me a link to an article about the Book View Café, and we figured: why don't we do something like this? By this stage many of us in our small circle of writerly folks were already rather jaded about the opportunities available in the industry—especially for those of us who live in far-flung places like South Africa where there isn't a big market for SFF fiction. Some of us had already been agented, had sold novels to big publishing houses. Some of us were not making it out of the slush pile yet… or were exhausted by all those full requests for submissions that simply vanished into a sticky silence. Added to that, some of us also had had unpleasant experiences with small presses going under, taking their back catalogue out of print. And a good handful were simply daunted by the war stories told by their author friends who'd already had a mad whirl on the merry-go-round of getting published and had their fingers burnt.
(3) SPFBO PROGRESS REPORT. Mark Lawrence says he has 192 of the 300 entries wanted to begin the sixth Self-Published Blog-Off. They are listed in the post.
(4) HOW QUICKLY THEY FORGET. [Item by Chip Hitchcock.] The last question of the New York Times's news quiz had enough information to be easy, but only 43% picked the correct answer.
The new book "The Ballad of Songbirds and Snakes" tells the story of a character named Coriolanus Snow and is a prequel to which best-selling series?

"Game of Thrones"

"Harry Potter"

"The Hunger Games"

"Twilight"
(5) HOW TO FILL UP THE VAST WASTELAND. In the Washington Post, Steven Zeitchik says that it's highly unlikely the major networks will have original dramas on this fall because no pilots were shot and Los Angeles and New York remain locked down. This could mean that the networks could broadcast more foreign or cable originals, leading to Star Trek: Picard being broadcast on CBS. "The fall broadcast season could look like nothing we've ever seen before".
…Most of the roughly 50 pilots ordered this year were never shot. (Pilot-shooting usually takes place in the spring — right as lockdowns began.) That means network executives would have to order full series with nothing but a script on which to base their decision, a process they have historically resisted as too risky.

Not that they could shoot those programs — or any returning ones — if they wanted to. To make a September debut, series need to begin shooting by July or early August at the latest. Yet production is nowhere near restarting. Producers and the guilds that cover most Hollywood workers have all said they are not yet comfortable reopening sets, where hundreds of cast and crew work in close quarters for long hours.
(6) AMAZINGCON. Steve Davidson has updated the AmazingCon schedule of events. The virtual event runs June 12-14. Registration required. Donations requested, but not required.
Taking place on line (we're calling it "AmazingCon – Virtually the First One!") via Zoom and this website, AmazingCon will feature author readings (more than 40!), writing workshops, panel discussions, continuous musical performances, an online art show and more.
(7) TAPPING INTO THE HUGOS. Essence of Wonder With Gadi Evron will begin a series of Hugo finalists live shows, over the next month hosting the finalists in various Hugo categories for panel discussions featuring their work and nominations. Registration required – no charge.
May 30 – David Brin and Best Professional Artist Hugo finalists

On Saturday the 30th of May we have the Best Professional Artist finalists on the show. We will further feature world-renowned author and public intellectual David Brin for a reading and an interview. This episode was created in collaboration with ASFA, and the finalists panel will be moderated by Sara Felix.

Participating in the panel: Tommy Arnold, Galen Dara, John Picacio, Yuko Shimizu, and Alyssa Winans,

June 6 — Joe Haldeman and the 2020 Hugo finalists for Best Novel

On Saturday the 6th of June, we have the Best Novel finalists on the show. We will further feature genre-shaping Grand Master Joe Haldeman for a reading and an interview, along with a surprise guest.

Participating in the panel: Alix E. Harrow, Seanan McGuire, Arkady Martine, and Kameron Hurley.
Other upcoming shows:
June 13: Best Novella and Best Novellette.
June 20: Best Short Story and Editors Short Form
(8) VETERANS. The immortal warriors of The Old Guard are coming to Netflix on July 10.
Forever is harder than it looks. Led by a warrior named Andy (Charlize Theron), a covert group of tight-knit mercenaries with a mysterious inability to die have fought to protect the mortal world for centuries. But when the team is recruited to take on an emergency mission and their extraordinary abilities are suddenly exposed, it's up to Andy and Nile (Kiki Layne), the newest soldier to join their ranks, to help the group eliminate the threat of those who seek to replicate and monetize their power by any means necessary. Based on the acclaimed graphic novel by Greg Rucka and directed by Gina Prince-Bythewood (Love & Basketball, Beyond The Lights), The Old Guard is a gritty, grounded, action-packed story that shows living forever is harder than it looks.
(9) TODAY IN HISTORY.
May 23, 1984 — George Lucas and Steven Spielberg's Indiana Jones and the Temple of Doom, a prequel to Raiders of The Los Ark, premiered. The second film in the now four film deep franchise, it starred Harrison Ford, Kate Capshaw, Amrish Puri, Roshan Seth, Philip Stone and Ke Huy Quan. It was primarily written by Lucas with assistance from Willard Huyck and Gloria Katz. It was scored by John Williams. It had decidedly mixed reviews early on but the consensus now among critics is that it's a very good film, and the audience reviewers at Rotten Tomatoes agree and give it an 85% rating.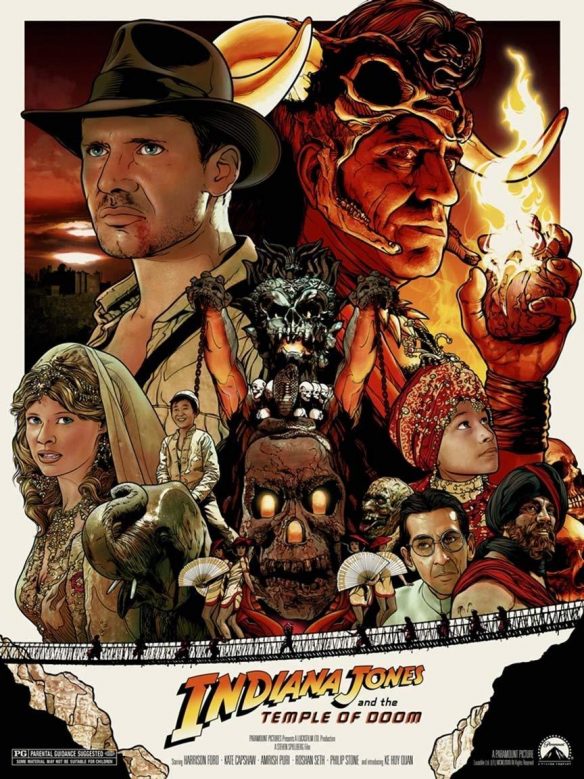 (10) TODAY'S BIRTHDAYS.
[Compiled by Cat Eldridge and John Hertz.]
Born May 23, 1909 — Robert Thomas Maitland Scott Jr. Son and a father and son writing team who created The Spider, a pulp character who was clearly a rip-off of The Shadow. They wrote only the first two Spider novels before it was written by various house authors though it's disputed if Scott Jt. had an uncredited role because the SF element in the series clearly reflect his tastes. He would die in a motor vehicle while on active duty with Royal Canadian Army Service Corps. (Died 1945.) (CE)
Born May 23, 1915 – Oliver Butterworth. Four decades a Professor of English at Hartford College; staged a yearly Shakespeare's Birthday party. Six children's books: we can claim The Enormous Egg which won the Lewis Carroll Shelf Award, two more. The egg was enormous because it had to hatch a triceratops, eventually named Uncle Beazley. Egg was made into a play, produced on television by NBC Children's Theater. (Died 1990) [JH]
Born May 23, 1915 – William Timmins. A run of 46 Astounding covers including for The World of Null-A, six more; here's his last; fifty interiors. Outside our field, All Aces, The Boy Scout Handbook, Clues, Dime Sports, Family Circle, Liberty, The Shadow, Western Story; oils, watercolors. He's on this year's Retro-Hugo ballot. (Died 1985) [JH]
Born May 23, 1921 – James Blish. Member of the Futurians, his fanzine The Planeteer. Doctor Mirabilis about Roger Bacon. In the Wonders of 1958 discussions at the 66th Worldcon we took up two of his books from that year and asked "How does Time compare to Conscience"? Six dozen Star Trekadaptations, collected in a dozen books. Ninety more short stories. Twenty columns of book reviews for The Magazine of Fantasy & Science Fiction. At the 38th Worldcon, I danced "Horatio's Fancy" with his widow. (Died 1975) [JH]
Born May 23, 1933 — Joan Collins, 87. Sister Edith Keeler in "The City on the Edge of Forever," the sort-of Ellison-scripted Trek episode. She has an extensive number of other genre appearances including Land of the Pharaohs, Mission: Impossible, The Man From U.N.C.L.E., Tales from the Crypt, Space: 1999, The Fantastic Journey, Future Cop, Fantasy Island and Faerie Tale Theatre. (CE)
Born May 23, 1933 — Margaret Aldiss. Wife of Brian Aldiss. She wrote extensively on her husband's work including The Work of Brian W. Aldiss: An Annotated Bibliography & Guide. He in turn wrote When the Feast is Finished: Reflections on Terminal Illness, a look at her final days. She also co-edited the A is for Brian anthology with Malcolm Edwards and Frank Hatherley. (Died 1997.) (CE)
Born May 23, 1934 – Phil Castora. Quiet and unassuming fan, joined us in 1951 at Pittsburgh, then Washington, D.C., then Los Angeles where I met him. Quiet, that is, unless something struck him as really funny, when he would collapse laughing, rolling on the floor and startling the cat if you had one. I was like that in law school. His letters to File 770 in paper days were gems, as Our Gracious Host has told us. And OGH should know; he too served as our club Secretary. Luckily Castora left a memoir, Who Knows What Ether Lurks in the Minds of Fen? (Died 2009) [JH]
Born May 23, 1935 – Isidore Haiblum. City College of New York with honors. Eighteen novels, a good number; thirteen are ours, a good number for those of us among whom eighteen is a good number; translated into French, German, Italian, Portuguese. Roger Zelazny called Interworld a mix of hard-boiled and zany, and he should know. Faster Than a Speeding Bullet (with Stuart Silver) about Golden Age radio. Interviewed Isaac Bashevis Singer in Rod Serling's Twilight Zone Magazine. (Died 2012) [JH]
Born May 23, 1935 — Susan Cooper, 85. Author of the superb Dark is Rising series. Do not go see the truly awful film. Her Scottish castle-set YA Boggart series is lighter in tone and just plain fun. I'd also recommend Dreams and Wishes: Essays on Writing for Children which is quite excellent. (CE)
Born May 23, 1967 — Sean Williams, 53. Australian author who has been the recipient of a lot of Ditmar and Aurealis Awards. And I mean a lot. Most of his work has been co-authored with Shane Nix (such as Emergence and Orphans series, Star Wars: New Jedi Order novels) but I'd recommend The Books of the Cataclysm series wrote solely by him as it's most excellent. He's deeply stocked at the usual digital suspects. (CE)
Born May 23, 1974 – Sarah Beth Durst. A score of fantasy books for kids, teens, adults. Alex Award from American Lib'y Ass'n. Mythopoeic Fantasy Award. Drink, Slay, Love made into a Lifetime movie. About The Reluctant Queen, here's her Big Idea. Translated into Czech, Finnish, German, Norwegian, Portuguese, Russian, Swedish. [JH]
Born May 23, 1979 — Brian James Freeman, 41. Horror author. Novels to date are Blue November Storms, This Painted Darkness and Black Fire (as James Kidman). He's also done The Illustrated Stephen King Trivia Book (superb), co-authored with Bev Vincent and illustrated by Glenn Chadbourne. He publishes limited edition books here. (CE)
(11) INCOMING. The BBC asks "Could you – would you – eat in a mask like this?" "Remote controlled mask invented to allow eating" (video).
A face mask with a remote controlled mouth has been invented in Israel, allowing diners to eat food without taking it off.

The mask can be opened mechanically by a hand remote or automatically when the fork reaches the mask.
Reminds me of a way parents try to jolly a toddler into eating unwanted vegetables – "Here comes the plane in for a landing!"
(12) NOT READY FOR MY CLOSE-UP. Anthony Lane studies "Our Fever for Plague Movies" in an article for The New Yorker.
… Such terrors are not ours. But they are, so to speak, our regular dreads intensified—superheated, speeded up, and luridly lit. We worry about being stuck in bed with a rocketing temperature and drenched pajamas; we worry about our elders, who may be home alone and afraid to be visited, or wrestling for breath in the back of an ambulance. Such worries are only natural. Our imaginings, though, defy both nature and reason. They are as rabid as zombies, falling and crawling over themselves to fabricate what comes next. Dreams travel worstward, during a fever, and one job of the movies is to give our dreams, good or bad, a local habitation and a name.
(13) STARLORD PRAT. "Chris Pratt accidentally deleted 51,000 emails".
Actor Chris Pratt has shared the moment he accidentally wiped clean his entire email inbox.

The Marvel star began sorting through his inbox after telling fans his son, Jack, had teased him for having 35,000 unread messages.

Unfortunately, Pratt pressed the wrong button and was forced to watch as 51,000 emails were erased.

Pratt shared the moment on Instagram, and fans rushed to poke fun at the incident.

"Yesterday my son was playing with my phone and he gasped in shock looking at the number of unread emails that I have. It's a lot," Pratt said.

"I'm one of those idiots who will do an IQ test and be like, 'Wanna take an IQ test? Give me your email'. And then I do, which proves my IQ is about seven, I just get junk from everyone and I just don't erase it."

The Guardians of the Galaxy actor said his new goal while taking time off work due to Covid-19 would be to read through 1,000 emails a day.

He also made a promise to reply to them all.

However, his well-meaning plan fell through when he inexplicably deleted every single message he had ever received.
(14) MASKED AND CAPED CRUSADER. If you subscribe or haven't run out of free articles (like I have) you may be able to read Kate Sidley's "Batman Works From Home", one of The New Yorker's "Daily Shouts."
(15) TIME AFTER TIME. The Avocado has a wild story that, despite its title — "Groundhog Day Reclassified As Documentary" – feels more aligned with The Terminator.
… The panic that defined March and April had been replaced by a constant, ever-present anxiety that hadn't spiked since he found out his job status was transitioning from furloughed to terminated. Since then the days have felt blended, broken up only by the occasional thrill of going to the grocery store for pasta or paper towels, although even those adventures have been less pleasant because his mask had really started to smell.

Jack couldn't remember whether it was Tuesday or Wednesday when he woke up this morning and gave up on the analysis before deciding. …
(16) GOOD TO GO. "Nasa SpaceX crew mission cleared to launch".
Key officials at the American space agency (Nasa) and private launch firm SpaceX have signed off next week's historic mission to the space station.

Astronauts Doug Hurley and Bob Behnken will ride to orbit from Florida – the first time in nine years that humans have left Earth from US territory.

A review panel has found no technical reason to delay the mission.

SpaceX's Falcon-9 rocket with its Dragon capsule is set to lift off at 16:33 EDT (21:33 BST) on Wednesday.

…Already, the Falcon has been rolled out to the Kennedy Space Center's Launch Complex 39A, and lifted into the vertical.

The transfer on Thursday allowed SpaceX engineers to conduct a static fire on Friday. This saw the vehicle ignite briefly all nine of its engines to confirm their operational status.
(17) LOOKING AHEAD AT AI. He would say we've been warned — "A Case for Cooperation Between Machines and Humans" in the New York Times.
The Tesla chief Elon Musk and other big-name Silicon Valley executives have long promised a car that can do all the driving without human assistance.

But Ben Shneiderman, a University of Maryland computer scientist who has for decades warned against blindly automating tasks with computers, thinks fully automated cars and the tech industry's vision for a robotic future is misguided. Even dangerous. Robots should collaborate with humans, he believes, rather than replace them.

Late last year, Dr. Shneiderman embarked on a crusade to convince the artificial intelligence world that it is heading in the wrong direction. In February, he confronted organizers of an industry conference on "Assured Autonomy" in Phoenix, telling them that even the title of their conference was wrong. Instead of trying to create autonomous robots, he said, designers should focus on a new mantra, designing computerized machines that are "reliable, safe and trustworthy."

There should be the equivalent of a flight data recorder for every robot, Dr. Shneiderman argued.

It is a warning that's likely to gain more urgency when the world's economies eventually emerge from the devastation of the coronavirus pandemic and millions who have lost their jobs try to return to work. A growing number of them will find they are competing with or working side by side with machines….
(18) VIDEO OF THE DAY. Mel Blanc: Man of a Thousand Voices on YouTube is a 2007 documentary featuring interviews with directors Friz Freleng, Terry Gilliam, William Hanna, and Chuck Jones, voice actors Stan Freberg, June Foray, and Janet Waldo, long-time friend Kirk Douglas, and author Kim Newman.
[Thanks to John King Tarpinian, JJ, Danny Sichel, Mike Kennedy, Martin Morse Wooster, Chip Hitchcock, Cat Eldridge, John Hertz, Michael Toman, Gadi Evron, and Andrew Porter for some of these stories. Title credit goes to File 770 contributing editor of the day Bill.]