(1) NAILED TO THE INTERNET DOOR. Finding that professional organizations aren't moving quickly enough, Clarkesworld editor Neil Clarke has drafted his own "AI statement".
I've complained that various publishing industry groups have been slow to respond to recent developments in AI, like LLMs. Over the last week, I've been tinkering with a series of "belief" statements that other industry folks could sign onto….
Here are five of his 22 credos:
Where We Stand on AI in Publishing

We believe that AI technologies will likely create significant breakthroughs in a wide range of fields, but that those gains should be earned through the ethical use and acquisition of data.

We believe that "fair use" exceptions with regards to authors', artists', translators', and narrators' creative output should not apply to the training of AI technologies, such as LLMs, and that explicit consent to use those works should be required.

We believe that the increased speed of progress achieved by acquiring AI training data without consent is not an adequate or legitimate excuse to continue employing those practices.

We believe that AI technologies also have the potential to create significant harm and that to help mitigate some of that damage, the companies producing these tools should be required to provide easily-available, inexpensive (or subsidized), and reliable detection tools.

We believe that detection and detection-avoidance will be locked in a never-ending struggle similar to that seen in computer virus and anti-virus development, but that it is critically important that detection not continue to be downplayed…
(2) IN CHARACTER IN THE UKRAINE. "Mark Hamill voices air raid warnings in Ukraine as Luke Skywalker" reports The Verge.
Star Wars actor Mark Hamill has lent his voice to a Ukrainian air raid app to warn citizens of incoming attacks during the ongoing conflict with Russia. "Attention. Air raid alert. Proceed to the nearest shelter," says Hamill over Air Alert, an app linked to Ukraine's air defense system. When the threat has passed, Hamill signs off with "The alert is over. May the Force be with you."

Invoking his beloved Luke Skywalker character, some of the lines contain recognizable quotes from the Star Wars franchise like "Don't be careless. Your overconfidence is your weakness." You can hear a few lines in the following video starting around 56 seconds in:
(3) SIGNS OF THE TIMES. Melinda Snodgrass, George R.R. Martin and Neil Gaiman joined the writers strike picket line in Santa Fe earlier this week. Snodgrass shared photos on Facebook.
Walked the picket line for six hours today. Guys, we have to win this one, but what a day I met David Seidler who wrote The King's Speech. I love that movie, I found it so deeply moving.

Of course George RR was there, and Neil Gaiman joined us as well. We had playwrights and directors, actors supporting us.
Nnedi Okorafor was on the picket line, too.
(4) CALL FOR JUDGES. Australian residents are invited to become Aurealis Awards judges. Full details at the link.
…We are seeking expressions of interest from Australian residents who would like to judge for the 2022 Aurealis Awards. Judges are volunteers and are drawn from the Australian speculative fiction community, from diverse professions and backgrounds, including academics, booksellers, librarians, published authors, publishing industry professionals, reviewers and enthusiasts. The only qualification necessary is a demonstrated knowledge of and interest in their chosen category.

It is vital that judges be able to work as part of a team and meet stringent deadlines, including timely recording of scores and comments for each entry (in a confidential shared file), and responding to panel messages and discussions. Most of the panel discussions are conducted via email, with some panels choosing to have a synchronous online meeting to make final decisions….
(5) DUBLIN LITERARY AWARD. The 2023 winner of the Dublin Literary Award was announced on May 25. It is a non-genre work, Marzahn, Mon Amour by Katja Oskamp, translated from the original German by Jo Heinrich.
Since 1996, the Dublin Literary Award has honoured excellence in world literature. Presented annually, the Award is one of the most significant literature prizes in the world and unique in that the books are nominated by libraries from cities around the world. The award is worth €100,000 for a single work of international fiction written or a work of fiction translated into English.
(6) BOOKS TO GROW ON. BBC Culture polled 177 books experts from 56 countries in order to find "The 100 greatest children's books of all time". The top 10 books on the list are:
1 Where the Wild Things Are (Maurice Sendak, 1963)
2 Alice's Adventures in Wonderland (Lewis Carroll, 1865)
3 Pippi Longstocking (Astrid Lindgren, 1945)
4 The Little Prince (Antoine de Saint-Exupéry, 1943)
5 The Hobbit (JRR Tolkien, 1937)
6 Northern Lights (Philip Pullman, 1995)
7 The Lion, the Witch and the Wardrobe (CS Lewis, 1950)
8 Winnie-the-Pooh (AA Milne and EH Shepard, 1926)
9 Charlotte's Web (EB White and Garth Williams, 1952)
10 Matilda (Roald Dahl and Quentin Blake, 1988)
I've only read 26 – til now I thought I was a literate child!
(7) MICHAEL BUTTERWORTH'S "CIRCULARISATIONS". Space Cowboy Books and Art Queen Gallery will display works by Michael Butterworth from June through July 2023, with an opening reception on June 17 from 6:30-8:30 p.m. Register for free here.
In 1969 U.K. poet, author, editor, publisher, and bookseller Michael Butterworth published his "Circularisations" in New Worlds Magazine, a new form of graphic poetry designed to create a new way of reading. These literary experiments will be on display at the Art Queen Gallery in Joshua Tree, CA through June and July 2023, with an opening reception on June 17th. Selections of Butterworth's poetry will be read during live musical performances from Phog Masheeen and Field Collapse, followed by a special screening of Clara Casian's minidocumentary "House on the Borderland", a film about Butterworth and his work.

The exhibit follows the release of Butterworth's Complete Poems 1965-2020 from Space Cowboy Books, and the accompanying musical audiobook, Selected Poems 1965-2020. Books can be found at https://bookshop.org/a/197/9781732825772
(8) MEMORY LANE.
2012 – [Compiled by Cat Eldridge.]
Jay Lake's The Stars Do Not Lie novella is the source of our Beginning this Scroll. It was first published in Asimov's Science Fiction in the October-November 2012 edition. It would be nominated at the LoneStarCon 3 for a Hugo. It was nominated for a Nebula as well.
I first encountered him in his work that he did for the John Scalzi-created METAtropolis series. "The Bull Dancers" is one of his stories there and it's quite excellent. And his steampunkish Mainspring series is well-worth reading.
Need I say I died way too young?
And now that Beginning…
In the beginnings, the Increate did reach down into the world and where They laid Their hand was all life touched and blossomed and brought forth from water, fire, earth and air. In eight gardens were the Increate's children raised, each to have dominion over one of the eight points of the Earth. The Increate gave to men Their will, Their word, and Their love. These we Their children have carried forward into the opening of the world down all the years of men since those first days.
— Librum Vita,
Beginnings 1: 1-4;
being the Book of Life and word entire of the Increate
Morgan Abutti; B.Sc. Bio.; M.Sc. Arch.; Ph.D. Astr. & Nat, Sci.; 4th degree Thalassocrete; Member, Planetary Society; and Associate Fellow of the New Garaden Institute, stared at the map that covered the interior wall of his tiny office in the Institute's substantial brownstone in downtown Highpassage. The new electricks were still being installed by brawny, nimble-fingered men of crafty purpose who often smelled a bit of smoke and burnt cloth. Thus his view was dominated by a flickering quality of light that would have done justice to a smoldering hearth, or a wandering planet low in the pre-dawn sky. The gaslamp men were complaining of the innovations, demonstrating under Lateran banners each morning down by the Thalassojustity Palace in their unruly droves.
He despised the rudeness of the laboring classes. Almost to a man, they were palefaced fools who expected something for nothing, as if simply picking up a wrench could grant a man worth.
Turning his attentions away from the larger issues of political economy and surplus value, he focused once more on history.
Or religion.
Honestly, Morgan was never quite certain of the difference any more. Judging from the notes and diagrams limned up and down the side of the wide rosewood panel in their charmingly archaic style, the map had been painted about a century earlier for some long-dead theohistoriographer. The Eight Gardens of the Increate were called out in tiny citrons that somehow had survived the intervening years without being looted by hungry servants or thirsty undergraduates. Morgan traced his hand over the map, fingers sliding across the pitted patina of varnish and oil soap marking the attentions of generations of charwomen.
Eufrat.
Quathlamba.
Ganj. Manju.
Wy'east.
Tunsa.
Antiskuna.
Cycladia.
The homes of man. Archaeological science was clear enough. Thanks to the work of natural scientists of the past century, so was the ethnography. The Increate had placed the human race upon this Earth. That was absolutely clear. Just as the priests of the Lateran had always taught, nothing of humanity was older than the villages of the Gardens of the Increate.
Nothing.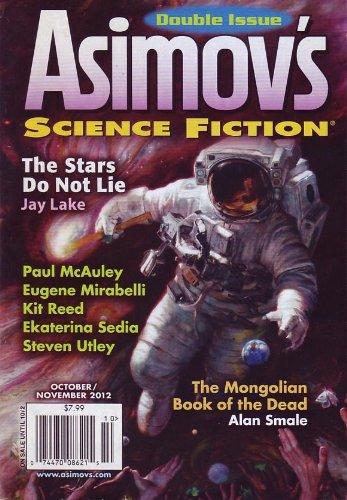 (9) TODAY'S BIRTHDAYS.
[Compiled by Cat Eldridge.]
Born May 28, 1908 — Ian Fleming. Author of the James Bond series which is at least genre adjacent if not actually genre in some cases such as Moonraker. The film series was much more genre than the source material. And then there's the delightful Chitty-Chitty-Bang-Bang: The Magical Car. The film version was produced by Albert R. "Cubby" Broccoli, who had already made five James Bond films. Fleming, a heavy smoker and drinker his entire adult life, died of a heart attack, his second in three years. (Died 1964.)
Born May 28, 1919 — Don Day. A fan active in the 1940s and '50s In Portland, Oregon, and a member of the local club. He was editor of The Fanscient (and of its parody, Fan-Scent), and perhaps the greatest of the early bibliographers of sf. He published bibliographies in The Fanscient and also published the Day Index, the Index to the Science Fiction Magazines 1926-1950. He ran Perri Press, a small press which produced The Fanscient and the Index of Science Fiction Magazines 1926-1950. He chaired NorWesCon, the 1950 Worldcon, after the resignation of Jack de Courcy. (Died 1978.)
Born May 28, 1929 — Shane Rimmer. A Canadian actor and voice actor, best remembered for being the voice of Scott Tracy in puppet based Thunderbirds during the Sixties. Less known was that he was in Dr. Strangelove as Captain "Ace" Owens, and Diamonds Are Forever and Live and Let Die in uncredited roles. He even shows up in Star Wars as a Rebel Fighter Technician, again uncredited. (Died 2019.)
Born May 28, 1951 — Sherwood Smith, 72. YA writer best known for her Wren series. She's also co-authored The Change Series with Rachel Manija Brown. She also co-authored two novels with Andre Norton, Derelict for Trade and A Mind for Trade.
Born May 28, 1954 — Betsy Mitchell, 69. Editorial freelancer specializing in genre works. She was the editor-in-chief of Del Rey Books. Previously, she was the Associate Publisher of Bantam Spectra when they held the license to publish Star Wars novels in the Nineties.
Born May 28, 1977 — Ursula Vernon aka T. Kingfisher, 46. She is best known for her Hugo Award-winning graphic novel Digger which was a webcomic from 2003 to 2011. Vernon is creator of "The Biting Pear of Salamanca" art which became an internet meme in the form of the LOL WUT pear. She also won Hugos for her "Tomato Thief" novelette and "Metal Like Blood in the Dark" short story, and a Nebula for her short story "Jackalope Wives". As T. Kingfisher she has won three Dragon Awards, one of them for A Wizard's Guide to Defensive Baking, which also won the Andre Norton Award and the Lodestone Award.
Born May 28, 1984 — Max Gladstone, 39. His debut novel, Three Parts Dead, is part of the Craft Sequence series, and his shared Bookburners serial is most excellent. This Is How You Lose the Time War (co-written with Amal El-Mohtar) won a Hugo Award for Best Novella at CoNZealand. It also won an Aurora, BSFA, Ignyte, Locus and a Nebula.
Born May 28, 1985 — Carey Mulligan, 38. She's here because she shows up in a very scary Tenth Doctor story, "Blink", in which she plays Sally Sparrow. Genre adjacent, she was in Agatha Christie's Marple: The Sittaford Mystery as Violet Willett. (Christie gets a shout-out in another Tenth Doctor story, "The Unicorn and the Wasp".)
(10) COMICS SECTION.
(11) JEOPARDY! [Item by David Goldfarb.] On Friday's episode of Jeopardy!, the Double Jeopardy round had a category called "You Just Made That Stuff Up", about fictional substances. The first-level clue was a non-SFF one involving Monty Python, but the rest involved SFF:
$800: Kyber crystals, which are attuned to the Force, glow either blue or green & power these weapons

Alice Ciciora associated these with lightsabers.

$1200: First mentioned in a 1943 "Adventures of Superman" radio show, when it debuted in the comics in 1949, it was red, not green

Returning champion Jesse Chin got this one.

$1600: It's the very hard-to-get substance that causes humans to set up shop on Pandora

This was a Daily Double, and Jesse got $4000 from responding "What is unobtainium?"

$2000: This super-bouncy stuff from Disney's much-loved 1961 "The Absent-Minded Professor" was the title of a 1997 remake

Alice knew it was Flubber.
(12) ANIME ANALYSIS. In episode 8 of the Anime Explorations podcast, they're covering speculative fiction anime with the first season of JoJo's Bizarre Adventure, covering the Phantom Blood and Battle Tendency arcs of the story: "Phantom Blood + Battle Tendency".
(13) FASHION REBELLION. Variety has a critique of the latest outfits from far away and long, long ago. "'Andor' Costume Designers Break Down Looks of Mon Mothma, Luthen Rael".
With the "Star Wars" universe serving as the DNA for Disney+'s "Andor," costume designer Michael Wilkinson could honor a legacy while leaning into a new world.

For Diego Luna's Cassian, Wilkinson draped him in warm, earthy tones with fabrics that were textural.

When audiences first meet him, he's in "beautiful oilcloth from old leather jackets with iconic details such as a high neckline and a hood." By the end, the silhouettes become leaner and streamlined.

"He has a beautiful tailored long-length linen coat that we made for him that moves beautifully for all the action sequences. It's a grown-up silhouette."To outfit Genevieve O'Reilly's Mon Mothma, he looked at prominent people, including leading senators and United Nations members, keeping power dressing in mind. "I imagined to what extent the futuristic off-planet version of that would look like," he says. "I leaned into the pale neutral tones."

Her blue senate robe with a gold lining is "extremely architectural and quite austere," Wilkinson says. "With her, there was a lot of adventurous tailoring and an exploration of silhouettes and layering that we did in her costumes, which reflect her switched-on sophisticated sense of aesthetics."

Clothing for Mon Mothma's more private moments "where the mask slips" hint at another side of her personality. Wilkinson relaxed her silhouette when Tay Kolma (Ben Miles) visits, for example, giving her outfit a flowing look….
(14) WORSE THAN INAPPOSITE. [Item by Mike Kennedy.] Another author used ChatGPT to beef up their prose a bit. The problem was, said author was an attorney and what they were writing was a legal brief. None of the cases cited by ChatGPT existed. I believe the legal term for this is advocatus stultus es.
"A lawyer used ChatGPT for legal filing. The chatbot cited nonexistent cases it just made up" reports Mashable.
… It all starts with the case in question, Mata v. Avianca. According to the New York Times, an Avianca customer named Roberto Mata was suing the airline after a serving cart injured his knee during a flight. Avianca attempted to get a judge to dismiss the case. In response, Mata's lawyers objected and submitted a brief filled with a slew of similar court decisions in the past. And that's where ChatGPT came in.

Schwartz, Mata's lawyer who filed the case in state court and then provided legal research once it was transferred to Manhattan federal court, said he used OpenAI's popular chatbot in order to "supplement" his own findings.

ChatGPT provided Schwartz with multiple names of similar cases: Varghese v. China Southern Airlines, Shaboon v. Egyptair, Petersen v. Iran Air, Martinez v. Delta Airlines, Estate of Durden v. KLM Royal Dutch Airlines, and Miller v. United Airlines.

The problem? ChatGPT completely made up all those cases. They do not exist.

Avianca's legal team and the judge assigned to this case soon realized they could not locate any of these court decisions. This led to Schwartz explaining what happened in an affidavit on Thursday. The lawyer had referred to ChatGPT for help with his filing.

According to Schwartz, he was "unaware of the possibility that its content could be false." The lawyer even provided screenshots to the judge of his interactions with ChatGPT, asking the AI chatbot if one of the cases were real. ChatGPT responded that it was. It even confirmed that the cases could be found in "reputable legal databases." Again, none of them could be found because the cases were all created by the chatbot….
(15) FATAL MISTAKE. The New York Times says it is now known that the "Japanese Moon Lander Crashed Because It Was Still Three Miles Up, Not on the Ground".
A software glitch caused a Japanese robotic spacecraft to misjudge its altitude as it attempted to land on the moon last month leading to its crash, an investigation has revealed.

Ispace of Japan said in a news conference on Friday that it had finished its analysis of what went wrong during the landing attempt on April 25. The Hakuto-R Mission 1 lander completed its planned landing sequence, slowing to a speed of about 2 miles per hour. But it was still about three miles above the surface. After exhausting its fuel, the spacecraft plunged to its destruction, hitting the Atlas crater at more than 200 miles per hour.

The lander was to be the first private spacecraft to successfully set down on the surface of the moon. It is part of a trend toward private companies, not just governmental space agencies, taking a leading role in space exploration….
[Thanks to Cat Eldridge, SF Concatenation's Jonathan Cowie, Mike Kennedy, Gary Farber, Jennifer Hawthorne, Alexander Case, Dabid Goldfarb, Andrew Porter, John King Tarpinian, Chris Barkley, and Michael Toman for some of these stories. Title credit belongs to File 770 contributing editor of the day Cat Eldridge.]