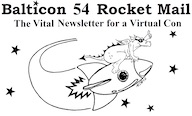 (1) VIRTUAL BALTICON IN-PROGRESS REPORT. The Sunday Edition of the Virtual Balticon 54 Newsletter Rocketmail, which can be downloaded here, says the total unique attendance on Zoom for all of Friday was 1,343 and on Saturday 2,787 people. This does not count the fans participating on other platforms. The newsletter also contains Masquerade participant info, and fundraising totals.
Balticon runs through tomorrow, and you can access it in a variety of ways. Dale S. Arnold explains:
You can of course continue/start enjoying the Virtual Balticon 54 by going to WWW.balticon.org and choosing links off the schedule and or links on the platform page. You can ghost by just watching the YouTube and Twitch feeds which stream the items each hour that the most people signed up for participating on that item in zoom if you prefer not to register on zoom as well…. Programs continue all the way through Monday…
However, they are running a GoFundMe to pay the virtual freight.
For the record as of 5:20 AM on 5/24/20 the total GoFundMe donations are at $11,065.00 gifted by the generous fans that are making Virtual Balticon 54 possible. An additional $495.00 has come into the BSFS paypal account during the GoFundMe campaign by folks who did not want to use GoFundMe using the http://www.bsfs.org/donate.htm link. The BSFS treasurer reports that "almost" $2,000.00 has also been received as checks and or people donating their B45 memberships instead of taking a refund.
(2) FANFIC DISPUTE GOES TO COURT. There's a lawsuit in progress over reuse of fanfic tropes in commercial genre fic. It could have repercussions well beyond hyper-niche erotica. The New York Times devotes a long article to the litigation: "A Feud in Wolf-Kink Erotica Raises a Deep Legal Question".
…Then, in 2018, Ms. Cain heard about an up-and-coming fantasy writer with the pen name Zoey Ellis, who had published an erotic fantasy series with a premise that sounded awfully familiar. It featured an Alpha and Omega couple, and lots of lupine sex.

…Ms. Cain urged Blushing Books to do something. The publisher sent copyright violation notices to more than half a dozen online retailers, alleging that Ms. Ellis's story was "a copy" with scenes that were "almost identical to Addison Cain's book."

… "You have to make sure you use the tropes of Omegaverse in order to be recognized by fans of the genre," Ms. Ellis said. "Crave to Conquer" and its sequel, "Crave to Capture," were published in early 2018 by Quill Ink Books, a London company she founded. Readers gave the series glowing reviews on Goodreads and Amazon, calling it "sensational new Omegaverse!" and the "best Omega yet."

In late April 2018, Ms. Ellis got an email from a reader who had ordered one of her books from Barnes & Noble, then learned that it wasn't available anymore. She soon discovered that all of her Omegaverse books had disappeared from major stores, all because of a claim of copyright infringement from Ms. Cain and her publisher. Ms. Ellis found it bewildering.

"I couldn't see how a story I had written using recognized tropes from a shared universe, to tell a story that was quite different than anything else out there commercially, could be targeted in that way," Ms. Ellis said. "There are moments and scenarios that seem almost identical, but it's a trope that can be found in hundreds of stories."

A lawyer for Ms. Ellis and Quill filed counter-notices to websites that had removed her books. Some took weeks to restore the titles; others took months. There was no way to recover the lost sales. "As a new author, I was building momentum, and that momentum was lost," Ms. Ellis said. And she worried that the "plagiarist" label would permanently mar her reputation.

Ms. Ellis decided to sue. "Everything would have been in question, my integrity would have been questioned, my ability to write and tell stories — all of that would have been under threat if I didn't challenge these claims," she said.

In the fall of 2018, Quill Ink filed against Blushing Books and Ms. Cain in federal court in Oklahoma, where Ms. Ellis's digital distributor is based, seeking $1.25 million in damages for defamation, interfering with Ms. Ellis's career, and for filing false copyright infringement notices. In the suit, Quill's lawyers argued that "no one owns the 'omegaverse' or the various tropes that define 'omegaverse.'"

Ms. Ellis's lawyers thought they had a strong position. But they struggled to find a prior case that addressed whether fan fiction tropes could be protected by copyright….

The biggest development in the case so far is that Blushing Books has left Ms. Cain to contest the matter alone. Last year, the publisher conceded that no plagiarism or copyright infringement had occurred, and a judgment was entered against the company, which paid undisclosed monetary damages to Quill and Ms. Ellis. (Ms. Cain is now self-publishing.)

Ms. Ellis and her publishing company filed a new civil suit against Ms. Cain in her home state of Virginia, arguing that she maliciously directed her publisher to send false copyright infringement notices to retailers. Ms. Cain's lawyers have denied the claims, and have lined up authors, bloggers and readers as witnesses.

If the judge, or a jury, finds Ms. Cain in the wrong, the case would send a message to overzealous genre writers that the Digital Millennium Copyright Act is not to be abused. By the same token, authors of genuinely original stories might find they have one fewer legal lever to protect their work. And a victory by Ms. Cain could encourage a free-for-all, emboldening authors to knock back competitors and formally assert their ownership of swaths of the fan fiction universe and common tropes in genre fiction.

Discovery is ongoing, and a pretrial conference before a judge is scheduled for June. In the meantime, the Omegaverse continues to thrive. This year, more than 200 new books from the genre have been published on Amazon.

The latest batch draws on virtually every genre and trope imaginable: paranormal shifter romances, paranormal Mpreg romances, reverse harem romances, sci-fi alien warrior romances. There are fantastical Alpha-Omega stories featuring witches, unicorns, dragons, vampires, wolf-shifters, bear-shifters, and wolf-shifters versus bear-shifters. There are comparatively pedestrian Omegaverse romances about celebrity chefs, dentists, frat boys, bakers, bodyguards and billionaires. In a teeming multiverse of stories, the tropes are still evolving, inexhaustible.
(3) MEXICANX INITIATIVE REMEMBERED. This San Antonio Current story shows John Picacio, winner of SFWA's 2020 Kate Wilhelm Solstice Award, is also a hometown hero: "San Antonio Science Fiction Artist John Picacio Wins Award for Opening Door to Mexicanx Talent".
… "Many of the folks I selected were rising stars such as David Bowles, Julia Rios and Marcela Davison Aviles," Picacio said. "The Initiative enhanced their networks, but the vast majority of my picks were much newer talents to the field. The industry badly needs their cultural perspective and their voice right now."
(4) AFRICAN SFF AT STORYBUNDLE. The "African Speculative Fiction Bundle curated by Ivor W. Hartmann" is available from StoryBundle. Same deal as always – "Support awesome authors by paying however much you think their work is worth!"
This is the most comprehensive collection of African speculative fiction authors ever assembled. With the complete bundle containing nearly 100 authors and over 145 works it stands both as an excellent introduction to the rapidly evolving canon of African SF and a unique one-time collection of their works. From established stars you might know such as Nnedi Okorafor, Tade Thompson, and Sarah Lotz, to upcomers like Wole Talabi, Chinelo Onwualu, Nerine Dorman, Dilman Dila, and so many more.

The road to this bundle has been paved by the work of countless African writers, editors, publishers, and most importantly readers. For too long was the African experience, imagination, and insight, held captive and until relatively recently only glimpsed through the thick lens of other cultures and their inherent biases. In a big way this is what the new wave of African Speculative Fiction is about: telling our own stories, revealing our vibrant cultures from within, sharing our unique perspectives, and writing ourselves into futures that for so long seemed to spell our doom by virtue of our absence.
(5) CLASSIC RETURNING. "Battlestar Galactica Reboot Producer Sam Esmail Teases the New Series" at Comicbook.com.
[Sam] Esmail says he never planned to helm the series himself. "I'm a huge fan of Ronald Moore's Battlestar, but I don't know if I'm great at hard sci-fi like that," he says. "I love it. I'm a fan of it. But I knew early on that we were going to have to bring somebody in to run the room and to write the scripts."

He went to explain why the job went to Lesslie, who is best known for the miniseries The Little Drummer Girl. "He's just a fantastic writer," Esmail says. "I loved his series, Little Drummer Girl, and the one thing that really struck me about him and his take for Battlestar, one of the reasons I even wanted to do Battlestar, was that the way Ron Moore, what he did with his remake in the early 2000s where it was this sort of hard sci-fi series with lots of action set pieces and really this exciting sci-fi adventure but purely grounded in an allegory of what was going on at the time, which was post-9/11. And it wasn't that subtle, the links, I would say. But because he was also attuned to the sci-fi nature of the show, you didn't feel it.

"When I was approached to do Battlestar now, it has to have that same sort of dynamic. It can't be just a retread of what he already did so masterfully back then. What are we saying about today's world? And Mike just had this great take, and I'm not going to go into it because obviously, I don't want to spoil it for fans, but you kind of see it a little bit in Little Drummer Girl where politics plays a big part in it but without compromising the entertainment value, because in my opinion, you've got to have that…."
(6) SUPER RESOURCE. There's always a ton of news at the Superman Supersite about the iconic Kryptonian and those who keep the legend going. It's where I found out about this new series: "'Superman & Lois' Detailed Synopsis and Premiere Announced".
The CW Network has announced that "Superman & Lois" will officially premiere in January, 2021 when the network launches its new season.

…In "Superman & Lois", after years of facing megalomaniacal supervillains, monsters wreaking havoc on Metropolis, and alien invaders intent on wiping out the human race, the world's most famous superhero, The Man of Steel aka Clark Kent (Tyler Hoechlin, "Teen Wolf") and comic books' most famous journalist, Lois Lane (Elizabeth Tulloch, "Grimm"), come face to face with one of their greatest challenges ever – dealing with all the stress, pressures and complexities that come with being working parents in today's society. Complicating the already daunting job of raising two boys, Clark and Lois must also concern themselves with whether or not their sons Jonathan (Jordan Elsass, "Little Fires Everywhere") and Jordan (Alexander Garfin, "The Peanuts Movie") could inherit their father's Kryptonian superpowers as they grow older.

Returning to Smallville to handle some Kent family business, Clark and Lois are reacquainted with Lana Lang (Emmanuelle Chriqui, "Entourage"), a local loan officer who also happens to be Clark's first love, and her Fire Chief husband Kyle Cushing (Erik Valdez, "Graceland"). The adults aren't the only ones rediscovering old friendships in Smallville as the Kent sons are reacquainted with Lana and Kyle's rebellious daughter, Sarah (Inde Navarrette, "Wander Darkly"). Of course, there's never a dull moment in the life of a superhero, especially with Lois' father, General Samuel Lane (Dylan Walsh, "Nip/Tuck") looking for Superman to vanquish a villain or save the day at a moment's notice. Meanwhile, Superman and Lois' return to idyllic Smallville is set to be upended when a mysterious stranger (Wolé Parks, "All American") enters their lives.
(7) TODAY IN HISTORY.
May 24, 1957 — Quatermass 2 premiered In the U.K. It was produced by Anthony Hinds, and directed by Val Guest. It's a sequel to The Quatermass Xperiment. Screenplay was by Nigel Kneale and Val Guest. It stars Brian Donlevy, John Longden, Sid James, Bryan Forbes, Vera Day, and William Franklyn. Like the first film, some critics thought it was a lot of fun, some were less than impressed. Audience reviewers at Rotten Tomatoes currently give it a respectable sixty percent rating.
(8) TODAY'S BIRTHDAYS.
[Compiled by Cat Eldridge and John Hertz!]
Born 24 May 1794 – Rev. Dr. William Whewell. Pronounced "hew-ell". Master of Trinity College, Cambridge, 1841-1866. Crater on the Moon named after him. Mathematician, Anglican priest, historian of science. Coined the words scientist, physicist, linguistics, osmosis, ion, astigmatism. Royal Medal for organizing thousands of volunteers internationally to study ocean tides. Clifton Fadiman put him here by anthologizing in Fantasia Mathematica this poem. (Died 1866) [JH]
Born May 24, 1917 – Irving Cox. Five dozen stories in Amazing, Astounding, Cosmos, Fantastic, Future, If, Imagination, Orbit, Rocket Stories, Saturn, SF Adventures, SF Quarterly, SF Stories, Universe – and that's just some of the prozines we've had – translated into French, German, Italian. You can read ten of his stories from 1953-1960 here. (Died 2001) [JH]
Born May 24, 1925 — Carmine Infantino. Comics artist and editor, mostly for DC Comics, during the late 1950s known as the Silver Age of Comics. He created the Silver Age version of the Flash (with writer Robert Kanigher), Deadman with writer Arnold Drake and the Elongated Man (with John Broome). He also introduced Barbara Gordon as a new version of Batgirl. Infantino wrote or contributed to two books about his life and career: The Amazing World of Carmine Infantino (Vanguard Productions and Carmine Infantino: Penciler, Publisher, Provocateur. (Died 2013.) (CE)
Born May 24, 1928 – William Trevor. Whitbread Prize for The Children of Dynmouth, reviewed by Elaine Cochrane in SF Commentary 60/61, p. 26 [PDF]; two more Whitbreads; Hawthornden Prize; Saoi; four O. Henry Awards (not limited to U.S. authors since 2002). (Died 2016) [JH]
Born 24 May 1930 – Terri Pinckard. Stories in Fantasy Book, Vertex; wrote the Introduction to Womanthology (F. Ackerman & P. Keesey eds. 2003). Told the L.A. Times (3 Jun 99) that when we landed on the Moon "I cried. Science fiction writers were the ones who dreamed it." With husband Tom hosted the Pinckard Salon; Big Heart Award to both, 1984; the Salon drew Ackerman, Bloch, Bradbury, Daugherty, George Clayton Johnson, C.L. Moore, Niven, Pournelle, Roddenberry, Spinrad, and like that. Dian Girard dedicated Tetragravitron (as by J.D. Crayne) to "Members of the Pinckard Salon". (Died 2005) [JH]
Born May 24, 1935 — W. P. Kinsella. Best I'd say known for his novel Shoeless Joe which was adapted into the movie Field of Dreams, one of the few films that Kevin Costner is a decent actor in, ironic as the other is Bull Durham. Kinsella's other genre novel is The Iowa Baseball Confederacy and it's rather less well-known than Shoeless Joe is but it's excellent. He also edited Baseball Fantastic, an anthology of just what the title says they are. Given that he's got eighteen collections of short stories listed on his wiki page, I'm reasonably sure his ISFDB page doesn't come close to listing all his short stories. (Died 2016.) (CE)
Born May 24, 1945 — Graham Williams. He produced three seasons of Doctor Who during Tom Baker's era as the Fourth Doctor. He'd write a novelization of his story, The Nightmare Fair, developed as a Sixth Doctor story but never filmed when Colin Baker's contract was terminated. He would die at home of an accident gunshot wound. (Died 1990) (CE)
Born May 24, 1949 — Barry Windsor-Smith, 71. Illustrator and painter, mostly for Marvel Comics. Oh, his work on Conan the Barbarian in the early Seventies was amazing, truly amazing! And then there was the original Weapon X story arc involving Wolverine which still ranks among the best stories told largely because of his artwork. And let's not forget that he and writer Roy Thomas created Red Sonja as partially based on Howard's characters Red Sonya of Rogatino and Dark Agnes de Chastillon. (CE)
Born May 24, 1960 — Michael Chabon, 60. Author of the single best fantasy novel about baseball, Summerland which won a Mythopoeic Fantasy Award for Children's Literature. His other two genre novels, Gentlemen of the Road and The Yiddish Policemen's Union, winner of Best Novel at Denvention 3, are stellar works in themselves. He was Showrunner for the first season of Picard but will be Executive Producer for the upcoming season. (CE)
Born May 24, 1960 — Doug Jones, 60. I first saw him as Abe Sapien on Hellboy, an amazing role indeed. To pick a few of my favorite roles by him, he's in Pan's Labyrinth as The Faun and The Pale Man (creepy film), a clown in Batman Returns, the Lead Gentleman in the "Hush" episode of Buffy and Commander Saru on Discovery.
Born May 24, 1965 – Shinichirô Watanabe. Co-directed Macross Plus; directed Cowboy Bebop, alternative-history Samurai Champloo, Space Dandy, Carole & Tuesday. Blade Runner – Black Lotus is in the works. Don't ask me why my host's daughter at the Yokohama Worldcon was rehearsing The Magic Flute but I don't know any of my fellow gaijin rehearsing Yoshitsune and the Thousand Cherry Trees. [JH]
Born May 24, 1985 – Isabelle Melançon. Drawings in Oziana and The Baum Bugle. Oz found its way into the Webcomic that Isa co-authors, Namesake – or vice versa. Here's a sketch for Quibbling and even one for Hamilton – will this man write The Federalist? [JH]
(9) SUPERERO GENESIS. In the Washington Post, African-American author Tre Johnson discusses how he is using the language and ideas of superheroes to enable him to cope with the pandemic. "The coronavirus has made the waking world into a dreamscape".
A more perfect origin story would've had a superheroic tinge. Maybe I'd be sitting in my apartment, on the couch, contemplating how to move safely about Philadelphia when a clatter of glass would erupt and a ball of coronavirus — the size of a grapefruit with the spiny ridge of a porcupine — would bound through my window, roll to my feet and pulse with exhaustion. I'd stare at it and think Yes, father, that is what I will do, I will become an anti-virus. And that would be the reason to don the mask that I now wear daily when I walk my neighborhood.
(10) BAKE ME A CAKE AS FAST AS YOUR CAN. And mark it with a "C" – for corona. "Pandemic-Baking Britain Has an 'Obscene' Need for Flour" – the New York Times has a full accounting.
A week before Britain came to a standstill in mid-March, the Wessex Mill found itself fielding nearly 600 calls a day requesting one of the country's hottest commodities: flour.

The mill in Oxfordshire has produced nearly 13,000 small bags of flour each day during the coronavirus pandemic, a fourfold increase. Demand led Emily Munsey, a flour miller who runs the business with her father, to hire more staff and add afternoon and night shifts to keep the mill running 24 hours a day, seven days a week, for the first time in its 125-year history.

"It's been very challenging as a company. The amount of work we've all had to do has increased a huge amount," said Ms. Munsey, who has since scaled back to five days a week, though still around the clock, to give employees a weekend break. "Demand remains consistently obscene."

Commercial mills produce nearly four million tons of flour each year in Britain, according to the National Association of British and Irish Flour Millers. With much of the country stuck at home, baking has surged, and retail-size flour bags have become scarce on grocery shelves.

The coronavirus outbreak has flooded social media with #coronavirusbaking and #quarantine cookies. Yeast is in short supply, and butter sales have soared. In April, Google searches for cake, bread and flour skyrocketed….
(12) CURTAIN CALL. [Item by JJ.] Anthropomorphic phone — I'm calling it genre.
(13) READING IN THE NEW CAPTAIN. Ted Anthony, in the Associated Press story "Kirk 2.0: Capt. Pike of the New 'Star Trek' A Welcome New Icon" says he welcomes Christopher Pike as the captain of Star Trek: Strange New Worlds because he sees James T. Kirk as "an interstellar Don Draper–brooding, arrogant, a top-down manager who earned his privilege but often presumed it" and thinks Pike will be a more responsible captain.
…It's not accidental that Pike is the son of a father who taught science AND comparative religion — an embodiment of the empiricism-faith equation that "Star Trek" and its captains have always espoused. In many ways, in fact — even more so than Chris Pine in the movie reboots — Pike functions as James T. Kirk 2.0.
(14) COSMIC CREEPOUT. "Every 'I Have A Bad Feeling About This' In Star Wars Movies": ScreenRant tries to round up every time someone said they had a bad feeling about something.
…However, George Lucas' wonderful world of science fiction space opera has also provided the world with a series of timeless movie quotes. "May the Force be with you" has taken on a life of its own and "I am your father" is now a staple of Father's Day greetings cards. In more recent years, less prominent quotes have come to the fore thanks to the onset of meme culture, "it's a trap!" being the most famous. Now The Mandalorian is getting in on the act with "this is the way" and "I have spoken."

But undoubtedly one of the most famous utterances in the Star Wars universe is "I have a bad feeling about this," …
(15) A WHOLE NEW BALL GAME. As reported last month (item 13), Lou Antontelli is running for Congress in Texas. But this week the district's Republican incumbent John Ratcliffe resigned his seat to accept appointment as director of National Intelligence. With no incumbent to run against, shit just got real! And at least one Texas paper (besides the one owned by the candidate himself) thinks it's terrific that Lou Antonelli is running: "Libertarians field viable candidate for District 4 seat". The question is how well these pearls of wisdom will play with the locals:
… Antonelli said his goal running as a third party candidate is to inject original ideas into the discussion, and push for the Libertarian Party to become the second party in the district, displacing the Democrats.

"Can you imagine how much better our political system would be if the two major parties were the Republicans and Libertarians, instead of the Republicans and Democrats?" Antonelli asked. "Libertarians are the loyal opposition, as opposed to the Democrats, who are the disloyal opposition."

Antonelli said Libertarians stand for hacking away strangling bureaucracy at all levels of government, and returning as much authority as possible to individuals.

"Thanks to the Covid pandemic, we have all gotten a free trial of socialism," he said. "How do you like it?"
(16) ON YOUR MARK: "Nasa SpaceX launch: Astronauts complete rehearsal for historic mission"
Nasa astronauts Doug Hurley and Bob Behnken have completed their dress rehearsal for Wednesday's flight to the International Space Station.

The mission, the first crewed outing from American soil in nine years, will see the pair ride to orbit in a SpaceX Falcon rocket and Crew Dragon capsule.

It's a demonstration of the new "taxi" service the US space agency will be buying from the Californian firm.

Lift-off on Wednesday is timed for 16:33 EDT (20:33 GMT / 21:33 BST).

The weather around the Kennedy Space Center in Florida may have other ideas, however.

A forecast released on Saturday by the US Space Force 45th Space Wing Weather Squadron predicted just a 40% chance of favourable conditions come launch time.

There is a strong possibility the Kennedy complex could see thick cloud, rain and even thunder.

If controllers are forced to scrub, everyone will come back on Saturday for a second try.

Hurley and Behnken are now all but done with their preparations.

The weekend "Dry Dress" rehearsal saw the pair don their made-to-measure spacesuits, walk out to a Tesla, and then make a 6km drive down to Kennedy's famous Launch Complex 39A.
(17) GET SET: "Nasa SpaceX launch: Who are the astronauts?"
On 27 May, two US astronauts will achieve a world first when they launch to the International Space Station (ISS) aboard a spacecraft built by Elon Musk's SpaceX. Here, BBC News profiles the astronauts who will make the historic journey.

Doug Hurley and Bob Behnken are about to break a nine-year hiatus for Nasa, becoming the first astronauts to launch from US soil since the retirement of the space shuttle in 2011.

…"It's well past time to be launching an American rocket from the Florida coast to the International Space Station and I am certainly honoured to be a part of it," Hurley, 53, said earlier this month.

Behnken, 49, added: "On my first flight… I didn't have a son, so I'm really excited to share the mission with him."

Nasa has chosen two of its most experienced astronauts to help California-based SpaceX ready the Crew Dragon for launch. The two are also longstanding friends.

"Being lucky enough to fly with your best friend… I think there's a lot of people who wish they could do that," says Hurley.

When they blast off atop a Falcon 9 rocket, their spouses will know exactly what they are going through. That's because they're astronauts too.
(18) GO: "Nasa SpaceX launch: What's the mission plan?"
On Wednesday, the California company SpaceX will launch a mission to the International Space Station (ISS). It's something the firm has done many times before, taking cargo to the sky-high laboratory. But on this occasion, the firm will be transporting people.

It's one of those seminal moments in the history of spaceflight.

When Nasa astronauts Doug Hurley and Bob Behnken lift off atop their Falcon-9 rocket, inside their Crew Dragon capsule, it will mark the first time humans have left US territory to reach low-Earth orbit in almost nine years.

But more than that, it sees a shift to the commercialisation of human space transportation – of companies selling "taxi" rides to government and anyone else who wants to purchase the service.

This page details the key phases in the mission sequence.

Launch will occur from the Kennedy Space Center's Complex 39A. This is the famous Florida pad from where the Apollo 11 moonwalkers and the very first shuttle, Columbia, also began their missions.
(19) CLASSIC OR STINKER? In the Yahoo! Entertainment story "The 'Lost' finale at 10: Why viewers loved and hated 'The End'", Ethan Alter says even though it was 10 years since Lost ended, controversy continues over whether the ending of the show was brilliant or stupid. UH, SPOILERS, I GUESS?
…What the duo decided to do was to design a finale that emphasizes character over mystery. "The End" plays out in two realities: the mysterious island where mystical forces and weird science live side-by-side, as well as the "Flash sideways" timeline where Jack and the rest of the castaways were back in the real world, albeit leading different lives than what we saw in the flashback sequences that were a major part of previous seasons. The island-based sequences are explicitly devoted to tying up some, though not all of the loose ends: Jack has a final confrontation with the Man in Black, currently housed in the body of John Locke (Terry O'Quinn); Hurley (Jorge Garcia) becomes the new protector of the island, with Ben Linus (Michael Emerson) as his sidekick; and pilot Frank Lapidus (Jeff Fahey) gets everyone else — including Kate (Lilly), Sawyer (Holloway) and Claire (Emilie de Ravin) — the heck out of dodge. As the plane soars away from the island, a mortally wounded Jack watches it depart from his final resting place as his eyes close, a direct nod to the first shot of the first episode….
(20) WHO SAW IT COMING? Usually we're filling in this blank with Philip K. Dick's name. See how bad things have gotten, that PKD isn't the answer! "2020 Is One Great Big George Saunders Story" says InsideHook.
…But there is one author who predicted these dumb and absurd times: George Saunders.

The MacArthur "Genius" and Booker Prize-winning Saunders has been publishing darkly hilarious visions of America since the early 1990s. Zadie Smith has said "not since Twain has America produced a satirist this funny" while The New York Times noted "no one writes more powerfully than George Saunders about the lost, the unlucky, the disenfranchised." Perhaps the archetypal Saunders story is "Sea Oak," which follows a trod-upon worker at an aviation-themed male strip club called Joysticks: "Guests rank us as Knockout, Honeypie, Adequate, or Stinker. Not that I'm complaining. At least I'm working." At home, his family lives in a dangerous neighborhood and anesthetizes themselves with reality TV shows like How My Child Died Violently while fantasizing about the American dream, summarized by one character as "you start out in a dangerous craphole and work hard so you can someday move up to a somewhat less dangerous craphole. And finally maybe you get a mansion."
(21) JANELLE MONÁE. On Late Night with Seth Meyers Janelle Monáe talks about David Byrne using one of her songs in his musical American Utopia, a musical she wrote as a child and her efforts to help communities during the pandemic.
[Thanks to JJ, Cat Eldridge, John King Tarpinian, John Hertz, Martin Morse Wooster, Danny Sichel, Michael Toman, Mike Kennedy, StephenfromOttawa, Chip Hitchcock, John A Arkansawyer, and Andrew Porter for some of these stories. Title credit goes to File 770 contributing editor of the day Bill.]