(1) KIND OF LIKE A CORRESPONDENCE COURSE. BBC reports "JK Rowling to release new Harry Potter eBooks".
JK Rowling is to release four new Harry Potter eBooks next month, offering fans the chance to "delve deeper into the rich history of magic".

Rowling's Pottermore website will publish the non-fiction stories, which will be devoted to all things from the "wizarding world".

Each will be themed around lessons studied at Hogwarts School of Witchcraft and Wizardry.

The shorts are inspired by a British Library exhibition about Harry Potter.

…The first two books, released on 27 June, will explore Defence Against the Dark Arts as well as Potions and Herbology.

The third and fourth books, which will be released soon after, will look at Divination and Astronomy along with Care of Magical Creatures.
(2) LIMIT ONE ENDING PER CUSTOMER. "Dark Phoenix Ending Was Reshot Because Another Superhero Movie Had the Same Ending" – and Movieweb tries to deduce which movie got there first.
…With the movie finally set to arrive in theaters next month, the cast has started making the press rounds to promote it. During a recent interview, James McAvoy and Michael Fassbender were asked about the extensive reshoots. That's when things got interesting, as McAvoy gave anything but a typical answer. Here's what he had to say about it.

"The end [of Dark Phoenix] changed a hell of a lot. The finale HAD to change. There was a lot of overlap and parallels with another superhero movie that came out… a while ago."
(3) NYRSF READINGS. Chana Porter and Katharine Duckett will illuminate the stage at the New York Review of Science Fiction Readings series on June 4. The event begins at 7:00 p.m. at The Brooklyn Commons Café, 388 Atlantic Avenue (between Hoyt & Bond St.), Brooklyn, NY.
Chana Porter

Katharine Duckett
Chana Porter is an emerging playwright, speculative novelist, and education activist. Her plays have been developed or produced at Playwrights Horizons, The Catastrophic Theatre, La MaMa, Rattlestick Playwright's Theatre, Cherry Lane, The Invisible Dog, and Movement Research. She is a MacDowell Fellow, a New Georges Audrey Resident, a Target Margin Artist-in-Residence, and Honorable Mention for the Relentless Prize. She is currently writer-in-residence at The Catastrophic Theatre in Houston. Chana is the co-founder of the Octavia Project, a free summer writing and STEM program for Brooklyn teenage girls and nonbinary youth. Her play LEAP AND THE NET WILL APPEAR runs at The Flea Theater June 16-30th, directed by Tara Ahmadinejad. Her debut novel, THE SEEP, is forthcoming from Soho Press in 2019. www.chanaporter.com
Katharine Duckett is the author of MIRANDA IN MILAN, and her short fiction has appeared in Uncanny Magazine, Apex Magazine, Interzone, PseudoPod, and various anthologies. She is also the guest fiction editor for the Disabled People Destroy Fantasy issue of Uncanny. She hails from East Tennessee, has lived in Turkey and Kazakhstan, and graduated from Hampshire College in Amherst, Massachusetts, where she majored in minotaurs. She lives in Brooklyn with her wife.
(4) JEMISIN'S SEASON AT PBS. The PBS News Hour announces "'The Fifth Season' is June's pick for the PBS NewsHour-New York Times book club".
…In the coming days, we'll post discussion questions for "The Fifth Season," an annotated excerpt from the book, and writing advice from Jemisin. At the end of the month, she will answer your questions on the PBS NewsHour. We hope you'll join us and read along.
(5) THE HUGO AWARDS ON JEOPARDY! The Hugo was included in the "Awards and Prizes" category on last night's show. Kevin Standlee shared the screen grab of the answer that the J! media team sent him.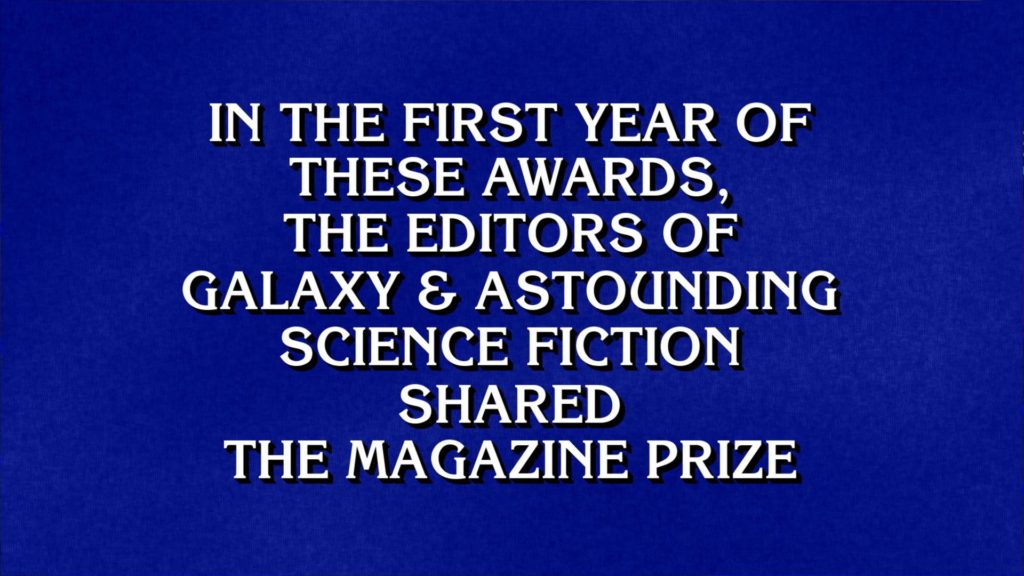 (6) HUGO FINALIST SIGHTING. Boyd Nation is trying to get on Jeopardy! and thereby hangs the tale:
I was in a Jeopardy! audition today in Nashville, and one of the other participants was 2002 Best Novelette finalist Shane Tourtellotte. He's still producing the occasional short fiction piece, but he's mostly focusing on writing for a baseball web site as a source of income these days.

As an aside in the course of his interview, by the way, I learned that Frederick Pohl IV was a long-time writer for Jeopardy!
(7) HUGO VOTE COUNTING DEMO. Nice animation of Single Transferable Vote (STV) in the Belfast (Ireland)Telegraph's "Election 2019" coverage that may help people trying to explain how the Hugo awards work. (Via Robot Archie.)
STV is the system used to count the Hugo final ballot and determine the winners. That's different from EPH, which is used to count the nominations.
(8) THINKING OUTSIDE. Camestros Felapton contemplates alien aliens in "We're going on an adventure: Children of Ruin by Adrian Tchaikovsky" – beware minor spoilers.
…It is an interesting challenge to try and side step the imaginative approach, although I don't see how that is possible. Alternatively we can delve into fiction and specifically, science fiction to explore minds quite different from our own. However, science fiction does not present us with the inner workings of alien minds as often as would be implied by its subject matter.

Science fiction aliens are often explorations of variations on human cognition, personality and culture. I don't want to dismiss that — there is value (both speculatively and as entertainment) in thinking about the species of hyper-stoical Vulcans. Alternatively, aliens may be quite cryptic and offer a huge barrier to understanding that human characters may only bridge as the climax of a story (or in the case of Ender's Game as a coda to the climax)….
(9) LOST AND FOUND. View the NOVA episode about the "Lost Viking Army" on the PBS website.
Forty years ago, hundreds of skeletons were unearthed in a mass grave in an English village. Bioarchaeologist Cat Jarman believes these bones are the last remains of the "Great Heathen Army," a legendary Viking fighting force that invaded England in the ninth century and has long been lost to history. Armed with the latest scientific methods, Cat's team uncovers extraordinary human stories from the front line, including evidence of women fighters and a lost warrior reunited with his son in death.
(10) ETCHISON FUNDRAISER. The Dennis Etchison Memorial Fund, a GoFundMe appeal, has been launched to help pay for funeral expenses.
Hi all, We are hoping to raise funds to help Kristina Etchison with costs incurred to have Dennis laid to rest.

The cost of dying is high, sadly, and Kris can use any help here that you can afford to give.

The final plans for memorial services, etc have not yet been made, and we will keep everyone up to date as plans are finalized in this very difficult time.
In the first six hours, people contributed $435 towards the $4,000 goal.
(11) TODAY'S BIRTHDAYS.
[Compiled by Cat Eldridge.]
Born May 30, 1914 — Bruce Elliott. His fifteen stories in The Shadow magazine in the late Forties are generally held in low esteem by Shadow fans because of his handling of the character, best noted by the three stories in which the Shadow does not appear at all in his costumed identity. Oh, the horror! He also wrote three genre novels — The Planet of Shame, Asylum Earth and, errr, The Rivet in Grandfather's Neck. And he had stories in The Magazine of Fantasy & Science Fiction including "Wolves Don't Cry":and "The Last Magician". (Died 1973.)
Born May 30, 1919 — Ronald Chetwynd-Hayes. British author best known for his ghost and horror stories though his first published work was the SF novel The Man from the Bomb in the late Fifties. The Monster Club, a series of linked tales, is a good place to start with him if you've not read him and it became a film with Vincent Price co-starring John Carradine. He won the Bram Stoker Award for Lifetime Achievement, and also a British Fantasy Society Special Award. (Died 2001.)
Born May 30, 1922 — Hal Clement. I'm reasonably sure Mission of Gravity was the first novel I read by him though I've not re-read it so the Suck Fairy not been tested. And I'm pleased to see that his short fiction which collected into three volumes is still available though only in hardcover. (Died 2003.)
Born May 30, 1936 — Keir Dullea, 83. David Bowman in 2001: A Space Odyssey and its sequel, 2010: The Year We Make Contact. I know I saw 2001 but I'll be damned if if I can remember seeing 2010. He's done a number of other genre films, Brave New World, Space Station 76, Valley of the Gods and Fahrenheit 451. And less we forget he was Devon in Starlost.
Born May 30, 1948 — Michael Piller. He was a writer and Executive Producer of The Next Generation, and co-creator of Deep Space Nine and Voyager. He's likely best known for co-writing "The Best of Both Worlds" and the pilots of DS9 ("Emissary") and Voyager ("Caretaker"). Post-Trek, he developed a short-lived series based off of Stephen King's novel The Dead Zone, and he had a deal with WB for a series called Day One, a post-apocalyptic series based on the UK Last Train series. WB reneged on the contract. (Died 2005.)
Born May 30, 1952 — Mike W. Barr, 67. Writer of comics and sf novels. Created along with Jim Aparo Looker (Emily "Lia" Briggs), a hero in the DC Universe. She first appeared first appeared in Batman & the Outsiders #25. He worked for both major houses though I'd say most of his work was at DC. He wrote the "Paging the Crime Doctor" episode of Batman: The Animated Series.
Born May 30, 1953 — Colm Meaney, 66. Best known for playing Miles O'Brien in Next Generation and Deep Space Nine. Other genre roles include an unnamed Cop at Tess's in Dick Tracy, Seamus Muldoon in The Magical Legend of the Leprechauns, a recurring role as Chief Cowen on Stargate Atlantis and Father Francis on Tolkien.
Born May 30, 1962 — Kevin Eastman, 57. Best known for co-creating Teenage Mutant Ninja Turtles with Peter Laird. He's the editor and publisher of Heavy Metal which he purchased in 1992. He's working on a new TMNT series with IDW Publishing.
Born May 30, 1964 — Mark Sheppard, 55. He's the son of actor W. Morgan Sheppard. A number of genre roles including lawyer Romo Lampkin on the Battlestar Galactica reboot, sleazy crime lord Badger on Firefly, Tanaka on Dollhouse, Reagent Benedict Valda on Warehouse 13, Canton Everett Delaware III on Doctor Who and Willoughby Kipling, member of the Knights Templar, on Doom Patrol.
(12) TIME TO SLIME. In WIRED, Louise Mitsakis reports on the World Slime Congress in Hershey, Pennsylvania where 5,000 people, mostly teens, go to see what's new in slime, "participate in slime drama," and listen to "slime influencers" discuss the latest trends in goop creation. "It's the World Slime Convention! Let's Goo!"
…My first stop was the booth of Liz Park, a slime influencer whose Instagram, @slimeypallets, has more than 75,000 followers. Park has long, black hair, dyed stormy gray at the ends, and she was wearing enormous fake eyelashes and a Mickey Mouse-style headband, each ear plastered with a yellow Slimey Pallets sticker. The tween girls clustered around her booth wanted to score one of those palettes—sampler packages of six or so slimes that Park makes by hand and sells for around $18 each. I tried to step in to say hello, but a girl wearing a sparkly T-shirt pointed at me, turned to her friends, and loudly reported that I had cut the line. I retreated and watched as Park, who at 30 is much older than most of her fans, handed out slimes and signed posters, chatting and laughing.
(13) CELEBRITY BRUSH. People: "Ariana Grande Dresses Up as an Astronaut During NASA Space Center Visit — and Plays Her Song 'NASA'".
One small step for woman, one giant leap for woman-kind!

After performing for a sold-out crowd in San Antonio, Texas, Ariana Grande accepted the opportunity to visit NASA's Johnson Space Center in Houston on Saturday.

The pop star, 25, documented her tour on Instagram Story in videos that showed her dressed in an astronaut's uniform, complete with helmet.

"Thank you for the coolest day of my life @nasa," Grande captioned one of her videos.
(14) THE STAGES YOU'LL CROSS. In the Washington Post, Ron Charles says that Dr. Seuss's last book, Oh, the Place You'll Go! has become "a title as firmly associated with graduation as pumpkins are with Halloween or turkeys with Thanksgiving:" Charles provides a list of other books he thinks would be more sophisticated presents for college graduates. (Chuck Tingle's new Seuss-ian book of erotica isn't one of them.) – "How Dr. Seuss's 'Oh, the Places You'll Go' became a graduation-gift cliché".
…How the Seuss stole graduation is a tale that sheds light on our own aspirations. The extraordinary success of "Oh, the Places You'll Go" stems from the book's infinitely flexible appropriateness. Like the knitted thneed in "The Lorax," it's a "Fine-Something-That-All-People-Need!" Children leaving kindergarten respond to Dr. Seuss's colorful drawings and silly rhymes. For teens graduating from high school, the book is a sweet reminder of their waning adolescence. College graduates accept it as a cute token of nostalgia. And all allegedly resonate to the book's rousing invocation of adventures just over the horizon.

…Seth Lerer, the author of "Children's Literature: A Reader's History, From Aesop to Harry Potter," notes that the rise of "Oh, the Places You'll Go" as a graduation gift coincides with the lengthening of adolescence for college-age people.

…That change is reflected in their graduation gifts, too. In the 1970s, Lerer recalls, new graduates commonly received a copy of Roget's Thesaurus and a fancy pen-and-pencil set. "The belief was that when you graduated, when you had a period of transition, you needed to be ready to read and write, that the transition was a transition of literacy," Lerer says. "What Dr. Seuss hit in 'Oh, the Places You'll Go' and the reason it's been adopted is because many people now think that the transition is not about reading and writing, it's about action. It's about doing. It's about going places.
(15) THE INCREDIBLE SHRINKING BOOK EXPO. Andrew Porter says, "Book Expo continues to implode (diagram below shows exhibits now just a portion of one floor), but I picked up a copy of a Lem story turned into graphic novel [there]." (Stanislaw Lem's The Seventh Voyage, a graphic novel by Jon J. Muth, Scholastic Graphix, Oct. 1 2019, Age 8-12, ISBN 978-0-545-00462-6).
(16) FILMED IN BLACK AND… BLACK. They've restored Nevil Maskelyne's 1900 film of a total solar eclipse in North Carolina. "Watch the oldest surviving film of a total solar eclipse" at Science News. (Via PJ Evans.) (Length of film: 1:08 – from just before totality to just after.)
Maskelyne developed a special telescope adapter for his camera to film the eclipse without frying his equipment. The 1900 eclipse was actually his second attempt. His first, an eclipse in India in 1898, was successful, but his film canister was stolen on the trip back to England.
(17) ECLIPSED BY WIL WHEATON. What did John Scalzi find out about his hometown when he checked out a unique map of the U.S. based on Wikipedia use? About what you'd predict. His explanatory post is titled: "In Which I Learn That I Live In Me".
There's a site out there that scraped Wikipedia entries from the last few years, and then put up a map of the United States where the place names were replaced with the person associated with that place (in apparently whatever capacity) whose Wikipedia article was looked at the most. For Bradford, Ohio, and perhaps not entirely surprisingly, that person happens to be… me. Yes, that's correct, on this map, I live in me.
Since my own vanity knows no bounds I immediately searched Arcadia, CA – and found it is now known as Wil Wheaton. Well, I won't be knocking him off the top of the hill any time soon. However, if I moved a mile down the street into Monrovia maybe I'd have a better chance – it's only named for a former Boise State football player.
(18) TAKING GAS. Fast Company asks if this idea will ever get off the ground: "We're still waiting for flying cars. This startup says hydrogen power is the answer".
…As the efforts to build George Jetson's robot have failed, evidence points to big barriers for his flying car. All these electric craft–be they powered by battery or hydrogen–are radically different contraptions from traditional planes and helicopters, posing a challenge for regulators trying to evaluate their safety.

Companies are hoping to lead the FAA on this process, advocating an approach in which the government sets overall safety goals that aircraft makers figure out how to achieve. But public sentiment may turn against industry-led regulation after the Boeing 737 Max crashes–possibly the result of the FAA's light-touch evaluation of new software.

Then there's hydrogen. While battery-powered electric cars are all over the road, fuel cell vehicles haven't gotten beyond pilot projects. And all the same challenges faced by cars may carry over to planes. Electricity is almost everywhere in the U.S. and other developed countries. Hydrogen is not….
(19) PICARD TRIVIA QUIZ. Trek, Actually challenges fans with its "Trivia Quiz: Captain Picard Edition!"
[Thanks to John King Tarpinian, Cath, Martin Morse Wooster, Carl Slaughter, Andrew Porter, PJ Evans, ULTRAGOTHA, Mike Kennedy, JJ, Cat Eldridge, Kevin Standlee, and Chip Hitchcock for some of these stories. Title credit goes to File 770 contributing editor of the day Anna Nimmhaus.]