(1) ADVANCED ALT-MARKETING. Jon Del Arroz is convinced you can sell more books if you fight with the right people. And the right people are on the left.
His business had a good day on Monday, as he garnered negative attention from Paul Weimer, and tangled on Twitter with SF Bluestocking's Bridget McKinney.
Things got rolling after this Weimer tweet:
I can't decide–shall we insult the SJW, ask a publicist to ask him to review the book or BOTH? pic.twitter.com/WENvVdKstE

— Paul Weimer (@PrinceJvstin) May 15, 2017
@PrinceJvstin Just tried to google both those titles and no books in the first page of results for either. Clearly very important works.

— Bridget McKinney (@SFBluestocking) May 15, 2017
@jondelarroz @PrinceJvstin There's no McCaffrey book by that title, bro. Just a story in an anthology that I read once over 20 years ago.

— Bridget McKinney (@SFBluestocking) May 15, 2017
@jondelarroz @PrinceJvstin I'm not sure why you'd expect anyone to catch a reference this generic-sounding to something that old and irrelevant, though.

— Bridget McKinney (@SFBluestocking) May 15, 2017
@jondelarroz LOL. I love Anne McCaffrey as much as the next person who grew up not knowing any better, but give me a break. She's not even a dinosaur.

— Bridget McKinney (@SFBluestocking) May 15, 2017
@lampwright4 @jondelarroz Anne McCaffrey was formative stuff for me. 25 yrs ago. Most of it doesn't hold up very well today, though, imo. Nostalgia doesn't mean good.

— Bridget McKinney (@SFBluestocking) May 15, 2017
@jondelarroz @lampwright4 I re-read most of my Pern stuff a couple years ago and still loved it for personal reasons, but they haven't aged very well, in my opinion.

— Bridget McKinney (@SFBluestocking) May 16, 2017
Jon took all that back to his blog and positioned himself as a staunch defender of Anne McCaffrey against a benighted feminist in "The Cult Of The New And Its Destruction Of Culture".
…It started because I was talking to a Tordotcom reviewer. A Hugo Nominated Fanzine writer chimed in to tell me how irrelevant I am by referencing my last novel, how she looked up "Rescue Run" and found that there was "nothing in sci-fi that returned on a google search".

I corrected, of course, stating not only is there my extremely highly regarded, award nominated and well-reviewed book, but that I chose the title intentionally as an homage to the late great Anne McCaffrey, who wrote a book by the same name. This work was demeaned by her first as "it's only a short story" (It's a novella, actually) and this person who is nominated for the Hugo Award for fanzine work, retorted to that by calling Anne Mccaffrey "old and irrelevant."

… And of Hugos? This fanzine writer who writes self-described "feminist" commentary on science fiction is attacking the first woman ever to win the award! For shame! It boggles my mind to see this kind of lack of reverence for her.
When it comes to protecting the reputation of Anne McCaffrey, I didn't know Jon had a dog in this fight. Now I know he's got at least a puppy.
(2) HIGH ON KYLO. If you think the death of Han Solo might make people question having children at all, that's because you haven't met last year's crop of new parents: "Turning to the Dark Side: Kylo is the fastest growing baby name in the US in honor of the latest Star Wars villain" — the Daily Mail has the story.
The name, inspired by Star Wars' Kylo Ren, has jumped a massive 1,467 spaces
Popular culture also inspired parents to name their girls after popstar Kehlani
The most popular boys' name is still Noah and it's Emma for girls once again
Despite being in news every day, Donald and Hillary proved unpopular names

… The Social Security Administration released its annual list of the 1,000 most popular baby names for 2016 on Friday.
(3) ANOTHER CAPTAIN ON ANOTHER BRIDGE. This part is obvious – The Verge says "Seth MacFarlane's upcoming TV series looks like a parody of classic space adventure shows" – but the idea that it takes inspiration from GalaxyQuest is hopeful.
First image from The Orville! pic.twitter.com/lo4gYPUUl9

— Seth MacFarlane (@SethMacFarlane) May 15, 2017
I may regret saying this, but I hope not: What if Seth MacFarlane's #Orville is the "Galaxy Quest" series we always wanted but never got? pic.twitter.com/nfJO0AdrzW

— Jarett Wieselman (@JarettSays) May 15, 2017
(4) TRIVIAL TRIVIA
Why do the Imperial Stormtroopers all appear to be left-handed?  It's because their ammunition magazines on their weapons are on the left side, so it's easier to hold the guns left-handed.
So is this Lego Storm Trooper inaccurately showing a right-hander?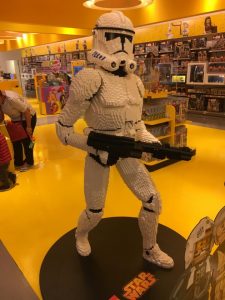 (5) BONUS TRIVIAL TRIVIA
And while we're on the subject of Star Wars, did you know….? (Via Scifihistory.net.)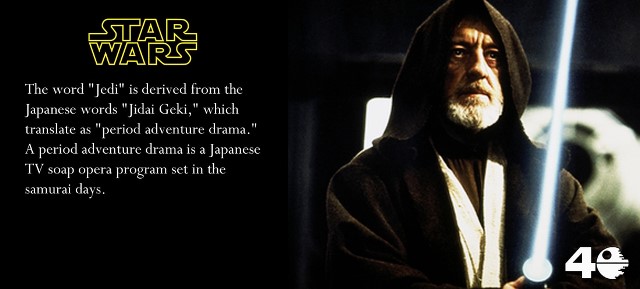 (6) BOOTHE OBIT. Powers Boothe, who appeared in Deadwood and Sin City died May 15 at the age of 68. Boothe also played Gideon Malick in the Marvel Cinematic Universe, first in The Avengers (2012), then on TV in ABC's Agents of S.H.I.E.L.D.
(7) TODAY'S BIRTHDAY BOY
Born May 15, 1856 – L. Frank Baum
(8) HEADQUARTERS IN THE SADDLE. Gamer and comic owner lives the life as a jouster: "The boss who lives as a medieval knight".
Given how Jason spends his weekends, you might imagine that his day job is equally daring, that he is some sort of professional stuntman.

Instead, he is the chief executive of one of the UK's largest computer games companies – Rebellion Developments.

Jason set up the Oxford-based business with his younger brother Chris in 1992, and today it has an annual turnover of more than £25m.

Still wholly owned by the two siblings, its best-selling titles include Sniper Elite and Rogue Trooper.

For the past 17 years the company has also owned cult UK comic book series 2000 AD, and publishes a range of novels.
(9) CALLING DR. DYSON. Maybe there is a Ringworld? "The most mysterious star in the galaxy".
The starlight dips in an irregular pattern, suggesting that something is intermittently blocking the star. This bizarre behaviour, first reported in autumn 2015 and not seen in any other star, has scientists baffled. Researchers have proposed a myriad of explanations, including black holes, comet swarms, and interstellar clouds. But a conclusive answer remains elusive. And one hypothesis in particular has raised eyebrows: aliens.

Yes, aliens.

Perhaps, researchers have posited, an advanced alien civilisation has constructed a vast structure encircling their star, maybe an enormous power plant that harnesses the star's energy. When parts of the structure pass in front of the star, it creates dips in the starlight.
(10) I HEARD THE NEWS TODAY. A local Albuquerque TV station recently  devoted 1-minute video bio to — "George R.R. Martin Living and Loving New Mexico".
(11) UNLUCKY STRIKE. The Chicxulub asteroid hit "the worst possible place":
Scientists who drilled into the impact crater associated with the demise of the dinosaurs summarise their findings so far in a BBC Two documentary on Monday.

…It is becoming clear that the 15km-wide asteroid could not have hit a worse place on Earth.

The shallow sea covering the target site meant colossal volumes of sulphur (from the mineral gypsum) were injected into the atmosphere, extending the "global winter" period that followed the immediate firestorm.

Had the asteroid struck a different location, the outcome might have been very different.

"This is where we get to the great irony of the story – because in the end it wasn't the size of the asteroid, the scale of blast, or even its global reach that made dinosaurs extinct – it was where the impact happened," said Ben Garrod, who presents The Day The Dinosaurs Died with Alice Roberts.
(12) ORION DELAYED. And we're getting farther from returning to the Moon — "NASA nixes Trump's moonshot plan" reports The Register.
NASA will miss its deadline for the first flight of the Orion capsule and the Space Launch System, with the launch moved from 2018 to 2019.

The agency's Bill Gerstenmaier also told media in a briefing last Friday that as well as delaying the first flight (designated Exploration Mission One, EM-1), the EM-2 mission that will carry astronauts will probably miss its original 2021 date.

In February, the new Trump administration asked NASA to assess the feasibility of changing the EM-1 mission, planned as an uncrewed jaunt into cislunar space between Earth and Luna, to instead carry human cargo around the moon.

NASA has concluded that it can't justify the cost of such a change to the schedule.
(13) FLYING TOYOTA IN YOUR FUTURE? The car maker pushes in a big stack of chips: "Toyota 'backs flying car project' in Japan".
Japanese carmaker Toyota has announced its backing for a group of engineers who are developing a flying car.

It will give 40 million yen (£274, 000) to the Cartivator group that operates outside Toyota city in central Japan.

The Nikkei Asian Review reports Toyota and its group companies have agreed in principle to support the project.

So far crowdfunding has paid for development of the so-called Skydrive car, which uses drone technology and has three wheels and four rotors.
(14) GIFTED CHILDREN. Here is the trailer for Fox's series The Gifted, set in the X-Men universe. It will air this fall.
(15) INSTANT CLASSIC. Bill filed the numbers off an old earworm in this update to "Hello Muddah, Hello Faddah"
With apologies to Allan Sherman

Hello Scrolls and Hello Pixels
Many posts are just for ticks. You'll
Find that some are entertaining.
But not those that end up being all mansplaining.

I follow daily the blog of Glyer.
And I've become a faithful Filer.
You remember Rabid Puppies?
Their campaign to win the Hugos got them bupkis.

Some folks come here to rant and foment
But I'd prefer a Meredith Moment
A nice movie for my Roku,
Or a book to put on top of Mount Tsudoku.

[bridge]
Let's go scroll, we pixel filers
Let's go scroll, my reading pile has
Climbed so high. It's not so long til the
Ballots are due in Helsinki.

I see my comment is second fifth.
It's regarding Bob Asprin's Myth.
But it's missing a URL link
So I shall leave and appertain myself a cold drink.
[Thanks to Lex Berman, Cat Eldridge, John King Tarpinian, and Chip Hitchcock for some of these stories. Title credit goes to  File 770 contributing editor of the day Andrew.]