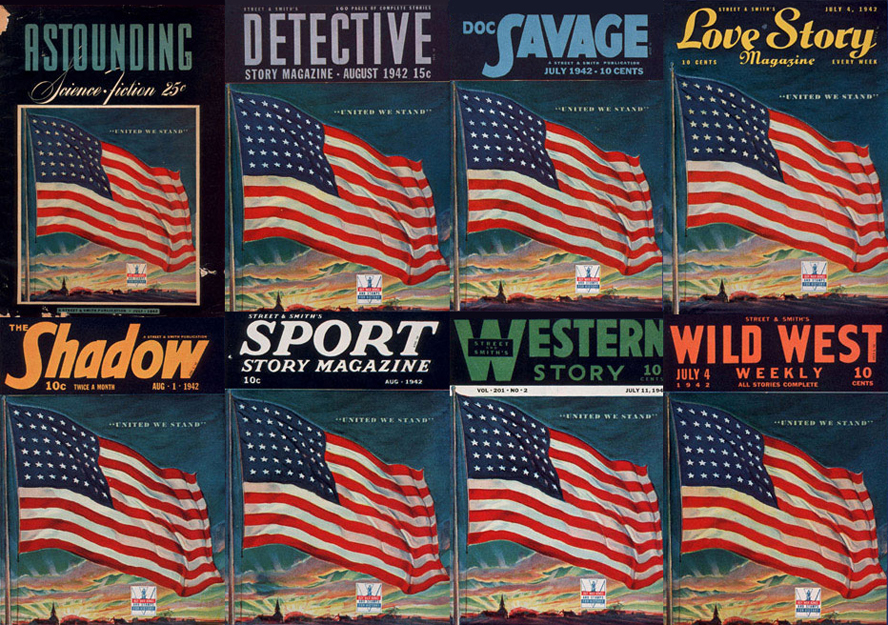 (1) MEMORIAL DAY. Honoring service and sacrifice — James H. Burns' 2015 tribute to the WWII generation:
Yet, one of the biggest influences on that generation has remained generally uncommented on. Decades later, it can almost be viewed as a secret text, or a  vast compendium, that may well have helped prepare our country's youth for the immense challenges that awaited them.

In the 1930s, during the height of the Great Depression–still the toughest economic calamity that ever faced the United States–ANYONE could tune in, on the radio, to the terrific adventure series, comedies and dramas that were performed LIVE, for national broadcast.

It didn't matter if you were rich or poor, or what race or creed you encompassed. There was a wide array of delights simply waiting to be discovered….
(2) LLAMA DROP. Kameron Hurley has a book out tomorrow that she expects to be controversial. She recommends several rules of engagement to her readers, beginning with —
Hey, hey folks, my first essay collection, The Geek Feminist Revolution, drops TOMORROW, May 31!

In anticipation of its release, here are some things you should know that I know and some things you should know about how I'll be comporting myself online during the launch:

Some people (the minority, but oh, what a vocal minority!) will HATE this book, even and especially those who've never read it and have never heard of me and have no idea what it's actually about. I fully anticipate several pile-ons. I expect lots of garbage in my social feeds. But fear not! All of my email is screened, I've muted the majority of the worst accounts and keywords on Twitter, and buttoned up other things to ensure this goes as smoothly as possible. I WILL BE FINE. CHIN UP.
This leads us to THIS point, which is: NO WHITE KNIGHTING. All I ask if there's a pile-on is for you to NOT tag me if you argue with trolls. My troll policy is mute and ignore. I've found that very effective. You are, of course, free to argue with whomever you want on the internet, but as a courtesy, I ask that you keep me out of it, or I'll have to mute you too, and we don't want that! In related news: DON'T POINT ME TO BAD REVIEWS or TELL ME TO READ TERRIBLE COMMENTS. I mean, unless you're a troll? But I don't think you're a troll. Like, I mean, for real, folks? I never, ever, read the comments, and I'm not going to be reading bad reviews, even funny ones, for months yet. Thank you….
(3) LLAMA THUMBS DOWN. At Fantasy Literature, reviewer Bill Capossere's verdict is "The Geek Feminist Revolution: Just didn't do it for me". I've heard of "damning with faint praise," on the other hand, this review is devoted to "damning with faint damns."They follow after a three-paragraph confession of the expectations he brings to a book of essays.
The pieces certainly aren't badly written, but there just wasn't enough there for me, whether in terms of style or content. Often, the thrust of the piece wasn't all that fresh. What does it take to succeed in writing? Persistence. How does one succeed? One has to be willing to fail. Women are horribly trolled on the net. Writers have a responsibility to consider the impact of how they present their worlds and the people who inhabit them, etc.

Now, I don't have an issue with covering territory that has been covered extensively for a long time or, in the case of more contemporaneous issues, has been covered extensively elsewhere (well, maybe I have a little issue). But if you're going to present me content I've seen lots of other places or have been reading for some time, then you need to do something else for me. When I talk to my students in creative writing I call this the "so what" issue with non-fiction. You have to give the reader a reason to keep reading something they've seen before. Maybe it's the beauty of the language, maybe it's the stimulating structure. But something.

With regard to structure, the essays in The Geek Feminist Revolution are almost strictly linear and mostly singularly focused. As for language, it's adequate for communicating the ideas, but rarely rises above that. It's conversational, passionate, but nothing will have you linger over the phrasing or is particularly dense with meaning.
(4) CHINA SF CON. Shaoyan Hu's article at Amazing Stories covers "A Time to Share, a Time to Enjoy – The Closing Ceremony of the 8th Shanghai Science Fiction & Fantasy Festival".
In the main hall, the ceremony was incorporated with the final stage of a mind contest called 'Useless Superpowers', in which the participants were encouraged to come up with ideas of superpowers that had no practical values but could become interesting under certain circumstances. They were requested to present the ideas with any means of their choice, such as videos, pictures, stage performances, and so on.

The winner was a student from Shanghai Jiao Tong University. The imaginary superpower he had fabricated was 'Immovable', which meant the owner of the power could prevent anything from moving by simply touching it. Now, just imagine, someday in the future, if an asteroid is going to crash into the Earth, guess who will be sent out to the space to stop it?
(5) BALTICON AUTOGRAPH MACHINE. See George R.R. Martin sign and sign and sign in Chris Edwards' half-minute video on Facebook.
(6) WISCON WARNING. Wondering what happened.
Hi! Word is POC Con Suite volunteers have been treated especially poorly by Con Suite guests. That's a racist microaggression. PLEASE STOP

— WisCon (@WisConSF3) May 29, 2016
(7) CAPTAIN AMERICA SPOILER WARNING. With the mandatory warning out of the way, here is Brad Torgersen's warning about violating fans' expectations for a franchise.
Of course, the whole Captain America = Hydra Nazi thing, is a stunt. It will be eventually written up such that this shocking reveal is just the top-most layer on a plot cake wherein good old Steve is still true-blue American, and so forth. But by then the writers will have gotten what they wanted out of said stunt: attention, eyeballs, chatter, and (theoretically) sales.

Or . . . not?

Sometimes, stunts like this can dramatically backfire. If the audience suspects that it …is being shown contempt (by the creators) then the audience may very well turn its back. Superheroes are treasured icons for fans across the spectrum, and if you mess with those icons too much, you truly are playing with fire.
(8) IN A CAPTAIN CRUNCH. Echoing one of Torgersen's notions about the fans no longer accepting the authority of the creator, comics veteran Gerry Conway has been besieged by fans trying to tell him the history behind Captain America. Here are a few examples from the Twitter exchange.
Anyone upset about #CapHydra has never read "Flashpoint" or, in fact, any DC comic since "Crisis on Infinite Earths" #ProvisionalReality

— Gerry Conway (@gerryconway) May 26, 2016
Regarding original creators' intent, remember Stan & Jack originally created Hydra in mid-60s as a SHIELD foe in S.P.E.C.T.R.E./THRUSH mode.

— Gerry Conway (@gerryconway) May 27, 2016
No. Created in 1965. https://t.co/M1BCDXVJ2U

— Gerry Conway (@gerryconway) May 28, 2016
However, not everyone is engaging in the Captain America controversy with the same firestorm intensity….
For latecomers wondering why I'm an awful human being tonight, I failed to condemn a story I haven't read and I made a joke about cookies.

— Kurt Busiek (@KurtBusiek) May 28, 2016
@TomBrevoort pic.twitter.com/zOTh5BjLR7

— Kurt Busiek (@KurtBusiek) May 28, 2016
(9) AUDIO BANDERSNATCH. Diana Pavlac Glyer's Kickstarter funded – in fact, later today it achieved its first stretch goal.
I'm walking on SUNSHINE!! We met our funding goal for "Bandersnatch Goes AUDIO!!" Michael Ward will be narrating this book, and I am absolutely THRILLED. We still have one more day to meet some delicious stretch goals: I'd love to give each and every backer a copy of the 20-page discussion guide, and I'm still wondering if James A. Owen can draw a bandersnatch blindfolded. But for now, here's the important thing: this is a real dream come true. This  audiobook will really really happen, and I want to thank YOU for taking part. I'm so excited and so, so grateful. WOOT!! Bandersnatch is going AUDIO!!
10) FAMILY REUNION. Fanac.org has uploaded video of "Science Fiction's 50th Anniversary Family Reunion" from Noreascon 3 (1989). After the Sunday brunch, many of the greats reminisced – including Isaac Asimov, Terry Pratchett, Jack Williamson, Samuel Delany, Fred Pohl, Forry Ackerman, David Kyle, Connie Willis, and others.
(11) IT WAS A NEEDLESS TRAGEDY. The Onion has learned "Leaked Documents Reveal Studio Executives Knew About 'Gods of Egypt' Before It Released Onto Public". Gasp!
Suggesting that the disastrous events of three months ago could have been averted, federal investigators stated Wednesday that a trove of leaked documents confirmed high-ranking studio executives had full knowledge of Gods Of Egypt long before the film was released onto unsuspecting Americans….
[Thanks to John King Tarpinian, Michael J. Walsh, and Leslie Turek for some of these stories. Title credit goes to File 770 contributing editor of the day Will R.]