(1) SUN GOES POSTAL. Daniel Dern, who has an eye for science fictional and related kinds of cool postage stamps, points to plans for this year's "Total Eclipse of the Sun to be commemorated on a Forever Stamp".  On June 20, the US Postal Service will issue a pair of stamps capable of a unique special effect: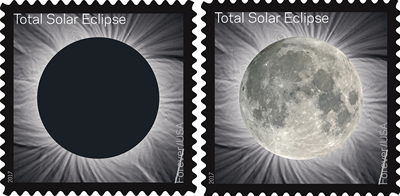 In the first U.S. stamp application of thermochromic ink, the Total Solar Eclipse stamps will reveal a second image. Using the body heat of your thumb or fingers and rubbing the eclipse image will reveal an underlying image of the Moon (Espenak also took the photograph of the Full Moon). The image reverts back to the eclipse once it cools.

Thermochromic inks are vulnerable to UV light and should be kept out of direct sunlight as much as possible to preserve this special effect. To help ensure longevity, the Postal Service will be offering a special envelope to hold and protect the stamp pane for a nominal fee.
The back of the stamp pane [ a sheet, looks like of 8 stamps] provides a map of the August 21 eclipse path and times it may appear in some locations.
Tens of millions of people in the United States hope to view this rare event, which has not been seen on the U.S. mainland since 1979. The eclipse will travel a narrow path across the entire country for the first time since 1918. The path will run west to east from Oregon to South Carolina and will include portions of 14 states.

The June 20, 1:30 p.m. MT First-Day-of-Issue ceremony will take place at the Art Museum of the University of Wyoming (UW) in Laramie. The University is celebrating the summer solstice on June 20. Prior to the event, visitors are encouraged to arrive at 11:30 a.m. to witness a unique architectural feature where a single beam of sunlight shines on a silver dollar embedded in the floor, which occurs at noon on the summer solstice in the UW Art Museum's Rotunda Gallery.
(2) BEAM UP MY MAIL. Dern says the eclipse stamp promises to be as cool as Canada's "Star Trek – Transporter" stamp series, which he was able to get while there last summer.
A tribute to the high-tech world of Star Trek, this stamp uses lenticular printing, a method that makes images appear in motion when viewed from different angles. A homage to the show's most famous technology – the transporter – and one of its most popular episodes, "The City on the Edge of Forever," they bring the beloved series to the "miniature screen."

Stamp designer Kosta Tsetsekas, of Vancouver-based Signals Design Group, saw lenticular as an opportunity to recognize the show's futuristic vision and the special effects that brought it to life.

"I felt that lenticular, developed in the 1940s, had a bit of a low-tech feel that really mirrored the TV special effects used in the original Star Trek series. Thanks to newer technology, it is now possible to show a lot more motion."
The set also includes one of Spock and Kirk passing through the Guardian of Forever in the "City on the Edge of Forever" episode.
(3) TAKE NOTE. SCORE: A Film Music Documentary features interviews with nearly 60 composers, directors, orchestrators, studio musicians, producers, recording artists, studio executives, In theaters June 26.
This documentary brings Hollywood's premier composers together to give viewers a privileged look inside the musical challenges and creative secrecy of the world's most widely known music genre: the film score.

CAST: Hans Zimmer, Danny Elfman, John Williams, Trent Reznor, James Cameron, Randy Newman, Quincy Jones, Junkie XL, Howard Shore, Alexandre Desplat, Steve Jablonsky, Brian Tyler
(4) HOW RUDE. At McSweeney's, Kaya York gives examples of what it would look like "If People Talked About Other Things the Way They Talked About Gender Identity". Here are two:
Subatomic particles: "Now they're saying they discovered 'tetraquarks' and 'pentaquarks'. How many combinations of quarks are there? I can't even keep up these days. What ever happened to just talking about good old atoms?"

Cats: "A Manx is not a cat. Cats are defined as having tails. Maybe it's a koala."
(5) SFFH JOURNAL. Download Fantastika Journal issue 1 free. Dozens of articles and reviews, including an editorial by John Clute.
From their website:
"Fantastika" – a term appropriated from a range of Slavonic languages by John Clute – embraces the genres of fantasy, science fiction, and horror, but can also include alternative histories, gothic, steampunk, young adult dystopian fiction, or any other radically imaginative narrative space. The goal of Fantastika Journal and its annual conference is to bring together academics and independent researchers who share an interest in this diverse range of fields with the aim of opening up new dialogues, productive controversies and collaborations. We invite articles examining all mediums and disciplines which concern the Fantastika genres.
(6) GAME OF VAULTS. When you've got a license to print money, you buy more printing presses. Entertainment Weekly reports: "Game of Thrones forever: HBO developing 4 different spinoffs".
HBO is doubling down — no, quadrupling down — on its epic quest to replace Game of Thrones.

The pay TV network is determined to find a way to continue the most popular series in the company's history and has taken the highly unusual step of developing four different ideas from different writers. The move represents a potentially massive expansion of the popular fantasy universe created by author George R.R. Martin. If greenlit, the eventual show or shows would also mark the first time HBO has ever made a follow-up series to one of its hits….

The prequel or spinoff development battle royale is a bit like how Disney handles their Marvel and Star Wars brands rather than how a TV network tends to deal with a retiring series (Thrones is expected to conclude with its eighth-and-final season next year.) But GoT is no ordinary show — it's an international blockbuster that delivers major revenue for HBO via subscriptions (last season averaged 23.3 million viewers in the U.S. alone), home video and merchandise licensing. Plus, there's all those Emmys to consider (GoT set records for the most Emmys ever won in the prime-time ceremony).
(7) ANOTHER NIMOY HEARD FROM. Julie Nimoy has made a movie about her dad, too, Remembering Leonard Nimoy.
Leonard Nimoy grew up in Boston's old West End, before urban renewal razed much of the once-ethnic neighborhood. As a kid, the future actor was mesmerized by "The Hunchback of Notre Dame," the 1939 film based on Victor Hugo's novel.

"I remember being touched by the humanity trapped inside the Hunchback," Nimoy says in a voice-over in "Remembering Leonard Nimoy," a new hourlong documentary that premieres at 9?p.m. Thursday on WGBH 2. For Nimoy, Charles Laughton's portrayal of Quasimodo was entirely relatable: "That alienation was something I learned in Boston."

Nimoy was many things — a fine art photographer, a philanthropist, a great-grandfather, the director of "Three Men and a Baby." But he was known universally — and we do mean universally — as Spock from "Star Trek," the half-human, all-logic officer in the long-running science fiction franchise. After Nimoy died in early 2015, an asteroid between Jupiter and Mars was named after him.

"Remembering Leonard Nimoy" shares the same orbit as "For the Love of Spock," the recent feature-length documentary directed by Nimoy's son, Adam. The newer film is produced and directed by Adam's sister Julie and her husband, David Knight. Adam Nimoy appears on-camera (as he does in his own film) and gets an adviser's credit, so there was evidently no familial dispute about telling the famous father's story.
(8) GORDON OBIT. Actor Don Gordon (1926-2017) died April 24. He worked a lot – seems there was hardly a series in the Fifties or Sixties he wasn't cast in at some point. His genre roles include appearances on Space Patrol, The Twilight Zone (two episodes – "The Self-Improvement of Salvadore Ross": (1964) and "The Four of US Are Dying" (1960)), The Outer Limits, Voyage to the Bottom of the Sea, The Wild, Wild West, The Invaders, The Bionic Woman, The Powers of Matthew Star, Knight Rider and movies including The Final Conflict, The Beast Within, and The Exorcist III.
(9) DALBY OBIT. Editor, scholar and bookseller Richard Dalby (1949-2017) passed away May 4 at the age of 68.
He edited a succession of well-chosen and pioneering anthologies, including the Virago volumes of women's ghost stories, the Mammoth Books of ghost stories, the Jamesian collection Ghosts & Scholars (with Rosemary Pardoe) and several popular books of Christmas ghost stories and thrillers. Other noted volumes include The Sorceress in Stained-Glass (1971), Dracula's Brood (1989) and Tales of Witchcraft (1991), all highly respected and now much sought-after.
(10) TODAY'S DAY
Star Wars Day

"May the Fourth be with you" was first used by Margaret Thatcher's political party to congratulate her on her election on May 4th, 1979, and the saying quickly caught on. However, the first celebration of May 4th took place much later, at the Toronto Underground Cinema in 2001. This first official Star Wars Day's festivities included a costume contest and a movie marathon. Fans' favorite parodies of the franchise were also enjoyed, as were some of the most popular mash-ups and remixes. Since then, Star Wars Day has gained popularity and is celebrated by Star Wars Fans worldwide.
(11) EXCEPT IN WISCONSIN. The school district has announced a "no costume" policy going forward: "Wisconsin High School Evacuated After Student Arrives in Stormtrooper Costume for Star Wars Day"
A student celebrating Star Wars Day prompted the brief evacuation of a Wisconsin high school on Thursday morning because they were wearing a Stormtrooper costume, officials said, describing it as a mix-up.

Capt. Jody Crocker, of Wisconsin's Ashwaubenon Department of Public Safety, tells PEOPLE it happened this way:

Someone driving adjacent to Ashwaubenon High School saw a masked person entering with a large duffel bag and what appeared to to be a bullet-proof vest — but what was actually a costume of a Stormtrooper, a fictional soldier in the Star Wars franchise….

The school was evacuated for about an hour and the students were safely returned, Crocker says.
(12) DARTH WELCOME HERE. Ironically, a Tennessee hospital is perfectly fine having Darth Vader on the premises. But then, he's not in costume. That's just his name.
Meanwhile, ABC News chose May the Fourth to reveal Darth Vader is a 39-year-old man living in Tennessee, United States. Darthvader Williamson, that is….
Ms Knowles explained that she compromised with Darthvader's dad, who wanted to use the full title Lord Darth Vader. She agreed to the shorter version because she "hadn't seen the movie" and "didn't know the character".
Chip Hitchcock sent the link with a comment, "I'd say someone who names their boy after a major villain is more than a 'serious geek', even if it's not naming him Sue."
(13) PIXEL POWER. Satellites go where no man has gone before: counting albatrosses on inaccessible island steeps. The BBC tells how in "Albatrosses counted from space".
The US government has only recently permitted such keen resolution to be distributed outside of the military and intelligence sectors.

WorldView-3 can see the nesting birds as they sit on eggs to incubate them or as they guard newly hatched chicks.

With a body length of over a metre, the adult albatrosses only show up as two or three pixels, but their white plumage makes them stand out against the surrounding vegetation. The BAS team literally counts the dots.
(14) INTERNET ABOVE THE SKY. Deployment will begin in two years — "Elon Musk's SpaceX plans to send the first of its 4,425 super-fast internet satellites into space in 2019".
"SpaceX intends to launch the system onboard our Falcon 9 rocket, leveraging significant launch cost savings afforded by the first stage reusability now demonstrated with the vehicle," the executive said.

The 4,425 satellites will operate in 83 orbital planes at altitudes ranging from 1,110 KM to 1,325 KM.

SpaceX argues that the U.S. lags behind other developed nations in broadband speed and price competitiveness, while many rural areas are not serviced by traditional internet providers. The company's satellites will provide a "mesh network" in space that will be able to deliver high broadband speeds without the need for cables.
(15) FIFTIES SF NOVEL TO STAGE. London's Br\dge Theatre lists among its future projects a production of The Black Cloud, a new play by Sam Holcroft, from the 1957 novel by Fred Hoyle. "One of the greatest works of science fiction ever written," according to Richard Dawkins.
The New York Times reports —
The London Theater Company is a new commercial venture by Nicholas Hytner and Nick Starr, who previously ran the National Theater in London together; Mr. Hytner was director, overseeing artistic programming, while Mr. Starr served as executive director.

The company's first season will take place in the new Bridge Theater, the name of which was also announced on Wednesday. The 900-seat venue, on the south side of the Thames, near Tower Bridge, is the first commercial theater of its scale to be built in London in 80 years, according to the company.
(16) SUPERNATURAL AFTERLIFE. Teresa Wickersham covered an on-stage interview with Jim Beaver for SciFi4Me.com — "Planet Comicon 2017: Idjits, Death and No Bobby in Season 12 of SUPERNATURAL".
Jim said that he just looks at the script and guesses how to play it. Usually someone will tell him if he gets it wrong. Writers create and the actor visually and orally interprets what they have created. Ninety-nine percent of what you love is the writer. "I'm happy to be here and take his (Kripke's) money."

Jim Beaver's favorite episode is "Weekend at Bobby's", which was Jensen Ackles' first directing experience. He said Jensen did a fine job. It was exhausting, being on screen ninety percent of the time. He said that you wouldn't be an actor if you didn't want to have people pay attention to you. "Look at me." It's not about the art at first. Probably only "Daniel Day Lewis is playing Rousseau in his kindergarten."

One of the audience members said his sister cried when he died. "You should have seen my accountant."
(17) HELP WANTED. Now's your chance to get paid for something you're already doing for free – reading horrible content on Facebook. The Guardian has the story — "Facebook is hiring moderators. But is the job too gruesome to handle?"
Ever wanted to work for Facebook? Mark Zuckerberg has just announced 3,000 new jobs. The catch? You'll have to review objectionable content on the platform, which has recently hosted live-streamed footage of murder, suicide and rape.

In his announcement, Zuckerberg revealed that the company already has 4,500 people around the world working in its "community operations team" and that the new hires help improve the review process, which has come under fire for both inappropriately censoring content and failing to remove extreme content quickly enough. Just last week the company left footage of a Thai man killing his 11-month-old daughter on Facebook Live on the platform for a whole day.

Instead of scrutinizing content before it's uploaded, Facebook relies on users of the social network to report inappropriate content. Moderators then review reported posts – hundreds every shift – and remove them if they fall foul of Facebook's community standards. Facebook does not allow nudity (including female, but not male, nipples), hate speech or glorified violence.
I looked around and didn't find these jobs being offered yet.
(18) EXTRA SENSE. Blindsight in the real world:
It ranks among the most curious phenomena in cognitive neuroscience. A handful of people in the world have "blindsight": they are blind, but their non-conscious brain can still sense their surroundings.

Milina Cunning, from Wishaw in Scotland, lost her sight in her 20s, and later realised she had this blindsight ability. She has been studied extensively by researchers.

"If I was to throw a ping pong ball at Milina's head, she would probably raise her arm and duck out of the way, even before she had any awareness of it," says Jody Culham, a scientist who has scanned Cunning's brain.
(19) SAY MR. SANDMAN. Neil Gaiman converses in his sleep: "Neil Gaiman On Returning To 'Sandman,' Talking In His Sleep And The Power Of Comics"
On creating a dysfunctional family for Sandman and his siblings (also known as "The Endless")

A lot of it went back to when I started writing Sandman. Back in 1987 I began to write it. I was thinking that there really just weren't any comics out there with families in [them] — and I love family dynamics. I love the way that families work or don't work, I love the ways families behave, I love the way that families interact, and it seemed like that would be a really fun kind of thing to put in.

When I came over to America to do signings, people would say to me, "We love the Endless; we love Sandman and his family, they're a wonderful dysfunctional family." It wasn't a phrase I had ever heard before, and I said, "Hang, on. Explain to me, what is a dysfunctional family?" And people would explain, and after a while, I realized that what Americans called a "dysfunctional family" is what we in England call "a family," having never encountered any of these functional ones.
(20) FIRST PAST THE POLE. Racing molecules: "Microscopic Cars Square Off In Big Race"
This car race involved years of training, feats of engineering, high-profile sponsorships, competitors from around the world and a racetrack made of gold.

But the high-octane competition, described as a cross between physics and motor-sports, is invisible to the naked eye. In fact, the track itself is only a fraction of the width of a human hair, and the cars themselves are each comprised of a single molecule.

The Nanocar Race, which happened over the weekend at Le centre national de la recherché scientific in Toulouse, France, was billed as the "first-ever race of molecule-cars."
(21) ALL FROCKED UP. The next Marvel TV series is off to a rough start: "'Marvel's Inhumans' Costumes Draw Jeers: 'Discount Halloween Store,' 'Walmart'".
Entertainment Weekly released a first look at "Marvel's Inhumans," the studio's latest foray into television, and it's not going over so well.

The interview with showrunner Scott Buck doesn't reveal much more than what we already knew about the show, but it does provide the first official picture of the group known as the Inhuman Royal Family, which will star in ABC's eight-episode show.

The show follows the family, which features — from left to right — Gorgon (Eme Ikwuakor), Karnak (Ken Leung), Black Bolt (Anson Mount), Medusa (Serinda Swan), Crystal (Isabelle Cornish), and Maximus (Iwan Rheon). Each are Inhumans, or superpowered humans descended from aliens and possess sometimes catastrophic abilities.

The main criticism of the photo on the internet, which you can check out above, seems to focus on the costumes, which look cheap. Some people compared them to things you'd find in a Halloween store or a Hot Topic.
(22) JUST PUCKER UP. Atlas Obscura celebrates a working relic of history — the "Pneumatic System of the New York Public Library"
Put into operation in New York in 1897 by the American Pneumatic Service Company, the 27-mile system connected 22 post offices in Manhattan and the General Post office in Brooklyn. The pipes ran between 4 to 12 feet underground, and in some places the tubes ran along the subway tunnels of the 4, 5 and 6 lines. At the height of its operation it carried around 95,000 letters a day, or 1/3 of all the mail being routed throughout New York city….

But there is one wonderful New York location where the pneumatic tubes have proven quicker and more nimble then their modern-day electronic substitutes; the stacks of the NY Humanities and Social Sciences library. When one hands their paper slip to the librarian, they slip it into a small pneumatic tube and send it flying down past seven floors of books deep underground. The request is received, the book located, and it is sent up on an ever-turning oval ferris wheel of books.
[Thanks to Carl Slaughter, rcade, JJ, Cat Eldridge, David K.M.Klaus, Martin Morse Wooster, Andrew Porter, Daniel Dern, stuckinhistory, John King Tarpinian, and Chris Rose for some of these stories. Title credit goes to File 770 contributing editor of the day Rob.]