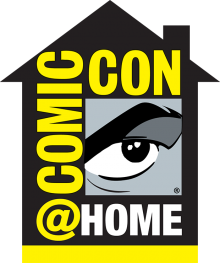 (1) COMIC-CON ONLINE. More information has been released about the replacement for the annual San Diego event: "Comic-Con@Home Sets July Dates". As Greg Weir joked on Facebook, "The virtual lines will be enormous."
Comic-Con@Home was first teased in early May with a short video announcement and a promise of details to come. Pop culture enthusiasts will note that this initiative joins the Comic-Con Museum's virtual endeavor, Comic-Con Museum@Home, already ongoing.

Although conditions prevent celebrating in person, the show, as they say, must go on. With Comic-Con@Home, SDCC hopes to deliver the best of the Comic-Con experience and a sense of its community to anyone with an internet connection and an interest in all aspects of pop culture. Plans for Comic-Con@Home include an online Exhibit Hall complete with everyone's favorite exhibitors offering promotions, specials, and limited-edition products unique to the celebration. As well, Comic-Con@Home promises exclusive panels and presentations about comics, gaming, television, film, and a wide variety of topics from publishers, studios, and more. As if that weren't enough, Comic-Con@Home will also have a Masquerade, gaming, and many other activities in which fans can participate from their own homes.

Although Comic-Con@Home will provide badges for fans to print and wear proudly, all aspects of the initiative are free and there are no limits to how many can attend…. Comic-Con@Home will be held on the same dates as the previously canceled Comic-Con, July 22-26, 2020, and online attendees are encouraged to use the official #ComicConAtHome hashtag to be included in the virtual activities. …Interested fans are encouraged to check Toucan, the official Comic-Con and WonderCon blog, SDCC's website and social channels, and the official channels of their favorite pop culture creators in the weeks to come.

Follow us on social media at: Facebook: Facebook.com/comiccon; Twitter: @Comic_Con; Instagram: @comic_con
(2) ORIGINS ONLINE CANCELLED. Kotaku summarized a social media controversy surrounding the Game Manufacturers Association and the Origins Online event that was planned for this month: "Board Gaming's Industry Body Refuses To Say A Word About Black Lives Mattering".
An increasing number of prominent board game industry and community members have pulled out of an upcoming show over The Game Manufacturers Association's (GAMA) inability (or refusal) to make a statement about Black Lives Matter.

GAMA owns and operates Origins Online, a big virtual show running later this month that was intended to replace the usual Origins Games Fair (a physical event that has been postponed to October). It was supposed to feature panels, video and support appearances by notable board games people like Wingspan designer Elizabeth Hargrave, Blood Rage creator Eric Lang, Geek & Sundry's Ruel Gaviola, Boardgamegeek and Man vs Meeple.

Instead those listed, and loads more, have withdrawn from the show over GAMA's inability, when even the least sanctimonious corporations and sporting leagues on the planet have managed some kind of message, to make even the most basic statement of support for the Black Lives Matter protests that have been sweeping the United States since the beginning of the month.
GAMA now has made a pro-Black Lives Matter statement, but also cancelled the online event.
The Game Manufacturers Association believes that Black Lives Matter. We unequivocally condemn racism and violence against people of color. We have been too late in making that statement with force, and we apologize. The injustices of today demand that every person of good conscience make clear where they stand and we wish we had been more proactive, more strident, and more effective with our voices. Innocent people of color are being killed in the streets of the communities where we live, and it is not acceptable.

We cannot responsibly hold our virtual convention, Origins Online, in this setting. Even if it were possible to hold it, it would not be appropriate to do so. So, we are announcing here that Origins Online is cancelled.
However, GAMA's apology is flawed say some critics, including Patrick Leder of Leder Games:
Late last night, GAMA made an official statement to cancel Origins Online. Though this statement answered some concerns, it too contains several notable omissions that highlight some of the challenges facing any effort to make the hobby more inclusive. Specifically:
Their apology has no mention of the BIPOC members of the industry who stood up to them. It also fails to note that those voices were the catalyst for their decision to cancel Origins Online.
Their plan to make amends by asking attendees and publishers to forfeit their Origins Online payments shows a lack of initiative and imagination. As our industry's governing body, we expect GAMA to take the lead without waiting for the initiation of others.
There is no actionable statement on how they can work on uplifting the BIPOC community or an attempt to broaden their board or staff, nor does it recognize the board's failures in this regard.
(3) ROLLING OVER. Loscon 47, which the Los Angeles Science Fantasy Society planned to hold this Thanksgiving Weekend, has been postponed to 2021. Chair Scott Beckstead wrote:
With the effects of the Covid-19 pandemic being felt in many sectors, we are not immune I'm sorry to say. The fallout of these effects sadly means that we will be postponing Loscon 47 until next year. We are rescheduling Loscon 47 for Thanksgiving weekend (November 26th through November 28th 2021). We will be rolling Guests, members, and dealer room participants over to next yea

Writer Guest Dr. Gregory Benford, our Artist Guest Jeff Sturgeon and Fan Guests of Honor Dennis and Kristine Cherry have all agreed to be there and are looking forward to being there next year. There will be more info as we re-assemble our teams to bring this to fruition in November of 2021. As always you may ask questions at info@loscon.org and I look forward to seeing you all Thanksgiving weekend 2021
(4) RED SOFA LITIGATION. Publishers Lunch reports in "Briefs" that lawyers are getting involved in the Red Sofa Literary meltdown.
Agents Beth Phelan and Kelly Van Sant and author Isabel Sterling received cease & desist letters from an attorney representing agent Dawn Frederick at Red Sofa Literary after speaking out about Frederick's response to protestors in St. Paul.
The trio's response, "An Open Letter to Dawn Frederick in Response to Threats of Litigation", begins –
On June 8, 2020, we received cease and desist letters from a lawyer on behalf of Dawn Frederick, literary agent and founder of Red Sofa Literary. The letters demanded that we delete our respective posts regarding Dawn's actions and further, publish retractions stating that "she did not make any racist or other improper statements," validating the behaviors that we had previously condemned. Failing this, we were told Dawn will pursue legal action against us for defamation. We interpret these demands as an attempt to not only silence us, but to compel us to lie for her. We refuse.

After we and others spoke out against her tweets, Dawn posted a public apology on her website owning up to her wrongdoing, but then turned around to privately send threatening letters to people who spoke up. In that apology, Dawn admitted that her actions were "careless," that "[t]he authors and agents who may now question whether or not we share the same ideals have every right to feel this way," and that her "actions were tone-deaf and the product of [her] own privilege." That she is now threatening to sue people for agreeing with her apology makes it impossible to interpret the apology as anything but insincere. So, which is it, Dawn? You said in your apology that you would "work to be better." Is this what "better" looks like?…
They are asking for donations to their legal defense fund, which has raised $12,177 as of today.
(5) HE DIDN'T COME BACK TO THE FUTURE. Ranker refreshes our recollection about an old lawsuit with a contemporary vibe: "When 'Back To The Future II' Recreated Crispin Glover's Face, He Took The Studio To Court".
In 1985, Universal Pictures, Amblin Entertainment, director Robert Zemeckis, and writer/producer Bob Gale gave the world an all-time classic motion picture, Back to the Future. Four years later, they tried to pull the wool over everyone's eyes. Back to the Future Part II had a little secret, one the participants tried to keep from being discovered. It was slightly easier in that pre-internet time. As it turned out, a key actor from the original, Crispin Glover, decided not to return for the sequel. Since the character of George McFly was fairly prominent in the follow-up, that presented a rather large problem.

Their solution was unique, but it also got them entangled in some unpleasant legal action. Essentially, the filmmakers recreated Glover's face with prosthetics, then put it on another actor. They wanted to make it seem as though Glover was in the sequel when, in fact, he was not. Glover was none too happy about this, so he sued everyone involved.

That's the short version. The more detailed version is a fascinating tale of an actor desperate to protect his image, filmmakers desperate to protect their franchise, and the clash these dueling desires created. It's also an account of a watershed moment in cinema history, when it became clear that modern technology was making it easier to "steal" someone's likeness. The impact of Crispin Glover's Back to the Future Part II case continues to reverberate today….
(6) PINSKER STORY POSTED. The latest story for the Center for Science and the Imagination's Us in Flux project launched today: "Notice," a story about unexpected mail and the limits of self-reliance by Sarah Pinsker.
Malachi happened to be mowing down by the gates when the mail carrier arrived in her ancient truck. He wasn't supposed to talk to Outsiders until he turned twenty-five, another six years, but he couldn't help trying on the rare occasions an opportunity presented itself….
On Monday, 6/15 at 4 p.m. Eastern, they'll have another virtual event on Zoom with Sarah in conversation with Punya Mishra, an expert in integrating arts, creativity, design, and technology into learning. Registration required.
(7) HOMAGE OR FROMAGE? Bloody Disgusting applauds: "These Horror Fans Remade the Key Moments from 'Alien' With No Budget During the Quarantine".
A group of creative horror fans just put together a 5-minute, zero-budget remake of Ridley Scott's Alien while stuck at home!

Described as a "low-budget, high-cardboard remake of Alien," the video comes courtesy of YouTube channel Cardboard Movie Co, which specializes in this sort of thing.
(8) MEDIA BIRTHDAY.
June 11, 1982 — E.T. – The Extraterrestrial premiered. It was directed by Steven Spielberg. Production credit was shared by Spielberg, Kathleen Kennedy and Frank Marshall. It was written by Melissa Mathison and starred Dee Wallace, Peter Coyote, and Henry Thomas. Special effects were by Carlo Rambaldi and Dennis Muren. Critics universally loved it, the box office was phenomenal and audience reviewers at Rotten Tomatoes give it a 99% rating.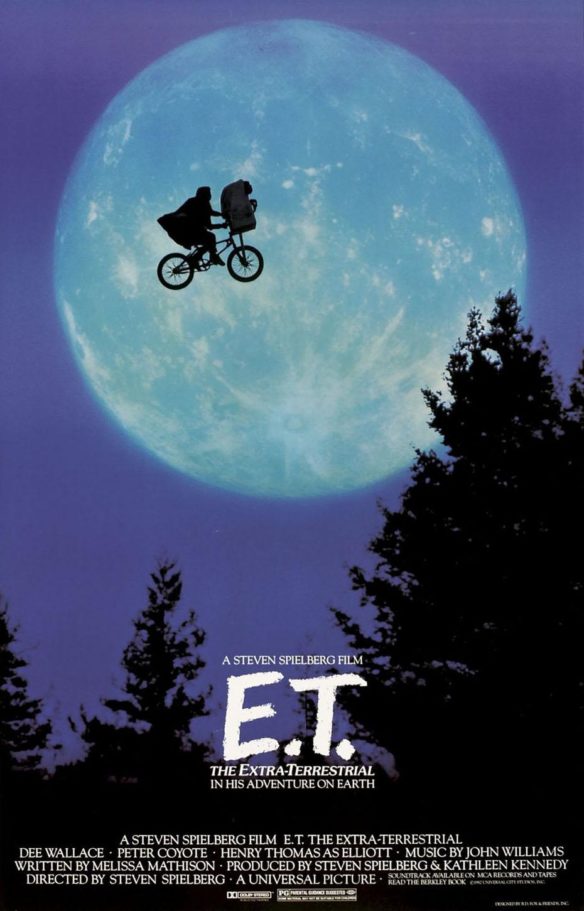 June 11, 1993 — Eleven years after E.T. came out, Jurassic Park premiered. Directed by Steven Spielberg, and produced by Kathleen Kennedy and Gerald R. Molen. It's based on the novel of the same name by Michael Crichton. It starred Samuel L. Jackson, Sam Neill, Laura Dern, Jeff Goldblum and Richard Attenborough. Like E.T., It was an overwhelming hit with the critics and the box office was quite stellar. The audience reviewers at Rotten Tomatoes give a 91% rating.
(9) TODAY'S BIRTHDAYS.
[Compiled by Cat Eldridge and John Hertz.]
Born June 11, 1572 – Ben Jonson. Among much else he and Inigo Jones (1573-1672) composed masques, a theatrical artform now long asleep through abandonment of its circumstances. At the court of a monarch, or some lesser court, elaborate scenery was built, in and around which elaborately costumed actors played, sometimes in mime, with music and dance, sometimes including courtiers. Jonson wrote and acted, Jones designed and built. We can claim at least Oberon, the Faery Prince, The Lady of the Lake with Merlin and Arthur, The Devil Is an Ass. We can and should read and imagine them (you can look at this Website to see text); if they were filmed and you saw them it would not be the same as if twenty or thirty people performed for you and your friends at one of your palaces. (Died 1637) [JH]
Born June 11, 1815 – Julia Cameron. Pioneer photographer, started at age 48, made portraits and allegories. She said "My aspirations are to ennoble Photography and to secure for it the character and uses of High Art by combining the real and Ideal and sacrificing nothing of the Truth by all possible devotion to Poetry and beauty." Do find her portraits; but this is an SF Weblog, so here are The South-West Wind, Prospero (from Shakespeare's Tempest), and The Parting of Sir Lancelot and Queen Guinevere which Bloomsbury used for its 1999 printing of The Princess Bride. (Died 1879) [JH]
Born June 11, 1927 — Kit Pedler. In the Sixties, he became the unofficial scientific adviser to the Doctor Who production team. One of his creation was the Cybermen. He also wrote three scripts — "The Tenth Planet" (co-writtenwith Gerry Davis), "The Moonbase" and "The Tomb of the Cybermen". Pedler and Davis went in to create and co-write the Doomwatch Series. He wrote a number of genre novels including Mutant 59: The Plastic Eaters (co-written with Gerry Davis) and Doomwatch: The World in Danger. (Died 1981.) (CE)
Born June 11, 1929 — Charles Beaumont. He is remembered as a writer of Twilight Zone episodes such as "Miniature", "Person or Persons Unknown", "Printer's Devil" and "The Howling Man" but also wrote the screenplays for several films among them 7 Faces of Dr. Lao and The Masque of the Red Death. He also wrote a lot of short stories, so let's see if there's digital collections available…. Yes, I'm pleased to say, including several ones by legit publishers. Yea! (Died 1967.) (CE)
Born June 11, 1933 — Gene Wilder. The first role I saw him play was The Waco Kid in Blazing Saddles. Of course, he has more genre roles than that, starting out with Willy Wonka in Willy Wonka & the Chocolate Factory followed by Blazing Saddles and then Dr. Frederick Frankenstein in Young Frankenstein. He was Sigerson Holmes in The Adventure of Sherlock Holmes' Smarter Brother, a brilliantly weird film whose cast included Marty Feldman, Madeline Kahn, Dom DeLuise, Roy Kinnear and Leo McKern! I've also got him playing Lord Ravensbane/The Scarecrow in The Scarecrow, a 1972 TV film based based on Nathaniel Hawthorne's short story, "Feathertop". (Died 2016.) (CE)
Born June 11, 1934 – Jerry Uelsmann. Used photomontage long before Adobe Photoshop. Guggenheim and Nat'l Endowment for the Arts fellowships. Lucie Award. Here is a Boat and Moon. Here is a Tree Goddess. Here is his Website. [JH]
Born June 11, 1945 — Adrienne Barbeau, 75. She's memorably in Swamp Thing. She's also in the Carnivale series, a very weird affair. She provided the voice of Catwoman on Batman: The Animated Series. And she was in both Creepshow and The Fog. Oh, and ISFDB lists her as writing two novels, Vampyres of Hollywood (with Michael Scott) and presumably another vampire novel, Love Bites. (CE)
Born June 11, 1946 – Barry Levin. For thirty-five years his antiquarian bookshop in Santa Monica was a pearl beyond price. Here is an interview with Scott Laming of AbeBooks. Here is an appreciation by Scott Haffner of Haffner Press – scroll down; BL is third from top. (Died 2016) [JH]
Born June 11, 1959 – Galen Tripp. Active fan in Los Angeles, organizing the LASFS (L.A. Science Fantasy Society) 50th Anniversary banquet, 1984; given the Evans-Freehafer, our service award, 1986; moved to the San Francisco Bay Area, where he is BASFS (Bay Area SF Soc.) sergeant-at-arms, a position they take about as seriously as we take ours. [JH]
Born June 11, 1968 — Justina Robson, 52. Author of the excellent Quantum Gravity series which I loved. I've not started her Natural History series but have not added it to my digital To Be Read list, so would be interested in hearing from anyone here who has. (CE)
Born June 11, 1971 — P. Djèlí Clark, 49. Ok, I want a novel from this brilliant author whose The Haunting of Tram Car 015 is in the running for a Best Novella Hugo this year. (A Dead Djinn in Cairo is set in the same alternate universe.) The Black God's Drums was a finalist for the same award last year. And yes, he has a novel coming out — Ring Shout, a take on the KKK with a supernatural twist. (CE)
(10) COMICS SECTION.
(11) JEOPARDY! It was a great night on Jeopardy! if you like bad answers. Andrew Porter took notes.
First—
Category: TV Catch-Phrases

Answer: "Nanu-Nanu"

Wrong questions: "What is Star Trek?"; "What is Alf?"

Correct question: "What is Mork & Mindy?"
Second –
Also, no one could link "Bazinga!" to "The Big Bang Theory."
Third –
Final Jeopardy: Medical History

Answer: One of the first recorded autopsies was performed on this man & revealed 23 puncture marks.

Wrong question: "Who is Bram Stoker?"

Correct question: "Who was Julius Caesar?"
(12) RUBE GOLDBERG WINNER. CBC says "Toronto family 'thrilled and a little bit surprised' to win Rube Goldberg Challenge".
Tony Round says he was "stunned into silence" the first time he watched his family's elaborate Rube Goldberg machine wind its way through their house and successfully drop a bar of soap into his daughter's hands.That's because it took the Toronto family more than 50 failed attempts and three weeks to make the machine work.
(13) FOLLOWING SUIT. "Amazon Halts Police Use Of Its Facial Recognition Technology"
Amazon announced on Wednesday a one-year moratorium on police use of its facial-recognition technology, yielding to pressure from police-reform advocates and civil rights groups.

It is unclear how many law enforcement agencies in the U.S. deploy Amazon's artificial intelligence tool, but an official with the Washington County Sheriff's Office in Oregon confirmed that it will be suspending its use of Amazon's facial recognition technology.

Researchers have long criticized the technology for producing inaccurate results for people with darker skin. Studies have also shown that the technology can be biased against women and younger people.

IBM said earlier this week that it would quit the facial-recognition business altogether. In a letter to Congress, chief executive Arvind Krishna condemned software that is used "for mass surveillance, racial profiling, violations of basic human rights and freedoms."

And Microsoft President Brad Smith told The Washington Post during a livestream Thursday morning that his company has not been selling its technology to law enforcement. Smith said he has no plans to until there is a national law.
(14) RUN TO DINNER. The ancestor of crocodile boots? BBC says they've found "Fossil tracks left by an ancient crocodile that 'ran like an ostrich'".
Scientists have been stunned to find that some ancient crocodiles might have moved around on two feet.

The evidence comes from beautifully preserved fossil tracks in South Korea.

Nearly a hundred of these 18-24cm-long indentations were left in what were likely the muddy sediments that surrounded a lake in the Early Cretaceous, 110-120 million years ago.

The international team behind the discovery says it will probably challenge our perception of crocodiles.

"People tend to think of crocodiles as animals that don't do very much; that they just laze around all day on the banks of the Nile or next to rivers in Costa Rica. Nobody automatically thinks I wonder what this [creature] would be like if it was bipedal and could run like an ostrich or a T. rex," Martin Lockley, an emeritus professor at the University of Colorado, US, told BBC News.

The study is sure to provoke a lively debate. Not all researchers will necessarily accept the team's interpretation.
(15) JOHN ON THE DOTTED LINE. It's never too late to study a historic document: Phyllis Irene Radford is in the middle of "Blogging the Magna Carta #12" at Book View Café. Today's section is about administering the estates of the deceased.
…Those catalogs of chattels tell historians a lot about how people lived during the period and what they considered valuable, due to purchase price or import costs, or how labor intense to make. Historians love these.
I was fortunate enough to see one of the original copies when it was displayed in LA in the Seventies.
(16) LUNAR LIVING. Joe Sherry calls it "hopeful science fiction" in "Microreview [book]: The Relentless Moon, by Mary Robinette Kowal" at Nerds of a Feather.
…There's a lot going on in The Relentless Moon and Kowal keeps everything moving and flowing together with remarkable deftness and an underlying compassion that smooths the edges off even the harshest aspects of the novel – including Nicole's eating disorder, racial issues, domestic terrorism, and a desperate fight for survival on the Moon. Everything is handled with sensitivity, though Kowal does not shy away from the emotion of the worst moments – it's more that Kowal is such a smooth writer that the reader is in safe hands. The novel leans into the pain, but with a light touch.
(17) YOUNG PEOPLE. In the new installment of James Davis Nicoll's Young People Read Old SFF, the panel encounters "'The Deer Park' by Maria Russell".
This is Maria Russell's only known published story.

… Still, her low profile does mean my Young Readers won't have heard of her and won't have expecations going in. What will they make of ?"Deer Park"?
(18) AN AUTHOR OF DRAGONS. Here is the first of "6 Books with Aliette de Bodard", Paul Weimer's Q&A with the author at Nerds of a Feather.
1. What book are you currently reading?

I'm currently doing comfort reads, which means I've embarked again on a reread of Alexandre Dumas The Count of Monte Cristo--Gothic quest for revenge is the best.
(19) BAIT FOR CLICKS. Clare Spellberg, in the Decider story "'Paw Patrol' Under Fire for Depiction of Police: Is 'Paw Patrol' Being Canceled?" says there is a Twitter campaign to cancel Paw Patrol for its depiction of cops, but it's not clear that the campaign is real or satire.
… Have the anti-racism protests come for Paw Patrol? According to Amanda Hess of the New York Times Paw Patrol fans have (albeit jokingly) called for the popular Nickelodeon show to be canceled as protests against police brutality continue to sweep the globe and shows like Cops and Live PD are cancelled by networks. While the Paw Patrol protests may not be totally real, Eric Trump and Sen. Ted Cruz seem to think fans are serious: both tweeted that the protests for Paw Patrol are "truly insane," and they blasted the left for "targeting" cartoons.

…This is a long story with a short answer: as of now, Paw Patrol is not being cancelled despite the fake "protests" against it. In fact, Nickelodeon just renewed the series for an eighth season in February, and a theatrical film Paw Patrol: The Movie is currently scheduled for an August 2021 release.
(20) STAYING IN PRACTICE. The Screen Junkies, having no new summer blockbusters, decided to take on The Fifth Element in a trailer that's two days old.
[Thanks to Andrew Porter, Chip Hitchcock, John Hertz, Michael Toman, John King Tarpinian, JJ, Cat Eldridge, Mike Kennedy, Joey Eschrich, and Martin Morse Wooster for some of these stories. Title credit goes to File 770 contributing editor of the day Rose Embolism, with an assist by Anna Nimmhaus.]