(1) THE FUR IS FLYING. Flayrah's Tantroo McNally suspects the number of furry fandom's Ursa Major awards voters who make a dispassionate assessment of quality is being overwhelmed by devoted fans of specific popular franchises and creators that campaign for the award. McNally regards this as a problem, therefore is in search of a solution: "Ursa's Major Issue – Confident self-promotion vs humble passionate skill, and a voting system's favoritism".
Ursa, we may have a problem. Or at least so it may seem. Over the past few years the number of people voting in the furry fandom's popular choice awards appears to be dwindling once again, despite continual growth and booming attendance at our conventions – COVID aside – revealing the growing audience and community beneath this stagnation.

But if less people in proportion are voting, is there a reason for this? One option may be that the system may be lead to some strange victors based on popularity of a franchise or personality rather than other considerations. But is this just a coincidence or could it be how the system was inadvertently crafted?

This article's goal is to highlight why the current system is so sensitive to favoring artists who self-promote or whose fans rally on their behalf, at the expense of voters that weigh more toward judging the quality of the pieces nominated without authorship considerations. It will then propose a small change to make it more fair to both types of voters and creators, without stifling out those who show up with a passion for their artist.
Flayrah's awards coverage post by GreenReaper (Laurence Parry) also criticized those in hot pursuit of awards: "'Shine', 'Awoo!' take 2021 Ursa Major Awards by landslides; K. Garrison wins three".
…Prior to voting's close, anonymous commenters disparaged Nightstar's promotional endeavours, which included visibility hacks such as posting comics as stories. But nobody could fault her for effort, with not only a nominations plug or two… or three, but numerous comic strips 'desperately' seeking readers' votes. Likewise, Shine's artist Star sought nomination and invited fans to vote, as did Rocket's builder Akela Taka. Of course, this approach was not always successful — but to some, even a nomination felt like a victory….
(2) OUSTED FROM THE MOUSE. Kenan Thompson was today's guest on Wait, Wait…Don't Tell Me and one of his questions was about how Harlan Ellison got fired from Disney. And Kenan blew the question, spectacularly! "Wait Wait… Don't Tell Me! — Kenan Thompson".
Kenan Thompson, the longest-tenured cast member of Saturday Night Live, plays our game about people who only lasted one day on the job. He is joined by panelists Luke Burbank, Negin Farsad and Hari Kondabolu.
(3) SPOCK TO BE REMOVED FROM CANADIAN FIVE DOLLAR BILL. Well, technically he's never been on it, however quite a few years ago, Lloyd Penney was the first person to show me how easy it is to turn the fellow on Canada's $5 bill into a likeness of Spock.
Now the time is fast approaching when Wilfrid Laurier will be put out to pasture in favor of one of the shortlisted candidates for the next $5 bank note.
It won't be William Shatner. He's Canadian, but he fails the requirement of having been dead for 25 years – fortunately for us.
(4) UP ALL NIGHT. MSN.com sums up "Everything we know about Marvel's Midnight Suns".
…As of now, the reveal trailer is all that we have as far as footage for Marvel's Midnight Suns, and while it has next to nothing in terms of gameplay, we can still learn a lot about what this game will be.

Marvel's Midnight Suns will be a more supernatural-focused take on the superhero genre and is something like a more magical-focused version of the Avengers, although we obviously see some of the big names from that team here as well, including Iron Man, Dr. Strange, and Captain America. The plotline will be notably darker than other Marvel media, with the main antagonistic force being the spawn of the underworld. Hydra has awoken the Mother of Demons, Lilith, from her long slumber, and she has begun her own quest to summon an even greater evil known as Chthon.

The Avengers turn to the titular team known as the Midnight Suns, made up of heroes with their own supernatural talents, to combat this occult threat. Their first act is to bring out a secret weapon of their own, Lilith's own child, known as the Hunter, who is the only one to have ever managed to defeat Lilith in the past. It looks, at least from the small bits we've seen, to be a fresh perspective for this franchise, and we're excited to see if it can stick the landing….
(5) ATTENTION, PLEASE. Lisa Tuttle's latest book recommendations came out in yesterday's Guardian: "The best recent science fiction and fantasy – review roundup". Reviews of Ordinary Monsters by JM Miro; In the Heart of Hidden Things by Kit Whitfield; The Sanctuary by Andrew Hunter Murray; The Splendid City by Karen Heuler; and Scattered All Over the Earth by Yoko Tawada.
(6) GUSHING. USA Today reviewer Kelly Lawler seriously, seriously loves For All Mankind, now starting season 3 on Apple TV+. "'For All Mankind' review: Why Apple TV+ space drama is TV's best show".
It's 1992, and the solar system's first space hotel is about to open. A woman is running for president. The United States, the Soviet Union and a private corporation are in a three-way race to land astronauts on Mars. 

At least, that's what's happening in the 1992 of Apple TV+'s stunning "For All Mankind" (returning Friday, streaming weekly streaming Fridays; ★★★★ out of four) an alternate history drama that imagines the 1960s space race between the U.S. and the USSR never ended. Now in its third season, the series rockets to a Mars-centric version of the 1990s where the timeline is different but still feels a bit like the '90s we know. 

"Mankind" is the rare series that's exciting, emotional, tense, dramatic, heartbreaking, elating and infuriating all at once. Some TV shows are good, some are great, and still others remind me why I became a critic in the first place. And in the endless barrage of mediocre series pushed out weekly, "Mankind" stands out, a shining star (or moon or planet) among the replaceable rest….
(7) BEGIN HERE. The Best of Edward M. Lerner was released in May. "A physicist and computer engineer, Edward M. Lerner toiled in the vineyards of high tech for thirty years, as everything from engineer to senior vice president. Then, suitably intoxicated, he began writing full time."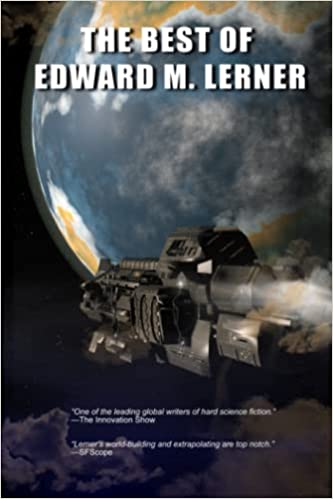 While you probably know Ed from his SF novels, including the InterstellarNet series and the epic Fleet of Worlds series with Larry Niven, Ed is also a prolific author of acclaimed short fiction. This collection showcases his finest and favorite shorter works.

Faced with the common question of which of his books should someone read first, he has carefully selected these stories to cover his wide range. Now he can answer, "This one!"

Alternate history. Parallel worlds. Future crime. Alien invasion. Alien castaways. Time travel. Quantum intelligence (just don't call him artificial). A sort-of haunted robot. Deco punk. In this book, you'll find these—and more—together with Ed's reminiscences about each selection and its relationship to other stories, novels, and even series that span his writing career.

These are the best, as determined by awards, award nominations, and the selective tastes of eight top editors and choosy Analog readers.

Each excellent story stands alone—you won't need to have read anything prior—but you'll surely want to read more of Ed's books afterwards.
Available at Amazon.com and Amazon.ca.
(8) MEDIA BIRTHDAY.
1993 – [By Cat Eldridge.] Twenty-nine years ago on this day saw Spielberg taking on Nazis, errr, wrong film. No, this time it was Really Big Reptiles. Jurassic Park premiered launching the beginning of a very, very lucrative franchise. It would indeed be honored with a Hugo at ConAdian the next year suggesting that it a very popular film among y'all.
It's based on a screenplay by Michael Crichton as co-written by David Koepp off his novel of the same name. It was produced by Kathleen Kennedy and Gerald R. Molen, both of which had long histories with Spielberg. The human cast was extended, so I'll just single out Richard Attenborough, Laura Dern, Jeff Goldblum, Samuel L. Jackson, Sam Neill and BD Wong here.
Now about those Really Big Reptiles. They were created with a combination of imagery from Industrial Light & Magic and with life-sized animatronic dinosaurs built by Stan Winston's team. Yes they were life-size! These were Really Big Reptiles. I thought they looked lifelike when I watched it in the theater and I know why they were! Scary looking bastards they were.
Despite the impressive look of the film, it was actually cheap to produce costing around sixty million dollars. Crichton was smart as he only took a one point five million fee and instead got a guaranteed percentage of the gross, a gross which was over a billion in the end.
Did the critics like it? Yes for the most part though I thought they rightfully note almost all of them that the human characters came off as, errr, lacking in being real. Peter Travers of the Rolling Stone said that it was a "colossal entertainment—the eye-popping, mind-bending, kick-out-the-jams thrill ride of summer and probably the year" and Roger Ebert in his Chicago Sun-Times review noted that though it's a great SF film: "the movie is lacking other qualities that it needs even more, such as a sense of awe and wonderment, and strong human story values."
May I ask do we really need strong human characters when you've got Really Big Reptiles? I think not.
It went to create quite a franchise. The Lost World: Jurassic Park was next followed by Jurassic Park III, Jurassic World, Jurassic World: Fallen Kingdom, and A sixth film, Jurassic World Dominion, came out this month. Films four and five each grossed over a billion dollars with the other sequels doing well over a half billion.
It currently holds a ninety-two rating among audience reviewers at Rotten Tomatoes.
(9) TODAY'S BIRTHDAYS.
[Compiled by Cat Eldridge.]
Born June 11, 1927 — Kit Pedler. In the Sixties, he became the unofficial scientific adviser to the Doctor Who production team. One of his creations was the Cybermen. He also wrote three scripts — "The Tenth Planet" (co-written with Gerry Davis), "The Moonbase" and "The Tomb of the Cybermen".  Pedler and Davis went on to create and co-write the Doomwatch series. He wrote a number of genre novel including Mutant 59: The Plastic Eaters (co-written with Gerry Davis) and Doomwatch: The World in Danger. Another one who died much too young, by heart attack. (Died 1981.)
Born June 11, 1929 — Charles Beaumont. He is remembered as a writer of Twilight Zone episodes such as "Miniature", "Person or Persons Unknown", "Printer's Devil" and "The Howling Man" but also wrote the screenplays for several films such as Burn, Witch, Burn which was nominated for a Hugo at Discon I (no Award was given that year), 7 Faces of Dr. Lao and The Masque of the Red Death. He also wrote a lot of short stories, so let's see if there's digital collections available. Yes, I'm pleased to say, including several by legit publishers. Yea! (Died 1967.)
Born June 11, 1933 — Gene Wilder. The first role I saw him play was The Waco Kid in Blazing Saddles. Of course he has more genre roles than that starting out with Willy Wonka in Willy Wonka & the Chocolate Factory followed by the already noted Blazing Saddles and then Dr. Frederick Frankenstein in Young Frankenstein which won a Hugo at the first AussieCon. He was Sigerson Holmes in The Adventure of Sherlock Holmes' Smarter Brother, a brilliantly weird film whose cast also included Marty Feldman, Madeline Kahn, Dom DeLuise, Roy Kinnear and Leo McKern!  I've also got him playing Lord Ravensbane/The Scarecrow in The Scarecrow, a 1972 TV film based based on Nathaniel Hawthorne's short story, "Feathertop". (Died 2016.)
Born June 11, 1945 — Adrienne Barbeau, 77. Swamp Thing with her is quite pulpy. She's also in the Carnivale series, a very weird affair that never got wrapped up properly. She provided the voice of Catwoman on Batman: The Animated Series. And she was in both Creepshow and The Fog. Oh and ISFDB lists her as writing two novels, Vampyres of Hollywood (with Michael Scott) and presumably another vampire novel, Love Bites. Anyone here read these? 
Born June 11, 1959 — Hugh Laurie, 63. Best known as House to most folks whose series is streaming on Peacock right now and I really should rewatch it. His most recent genre role was as Mycroft Holmes in that wretched Holmes and Watson film. He's had past genre roles in The Borrowers, the Stuart Little franchise, Tomorrowland, Blackadder: Back & Forth and Randall & Hopkirk (Deceased). 
Born June 11, 1968 — Justina Robson, 54. Author of the excellent Quantum Gravity series which I loved. I've not started her Natural History series but have not added it to my digital To Be Read list, so would be interested in hearing from anyone here who has. I was surprised that she hasn't picked up any Hugo nominations so far, although her work has been up for other awards 18 times.
Born June 11, 1971 — P. Djèlí Clark, 51. I'm very much enjoying A Master of Djinn which made my Hugo nominations list this year. It follows his "The Haunting of Tram Car 015" novella and "The Angel of Khan el-Khalili" and "A Dead Djinn in Cairo", short stories, all set in his Dead Djinn universe. I've not read his "Black Drums" novella which garnered a Hugo nomination at Dublin 2019, nor the "Ring Shout" novella which got a Hugo nomination at DisCon III, so I welcome opinions on them. And I see his "The Secret Lives of the Nine Negro Teeth of George Washington" short story also got a 2019 Hugo nomination.  CoNZealand saw "The Haunting of Tram Car 015" pick up a nomination.
(10) COMICS SECTION.
Crankshaft gets another superpet joke out of the setup we linked to the other day.
(11) STRETCH GOAL. "More 'Spider-Man: No Way Home': Sony to Release Extended Cut In Theaters" reports Variety.
Are your spidey senses tingling?

Sony Pictures announced that "Spider-Man: No Way Home — The More Fun Stuff Version," a cut of the December 2021 Marvel film with added and extended scenes, will hit theaters over Labor Day Weekend.

The news came Friday evening in celebration of 60 years of the Spider-Man comic book character and 20 years of Spider-Man films, along with a teaser featuring a clip from the movie where Tom Holland and previous "Spider-Man" actors Tobey Maguire and Andrew Garfield unite.

"This is so cool. We should do this again," says Garfield's Peter Parker.

"You got it," Maguire's Peter replies….
(12) PEDAL TO THE METAL. On the 40th anniversary of E.T., Henry Thomas chats with Ethan Alter of Yahoo! Entertainment on how he filmed that bicycle scene. "'E.T.' at 40: Henry Thomas explains the movie magic behind the beloved film's famous flying bike scene".
It's a scene that every child of the '80s knows by heart: Riding through the California wilderness with his extra-terrestrial pal, E.T., riding shotgun — or, more accurately, riding shot-basket — young Elliott's bicycle lifts off from the forest floor and ascends into the sky until the two are silhouetted against the full moon. That image didn't just define Steven Spielberg's 1982 blockbuster — it also became the signature logo for his production company, Amblin Entertainment, gracing hundreds of beloved films and TV series. While that scene defines movie magic for audiences in the theater, for the film's young star, Henry Thomas, it was just another day on the job….
(13) FOZ DIDN'T DIG IT. This title tells you what Foz Meadows thinks of the new movie: "I Saw Jurassic World: Dominion So That You Don't Have To". BEWARE SPOILERS.
Jurassic World: Dominion is not a good movie. Let's get that out of the way up top. Given how terrible the first two Jurassic World movies were, I wasn't expecting it to be, and yet I felt the need to see it anyway, just to make sure. Possibly this coloured my perception of it from the outset, but generally speaking, I'm not a person who purposefully sets out to hatewatch things, as I'd much rather be pleasantly surprised by an okayish film than proven right by a dud. I will, however, spitefinish an aggravating film in order to justify writing about it afterwards, and having sat through all 146 minutes of Dominion – unlike my mother, who walked out of our session and went home after the first five minutes because it was so goddamn loud – I feel the need to save others the time and money of doing likewise….
(14) IF YOU BUILD IT, THEY WILL GET DRUNK. [Item by Mike Kennedy.] I do not want Shoeless Joe crushing the grapes for me. Especially after a full nine innings. "The baseball field in a wine vineyard" at MLB.com.
…It's there because, well, a guy and his team needed a place to play baseball.

"The field was built in 2002," Green said. "It was proposed by our vineyard operations manager, Manuel Vallejo, who's worked for the Ballettos for more than 30 years. Manuel asked [founder] John [Balletto] if they could plow about four acres for a baseball field. He was playing in a community league and his team was having a really hard time finding places to practice."

During that time, the Balletto family was in the middle of transitioning from a vegetable farm to a winery — so they were already razing old fields and planting new ones. John also thought it would be a good idea, a perk for employees and a fun addition to the property. So, the founder bought his baseball-loving employees the materials needed for construction and then Vallejo and his coworkers began building their vision. It took about a year to finish, and they proudly maintain it to this day. Vallejos' team is fittingly called Los Uveros or, The Grapers, and they play other community teams on Sundays with practices a couple times per week. Their jerseys are also as cool as you'd imagine….

…"Yeah, all of the sections are marked. Left into center field, we're growing Pinot Gris," Green told me. "Right field is Chardonnay. Left field, like foul ground, is mostly Chardonnay, Pinot Gris and there is a little bit of Pinot Noir out there."…
(15) NORWEGIAN WOOD. [Item by Martin Morse Wooster.] If they do three Troll movies, will that be a Trollogy?
Deep inside the mountain of Dovre, something gigantic awakens after being trapped for a thousand years. Destroying everything in its path, the creature is fast approaching the capital of Norway. But how do you stop something you thought only existed in Norwegian folklore?
[Thanks to Martin Morse Wooster, JJ, John King Tarpinian, Chris Barkley, N., Bonnie McDaniel, Jennifer Hawthorne, John A Arkansawyer, Andrew Porter, Michael Toman, Cat Eldridge, and Mike Kennedy for some of these stories. Title credit belongs to File 770 contributing editor of the day Jim Janney.]