(1) MEXICANX. The final four of 50 Mexicanx Initiative recipients have been announced by John Piciacio.
Proudly announcing the final four #MexicanxInitiative Sponsored Membership Recipients: Cody Jimenez @opattyg @FarrTehani & @RACRUFI! This completes our All-Star lineup of 50 Mexicanx talents, coming to @worldcon2018. More news tomorrow. #Mexicanx ???? pic.twitter.com/WDtBDQQgQ2

— John Picacio (@JohnPicacio) June 19, 2018
If you think all the news of brown kids being locked in cages is driving me harder to make #TheMexicanxInitiative a success, you're correct. Much more is needed RIGHT NOW, but if boosting Mexicanx creators today makes it harder to rip future families tomorrow, then it's worth it.

— John Picacio (@JohnPicacio) June 19, 2018
(2) DEEP DISH READING SERIES. Chicago's Deep Dish SF/F reading series will resume at Volumes Book Cafe beginning in September. Here is the schedule:
September 6, 2018
November 8, 2018
March 7, 2019
May 9, 2019

Join us from 7 – 8:30 p.m. for a rapid-fire reading from the best of Chicago's SF/F scene!

If you're interested in reading with us, drop the SLF's director, Mary Anne Mohanraj, a note — [email protected], with the subject line READING SERIES. We welcome beginners, emerging, and established writers, though if you have a book coming out next year, do let us know, as we'll try to schedule you for a featured slot.

Co-sponsored by the Speculative Literature Foundation (www.speclit.org), SFWA (www.sfwa.org), and the Chicago Nerds Social Club (www.chicagonerds.org).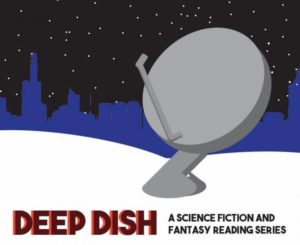 (3) BUILDING THIS WORLD. Malka Older's talk on "Speculative Resistance" at #PDF18 is available on YouTube. Think about worldbuilding as an activist tool and a planner tool.
(4) NEWS TO THEM. We should be celebrating when someone is one of today's Lucky 10,000 — A. Merc Rustad encourages the idea in a Twitter thread that starts here.
We don't look down on modern readers for being several thousand years late to the party for not reading Gilgamesh or the Illiad when they first hit shelves.

No one's mad that kids these days weren't packing the seats at the premier of Shakespeare's plays.

Art has no exparation.

— A. Merc Rustad (@Merc_Rustad) June 18, 2018
(5) IT'S WAR. Manchester, UK theatergoers can enlist for War With The Newts, with the campaign to be staged October 2-6.
The creators of smash-hit "Bin Laden: The One Man Show" bring you Karel Capek's apocalyptic science-fiction satire re-imagined for a Europe of tomorrow. Global risk and technological revolution come together in this immersive experience from Knaïve Theatre. Fresh from the Edinburgh Fringe Festival.

Witness the rise and fall of a new(t) capitalism. Deep in the bowels of an oyster-dredging vessel, an ocean of opportunity arises as a new resource makes contact. With live surround sound installation by sonic artist Robert Bentall.

At the discretion of The Company life jackets may be provided.
(6) CHECK THE BACK OF YOUR CLOSET. Yahoo! Finance advises "Your old video games could be worth serious cash".
That's right, those vintage consoles and games your mom dumped in the basement years ago could be worth some serious cash to the right buyer. Got a copy of "Nintendo World Championships 1990?" Then you're looking at $100,000. But it's not all about the cash. Many collectors are more interested in rounding out their personal game libraries, reliving the games they loved as children or simply exploring the history of the gaming industry first-hand.
(7) TIME TUNNELS. The New York Transit Museum's exhibition "Underground Heroes: New York Transit in Comics" runs from June 21 through January 6, 2019.
New York's rich visual vernacular is a colorful setting for illustrated stories, so it comes as no surprise that our iconic transportation system plays a starring role in comics and graphic novels. Drawing on satirical cartoons, comic strips and comic books from the 19th through the 21st centuries, Underground Heroes: New York Transit in Comics is a raucous ride through New York's transit system from a range of visual storytellers. The exhibit includes such luminaries as Winsor McCay, Will Eisner, Bill Griffith, Roz Chast, Ronald Wimberly and Julia Wertz whose work demonstrates the influence that mass transit has on the stories that are irrevocably woven into the cultural fabric of New York City.

The Big Apple is often as important as the people (and creatures) in comics narratives, and the creators of these fantastic stories draw inspiration from the world around them. The transit system serves as the scene for heroic rescues, as secret lairs for supervillains, and as the site for epic battles of wills. Subways, railroads, streetcars, and buses can whisk heroes to far-flung corners of the city, or serve as a rogue's gallery of unusual characters.
(8) SPACE FORCE. More Star Wars? "Trump Calls For 'Space Force' To Defend U.S. Interests Among The Stars" – NPR has the story.
President Trump Monday announced his intention to create a "space force" that would oversee the military's activities off-world.

"When it comes to defending America, it is not enough to merely have an American presence in space," Trump said at a meeting of the National Space Council, which oversees the nation's space policy. "We must have American dominance in space. So important."

"I'm hereby directing the Department of Defense and Pentagon to immediately begin the process necessary to establish a space force as the sixth branch of the armed forces. That's a big statement," the president continued.

Experts were quick to point out that President Trump cannot actually create a space force. A new branch of the military can only be established by an act of Congress — something that hasn't happened since the Air Force was split from the Army in 1947.
The CBS News story "Trump directs Pentagon to create military Space Force" adds:
Mr. Trump provided no details and no timetable, but the establishment of a new branch of the military would be a major undertaking requiring extensive debate and congressional support.

The Pentagon's chief spokesperson Dana W. White issued a statement suggesting the process will take some time.

"We understand the President's guidance. Our Policy Board will begin working on this issue, which has implications for intelligence operations for the Air Force, Army, Marines and Navy. Working with Congress, this will be a deliberate process with a great deal of input from multiple stakeholders."

In a letter to lawmakers last year, Defense Secretary James Mattis "strongly" urged Congress to reconsider a proposal to establish a separate "Space Corps," saying it was "premature" to set up a new organization "at a time I am trying to reduce overhead."
(9) SPEAK OF THE DEVIL. "Amazon Echo comes to Marriott hotels" reports the BBC. The fannish possibilities are endless…
Amazon's digital assistant Alexa will be installed in some US Marriott-owned hotels, following a partnership between the two firms.

Its functions will include ordering room service, housekeeping and providing concierge advice, the firm said.

The Wynn Resorts chain in Las Vegas installed the Amazon Echo in around 5,000 hotel suites in 2016.

Marriott is reported to have considered both Alexa and Apple's Siri.
(10) HOMEBUILT. "The $300 system in the fight against illegal images" is a story reminiscent of Gernbackian inventor SF — but for a cause that old SF probably couldn't have discussed in print.
A security researcher has built a system for detecting illegal images that costs less than $300 (£227) and uses less power than a lightbulb.

Christian Haschek, who lives in Austria, came up with the solution after he discovered an image showing child sex abuse had been uploaded on his image hosting platform Pictshare.

He called the police, who told him to print it out and bring it to them.

However it is illegal to possess images of child abuse, digitally or in print.

"Erm… not what I planned to do," Mr Haschek said.

Instead he put together a homegrown solution for identifying and removing explicit images.

Mr Haschek used three Raspberry PIs, powering two Intel Movidius sticks, which can be trained to classify images. He also used an open source algorithm for identifying explicit material called NSFW (Not Safe For Work), available free of charge from Yahoo.
(11) REVEALED. "And just look at that gorgeous cover by Reiko Murakami," says JJ. Click through for a view — "A Smugglerific Cover: THE NINETY-NINTH BRIDE by Catherine Faris King".
About the Novel

"Sister, would you please tell me a story?"

Dunya is fifteen when her father, the Grand Vizier, gives her over to the mad Sultan for his bride. Ninety-eight Sultanas before Dunya have been executed, slaughtered at the break of dawn following their first night with their new husband. But on her own wedding night, the ninety-ninth bride finds help from the mysterious and beautiful Zahra, who proposes to tell the Sultan a story…

The Ninety-Ninth Bride is a story of sisters and magic, and a kingdom on the brink of disaster.
(12) TODAY IN HISTORY
June 19, 1964 — The Twilight Zone aired its series finale, "The Bewitchin' Pool," written by Earl Hamner.
(13) TODAY'S BIRTHDAYS
Born June 19 – Zoe Saldana, 40. Both Guardians Of The Galaxy films, the entire Avatar film series, Star Trek series, and Pirates of the Caribbean: The Curse of the Black Pearl to name but a few of her genre films.
Born June 19 – Aidan Turner, 35. The Hobbit film trilogy, the BBC Being Human series, and The Mortal Instruments: City of Bones film.
(14) DAMMIT, JIM, I'M A DOCTOR NOT A TEAMSTER. Syfy Wire says these comics will take us where no truck has gone before: "A new IDW comic is mashing up Star Trek and Transformers in the most glorious way possible".
DW Comics, which has taken the crew of the U.S.S. Enterprise on adventures with everyone from Doctor Who to Dr. Zaius, will be releasing a crossover comic titled Star Trek vs. Transformers. The four-issue miniseries is due out in September and will be written by John Barber and Mike Johnson, both of whom have written numerous Star Trek and Transformers comic book storylines.

…Artist Philip Murphy and colorist Leonardo Ito will be providing its distinct look, which will blend the unique aesthetic of 1973's Star Trek: The Animated Series with 1984's classic Transformers cartoon.
(15) WOMEN WRITERS OF THE SEVENTIES. James Davis Nicoll's Tor.com series continues with the letter P: "Fighting Erasure: Women SF Writers of the 1970s, Part VIII".
Katherine Paterson's list of awards includes the Newbery, the National Book Award, the Hans Christian Andersen Award, and the Astrid Lindgren Memorial Award, among others. Her well-known novel Bridge to Terabithia, which helped inspire the Death by Newbery trope, is if not genre, then at least genre-adjacent. Bridge is strongly recommended to parents of children unduly burdened with excessive levels of joie de vivre.
(16) THE COMPETITION. Meg Elison reports Jason Sanford is kicking File 770's ass. Well, it certainly makes more sense to send Sanford a buck for news that isn't reported here than to reward Locus Online for posting news they found reading here.
Gossip that's kind, useful, helpful, and absolutely worth $1. Sanford's on it, before File 770 and always with receipts. https://t.co/efDh0NSjWZ

— Meg Elison (@megelison) June 19, 2018
(17) SPEAK, MEMORY. Wired says we have this to look forward to: "Now the Computer Can Argue With You". The coming rise of our AI overlords now includes machine intelligence engaging in live formal debate with human debate champions… and maybe winning.
"Fighting technology means fighting human ingenuity," an IBM software program admonished Israeli debating champion Dan Zafrir in San Francisco Monday. The program, dubbed Project Debater, and Zafrir, were debating the value of telemedicine, but the point could also apply to the future of the technology itself.

Software that processes speech and language has improved enough to do more than tell you the weather forecast. You may not be ready for machines capable of conversation or arguing, but tech companies are working to find uses for them. IBM's demo of Project Debater comes a month after Google released audio of a bot called Duplex booking restaurants and haircuts over the phone.

IBM's stunt Monday was a sequel of sorts to the triumph of its Watson computer over Jeopardy! champions in 2011. Project Debater, in the works for six years, took on two Israeli student debating champions, Zafrir and Noa Ovadia. In back-to-back bouts each lasting 20 minutes, the software first argued that governments should subsidize space exploration, then that telemedicine should be used more widely.
(18) QUICK SIPS. Charles Payseur gets to work on new releases in "Quick Sips – Uncanny #22 [June stuff]".
Uncanny meets June with three stories and two poems and a decidedly dark tone. In these pieces people struggle with big issues. With systems and environments that are broken, that are hungry for blood. Where monsters and demons lurk. And they are settings where the characters are expected to accept their victimization, where if they struggle it will only hurt them more. Only, of course, these characters don't accept that. Instead, they push back against these environments and when they meet someone who might have the power to change things, they seek to use that power. To convince it or take it in order to remake the world. Or to right a wrong situation. The stories are often violent, and uncomfortable, but they also shine with resilience and with care, and with the hope that things can get better. To the reviews!
(21) BOYCOTTING WENDIG. This protest has been just as effective as the Tor Boycott, wouldn't you say? Chuck Wendig's Twitter thread starts here.
If we look at my print sales of AFTERMATH through Nielsen — leading up to that 5/31, I sold 185 print copies, then the two weeks after, I sold 253, then 266.

— Chuck Wendig (@ChuckWendig) June 19, 2018
Sales on the other two SW books saw a similar jump, though a softer gain on that second week — and my books in TOTAL, all novels in print, jumped by about 40% (and in second week, dropped a little, showing only a 30% gain from that first week).

— Chuck Wendig (@ChuckWendig) June 19, 2018
(22) ENTRY LEVEL SUPERHERO. The Washington Post's Sandie Angulo Chen interviews Huck Milner, who plays Dash Parr in The Incredibles 2: "'Incredibles 2' is a super first acting job for 10-year-old".
Luckily for Huck, the filmmakers decided to replace the original voice actor, who is now in his 20s, with a more authentic-sounding 10-year-old's voice. Back in fourth grade, Huck did the first audition, got a call for a meeting with the director, Brad Bird, and then received news so good, he thought it was a prank.

"I got the call that I had gotten the part, and I thought it was an April Fool's joke, because my mom told me right around April Fool's," Huck recalled. "I really thought it was a joke."
(23) EXPANDING UNIVERSE. Jennifer Maas, in "Alex Kurtzman Signs New Five-Year CBS-TV Overall Deal, WIll Expand Star Trek TV Universe" for The Wrap, says that Kurtzman has been named showrunner for Star Trek :Discovery and has his five-year pact to produce "new series, mini-series, and other content opportunities" related to Star Trek.
Under the agreement, CBS will have exclusive rights to produce all television content created and developed by Kurtzman's new company, Secret Hideout, which is producing "Discovery."

Kurtzman's new deal comes after he split with his longtime producing partner Roberto Orci and their K/O Paper Products banner. Heather Kadin, formerly of K/O, will join Secret Hideout as president of television. Kadin previously worked at Warner Bros. and ABC, where she was instrumental in the development and production of such hit series as "Lost," "Grey's Anatomy," and "Alias."
(24) CAPTAIN SIR PAT. Rumors say that Star Trek, under Kurtzman, might venture someplace man has gone before:
The Hollywood Reporter claimed on Tuesday (June 19) that Sir Patrick Stewart is attached to a brand new Star Trek series in development at CBS that will see him reprise his Next Generation role as Picard.

The project is reportedly one of several Star Trek series and miniseries that are being developed by Star Trek: Discovery showrunner Alex Kurtzman as part of his newly-signed multi-year production pact with CBS.

THR notes that the Picard series is in very early development, and might not happen at all, so it's probably best that fans of The Next Generation don't get their hopes up for a return of the Holodeck quite yet.
[Thanks to JJ, John King Tarpinian, Cat Eldridge, Chip Hitchcock, Martin Morse Wooster, Mike Kennedy, Carl Slaughter, and Andrew Porter for some of these stories. Title credit goes to File 770 contributing editor of the day Daniel Dern.]