(1) BEA ACCESS ISSUE. Black comic book artist Tee Franklin, an invited Book Expo America panel participant who uses a wheelchair, arrived at today's item and found there was no ramp allowing her to get on the platform with other panelists. She wrote a Twitter thread about the experience — it starts here:
I want to thank Kat from @ImageComics who reached out to the folks @Reed_POP and told them about what went down during this panel. The VP of ReedPop came down to the booth, apologized & asked how can they do better.

— TEE @ BOOK EXPO AMERICA (@MizTeeFranklin) June 2, 2018
The moderator — who probably should have been aware in advance of the panelists and their backgrounds, who the panelist says knows her, and knows that she's disabled — wasn't paying attention and didn't think as soon as they arrived to call the con management and say "we need a ramp in this room, STAT".
Here's one of the many tweets in support.
In the same vein as @intelligentwat, #BookCon2018: REMEMBER YOUR DISABLED PANELISTS. I'm at the Diversity in Graphic Novels panel and there was NO RAMP for Tee Franklin. She rightfully left due to this egregious oversight. Photo: panelists moving their chairs & mics to the floor pic.twitter.com/iEb5ZOFmGi

— Monique Laban (@endorphinique) June 2, 2018
Franklin adds that this is chronic occurrence:
I did THREE PANELS IN A ROW IN 2 DIFFERENT STATES & NONE had ramps!!!! I'm so tired. So quitting was NEEDED. Stop treating me like an afterthought. I am somebody!

— TEE @ BOOK EXPO AMERICA (@MizTeeFranklin) June 2, 2018
(2) YOUNG PEOPLE RETURNS! James Davis Nicoll launches a new round of Young People by having them listen to a radio adaptation of Frederik Pohl's "The Tunnel Under The World".
Welcome to the first installment of Young People Listen to Old SFF, an experiment to see if old science fiction and fantasy radio shows aged better than old science fiction and fantasy. Unsurprisingly, my first selection is from that classic old time SF radio show, X Minus One.

To quote from my tor dot com piece: NBC's Dimension X (1950-1951) and X Minus One (1955-1958) shared a network, some staff and initial source material for scripts. The first fifteen scripts for X Minus One were repurposed Dimension X scripts. Although the shows began by adapting stories from Astounding, X Minus One turned to more sophisticated material from Galaxy Magazine. I prefer X Minus One over Dimension X, so I've snagged two episodes from the first and none from the second. As I've said before, DX had the all time best ad lib: immediately after a character in one play made an impassioned plea for world peace, the news broadcasters broke in to announce the outbreak of the Korean War.
Among other things, the panel says this show failed the Bechdel Test!
(3) SILENCED, Heather Altfeld explains how "Every Day, Another Language Dies" at Lit Hub.
…Recent broadcast from the terrarium of sadness and destruction: it will take between ten and fourteen days from now for another of the world's 6,900 languages to die out. So let's say that today the last speaker of something somewhere is dying.

Exhibit A: Alban Michael. Out of the 7,700,000,000 people on earth, he was only one left who could speak Nuchatlaht. He lived near Nootka Island, he spoke to his parents in dreams, as there was no one left to speak to him. And then one year ago, he was gone, himself a dream, his language buried with him….
(4) POLITICS IN SF? YES. The Village Voice's Carol Cooper is "Catching Up With the Next Generation of Sci-Fi Writers".
…Surely in a community that attracts atheists, Wiccans, CIA agents, physicists, semioticians, libertines, libertarians, and unrepentant Trotskyites, one might anticipate a few political debates. More recent controversies have centered on fears that "political correctness" is taking the field too far away from the kinds of themes and characters that ruled SF in the 1930s, '40s, and '50s. Evidently, gay, non-white, and feminist themes and writers were getting too much attention in the 21st century, leaving straight, white protagonists with conservative plot lines unfairly ignored. But gathering to learn and play at regional and national conventions is one way these schisms in the larger SF community are addressed and eventually healed.

At Nebula Con, we discussed these questions of diversity in SF on panels like "How to Decolonize Your Fiction" and "Collaborations: More Than the Sum of Their Parts." For the former, book agent DongWon Song asked a roundtable of non-white authors if it's possible to write fiction free of the influence of Western imperialism and white supremacy. Bill Campbell, a middle-class, half-Jamaican author and publisher, described how after a white agent accidentally told him his work "wasn't ghetto enough," he reacted by self-publishing the satiric Koontown Killing Kaper, a gumshoe fantasy in which vampire crack babies are accused of murdering local rappers. Frustrated by the overly narrow expectations of existing publishers, he started Rosarium Publishing in 2013 as a home for multicultural SF, comics, nonfiction, and crime fiction that doesn't pander to the "white gaze" and disregards stereotypical assumptions….
(5) THE COCKY CROWS. Here's the Authors Guild update on "Cockygate" — "Authors Guild and RWA Prevail in Court Defending Authors in "Cocky" Trademark Dispute".
The Authors Guild and the Romance Writers of America (RWA) joined forces in this case to defend the principle that no one should be able to own exclusive rights to use a common word in book or book series titles. In ruling against the author Faleena Hopkins, who claimed exclusive rights to "cocky" for romance titles, Judge Alvin Hellerstein of the Southern District of New York, stated that he did not believe that Hopkins was likely to succeed on the merits.

…When Hopkins' trademark registration was issued in April, Hopkins sent notices to multiple authors telling them to change the titles of their books and asked Amazon to take down all other cocky-titled romance books (not just series).

That is when the Authors Guild stepped in to defend the authors whose books were targeted. The Guild and the RWA separately requested that Amazon put the books back up, since the trademark claims were disputed, and it promptly complied. The two groups then jointly hired the Authors Guild's outside counsel, Cowan Debaets Abrahams & Sheppard, to write a letter to Hopkins on behalf of Tara Crescent, author of another "Cocky" book series (and an Authors Guild member).

In response, Hopkins filed a lawsuit in the Southern District of New York against three people: Crescent, author and lawyer Kevin Kneupper (who challenged Hopkins' trademark registration), and book publicist, Jennifer Watson. In doing so, Hopkins asked for a temporary restraining order to prevent the May 26th publication of a collection of stories by different authors, entitledCocktales: The Cocky Collective (Hopkins incorrectly named Watson as the publisher). The Guild's attorneys prevailed in court last Friday the 25th to prevent the temporary restraining order and again today in a hearing on Hopkins' motion for a preliminary injunction.

We opposed the attempt to block publication of a book, arguing: "Any order that restricts creative expression in favor of promoting the tenuous (at best) purported rights of a single author is simply contrary to the public interest in freedom of expression."

Judge Hellerstein agreed and found that Hopkins was not likely to succeed on the merits because the word "cocky" is a common and weak trademark, there was no evidence of actual confusion, and romance readers are sophisticated consumers—meaning that they are not likely to confuse Hopkins' and Crescent's books.

You can read our papers here, filed jointly with attorneys for Kneupper and Watson.
(6) GRIDLOCK. The Ogden UnCon takes place June 7-9, 2019 in Ogden, Utah. That means there are three general SF cons scheduled within the same month — UnCon, FyreCon, and Westercon — all within 10 miles of each other.
(7) NOT TAKEI TOO? Washington Post op-ed writer Eric Berkowitz considers "The case against George Takei was always weak. Why were we so quick to believe it?".
… But there was always a lot wrong with the Brunton story. Unlike Weinstein, C.K. or Spacey, Takei had never been known — even in whispers — for sexual misconduct. And Brunton's tale didn't quite hang together. He didn't accuse Takei of drugging him until days after he first contacted the media, and, as detailed in a recent Observer article , he hadn't even suspected that Takei had spiked his drink until years after the incident, when he read about the accusations against Bill Cosby. According to Shane Snow's reporting, if Brunton had been given one of the date rape drugs in use back then, he probably would have no memory of what happened. Finally, Brunton told the Observer that he didn't recall any touching by Takei. What began as an accusation of sexual assault was now, for Brunton, "a great party story" and "just a very odd event." Takei responded to the Observer article with relief, tweeting, "I wish him peace."…

The result is that we are too ready to believe that George Takei committed sexual assault and to assume that gay men are prone to it. We don't know exactly why there was a rush to judgment against Takei — in the immediate wake of #MeToo, there were so many accusations being hurled, it was hard to keep track — but we can reflect on why so many of us are inclined to think the worst.
(8) DABNEY OBIT. NPR reports "Ted Dabney, Co-Founder Of Atari And Video Game Pioneer, Dies At 81". He also co-founded the ancestor of Chuck E. Cheese's.
Dabney, who generally went by Ted, and Nolan Bushnell had been working together at an electronics company called Ampex back in the mid-1960s, and Bushnell had an idea for a "carnival-type pizza parlor," Dabney recalled in 2012.

"It's one of these things, you have these ideas and no way you could ever make it happen," he told the Computer History Museum. "I mean, you could barely afford the pizza, much less buy a pizza place."

Turns out he was right — they couldn't afford to start a pizza place, at least not then. But those conversations did start a tumultuous partnership that would, within just a few years, go on to create Atari, introduce Pong as a cultural phenomenon and help blaze a trail for the very medium of video games as we know them today.
(9) TODAY IN HISTORY
June 2, 1977  — Capricorn One premiered
(10) TODAY'S BIRTHDAYS
Born June 2, 1915 – Lester Del Rey, sf author
Born June 2, 1945 – Jon Peters, Executive Producer of Batman Returns, Producer of Batman, The Witches Of Eastwick and the Wild Wild West film.
Born June 2, 1977 – Zachary Quinto, the new Mr. Spock
Born June 2, 1978 — Dominic Cooper (Jesse in Preacher, Howard Stark in Agent Carter and  Captain America: The First Avenger and a role in Abraham Lincoln: Vampire Hunter.)
(11) HIRSUTE KNOWLEDGE. Camestros Felapton has posted the answers to his sff author beard identification quiz. How did you score?
(12) A FRIGHT AT THE OPERA. Broadway World says a Bradbury-inspired opera will open this summer: "Sci-Fi Opera THE BRADBURY TATTOOS To Premiere This July".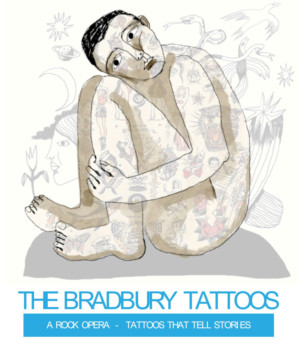 In the nearly 70 years since late author Ray Bradbury published "The Illustrated Man," various short stories in the classic science fiction anthology have been adapted for film, stage and television. Now, four of them serve as the basis for "The Bradbury Tattoos," an ambitious new rock opera, scheduled to premiere July 13 and 22 at Memorial Hall in Cincinnati.

Written by composer Zac Greenberg and librettist Michael Burnham, "The Bradbury Tattoos" will be presented by concert:nova, a contemporary-classical ensemble founded by musicians from the Cincinnati Symphony Orchestra. Partial funding for the production is provided by the National Endowment for the Arts.

"The opera is in four movements," Greenberg explained. "The first three movements happen simultaneously, in different rooms. The audience moves from room to room, and then everyone comes together in the main hall for the grand finale."

Stylistically, the movements range from classical string quartet to avant-garde classical, folk and big band. Though the stories are different, they share a common theme of humans coping with a frightening future:

"Kaleidoscope" – The crew of a disabled spacecraft reflects on their lives, while drifting toward death.
"Zero Hour" – Children play a game called "Invasion," which turns out to be more than a game.
"The Highway" – A husband and wife who live near a highway help refugees fleeing a nuclear war.
"The Last Night of the World" – A married couple goes about their normal routines, despite realizing that the world is about to end
(13) CAREFULLY TAUGHT. The BBC asks: "Are you scared yet? Meet Norman, the psychopathic AI" — another demo that data matters when teaching an AI.
Norman is an algorithm trained to understand pictures but, like its namesake Hitchcock's Norman Bates, it does not have an optimistic view of the world.

When a "normal" algorithm generated by artificial intelligence is asked what it sees in an abstract shape it chooses something cheery: "A group of birds sitting on top of a tree branch."

Norman sees a man being electrocuted.

And where "normal" AI sees a couple of people standing next to each other, Norman sees a man jumping from a window.

The psychopathic algorithm was created by a team at the Massachusetts Institute of Technology, as part of an experiment to see what training AI on data from "the dark corners of the net" would do to its world view.
(14) SCARE THE HELL INTO YOU. The hype machine says "Hereditary: The 'scariest film for years' is coming".
It's been described as "the singularly most terrifying horror film in years" and "a new generation's The Exorcist".

Horror movie Hereditary has become one of 2018's most eagerly anticipated releases after scaring and impressing critics in equal measure.

Actress Toni Collette is coming in for particular praise as a woman whose family has demons in its DNA.

Bustle said it's "truly unlike anything you've seen before", while The AV Club called it "pure emotional terrorism".

The film is released in the US on 8 June and in the UK a week later.
(15) CAT HELP WANTED. In San Diego a "Beloved book store closing after 53 years" – and the bookstore cat, Bartleby, is unemployed!
It's the end of an era on Adams Avenue in Normal Heights. After 53 years, the Adams Avenue Book Store is set to close its doors.
(16) ROAD ROCKET. Messy Nessy shares its photo album of "Fantastic French Publicity Caravans of Yesteryear", which begins with this epic vehicle:
My wormhole began with this photo of the world's first (possibly only) vehicle-shaped pen, the BIC mobile, photographed at the Tour de France in 1953. I've never been an avid follower of the annual cycling race that was created in 1903 by a French newspaper as a gimmick to sell more papers– but this? Give me a parade of the wackiest concept cars and publicity vehicles, and you've got my attention!
[Thanks to Robin Reid, Chip Hitchcock, Cat Eldridge, John King Tarpinian, JJ, David Doering, Mike Kennedy, Martin Morse Wooster, Greg Hullender, Carl Slaughter, and Andrew Porter for some of these stories. Title credit goes to File 770 contributing editor of the day Andrew.]