(1) ARISIA'S LATEST REFORMS. Boston's Arisia conrunning group is taking steps to create "A More Welcoming Arisia". The post begins:
Black Lives Matter. While we don't have a time machine to prevent the injustices of the past, we certainly have the power and the duty to correct present injustices and prevent future injustices in the spaces we are responsible for creating. Actions speak louder than words, and we are determined that our actions will reflect our resolve to make Arisia a more diverse, more welcoming space.
Changes have been made to the Arisia Code of Conduct:
We have replaced some language that has been weaponized against BIPoC or used to police their behavior. In particular, we strive to avoid coded words like "intimidating" and "civilized". We can and will continue to clarify our expectations of Arisia attendees, but we will do it in ways that do not alienate fans of color.
We have added "display of hateful iconography" to the list of behavior the Code of Conduct explicitly forbids, with reference to the iconography listed on the SPLC and ADL websites.
In light of our knowledge of endemic police racism and brutality in interactions with BIPoC, we have removed suggestions that Arisia would involve the police, either reactively in response to prohibited behavior, or proactively by encouraging a police presence. In the past, we have sometimes paid for Boston Police Department details during the convention, but we commit to ending this practice.
We have clarified the protected classes, including race, to which our harassment policy pertains.
They have retired the "Lens" logo.
This artwork too closely resembles a modern police badge, which has become a symbol of oppression.
It is being replaced with Lee Moyer's winged-A logo designed for Arisia 2017.
They have formed an Anti-Racism Committee "dedicated to educating ourselves about the injustices suffered by BIPoC and how to become actively anti-racist." They also are "re-committing to supporting the convention's Diversity Committee, which exists to make the Arisia convention a safer, more welcoming space for fans of color."
(2) PROGRESS REPORT. Good news from DreamHaven Books in Minneapolis: "We have achieved a proper glass door! Now we even look open. Noon-6, Monday-Saturday."
And on June 17, publisher Catherine Lundoff spoke at DreamHaven Books about owning and operating a small press. The title of the the talk was "The Return of Running a Small Press: It's an Adventure" and it also featured a live Q&A on Facebook.
(3) FREE READS FROM SOMTOW. Somtow Sucharitkul is giving away three free ebooks on Amazon THIS WEEKEND ONLY — from now till 23:59 Sunday night.
The Vampire's Beautiful Daughter • A book for young adults, this was a Junior Literary Guild selection as well as a Science Fiction Book Club selection. It's about a half Jewish, half Lakota boy with some cultural identity issues who befriends a girl in school whose problem leaves his in the dust: she's half human and half vampire. And she has to pick a side before she turns sixteen.…

Light on the Sound • the first volume of a series set in a galactic empire of incredible beauty and brutality. Of this series, reviewers said:

"He can create a world with less apparent effort than some writers devote to creating a small room … yet these tales are intricately wrought as those handcarved oriental balls within balls" — The Washington Post

"His multicultural viewpoint may yet give us the best SF novel of all time" — Analog

After a twenty year silence, I've added a fifth book to the series, and am working on a sixth, so this book is by way of introduction.

The final free book is Sounding Brass. It is an autobiographical memoir about the time I spent as a student ghost-writing music that was presented as the work of a cabinet minister during the Vietnam War. It's definitely a worm's eye view of "the swamp" with major political figures making cameo appearances, but although it's definitely a funny book it also asks some questions about what "being an artist" really means.

To get these books for free, please make sure you order them from Amazon during the window of Saturday the 20th – Sunday the 21st, Pacific Standard Time.

Please enjoy the books and, if you so desire, visit my website (www.somtow.com) and sign up for the newsletter, and you'll receive news and the occasional free ebook.
(4) IN PRAISE OF VIRTUAL CONS. Polish fan Marcin Klak discusses "Online Conventions and Where to Find Them" at Fandom Rover. His post is a great window on what's been done in this line in Europe.
… All in all, I found the conventing online is really rewarding. The feeling is different than the one at the in-person cons but it has also some similarities. The most important aspect is that it allows me to socialize with fellow fans. I do hope that sooner rather than later in-person cons will be possible, but even then I think I would like to find some time for the online events. They have their own certain value not only as a "replacement" but also as events worth spending time on even in the "regular" times.
(5) UFO #8. Alex Shvartsman has released the Unidentified Funny Objects 8 table of contents. He expects the book to be released by early October.
Foreword by Alex Shvartsman
"The 10:40 Appointment at the NYC Department of Superhero Registration" by Chris Hepler
"Soul Trade" by Galen Westlake
"A.I., M.D." by Kurt Pankau
"The Fellowship of the Mangled Scepter" by James Wesley Rogers
"When the "Martians" Return" by David Gerrold
"Welcome Home" by Simon R. Green
"The Unwelcome Mat" by J. J. Litke
"Get Me to the Firg-<click><cough>-xulb On Time" by Laura Resnick
"Black Note, in His Transition to a Supreme State of Wokeness" by James Beamon
"The Other Ted" by Wendy Mass and Rob Dircks
"C.A.T. Squad" by Gini Koch
"Ambrose Starkisser" by Jordan Chase-Young
"Gommy" Amy Lynwander
"Journey to Perfection" by Larry Hodges
"Fifteen Minutes" by Mike Morgan
"Zaznar the Great's Fifty-Sixth Proposal to the Council for Urban Investment" by Jared Oliver Adams
"Terribly and Terrifyingly Normal" by Illimani Ferreira
"Couch Quest" by Eric D. Leavitt
"Pet Care for the Modern Mad Scientist" by Michael M. Jones
"The Punctuation Factory" by Beth Goder
"One Born Every Minute" by C. Flynt
"Shy and Retiring" by Esther Friesner
"Suburban Deer" by Jamie Lackey
"Body Double" by Jody Lynn Nye
(6) PAWS FOR ENJOYMENT. I've learned you can support George R.R. Martin's Jean Cocteau Theater in Santa Fe by accessing the "Quarantine Cat Film Festival" (mentioned in yesterday's Scroll) with a virtual ticket purchased through their site. The link will take you there.
…Jean Cocteau Cinema presents Quarantine Cat Film Festival. Amateur filmmakers from around the world filmed their beloved cats during COVID-19 stay-at-home orders. This compilation reel brings together the cutest, funniest, brave stand most loving of these videos, exclusively filmed during the pandemic.
(7) MEDIA BIRTHDAY.
June 1997 — Will Shetterly's Dogland was published by Tor Books. The Chopping Block was listed as the cover artist. Shetterly has said it's the novel that he's most proud of. The story is based on his own childhood and a business that his parents owned called Dog Land. In 2007 Shetterly published a sequel, The Gospel of the Knife. Reviewers including Faren Miller, Ellen Kushner, Gahan Wilson and Peter Crowther praised both the characters and the setting. (CE)
(8) TODAY'S BIRTHDAYS.
[Compiled by Cat Eldridge and John Hertz.]
Born June 20, 1897 — Donald Keyhoe. Early pulp writer whose works included the entire contents of all three published issues of the Dr. Yen Sin zine. The novels were The Mystery of the Dragon's Shadow, The Mystery of the Golden Skull and The Mystery of the Singing Mummies. He would create two pulp characters, one with ESP who was a daredevil pilot and one who was blind that could see none-the-less in the dark. He's best remembered today for being one of the early believers in UFOs and being very active in that community. (Died 1988.) (CE)
Born June 20, 1913 — Lilian Jackson Braun. Author of The Cat Who… series which really may or may not be genre. The two cats in it are delightful and one, Koko, certainly has a sixth sense, but the author never suggests this is psychic. The first, The Cat Who Could Read Backwards, was published in 1966. She'd publish twenty-nine more novels plus three collections of The Cat Who… shorter tales over the next forty years. Good popcorn reading. (Died 2011.) (CE)
Born June 20, 1919 – Kees Kelfkens. A dozen covers for Dutch translations. Here is The Narrative of A. Gordon Pym. Here is The Two Towers. Here is Nineteen Eighty-Four. (Died 1986) [JH]
Born June 20, 1920 – Lloyd Eshbach. Fan, pro, church publisher and Evangelical Congregational minister. First sold SF 1930 to Scientific Detective Monthly; thirty more short stories. Founded Fantasy Press and helped other small presses; edited Of Worlds Beyond about pro writing. Pro Guest of Honor at Cinvention the 7th Worldcon (Cincinnati); reminiscences of the 1st, 6th, 7th, 10th, 39th, 41st, for the 47th (Noreascon III Program Book). Last novel 1990, The Scroll of Lucifer. (Died 2003) [JH]
Born June 20, 1941 – Pamela Zoline. Illustrated several stories for New Worlds, see e.g. this for "Camp Concentration". Her most famous story "The Heat Death of the Universe" has been translated into Croatian, German, Japanese, Polish; five more. You can read "Heat Death" here [PDF]. In 1984, with husband John Lifton and five others, founded the Telluride Institute at Telluride, Colorado; in 2006, she and JL founded the Centre for the Future at Slavonice, Czech Republic. [JH]
Born June 20, 1950 – Bruce Dane. Attended L.A.Con the 30th Worldcon; first President of the Central Arizona Speculative Fiction Society; after Los Angeles and Phoenix, Colorado Springs. A filker; at his death Bill Mills sang "Don't Bury Me in the Cold Cold Ground" to which you could once and might still get access here [PDF]; the File 770 report is here. (Died 2008) [JH]
Born June 20, 1951 — Tress MacNeille, 69. Voice artist extraordinaire. Favorite roles? Dot Warner on The Animaniacs, herself as the angry anchorwoman in Elvira, Mistress of the Dark, Babs Bunny on Tiny Toons and Hello Nurse on Pinky and The Brain. (CE)
Born June 20, 1947 — Candy Clark, 73. Mary Lou in The Man Who Fell to Earth which of course featured Bowie. She also was in Amityville 3-D, Stephen King's Cat's Eye, and The Blob in the role of Francine Hewitt. That's the remake obviously, not the original. Oh, and she's Buffy's mom in Buffy the Vampire Slayer. Wiki being Wiki lists that as non-canon because it's not the Whedon Buffy. (CE)
Born June 20, 1962 – David Clink. As he says, poet, poker player, punster (e.g. "The Valet of the Shadow of Death"). Fourteen dozen poems, e.g. in the 2019 Rhysling Anthology; four collections, recently The Role of Lightning in Evolution. A poetry editor for Amazing. His Website is here; it has his 2013 biography here. [JH]
Born June 20, 1967 — Nicole Kidman, 53. Batman Forever was her first foray into the genre but she has done a number of genre films down the years: Practical Magic, The Stepford Wives, Bewitched (I liked it), The Invasion (never heard of it), The Golden Compass (not nearly as good as the novel was), the splendid Paddington and her latest was as Queen Atlanna in the rather good Aquaman. (CE)
Born June 20, 1968 — Robert Rodriguez, 52. I'll single out the vastly different Sin City and Spy Kids franchises as his best work, though the From Dusk till Dawn has considerable charms as well. ISFDB notes that he's written two novels with Chris Roberson riffing off his The Adventures of Sharkboy and Lavagirl in 3-D film, The Day Dreamer and Return to Planet Droll. (CE)
Born June 20, 1971 – Wu Ming-yi, Ph.D. Professor of Chinese at Nat'l Dong Hwa University, Taiwan. Two novels for us, The Man with the Compound Eyes and The Stolen Bicycle; six others, short stories, essays; known for nature writing, or as some would have it, ecological literature; translated into Czech, English, French, Indonesian, Japanese, Korean, Turkish. Designed and illustrated his non-fiction Book of Lost Butterflies and The Dao of Butterflies. [JH]
(9) COMICS SECTION.
All glory is fleeting: Wondermark,"In which a Visitor proves a Nuisance, Part 2."
(10) LIVE LONG. Gothamist ran this Erik Pendzich/Shutterstock image of Dr. Fauci street art on the Lower East Side. Andrew Porter adds, "Note The Pigeon of Truth on his shoulder!"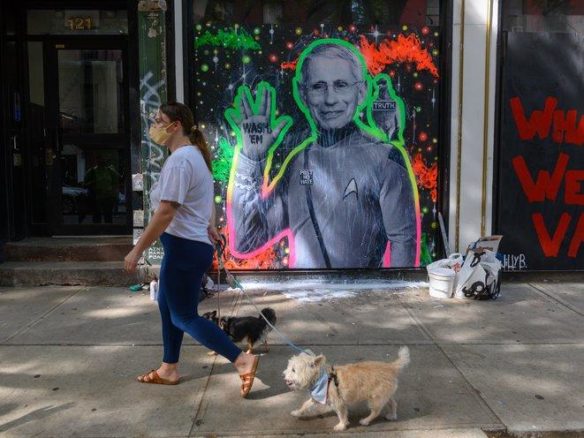 (11) MARTIAN HOP. The art students at Liverpool John Moores University couldn't have their senior exhibits because of the pandemic. So they used NASA's 3D Scans to hold a "Degree Show on Mars".
The planet is currently broken. We are doing our degree show on Mars.

The trajectory of the LJMU Fine Art Degree show has been charted. We proceed at full-throttle and we are on schedule. This final journey into the unknown for our graduating students is not a pared back simulation of what might have been, it is a voyage that seeks to collectively establish new relevance and understanding for their individual endeavours, amid the stasis the world is currently experiencing.

Artists respond to the world as they find it, they reflect it and help to build an understanding of what we are experiencing. The Degree Show on Mars is not simply showcasing the extraordinary originality and resilience of our graduating artists. It is a means by which we can document and understand the crisis through the eyes of artists who are emerging into a world very different to that which they had anticipated.
(12) FACING UP. Brain Pickings' Maria Popova invites you to enjoy a gallery of homemade masks — "As an Antidote to Fear of Death, I Eat the Stars: Vintage Science Face Masks" – now licensed for sale.
A small, coruscating delight: I have made a series of face masks featuring wondrous centuries-old astronomical art and natural history illustrations I have restored and digitized from various archival sources over the years….
(13) ABOUT POE. At CrimeReads, Sarah Weinman asks "Can You Really Separate Edgar Allan Poe's Work From His Life?" Weinman wrote the introduction for a reissue of Julian Symons' Poe biography The Tell-Tale Heart, originally published in 1978, which has been out of print for decades.
…But the audacity of Symons' project makes more than a bit of sense: because, he rightly argues in The Tell-Tale Heart, so much of what we think we know about Edgar Allan Poe is rooted in grudges, hearsay, rumor, and mystery, and of intuiting too much personal meaning from his successful, written-for-the-money mystery stories and from the poems that were closer to Poe's heart and spirit.
(14) LAST AT BATS. [Item by Martin Morse Wooster.] In the Yahoo! Entertainment story "Holy Bat-feuds! Revisiting the behind-the-scenes drama surrounding 'Batman Forever' 25 years later", Ethan Alter argues that Joel Schumacher's Batman Forever "might arguably be worse" than Schumacher's widely reviled Batman & Robin, and lists the many feuds surrounding the film, including Michael Keaton turning down $15 million to get in the bat-suit because the script for the film "sucked," Val Kilmer regretting he replaced Keaton in the bat-suit, and villians Tommy Lee Jones and Jim Carrey wanting to stick knives in each other.
…Schumacher and Kilmer were all smiles during the Batman Forever publicity tour, but it turns out that was just really good acting. Interviewed by Entertainment Weekly in 1996 — one year removed from the film's release — the director described a tense on-set relationship that culminated in an actual pushing match. "He was being irrational and ballistic with the first AD, the cameraman, the costume people," Schumacher said. "He was badly behaved, he was rude and inappropriate. I was forced to tell him that this would not be tolerated for one more second. Then we had two weeks where he did not speak to me, but it was bliss." Speaking with Vulture in 2019, Schumacher was even more pointed: "I didn't say Val [Kilmer] was difficult to work with on Batman Forever. I said he was psychotic."
(15) VIDEO OF THE DAY. "Neil Gaiman–Is Writing For Children Tougher Than Writing for Adults?" on YouTube is a 2013 video by Bloomsbury Publishing where Gaiman explains that when writing for children, he has to be more precise than writing for adults.
[Thanks to Cat Eldridge, John Hertz, John King Tarpinian, John A Arkansawyer, JJ, Martin Morse Wooster, Michael Toman, Chip Hitchcock, Mike Kennedy, and Andrew Porter for some of these stories. Title credit goes to File 770 contributing editor of the day Jayn.]