(1) CHARLIE JANE ANDERS KEYNOTE OPENS EVERY DOOR. In "Children's Institute 10: Charlie Jane Anders Says 'Magical Portals Exist, and Adults Aren't Real'", Publishers Weekly has extensive details of the author's talk.
Science fiction author Charlie Jane Anders (Victories Greater Than Death) brought abundant charisma to the stage for her Ci10 keynote. Her hot-pink bob, matching Doc Martens, and neon-confetti-dotted black dress reinforced her energy. She delivered her talk, "Magical Portals Are Real, and I Can Prove It!," in a conversational and confiding tone, to booksellers who know and recommend her LGBTQ+ fiction.

Alluding to Frank Herbert's Dune dictum that "the universe is full of doors," Anders said that we encounter portals in our lives. "I've jumped universes three or four times," she said, acknowledging how she came to recognize her authorial persona and trans identity. "This is definitely not the universe I was born in."…
(2) FINAL SCORE? Indiana Jones 5 might be it: "John Williams, 90, steps away from film, but not music" – reports the Associated Press.
After more than six decades of making bicycles soar, sending panicked swimmers to the shore and other spellbinding close encounters, John Williams is putting the final notes on what may be his last film score.

"At the moment I'm working on 'Indiana Jones 5,' which Harrison Ford — who's quite a bit younger than I am — I think has announced will be his last film," Williams says. "So, I thought: If Harrison can do it, then perhaps I can, also."

Ford, for the record, hasn't said that publicly. And Williams, who turned 90 in February, isn't absolutely certain he's ready to, either.

"I don't want to be seen as categorically eliminating any activity," Williams says with a chuckle, speaking by phone from his home in Los Angeles. "I can't play tennis, but I like to be able to believe that maybe one day I will."

Right now, though, there are other ways Williams wants to be spending his time. A "Star Wars" film demands six months of work, which he notes, "at this point in life is a long commitment to me." Instead, Williams is devoting himself to composing concert music, including a piano concerto he's writing for Emanuel Ax….
(3) THE DNA OF SFF. Camestros Felapton works out the difference between bounty hunters and Our Heroes in "Friday's Rag Tag Crew versus bounty hunters".
…But why, in reality, are bounty hunters so distinctly American? Like many things, once you dig beyond the fiction you run straight into the depressing inevitabilities of US history. There is a complex history behind bounty hunters in the US but looming large in that history are slave catchers. People employed to catch fugitive slaves were not a US invention but the size of the US slave economy (until the Civil War and emancipation) meant that "slave catcher" was both casual work and a profession for some. The powers of slave catchers was further enhanced prior to the Civil War with the Fugitive Slave Act of 1850 (https://en.wikipedia.org/wiki/Fugitive_Slave_Act_of_1850) which codified the ability of slave catchers to act beyond the borders of slave states. Slavery is not the only defining element in the US bounty hunting history but it is such a substantial example in the formative years of the nation that it is hard to imagine that it isn't key to the lasting influence of the idea in the US.

The attraction of the bounty hunter concept to quasi-libertarian SFF is apparent. The bounty hunter as a character can be simultaneously running a private business and be an arm of law enforcement. As a legitimised vigilante, the bounty hunter as a character can sit in a kind of Lagrange point between the pull of the heroic individualist and the pull of authoritarian imposition of order….
(4) SPACEHOUNDS OF THE WSFS, And when Camestros Felapton is finished with the topic above, he chronicles the work of another set of adventurers who are hard at work to disarm "The Hugo Kill Switch".
The people at The Hugo Book Club Blog (Olav Rokne & Amanda Wakaruk) are on a high-stakes mission to defuse a time bomb. Deep within the WSFS constitution is a hidden switch that is creeping ever closer to hitting some beloved Hugo Award categories. Can a rag-tag team save the Fan categories before the timer reaches zero?!
(5) TO THE EGRESS, AND BEYOND. Arturo Serrano analyzes the special challenges inherent in the audience's complicated history with the Toy Story franchise and the Buzz Lightyear character and tells why "Lightyear doesn't fly, but it falls with style" at Nerds of a Feather.
…The quest for continued relevance is a preoccupation that the movie assigns to both Buzz and itself. It tries to evoke the feel of the Flash Gordon serials and, of course, both of the big Star franchises. But instead of the now-common practice of attempting to recapture an old moment of wonder via repetition and allusion, this movie gave itself the harder task of pretending to be that first experience. Although the villain's big plan involves the return to an idealized past, Lightyear is not a case of nostalgia (because anything it could try to revisit is supposed to be provided by this story for the first time), but of pastiche. It may be unfair to cast Pixar as a victim of its own spectacular successes, but Lightyear is certainly not the best that the studio is capable of, and at times it's a stretch to imagine small Andy being blown away by it….
(6) YES, THE END IS NEAR! The inaugural winner of the first Self-Published Science Fiction Competition will be announced in three weeks.
(7) WHO IN THE MOVIES. Radio Times covers the revelation that a "Doctor Who unmade film script featured two Doctors".
…However, Subotsky revealed that a second deal was negotiated following production of 1965's Dr. Who and the Daleks which would indeed have allowed for a third film. "There was a further agreement that was entered into, to give the rights to make a third movie, which of course was never done," he explained. "It was on the same terms as the original films, so my feeling is… the option lapsed."

Though a third movie never materialised, Subotsky further revealed that his father did in fact produce a screenplay for the proposed sequel that remains in his family's possession and was also displayed at the BFI event – this script, however, was not an adaptation of any existing Doctor Who television serial.

"Many years later, maybe 15 years later, it was clearly still on his mind, because he had prepared a script called 'Doctor Who's Greatest Adventure' which actually was a repurposed script of a horror film entitled 'King Crab'… the original title was even worse, it was 'Night of the Crabs'!

"It was with two Doctors – a young Doctor and an old Doctor – which is an idea that has been returned to."…
(8) PEOPLE WHO NEED PEOPLE. Polygon's Joshua Rivera drops a few SPOILERS along the way: "Obi-Wan Kenobi finale review: a Star Wars show as broken as its hero".
… Across its brief six-episode run, Obi-Wan stopped the spectacle to focus on people — and it mostly resonates as a contrast to how much I've missed them in other Star Wars stories.

At the heart of this are Obi-Wan's two central performances. As Obi-Wan, Ewan McGregor plays a broken man in exile, a soldier who knows he lost the war but is still being asked to fight it, keeping constant vigil from afar over the young Luke Skywalker. As befits the character that shares the series' name, every note of Obi-Wan's journey rings true, largely thanks to McGregor's performance….
(9) PHYSICS AIN'T MISBEHAVING. Matt O'Dowd of PBS Space Time whittles away at the question, "Is Interstellar Travel Impossible?".
Space is pretty deadly. But is it so deadly that we're effectively imprisoned in our solar system forever? Many have said so, but a few have actually figured it out.
(10) MEMORY LANE.
1983 – [By Cat Eldridge.] Thirty-nine years ago, the follow-up film to the Twilight Zone series premiered this week. Produced by Steven Spielberg and John Landis, Twilight Zone: The Movie certainly carried high expectations. This film features four stories directed by Landis, Spielberg, Joe Dante, and George Miller.
Landis' segment is the only original story created for the film, while the segments by Spielberg, Dante, and Miller are remakes or more precisely reworkings of episodes from the original series.
The screenplay is not surprisingly jointly done by a committee of John Landis, George Clayton, Johnson Richard Matheson and Melissa Mathison as is the story which is by Landis, Matheson, Johnson and Jerome Bixby.
The principal cast was surprisingly small given that there were four stories, just Dan Aykroyd, Albert Brooks, Scatman Crothers, John Lithgow, Vic Morrow and Kathleen Quinlan.
It did quite well at the box office, making over forty million against a budget of under ten million. Some critics like Roger Ebert at the Chicago Sun-Tribune like some of it though he noted that, "the surprising thing is, the two superstar directors are thoroughly routed by two less-known directors" while others such as Vincent Canby at the New York Times hated all of it calling the movie a "flabby, mini-minded behemoth".
It was enough of a financial success that the suits at CBS gave the approval to the Twilight Zone series.
Audience reviewers at Rotten Tomatoes give it a not great fifty-five percent rating.
(11) TODAY'S BIRTHDAYS.
[Compiled by Cat Eldridge.]
Born June 23, 1908 — Sloan Nibley. Writer who worked on a number of genre series including Science Fiction Theater, Addams Family, The Famous Adventures of Mr. Magoo, Shazan, and the New Addams Family. (Died 1990.)
Born June 23, 1945 — Eileen Gunn, 77. Her story "Coming to Terms" based on her friendship with Avram Davidson won the Nebula Award for Best Short Story. Her stories are in Stable Strategies and Others, Steampunk Quartet and Questionable Practices. With L. Timmel Duchamp, she penned The WisCon Chronicles, Vol. 2: Provocative Essays on Feminism, Race, Revolution, and the Future. Her "Stable Strategies for Middle Management" story picked up a nomination at Noreascon 3 (1989), and "Computer Friendly" garnered a nomination the next year in the same category at ConFiction (1990). She's well stocked at the usual digital suspects.
Born June 23, 1957 — Frances McDormand, 65. She's God. Well at least The Voice of God in Good Omens. Which is on Amazon Prime y'all. Her first genre role was in the "Need to Know" episode of Twilight Zone followed shortly thereafter by being Julie Hastings in Sam Raimi's excellent Dark Man. She's The Handler in Æon Flux and that's pretty much everything worth noting.
Born June 23, 1963 – Liu Cixin, 59. He won the Best Novel Hugo at Saquan (2015) for his Three Body Problem novel, translated into English by Ken Liu. It was nominated for the Campbell Memorial, Nebula, Canopus and Prometheus Awards as well. He picked up a Hugo novel nomination at Worldcon 75 (2017) for Death's End also translated by Liu.
Born June 23, 1972 — Selma Blair, 50. Liz Sherman in Hellboy and Hellboy II: The Golden Army. She also voiced the character in the animated Hellboy: Sword of Storms and Hellboy: Blood and Iron as well which are quite excellent. She's Stevie Wayne in The Fog, a slasher film a few years later and was Cyane on the "Lifeblood" episode of Xena: Warrior Princess. Later on, she'd be Jessica Harris in the "Infestation" episode of Lost in Space.
Born June 23, 1980 — Melissa Rauch, 42. Bernadette Rostenkowski-Wolowitz on The Big Bang Theory which is at least genre adjacent if not genre. She gets to be really genre in voicing Harley Quinn in Batman and Harley Quinn which Bruce Timm considers "a spiritual successor to Batman: The Animated Series". Having watched a few episodes on HBO when I was subscribed to that streaming service, I vehemently disagree.
Born June 23, 2000 — Caitlin Blackwood, 22. She was the young Amelia Pond in these Doctor Who episodes; "The Eleventh Hour", "The Big Bang", "Let's Kill Hitler" and "The God Complex". She had a cameo in "The Angels Take Manhattan". She's the cousin of Karen Gillan who plays the adult Pond. I can't find anything online that talks about how she was cast in the role but it was brilliantly inspired casting!
(12) COMICS SECTION.
(13) DEADLY DESIGNS. Paul Weimer will make you want to read the second City Siege novel of KJ Parker: "Book Review: How to Rule an Empire and Get Away with it" at Nerds of a Feather.
…While the first volume had Orban explicitly say that he was not telling the whole truth in the end, here from the beginning we have a professional telling us right from the get go about the power of stories, lies, shading the truth and more in order to tell his story. The first novel was Parker geeking out about engineering and siegecraft and how a determined engineer could frustrate the greatest army the world has assembled. By contrast, this second novel does have concerns regarding the siege and defending it, because Parker does really like to go down his rabbit holes and show it off. (In some ways, I think of him very much like Herman Melville, just enjoying sharing what he has learned and shown off about all sorts of abstruse subjects, interwoven masterfully into the story)….
(14) OCTOTHORPE. With a cover courtesy of DALL-E, Octothorpe 60 is now up! Listen here: "Different Types of Tedium".
John Coxon is going to brunch, Alison Scott watched a film, and Liz Batty is critical. We discuss what we'd do if we were king of The Hugo Awards for the day, and then we talk about ABBA and other science fiction. And Monster Munch – you love to hear it.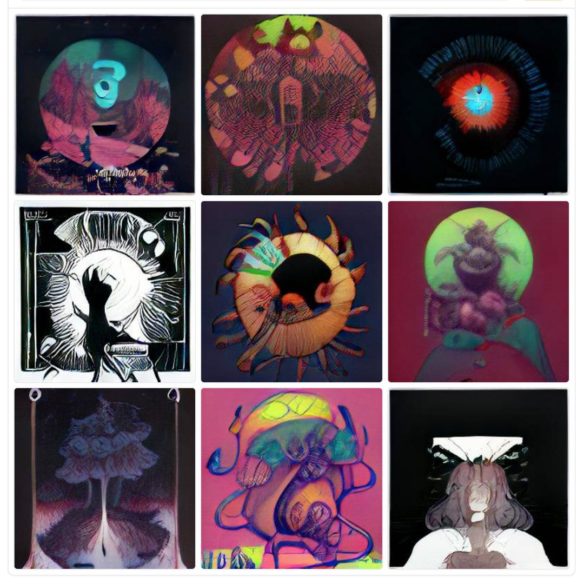 (15) LIGHT FINGERS. Yahoo! listens as "Taika Waititi admits to stealing equipment from 'The Hobbit' set".
New Zealand filmmaker and actor Taika Waititi appeared Wednesday on The Late Show With Stephen Colbert, where he shared a Hobbit-sized secret regarding the second film in the popular franchise directed by fellow Kiwi Oscar winner Peter Jackson.

Waititi shared, "When I did What We Do in the Shadows, when Jemaine [Clement, the film's co-writer and star] and I were shooting that, we didn't have much money to do that film, and The Hobbit had just wrapped. And, so, our production designer — man, I don't know if I should tell this. OK, but I will. Our production designer, in the dead of night, took his crew to The Hobbit studios and stole all of the dismantled, broken-down green screens and took all of the timber, and we built a house."…
(16) THEY CROSSED THE STREAMS. "The Mandalorian gets mashed up with The Stay Puft Marshmallow Man in Star Wars/Ghostbusters crossover cosplay" at Ghostbusters News. They draw our attention not only to the clever cosplay, but "the adorable replacement for Grogu, consisting of a miniature version of Stay Puft being seen nestled inside his pram pod."
(17) IT IS HIS FETA. Gizmodo takes a pretty funny look at "The Weirdest, Goat-iest Thor: Love and Thunder Merchandise".
Marvel's latest movie is bringing with it an Asgard Tours boat-load of weird and wonderful merchandise.
(18) REVISITING FILMATION. [Item by Bill.] The 1973-1974 Star Trek: The Animated Series was produced by Filmation. Recently, Gazelle Animations has done some clips from Star Trek: The Next Generation and Star Trek: Voyager in the Filmation style:
The animator gives background. And note the Most Important Device in the Universe!
(19) VIDEO OF THE DAY. [Item by Martin Morse Wooster.] In "Lightyear Pitch Meeting," Ryan George, in a spoiler-packed episode, the producer learns that the premise of Lightyear–that it's an action movie Andy saw in 1995 that made him want to buy a Buzz Lightyear toy–he gets excited because that means a producer in the Toy Story universe made money on the film. But even though it's supposed to be "a 1990s movie," fans of 1990s movies that featured "a lot of over the top action and cheese" will be cruelly disappointed. Toy Story fans who remember that the villain Zurg is Buzz Lightyear's father will also be very disappointed.
[Thanks to Andrew Porter, Michael Toman, Cat Eldridge, N., Bill, SF Concatenation's Jonathan Cowie, Daniel Dern, Mike Kennedy, Martin Morse Wooster, JJ, John King Tarpinian, and Chris Barkley for some of these stories. Title credit belongs to File 770 contributing editor of the day Steve Davidson.]