(1) WEATHER FROM ANOTHER PLANET. "NASA reveals stunning images of Jupiter taken by the Juno spacecraft" – Yahoo! has the story.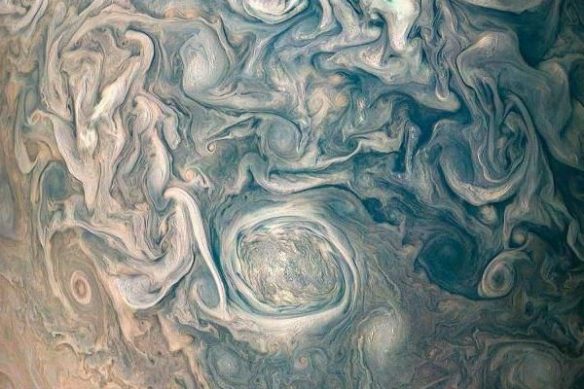 The breathtaking images show swirling cloud belts and tumultuous vortices within Jupiter's northern hemisphere.

Scientists said the photos allowed them to see the planet's weather system in greater detail.

According to the space station, the brighter colours in the images represent clouds made up of ammonia and water, while the darker blue-green spirals represent cloud material "deeper in Jupiter's atmosphere."
(2) HOW TO MAKE MAGIC. Fantasy-Faction's Aaron Miles advises writers about "Creating A Magic System".
The naming of a thing gives you power over it. Sorcery is the will and the word. Cast fireball now and you won't be able to again until tomorrow and have finished your revision.

Magic systems exist in scores of fantasy novels. Diverse in their rules, varying in complexity, they instruct us in how the magic of the world of the story works and in any rules that govern it. Some authors disdain them, preferring to keep their magical arts shrouded in mystery, while others will provide exhaustive explanation and runic charts in the back of the book. I've always believed that a good magic system can only enhance a book, serving to develop the world, engage the reader and open up the scope for storytelling. Clever use of such a system can create new plot opportunities, allow an author to foreshadow and enact hidden twists, not to mention being interesting creations in their own right.

A common stop on the road to worldbuilding, many authors love to craft their own systems with various casting protocols, methodologies and effects. It can be great fun to develop your own magic system but if the groundwork is poor it will quickly become difficult to manage or hard to understand for the reader. This article will cover the various aspects involved in creating a magic system and how to make it interesting and effective….
(3) BET AWARDS. Black Panther and its king won hardware at last night's BET Awards, but another of the movie's stars was responsible for a highlight of the evening:
[Jamie] Foxx brought "Black Panther" star Michael B. Jordan to the stage and asked him to recite the powerful line from the film, "Bury me in the ocean with my ancestors who jumped from ships, cause they knew death was better than bondage."
Best Actor Award
Best Movie Award
(4) PUPPY ADJACENT. N.K. Jemisin's Twitter thread on bigotry and artistic mediocrity begins here.
It's come to my attn that a statement I made a few weeks(?) back — abt Puppy-adjacent folks being shitty writers — is considered controversial in Certain Circles. These are Circles, note, that call *my* success "affirmative action." Bc I can't possibly have earned it, per them.

— N. K. Jemisin (@nkjemisin) June 24, 2018
That's the whole point. That's why bigotry is all about systems of societal power, and helping one group live its best life while everyone else has to struggle. But even amid the privileged group, there are "winners & losers." Bigotry is a bribe for privileged losers.

— N. K. Jemisin (@nkjemisin) June 24, 2018
(5) NO LONGER THE WILDER AWARD. BBC reports "Laura Ingalls Wilder removed from book award over racist language".
The US Association for Library Service to Children (ALSC) has removed Laura Ingalls Wilder's name from one of its awards over racist views and language.

The association had received complaints for years over the Little House on the Prairie author's "anti-Native and anti-Black sentiments in her work".

The ALSC board voted unanimously on Saturday to remove Wilder's name from the children's literature award.

The medal will be renamed as the Children's Literature Legacy award.
(6) FANTASTIC POSTER. Yet another brilliant poster heralds Portugal's Forum Fantastico, to be held from October 12 to 14 in Lisbon.
(7) WHAT TO CHARGE? Peter Grant's comment at Mad Genius Club sheds new light on indie authors' book pricing strategies.
Kindle Unlimited changes this equation dramatically, depending on the length of a book. I'll be writing at greater length about this in a couple of weeks, but here's a potted summary.

KU pays out just over $0.0045 for a single page read by a subscriber. If your book is (say) 100,000 words, that translates (in KENP, or KU equivalent pages, according to Amazon's calculations) to about 360 pages. That means a KU "borrow" of your book will earn you about $1.62. If you sell that same book for $2.99 via Amazon, with a 70% royalty rate, you'll earn about $2.00 after Amazon's charge to download the book to the purchaser. In other words, a $2.99 price point is barely better, from an earnings perspective, than a KU "borrow". It's probably not economical. You'll make more money pricing it at $3.99 or $4.99.

However, that brings up the question of what readers will pay. For a relatively unknown author, $2.99 might be all that most buyers are prepared to pay. For someone better know, $4.99 might be feasible. I've been charging that for my books for some years, and I'm getting sales at that level; but there's also growing resistance even to that price from some readers. I've actually had e-mails saying that I'm being greedy to charge that much, and that I should price it much cheaper, otherwise they won't spend their money on me – or they'll use KU instead of buying the book. Even Amazon's beta price recommendation service from KDP recommended, for my latest trilogy, that I price it at $2.99 per volume, to maximize sales income. Of course, it didn't factor KU into that pricing equation.

I now take KU into my pricing calculations. If I won't make much more per sale than I know I'll earn on a KU "borrow", it's frankly not worth my while to sell the book at all! Why not just make it available in the subscription library?
(8) WHAT'S BREWING AT CAPE CANAVERAL? Galactic Journey's Traveler popped back to the present long enough to inform beer drinkers about the Mercury program: "[June 25, 1963] It's showtime!  (A musical and educational performance on the Mercury 7)".
We've a special treat for you, today!  As you know, the Journey frequently presents at conventions and venues across the country.  Our last event was at the science-themed pub, The Wavelength Brewing Co.

Not only was a fine selection of craft beers on tap, but also the Young Traveler, performing a suite of current musical hits.  I followed things up with a half-hour presentation on the recently concluded Mercury program, discussing all of the flights and the folks who flew them.
(9) TRIVIAL TRIVIA
Max Brooks wrote The Zombie Survival Guide and World War Z.  His parents are Mel Brooks and Anne Bancroft.
(10) TODAY IN HISTORY
June 25, 1976 – The Omen premieres in North America.
(11) RINGO. As two departed Dragon Con staffers (Pixel Scroll 6/9/18 Item #3) anticipated, the con is inviting John Ringo as a guest. Ringo shared the news on Facebook along with a request:
My Letter of Agreement to Dragon Con has been sent in and the announcement will go out this week that I am, again, going to be a guest of the con.

Due to various 'stuff' the leadership of DCon already knows/suspects/has-been-informed there will be 'push-back.'

I am hereby asking my fans to STAY OUT OF IT. Don't respond on any page especially any DCon page. Let the (extremely professional) con management handle any response.

Rpt: STAY OUT.

DragonCon has handled far worse in their time and they're not worried about this particular kerfuffle.

"Meddle not in the affairs of Dragons, for you are crunchy and taste good with ketchup."
(12) HOWEY SHORT FICTION. Jana Nyman reviews Hugh Howey's collection for Fantasy Literature: "Machine Learning: Thoughtful and thought-provoking stories".
Odds are good that you've heard of Hugh Howey — whether you've read one of his novels or short stories, or even if you're just aware of the runaway success of his SILO trilogy, which began with Wool. Machine Learning (2017) is the first collection of his short stories (and one novelette), most of which were published elsewhere in various times and places, and it's an excellent display of his range, insight, and talent. Each story is followed up by a brief Afterword from Howey, giving him the opportunity to explain where the story came from and what his goals were in writing it. When necessary, I've marked stories that were previously reviewed at Fantasy Literature, so that you can compare/contrast my thoughts with those of our other reviewers.

"The Walk up Nameless Ridge," previously reviewed by Kat Hooper. A mountain climber hopes to be the first to summit a frighteningly tall peak, thereby receiving the honor of having it named after him, which is something he cares about more than anything else in his life. Howey gets deep in this man's head, examining what motivates him to keep going despite literal loss of limbs and the emotional and physical distance placed between him and his family….
(13) TAKEI V. TRUMP. George Takei compares his family's internment during WWll to Trump's family separation policy and says the situation on the Mexican border is much worse.  He shares a lot of background, offers a lot of insight, and sets the records straight on many counts. From CNN: "George Takei: Donald Trump's immigration rhetoric is 'grotesque'"
(14) REDEEMING MASS EFFECT ANDROMEDA. Future War Stories analyzes a controversial game: "FWS Video Game Review: MASS EFFECT ANDROMEDA".
Among the icons of military science fiction are some legendary video game titles that have reinforced the fans and forged new ones. One of the most beloved was BioWare's Mass Effect series that spanned across three primary games, a number of DLCs, books, and comics. It was a beloved universe for its fans that caused them to cosplay, wear N7 gear, and even tattoo themselves. When 3rd and final Mass Effect game was released in 2012, we fans wondered if this was indeed the end of the journey after the mishandling of the ending to the trilogy. Then came happy news of a new game that was a fresh start with new characters and a focus on exploration in a new setting. When 29th century centered game was released in March of 2017, there was understandable disappointment and many fans felt deeply betrayed by EA and BioWare. But it is worth the hate and loathing? I decided to embarked on the journey to the Andromeda galaxy to see if it was a betrayal of the heritage of the Mass Effect games or a merely misunderstood entry into the franchise.

The GOOD

There is much made about the broken nature of ME:A and its ugly or underwhelming graphics…but under all of the noise and press is a semi-solid game that does delivery a long, relatively enjoyable campaign that becoming more and more rare these days. Overall, the concept of the Andromeda Initiative expedition to the nearest galaxy is maybe something that has been seen in sci-fi, but it a great way to separate this new ME game from the previous titles…
(15) SOUNDTRACKS. Courtesy of Carl Slaughter:
Lord of the Rings soundtrack
(16) NAZIS IN SPACE – NOT. Revell has taken off the shelves in Germany a model kit for the Haneubu II aircraft because it is convincing customers that the Nazis had camouflaged-covered flying saucers with zap guns. Gizmodo reports: "Flying Saucer Toy Recalled For Teaching Kids That Nazis Achieved Space Travel". The model kit has been recalled because it promotes the idea that Nazis not only had the capability for space travel, but could use their saucer-type spacecraft to blast Allied aircraft. Quoting the article:
If you've ever watched the History Channel at 3AM, you know that the Nazis had a secret program during World War II to develop flying saucers. The Nazi's UFO experiments never actually flew, but the model toy company Revell recently released a set in Germany that makes it look like one of the Nazi saucers actually worked. And historians are pissed….

The toy company has pulled the 69-part set, known as the Haunebu II, from store shelves. But you can still find plenty of the toys available for sale online. The Nazi UFO is even seen on the box blasting Allied planes out of the sky—a disgusting image to promote, to say the least….

"Unfortunately, our product description does not adequately express [that the Nazi saucer program was unsuccessful] and we apologize for it," Revell said in a statement.
(17) WESTWORLD'S FALLOUT PROBLEM. BBC says "Westworld game hit by Bethesda legal claim".
Game publisher Bethesda is suing Warner Brothers over a game based around the HBO series Westworld.

Bethesda alleges the Westworld game, released last week, is a "blatant rip-off" of its Fallout Shelter title.

Included in the legal challenge is Canadian developer Behaviour Interactive, which helped Bethesda develop Fallout Shelter in 2014….

The Westworld game gives players the job of managing the titular theme park and its robotic inhabitants.

The facility managed by the player can be expanded underground and includes many of the locations seen in the TV series.

Many reviews of the game mentioned its similarity to Bethesda's Fallout Shelter, which gives players the job of managing and expanding an underground facility….
(18) TURING TESTER. The classic WWII device has a new home: "Codebreaking Bombe moves to computer museum". (Chip Hitchcock suggests it's another tourism opportunity for people willing to travel a distance before/after Dublin 2019.)
The UK's National Museum of Computing has expanded its exhibits celebrating the UK's wartime code-breakers and the machines used to crack German ciphers.

On Saturday it will open a gallery dedicated to the Bombe, which helped speed up the cracking of messages scrambled with the Enigma machine.

The Bombe was formerly on display at Bletchley Park next door to the museum.

A crowd-funding campaign raised £60,000 in four weeks to move the machine and create its new home.

… The initial design of the Bombe was drawn up by Alan Turing and later refined by Gordon Welchman. The gallery is being opened on the 106th anniversary of Turing's birth.
(19) BIRD IS THE WORD. Scientists say "Bird family tree shaken by discovery of feathered fossil".
The turacos, or banana-eaters, are today found only in Africa, living in forests and savannah.

A beautifully preserved fossil bird from 52 million years ago is shaking up the family tree of the exotic birds.

The fossil's weird features suggests it is the earliest known living relative not just of the turacos, but of cuckoos and bustards (large long-legged birds).

And the fact the remains were unearthed in North America shows the distribution of different birds around the globe would have been very different in the past.
(20) GOOD TO THE LAST PROTON. Ars Technica says the retirement party will be happening soon: "Russia's Proton rocket, which predates Apollo, will finally stop flying". With over 400 launches under its figurative belt (and about an 89% success rate) the Proton rocket family is nearing retirement. Dating from tis first launch, the Proton will turn 56 in mid July. That means it predates the Saturn V used in the Apollo program by more than 2 years.
The Russian-manufactured Proton rocket has been flying into space since before humans landed on the Moon. First launched in 1965, the rocket was initially conceived of as a booster to fly two-person crews around the Moon, as the Soviet Union sought to beat NASA into deep space. Indeed, some of its earliest missions launched creatures, including two turtles, to the Moon and back.

But now, Russian officials confirm, the Proton rocket will finally reach its end. In an interview with a Russian publication, Roscosmos head Dmitry Rogozin said production of the Proton booster will cease as production shifts to the new Angara booster. (A translation of this article was provided to Ars by Robinson Mitchell, a former US Air Force Airborne Cryptologic Language Analyst). No new Proton contracts are likely to be signed.

…With a capacity of 22.8 tons to low-Earth orbit, it became a dominant player in the commercial market for heavier satellites.

It remained so during much of the 2000s, but as Ars has previously reported, the lack of technical oversight began manifesting itself in an increasing rate of failures. At the end of 2010, one Proton plunged into the ocean because too much propellant had been mistakenly loaded into its upper stage. In 2013, another vehicle performed a fiery dance seconds after liftoff because flight control sensors were hammered into the rocket's compartment upside down.

…Whether the Angara booster can capture anything close to the Proton's once highly profitable share of the global launch market remains highly uncertain.
(21) LIZARD WRASSLIN'. In this tweeted photo set, a T-Rex finds it's no match for Stone Cold Steve Austin and The Rock (Dwayne Johnson)
— David (@FakeEyes22) June 25, 2018
[Thanks to Carl Slaughter, John King Tarpinian, Cat Eldridge, JJ, Mike Kennedy, Chip Hitchcock, Martin Morse Wooster, and Andrew Porter for some of these stories. Title credit goes to File 770 contributing editor of the day O. Westin.]