(1) 2022 WORLDCON BIDDER Q&A. Goobergunch posted notes from today's online question session with the Chicago and Saudi Arabia bids for the 2022 Worldcon: "CoNZealand, Day -30: Nobody Expects the Fannish Inquisition".
Normally, most people vote for Worldcon site selection on site. Normally, people have the opportunity to hear from the site selection bids in person. But we do not live in normal times, and with all site selection moving to remote this year due to the COVID-19 pandemic CoNZealand arranged a special early question-and-answer panel for the 2022 Worldcon bids about a month before the convention. What follows is a summary of the bid presentations, questions, and answers—while I have tried to stay true to what was said, I do not promise transcription-level accuracy….
Here are a few of the questions and responses:
…Q: Chicon 7 had numerous access issues. How have you fixed them?

Chicago: The hotel took the non-ADA accessible areas out of circulation and put new, accessible function rooms in. The big accessibility chokepoint is getting into the exhibit hall, and we'll have to work this out. But everything else should be ADA-compliant. Also at least with the Hyatt we know what the likely problem points are and can plan for them. If you had specific pain points at Chicon 7, let us know.

Q: What is the availability of assistance for mobility access, including renting mobies?

Jeddah: A lot of the rooms have workarounds but they're not officially recognized are fully accessible (about 10% are officially recognized as such). Already working with a few companies for chairs on-site but not sure if they'll be available to be taken offsite.

Chicago: Will have rental options for mobies, wheelchairs, etc. Guessing that there will be a pre-rental period and then we'll have extras on site.

Q: What online virtual content do you intend to include?

Chicago: Haven't totally decided yet, but we expect to have a pretty strong virtual component. In 2012 we had coprogramming with Dragon*Con, so we're used to doing that kind of virtual thing. So it's on our radar but we don't have specifics yet.

Jeddah: Want to broadcast everything live for all the members, with at least audio streaming and hopefully video streaming. Our platform for live interpretation incorporates a live feed for sessions in both languages. Everything will be recorded for all members and stay up for as long as the server does. We also plan on having live feeds for all public spaces (e.g. the art show and dealer's room) so online attendees can interact with in-person attendees….
Much more at the link.
(2) SPACE COMMAND. There will be a Space Command Convention on the Mr Sci-Fi YouTube channel this Sunday, starting at 10 a.m. Marc Scott Zicree says, "We will have live events all day, including interviews, and the premier of Ripple Effect, Space Command's special episode, written and filmed during the COVID-19 Pandemic!"
(3) HORROR IN THREE PARTS. [Item by Martin Morse Wooster.] A History of Horror With Mark Gatiss on YouTube is a three-part series on the history of horror films Gatiss did for the BBC in 2010. In the first episode, he looks at silent films and sees such rarities as Lon Chaney Sr.'s makeup kit and the shrine of mementoes kept by Boris Karloff's daughter. (Did you know Karloff is the only person not a president who has been on three US stamps?)
(4) THE FIFTIES. I discovered that a game I play, Baseball Mogul, has a blog – and it's latest post is about "The Thanos Button".
…Clicking this button randomly disintegrates half of the players in the database. It also eliminates half of everyone on earth, with corresponding adjustments to the population level of each team's fan base.

I believe they're not kidding!
The option was added based on reader reaction to an earlier post: "Would There Be Baseball After Thanos?"
At the beginning of Avengers: Endgame, the camera flies over an empty Citi Field, showing us that major league baseball is just one of the casualties of Thanos' "snap". If the baseball season can be cancelled for a virus that has killed 100,000 Americans, then surely it would be stopped by a super-villian killing more than 160 million Americans.

Right?

Well, arguments have been made on both sides. But what we do know is that, financially, Major League Baseball would be fine. Eliminating 50% of all major league players would cause team payrolls to drop by 50% — but demand for tickets would only drop by about 30%. At least in the short term, Major League Baseball would actually be more profitable….
(5) D'OH! After only 31 seasons on the air, "'The Simpsons' will no longer have white actors voice non-white characters" reports the New York Post.
Fox has released a statement on casting for non-white characters on "The Simpsons."

"Moving forward, 'The Simpsons' will no longer have white actors voice non-white characters," the network said Friday.

The move comes as several television shows have pulled episodes featuring blackface from their streaming platforms, and amid a nation dealing with controversial depictions of race on TV and film.

On "The Simpsons," Hank Azaria has been the voice of the black cartoon character Carlton Carlson. He also was known for voicing Apu, a character which has long been criticized for portraying a racist depiction of an Indian person. Azaria announced in 2017 he would no longer voice the character.
(6) PAGING TOLKIEN FANS. ScreenRant tries to appease book readers with "Lord Of The Rings: 10 Movie References Only Fans Of The Books Understood".
[Peter] Jackson, Fran Walsh and Philippa Boyens drew heavily from J.R.R. Tolkien's rich source material to fashion a living, breathing world, complete with its own history. This also created a lot of confusion for moviegoers who had never read the books, or delved too deeply into Tolkien's accompanying tales, such as The Silmarillion. Here's 10 references in the Lord Of The Rings movies that only fans of the books truly understood.
For example:
7. Shelob

Arachnophobes were horrified by the reveal of Shelob in Return Of The King, and for good reason! She's an eight-legged nightmare who did more to demonize spiders than any other film since Arachnophobia.

What the film didn't touch upon was her origin story. Far from just a fat, grotesque spider, Shelob is actually a child of Ungoliant, a fearsome arachnid who allied herself with Melkor during the First Age, before the two became bitter enemies. Ungoliant is briefly mentioned by Radagast the Brown in The Hobbit: An Unexpected Journey.
(7) GLASER OBIT. Milton Glaser, whose contributions to sff include the DC Comics "bullet logo", died June 26. The New York Times didn't mention that – maybe there wasn't room, with all his other accomplishments to cover: "Milton Glaser, Master Designer of 'I ? NY' Logo, Is Dead at 91".
…Mr. Glaser joined forces with the editor Clay Felker in 1968 to found New York magazine, where he was president and design director until 1977, imposing a visual format that still largely survives. With his friend Jerome Snyder, the art director of Scientific American, he wrote a budget-dining column, "The Underground Gourmet," for The New York Herald Tribune and, later, New York magazine. The column spawned a guidebook of the same name in 1966 and "The Underground Gourmet Cookbook" in 1975.

Mr. Glaser started his own design firm, Milton Glaser Inc., in 1974. A year later he left Push Pin, just as he was being given his own show at the Museum of Modern Art.

"At a certain point we were accepted, and once that happens, everything becomes less interesting," he said in an interview for "Graphic Design in America: A Visual Language History," an exhibition at the Walker Art Center in Minneapolis in 1989.
(8) MEDIA BIRTHDAY.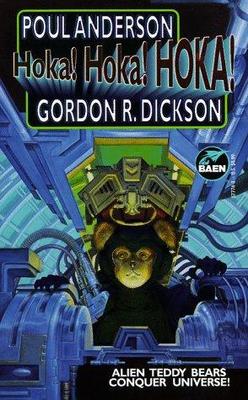 June 1953 — "In Hoka Signo Vinces" was published. A Hoka novella, it was written by Poul Anderson and Gordon Dickson, it was published by Other Worlds Science Stories which ran from 1949 to 1957. It's currently available in Hoka! Hoka! Hoka!, a Baen Books anthology which also includes the first Hoka story, "The Sheriff of Canyon Gulch".
(9) TODAY'S BIRTHDAYS.
[Compled by Cat Eldridge and John Hertz.]
Born June 27, 1850 – Lafcadio Hearn. Greek-Irish author who became a naturalized Japanese citizen and professor at Waseda U., first living in France, Ohio, Louisiana, the West Indies. Ten dozen short stories for us; collections of legends and ghost tales; translated Flaubert, Gautier, Maupassant, Zola; LH's Kwaidan was made into the Kobayashi film; a dozen-and-a-half posthumous collections, recently by Princeton and U. Chicago. (Died 1904) [JH]
Born June 27, 1908 – Henry Kiemle, Jr. Much work for Westerns; fifty interiors for us. Here is "Elixir" (James Blish). Here is "The Shadow-Gods" (Vaseleos Garson). Here is "The Life Detour" (David Keller). You can read more about HK here. (Died 1969) [JH]
Born June 27, 1927 – Tibor Csernus. Hungarian painter living in Paris after 1964. Among much other work ten dozen covers for us, a few interiors. Here is The Players of Null-A. Here is Bug Jack Barron (under French title). Here is We Have Always Lived in the Castle. Here is Genocides. Kossuth Prize. Knight of the Order of Arts & Letters. (Died 2007) [JH]
Born June 27, 1948 – Esther Rochon, 72. Grand Prix de la science fiction et du fantastique québecois four times. Governor-General First Prize at age 16. A score of novels, three dozen shorter stories. Co-founded Imagine; two covers for it, here is one. Has not neglected fanzines, e.g. you can see her in Lofgeornost. [JH]
Born June 27, 1952 – Mary Rosenblum. Author and cheesemaker. Mystery fiction too under another name. Five novels; five dozen shorter stories in Analog, Asimov's, Lightspeed, The Magazine of Fantasy & Science Fiction. Translated into French, German, Italian, Polish, Portuguese, Romanian, Spanish. Compton Crook and Sidewise Awards. (Died 2018) [JH]
Born June 27, 1978 – Bernard Quiriny, 42. Author, critic, Professor of Public Law at U. Burgundy, literature column for Chronic'art. One novel so far, five dozen shorter stories. Recurring character Pierre Gould is "eccentric…. poet, dandy, book-lover, just a bit of a misanthrope". Grand Prix de l'Imaginaire, Prix du Style, Prix Victor Rossel, Prix Robert Duterme. [JH]
Born June 27, 1952 — Mary Rosenblum. SF writer who won the Compton Crook Award for Best First Novel for The Drylands. She later won the Sidewise Award for Alternate History Short Form for her story, "Sacrifice." Water Rites and Horizons are the only ones available digitally. (Died 2018.) (CE)
Born June 27, 1959 — Stephen Dedman, 61. Australian author who's the author of The Art of Arrow-Cutting, a most excellent novel. I really should read Shadows Bite, the sequel to it.  He's the story editor of Borderlands, the tri-annual Australian science fiction, fantasy and horror magazine published in Perth. Apple Books has nothing for him, Kindle has The Art of Arrow-Cutting and a few other titles. (CE)
Born June 27, 1972 — Christian Kane, 48. You'll certain recognize him as he's been around genre video fiction for a while first playing Lindsey McDonald on Angel before become Jacob Stone on The Librarians. And though Leverage ain't genre, his role as Eliot Spencer there is definitely worth seeing. (CE)
Born June 27, 1975 — Tobey Maguire, 45. Spider-Man in the Sam Raimi trilogy of the Spidey films. His first genre appearance was actually in The Revenge of the Red Baron which is one serious weird film. Much more interesting is his role as David in Pleasantville, a film I love dearly. He produced The 5th Wave, a recent alien invasion film. (CE)
Born June 27, 1987 — Ed Westwick, 33. British actor who has roles in the dystopian Children of Men, S. Darko (a film I couldn't begin to summarize), Freaks of Nature (a popcorn film if ever there was one), the  "Roadside Bouquets" episode of the British series Afterlife (which I want to see) and The Crash (which may or may not be SF). (CE)
(10) COMICS SECTION.
Close to Home has an elevator gag that reminds me of Attack the Block.
(11) TO BOLDLY GO BLEEP. Twitter's Swear Trek is a prolific GIF creator of – you guessed it!
(12) FUNNY GIRL. Or Funny Boy. Though not for Ziegfeld's Follies — SYFY Wire has a theory about who needs these actors: "Wire Buzz: Amazon's 'Funny Looking' Lord Of The Rings Casting Call".
How's this for a commitment to high fantasy realism: Amazon is reportedly seeking visually distinctive actors — or, in its casting agency's own words, "funny looking" people — who're believed to be potential candidates for its Lord of the Rings prequel series in New Zealand.

Yahoo! Entertainment reports that BGT Actors Models & Talent — the same Auckland-based agency that helped cast extras for Peter Jackson's LOTR film trilogy — has put out an open call for "funny looking" New Zealanders who have out-of-the-ordinary facial features and body types.
(13) SEVEN YEARS BAD LUCK? "Nasa Astronaut Drops Mirror Into Space During Spacewalk". Though I suppose the bad luck doesn't start to run until the mirror is broken – hits something, re-enters the atmosphere, or hangs around until the heat death of the universe (which we know is going to be really bad luck).
An astronaut has dropped a small mirror into space by accident, Nasa has said.

Commander Chris Cassidy lost control of the mirror while leaving the International Space Station for a spacewalk to work on batteries, and it floated away at about a foot per second, the space agency said.

The object is now just one part of the vast amount of space junk that is in orbit around the Earth.

Cassidy had been conducting an otherwise uneventful spacewalk with Bob Behnken, who arrived at the space station on board a SpaceX craft last month.

Mission Control said the mirror somehow became detached from Cassidy's spacesuit. The lost item posed no risk to the astronauts, spacewalk or the station, Nasa said.
(14) WON'T STAND FOR IT. A petty inconsistency is the hobgoblin of internet comedy.
(15) DON'T TOUCH. Engadget featured a new invention: "NASA made a necklace that reminds you not to touch your face"
NASA has released open-source instructions for a 3D-printed necklace designed to help you stop touching your face. We've heard time and time again that we shouldn't touch our mush with our fingers to limit our chances of contracting COVID-19. However, it's not always easy to avoid that reflex.

To remind you to keep your mitts at bay, three engineers at the agency's Jet Propulsion Lab created Pulse. The necklace has a proximity sensor with a 12-inch range and a coin vibration motor, which activates when you move your hand towards your head. The closer your fingers are, the more intense the vibrations get….
(16) MUPPETS. The Muppets visited The Late Late Show with James Corden:
Although James Corden, Reggie Watts and The Muppets can't be together in a studio, the group comes together on video chat to sing The Beatles classic "With a Little Help from My Friends." Sing along with Kermit, Fozzie, Miss Piggy, Swedish Chef, Animal, Gonzo and so many more.
(17) MUPPETS WITH CAPERS. Olivia Rutligiano, in "The Great Muppet Caper Is The Loveliest Crime Movie Ever" on CrimeReads, explains why this is one of the Muppets' best films.
… Given the choice to feature a crime plot, it is curious how The Great Muppet Caper does not decide to pastiche the many different types of crime films. The film is more interested in emulating splashy, Golden Age of Hollywood musicals. Which is fine. It is also partially a love story, partially a tale of mistaken identity, partially a satire of the high-fashion world. When it does refocus the burglaries that Kermit and Co. are trying to solve, it does not resemble a detective story as much as a journalistic investigation. See, Kermit, Fozzie Bear, and the Great Gonzo are all reporters who fail to break a story about a jewel heist that happens during the opening number, right behind them. Fired from their newspaper, they set off for London, to try to interview the woman, Lady Holiday (Diana Rigg), who has been robbed. While across the pond, they end up on the trail of serial thieves, the ringleader of whom is Lady Holiday's deadbeat brother Nicky (Charles Grodin, hooray!). But truthfully, most of the movie is about Kermit falling in love with Miss Piggy, an aspiring fashion model who impersonates her boss, Lady Holiday, because she wants to impress Kermit.
[Thanks to John Hertz, JJ, Cat Eldridge, Lise Andreasen, Chip Hitchcock, Martin Morse Wooster, Bill, Andrew Porter, John King Tarpinian, Michael Toman, and Mike Kennedy for some of these stories. Title credit goes to File 770 contributing editor of the day Andrew.]