(1) HAVE YE SEEN THE MOVIE? The cetacean film star is hardly ready to retire: Phil Nichols discusses "Moby Dick at Sixty-Five!" at Bradburymedia.
Sixty-five years ago today – 27th June 1956 – John Huston's film version of Moby Dick was released, with a screenplay co-written by Ray Bradbury. As regular readers of Bradburymedia will be aware, Ray's experience of working on this film cast a very long shadow.

Bradbury became somewhat obsessive over Herman Melville's story, and was driven to write his own prose version of Moby Dick in the form of Leviathan '99, which was initially a radio play, then a stage play and opera, and eventually a novella….
Nichols follows with a roundup of links to his many posts about various connections between Bradbury and the making of Moby Dick.
(2) FANZINE IPA. [Item by Steven Johnson.] Not a fanzine called IPA, or an apa called IPA, but an limited release Pacific Northwest IPA called Fanzine IPA, from Fort George Brewery in Astoria and Great Notion Brewing of Portland, Oregon. Imagine my surprise when my brother pulled out two pint cans of Fanzine IPA, adorned with bizarre comic strip panels. Images of the cans are at the brewery website. (Click for larger images.)
In an ever hazier world, West Coast IPAs have nearly gone the way of the landline and fax machine. As the condensation slowly evaporates from the window of the indie punk bookstore, Fanzine IPA comes into focus – a crisp, clear, West Coast style collaborative presentation from Fort George Brewery and Grains of Wrath Brewery. Fanzines are deeply rooted in the DIY ethos of the fiercely independent, small run, self-published, xeroxed and stapled testaments to the object of a true fan's reverence. The Fanzine IPA can features the art of independent folk legend Michael Hurley, who himself is the subject of a Fanzine. A piney bitterness backs up the heavy hop additions, with grapefruit and other citrus notes. Mild sweetness from the malt bill lingers with a taste of orange juice.
(3) WARREN ELLIS COMEBACK QUASHED. The Mary Sue reports "Image Comics Reneges on Warren Ellis Comeback Series".
One year ago, British comic book writer Warren Ellis (Transmetropolitan, Global Frequency, Red) was accused by writer Katie West of coercion, manipulation, and sexually predatory behavior on Twitter. West's tweet was immediately met with responses from dozens of women and non-binary individuals who shared similar experiences with Ellis, establishing what appeared to be a broad pattern of a giant in the comics industry abusing the power he held over fans and followers. Since then, victims of Ellis have formed So Many of Us, a group of over 60 people who accused Ellis of years of grooming and emotional manipulation.

Ellis issued an apology and largely withdrew from public life, but like most canceled men of the Me Too movement, he has resurfaced. News broke that Image Comics would be bringing Ellis back to finish his mid-2000s series Fell with artist Ben Templesmith. Templesmith made the announcement on his Patreon account, where he wrote of Ellis, "I'm glad he's going to be doing some comics again. I don't think anyone thought he'd bugger off and work in a shoe factory or anything, … He is after all, one of the most important comics writers of the past few decades. It means a lot to me to finish this thing, finally, so I couldn't say no. I guess we'll let the market speak as to how things go."

Image Comics initially stood by the announcement, saying "Warren Ellis and Ben Templesmith's Image Comics series Fell will indeed return for its long awaited final story arc in graphic novel format. We will have more details to share about this very soon."

But as public outrage grew, they backtracked and issued a new statement saying, "This week's Fell announcement was neither planned, nor vetted, and was in fact, premature, … While finishing Warren Ellis and Ben Templesmith's Fell is something we've been looking forward to for years, Image Comics will not be working with Warren on anything further until he has made amends to the satisfaction of all involved." I guess the market has spoken….
(4) GAME WRITER SUES FANS FOR LIBEL. Those of you who have been wondering where to apply all of your recently accumulated knowledge about California defamation lawsuits and the state's anti-SLAPP provisions learned while following JDA's case can apply it to a new California case.
The attorneys for video game writer Christoper Avellone filed a libel suit against two women for statements they made in social media about what happened at a Dragon Con, of a nature that can be deduced from the denial:
…These false statements are of or about Avellone and are libelous on their face…. The reader would reasonably understand the statements to be about Avellone and to mean that Avellone targeted young women, including women under the age of consent, by forcing them to become intoxicated for the purpose of engaging in non-consensual sexual contact….
A PDF copy of the complaint, which was filed June 16 with the Superior Court of the State of California, County of Los Angeles, can be read here.
D.M. Schmeyer, who identifies himself on Twitter as an attorney, has an extensive critique of the lawsuit in a thread that starts here. The following are a couple examples of his skeptical take on the suit.
(5) MEMORY LANE.
1982 – In 1982 at Chicon IV where Marta Randall was Toastmaster, C. J. Cherryh would win the Best Novel Hugo for Downbelow Station whichwas set in Cherryh's Alliance–Union universe during the Company Wars period. It was published by Daw the previous year and originally had been called The Company War by the author. Other nominated works were The Claw of the Conciliator by Gene Wolfe, The Many-Colored Land by Julian May and Little, Big by John Crowley.
(6) TODAY'S BIRTHDAYS.
[Compiled by Cat Eldridge.]
Born June 27, 1909 — Billy Curtis. You'll best remember him as the Small Copper-Skinned Ambassador in Trek's "Journey to Babel" episode. His genre experienced goes all the way back to Wizard of Oz where he was a Munchkin, and later on he's a mole-man in Superman and The Mole-Men, and later on a midget in The Incredible Shrinking Man. He had lots of one-offs, be it on Batman (twice there), Bewitched, Gilligan's Island, Planet of The Apes or Twilght Zone. (Died 1988.)
Born June 27, 1941 — James P. Hogan. A true anti-authoritarian hard SF writer in the years when that was a respectable thing to be. The group that gave out the Prometheus Award certainly thought so with fifteen nominations and two Awards for two novels, The Multiplex Man and Voyage from Yesteryear.  I'm sure that I've read at least a few of his novels, most likely Inherit the Stars and The Gentle Giants of Ganymede. A decent amount of his work is available at the usual suspects. (Died 2010.)
Born June 27, 1952 — Mary Rosenblum. SF writer who won the Compton Crook Award for Best First Novel for The Drylands, her first novel. She later won the Sidewise Award for Alternate History Short Form for her story, "Sacrifice". Water Rites and Horizons are the only ones available at the usual suspects. (Died 2018.)
Born June 27, 1959 — Stephen Dedman, 62. Australian author who's the author of The Art of Arrow-Cutting, a most excellent novel. I really should read Shadows Bite, the sequel to it.  He's the story editor of Borderlands, the tri-annual Australian science fiction, fantasy and horror magazine published in Perth. Kindle has The Art of Arrow-Cutting and a few other titles.
Born June 27, 1966 — J. J. Abrams, 55. Let's see… He directed and produced the rebooted Star Trek, Star Wars: The Force Awakens and Star Wars: The Rise of Skywalker (he was a co-writer on the latter two), but I think I will single him out as the executive producer of the Fringe series. And he was an executive produced the Lost series as well. Did you know he was the executive producer of Person of Interest too? 
Born June 27, 1972 — Christian Kane, 49. You'll certainly recognize him as he's been around genre video fiction for a while first playing Lindsey McDonald on Angel before become Jacob Stone on The Librarians. And though Leverage ain't genre, his role as Eliot Spencer there is definitely worth seeing. 
Born June 27, 1975 — Tobey Maguire, 46. Spider-Man in the Sam Raimi trilogy of the Spidey films. His first genre appearance was actually in The Revenge of the Red Baron which is one seriously weird film. Much more interesting is his role as David in Pleasantville, a film I love dearly. He produced The 5th Wave, a recent alien invasion film. 
Born June 27, 1987 — Ed Westwick, 34. British actor who has roles in the dystopian Children of Men, S. Darko (a film I couldn't begin to summarize), Freaks of Nature (a popcorn film if ever there was one), the "Roadside Bouquets" episode of the British series Afterlife (which I want to see) and The Crash (which may or may not be SF).
(7) COMICS SECTION.
Frank and Ernest would be debating about an Einstein quote if they had someone to take the other side.
Off the Mark show the problem with aliens who do look like something humans have seen before.
Bizarro drops a frosty gag in the middle of summer.
(8) WILL THIS WORK? "Relativity Space Reveals Fully 3D Printed Reusable Rocket" says Fabbaloo.
…How did Relativity Space achieve this? They built a proprietary metal 3D printing system they call "Stargate" that can, as most 3D printers can do, produce arbitrary objects. The company has used it to produce working Aeon 1 engines for their previous and much smaller rocket, the Terran 1.

The advantage here is that they are literally 3D printing the entire rocket with Stargate. The engines, the fuselage, plumbing and more. This approach allows them to bypass many complications during the build process and subsequent operation: there are far fewer parts to assemble, fewer joints to fail, fewer seams to leak, and so on. The parts are also designed using generative techniques to ensure they are lightweight as possible….
(9) GET JEMISIN'S GREEN LANTERN. (Item by Daniel Dern.) N K Jemisin's "Far Sector" Green Lantern twelve-issue miniseries from DC Comics is done, and it's excellent. (Note, Sojourner "Jo" Mullein , Jemisin's Green Lantern, has just shown up in one of the regular Green Lantern titles.)
Want to get/read it? As always, with comics, there's a range of ways, depending on where your slider is between Sooner and Frugaler (also paper vs. pixels):
For sale as paper comics. From your local comic shop, or via distant/online sellers. List price $3.99 each, so x12 for the whole run.
In digital form, via ComiXology.com (the engine behind DC and Marvel's digital sites; owned by Amazon, FYI.) Hmmm, issues 1-9 are currently on sale from $3.99 each down to $0.99, with 10-12 still $3.99 each, so cheaper than buying the paper comics (assuming they're still available at list price) — Far Sector (2019-) Digital Comics – Comics by comiXology
Digitally, via DC's digital streaming site/service DC Universe Infinite — $7.99/month or $74.99/year; free 1-week trial
Good deal for the patient and moderately frugal — like Marvel, new issues don't get posted here until (at leaat) 6 months after print release date.
So far, the first 9 issues of Far Sector are up here. Wait 3 months, they'll all be up.
Collected into a book ( = has ISBN, for sale in stores, libraries can/will buy it): Far Sector (9781779512055): Jemisin, N.K., Campbell, Jamal: Books. Not available until October 2021, trade paperback, list $29.99
At that point, for the patient and ultra-frugal, also, a) your library (or library network) can order it for you, b) the digital version will likely be available via Hoopla (hoopladigital.com).
Here's some review links
(10) A MODERN STONE AGE FAMILY HOME. "Settlement reached in Flintstone House case" – the San Jose Mercury-News says the city and the owner of a house in Hillsborough, California modeled after the Flintstones have finally resolved their litigation.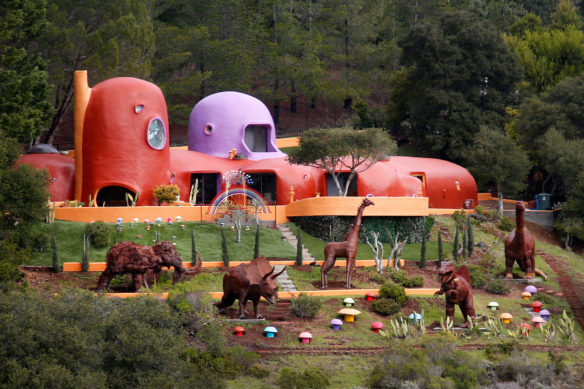 After a years-long legal battle, the quirky, colorful prehistoric decor dotting the so-called Flintstone House will be allowed to stay.

According to the Palo Alto Daily Post, Florence Fang and the town of Hillsborough recently settled a 2019 lawsuit stemming from allegations that Fang had failed to get approval to add dinosaurs and a large sign reading "Yabba Dabba Doo," among other things, to the yard surrounding her whimsical orange and purple home, which is very visible from Interstate 280.

The settlement agreement reportedly says Hillsborough will pay Fang, a retired media mogul whose family used to own the San Francisco Examiner, $125,000 to cover costs associated with the lawsuit and approve permits for the changes made to the home. Fang, who is in her mid-80s, will drop her claims. She has said the city had stymied her initial attempts to get permits, and she suggested that she was discriminated against for being Asian….
(11) MARATHON MAN. Author Miles Cameron has mixed his thoroughly modern career with ancient avocations —
After the longest undergraduate degree on record (1980-87), I joined the United States Navy, where I served as an intelligence officer and as a backseater in S-3 Vikings in the First Gulf War, and then on the ground in Somalia, and elsewhere. After a dozen years of service, I became a full time writer in 2000. I live in Toronto (that's Ontario, in Canada) with my wife Sarah and our daughter Beatrice, currently age fourteen. I'm a full time novelist, and it is the best job in the world.

I am also a dedicated reenactor; it is like a job, except that in addition to work, you must pay to participate. You can follow some of my recreated projects on the Agora. We are always recruiting, so if you'd like to try the ancient world or the medieval world, follow the link to contact us. Come on. You know you want to.

Below, that's us, at Marathon in Greece in 2011.
Cameron's new SF novel Artifact Space was release this month:
Out in the darkness of space, something is targeting the Greatships.

With their vast cargo holds and a crew that could fill a city, the Greatships are the lifeblood of human occupied space, transporting an unimaginable volume – and value – of goods from City, the greatest human orbital, all the way to Tradepoint at the other, to trade for xenoglas with an unknowable alien species.

It has always been Marca Nbaro's dream to achieve the near-impossible: escape her upbringing and venture into space.

All it took, to make her way onto the crew of the Greatship Athens was thousands of hours in simulators, dedication, and pawning or selling every scrap of her old life in order to forge a new one. But though she's made her way onboard with faked papers, leaving her old life – and scandals – behind isn't so easy.

She may have just combined all the dangers of her former life, with all the perils of the new . . .
(12) EEL CHOW CALL. "When an Eel Climbs a Ramp to Eat Squid From a Clamp, That's a Moray" is the New York Times' lyrical headline.
Moray eels can hunt on land, and footage from a recent study highlights how they accomplish this feat with a sneaky second set of jaws.

….And morays climbing out of water came as no surprise to some observers. Lana Sinapayen, an artificial life researcher who grew up in the Caribbean island of Martinique, said local fishermen often caught morays by placing squids on the shore and waiting for the eels to arrive. "You only need a solid stick to take your pick," she wrote in an email. Dr. Sinapayen was not involved in the research but wanted to emphasize that many local people have long known that morays can hunt on land.
[Thanks to JJ, Michael Toman, John King Tarpinian, Hampus Eckerman, Jennifer Hawthorne, Daniel Dern, Cat Eldridge, Mike Kennedy, Andrew Porter, and Martin Morse Wooster for some of these stories. Title credit belongs to contributing editor of the day Daniel Dern.]