(1) NEW BOB SHAW EBOOK. Rob Jackson and David Langford's new Ansible Press edition The Full Glass Bushel by Bob Shaw is now available as a free download in multiple formats at the Trans-Atlantic Fan Fund website (where they hope you'll make a little donation to the fund if you please.) The official release date is June 30 but Langford gave File 770 permission to jump the gun.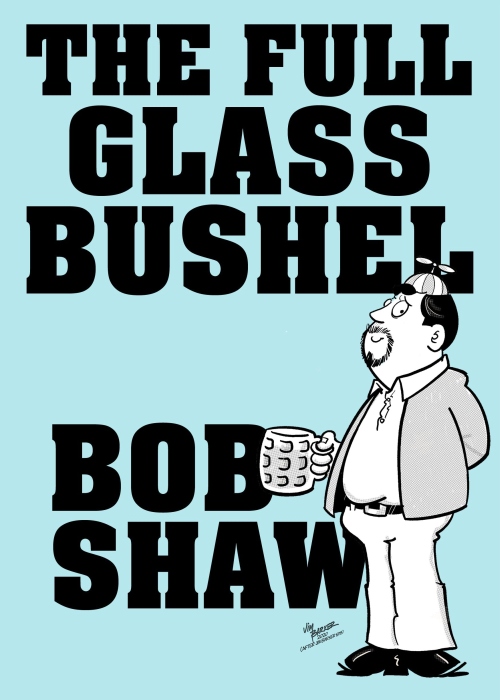 Bob Shaw's column "The Glass Bushel" in the legendary fanzine Hyphen has never until now been collected in full. Thirteen of these columns – selected by Bob himself – were brought together as the printed booklet The Best of the Bushel (1979) edited by Rob Jackson, introduced by Walt Willis and illustrated by Jim Barker – who has recreated his cover illustration for this ebook. A different though partly overlapping selection of fourteen columns appeared as 14 Bob the Bushel (1995) edited by Bruce Pelz.

The Full Glass Bushel includes the entire text of The Best of the Bushel and adds the remaining seventeen "Bushel" instalments from Hyphen, plus six non-Bushel pieces that Bob Shaw also published in Hyphen and two further columns from Science Fiction Review, where "The Glass Bushel" was briefly revived in 1984. All in all, it's a huge feast of wit, wisdom and autobiography by one of our greatest fanwriters.

This collection complements The Serious Scientific Talks, issued as a TAFF ebook in November 2019. A third and even larger ebook of Bob Shaw's other fanzine writings is in preparation, tentatively titled Slow Pint Glass.

…New cover art and layout by Jim Barker, plus selected interior art by Jim from The Best of the Bushel. Edited by Rob Jackson (who has contributed a new introduction) and David Langford. 81,000 words.
Langford adds, "The page mentions a third Bob Shaw ebook still under construction, which currently contains nearly 80 articles — more than 120,000 words."
(2) SLF SEEKS JURORS. The Speculative Literature Foundation is looking for people to read applications for their grants. More information on Facebook. There's a $25 honorarium for serving.
The Speculative Literature Foundation needs jurors to read applications for the Diverse Writers and Diverse Worlds Grants, and the AC Bose Grant for South Asian Speculative Literature. Ideally, we're looking for people who are well read in science fiction, fantasy and horror, but we'd also like a mix of readers, writers, librarians, teachers, editors, etc. who are capable of judging literary quality in a work. Please note: we'd love to have South Asian and South Asian diaspora jurors for the AC Bose Grant, but it's not a requirement.

Jurors will probably read 25-50 applications, which includes a writing sample of no more than 5,000 words. Jurors will have about six weeks to read applications, select finalists, and choose a winner or winners for the grants, as can be seen in more detail below…
If interested, please send a brief note to Malon Edwards at [email protected] with the subject line: JUROR. Please include the grant you wish to be a juror for and a paragraph about what your qualifying background is to serve as a juror: for example, your interest in / connection to the field. (i.e., "I'm an ardent reader!" or "I've been writing SF/F for seven years…"). Please feel free to ask any questions you may have as well.
(3) JULY BOOKS. [Item by Chip Hitchcock.] The New York Times list of books to watch for next month leads off with genre:
'Afterland,' by Lauren Beukes (Mulholland, July 28)

After the "Manfall" pandemic wipes out most of the men on the planet, Cole disguises her son — one of the last males on Earth — as a girl and tries to get him to safety before the government can snatch him. Their cross-country journey is treacherous, as they evade not only the Department of Men but also Cole's sister, Billie, who is determined to separate mother and son. Beukes's imagined world — complete with bootleg sperm and faux baby bumps — is a thrilling setting for an examination of maternal love.
Full list is probably paywalled. No other real genre cites, but #2 is Jeopardy! host Alex Trebek's memoir, and deep in the list is a discussion of popular superstitions like the "devil" of the New Jersey Barrens.
(4) FROM VALLEY FORGE TO THE WINTER SOLDIER. Daniel D'Addario, in "Anthony Mackie and Daveed Diggs on Black Lives Matter, Marvel, and Hamilton" on Variety, has Mackie and Diggs interview each other, including promotion of Diggs's role in Hamilton and Mackie's in The Falcon and the Winter Soldier. "Anthony Mackie and Daveed Diggs on Black Lives Matter, Marvel and 'Hamilton'"
Daveed Diggs: Congratulations on jumping into "Altered Carbon." Are you a sci-fi head? Because I am, and you do an awful lot of sci-fi stuff.

Anthony Mackie: I'm not a big sci-fi person. I grew up on "Star Wars," but I never got into anything futuristic. When I was in high school, there was this movie called "Starship Troopers."

Diggs: Familiar.

Mackie: In New Orleans we had huge cockroaches. "Starship Troopers" freaked me out. I can't do it, man. My imagination is too vivid. But "Altered Carbon" was great. If you look at the "Avengers" movies, I've never been the lead, or had to do that much action. It became a painstaking weekly hustle to finish that show.
(5) AS YOU WISH. "Watch the Celebrity-Filled Fan-Film Version of The Princess Bride". Tagline: "A-list actors worked secretly in quarantine to create a rough-hewn, homemade version of the classic film and raise $1 million for charity. Vanity Fair has the exclusive look at three clips from the series, which will start showing this Monday on Quibi."
… Jeffrey Katzenberg loved the concept and was moved by the charitable effort, so Quibi made a $1 million donation to World Central Kitchen, which equates to approximately 100,000 meals, in order to distribute the handmade project.

The creators hope the footage can also provide some laughter to viewers in a time of hardship. Their scrappy version of The Princess Bride leans into its continuity lapses, utilizes absurd household props and back-of-the-closet costumes, and deploys multiple castings of the same roles to show that in a true fantasy, anyone can play anything.

Before we go any further, just watch some. It'll be easier to explain after that.

That's Josh Gad playing the little boy with a cold who is reluctantly told the swashbuckling story by his grandfather. If you're wondering what the director of the original movie, Rob Reiner, thinks of this riff on his work—that's him playing the grandfather in this sequence.
(6) HARRYHAUSEN CENTENARY. SYFY Wire identifies "5 Franchises That Owe Ray Harryhausen A Kraken-Size Debt On His 100th Birthday". One of them is —
Jurassic Park

[Film Historian Bruce] Crawford: When they made the first Jurassic Park (1993), originally the full-body shots of the dinosaurs were to be realized through a form of stop-motion animation called go-motion, to be done by Phil Tippett. And even though they ended up using CGI instead, Tippett stayed on as one of the lead technicians, and many people on the crew, including Dennis Murren at Industrial Light & Magic — not to mention director Steven Spielberg — are huge admirers of Ray's. Many of them cite movies like One Million Years B.C. (1966) and The Valley of Gwangi (1969) as the most inspirational dinosaur films ever made. That shows in the film. For example, the scene where the T. rex attacks the Gallimimus was modeled specifically after a key moment in The Valley of Gwangi.

Also, remember when the T. rex eats the lawyer? Well, the lawyer survived in the book. But in the movie, the T. rex bites him from the head down and lifts him up in his mouth — very much like that scene in The Beast from 20,000 Fathoms (1953), where the Rhedosaurus is rampaging around the city and snatches up a police officer. It's one of the most iconic scenes in monster movie history, and Ray recognized that moment in Jurassic Park as an homage to his work. He was really touched by that.
(7) MEDIA BIRTHDAY.
June 29, 1979 — Moonraker premiered. It was directed by Lewis Gilbert, and  produced by Albert R. Broccoli.  Screenplay was by Christopher Wood off the  Moonraker novel by Ian Fleming. It was the fourth Bond film to star Roger Moore. Supporting cast was Lois Chiles, Michael Lonsdale,  Richard Kiel and Corinne Cléry. Broccoli had originally intended to make For Your Eyes Only, but chose Moonraker because of the popularity of Star Wars. Some critics really liked it, some really hated it. (Connery thought it was crap.) Audience reviewers at Rotten Tomatoes give it a mediocre 43% rating. (CE)
(8) TODAY'S BIRTHDAYS.
[Compiled by Cat Eldridge and John Hertz.]
Born June 29, 1900 – Antoine de Saint-Exupéry.  Author, aviator, illustrator, journalist.  His novella The Little Prince (1943) won the Retrospective Hugo and has been translated into 300 languages.  He was a viscount, a pioneer of international postal flight, a pilot in and out of war with 13,000 flying hours; his complicated heroic life and his works outside SF are worth study, as is LP which may be even more than it seems.  Prix Femina; Prix des Ambassadeurs; Grand Prix du roman de l'Académie française; inscribed in the Panthéon, Paris; Officer of the Legion of Honor; Croix de Guerre with Palm; U.S. Nat'l Book Award.  (Died 1944, maybe) [JH]
Born June 29, 1919 —Slim Pickens. Surely you remember his memorable scene as Major T. J. "King" Kong in Dr. Strangelove? I certainly do. And. of course, he shows up in Blazing Saddles as Taggart. He's the uncredited voice of B.O.B in The Black Hole and he's Sam Newfield in The Howling. He's got some series genre work including several appearances on Alfred Hitchcock Presents, plus work on The Man from U.N.C.L.E. and Night Gallery. (Died 1983.) (CE)
Born June 29, 1935 – Richard Harter, F.N.  In his words, "a collector who prizes his mint copy of Dick and Jane meet Robby Robot, a club fan who is … also a diamond fan and a spade fan, a fanzine fan whose multitudinous publications, if not always award winning, certainly ought to be, and a convention fan noted for attending conventions that no one else attended."  Fellow of NESFA (New England SF Ass'n; a service honor); six entries in the history section of the NESFA Website.  Proposed the NESFA Hymnal.  Upon retirement, moved back to South Dakota, from which he remained active.  Always a Marine.  (Died 2012) [JH]
Born June 29, 1940 – Joe Sanders, 80.  Reviewer for Algol, Delap's, Fantasy Review, Int'l Ass'n for Fantasy in the Arts Newsletter, Locus, NY Review of SF, SF Book Review, SF Chronicle, SF Commentary, Starling, Starship.  Wrote Roger Zelazny, a Primary & Secondary Bibliography (1980: who'll do a 2nd ed'n?); E.E. "Doc" Smith; Science Fiction Fandom; The "Sandman" Papers; The Heritage of Heinlein (with T. Clareson).  Clareson Award after C died.  Professor emeritus, Lakeland Community College, Ohio.  [JH]
Born June 29, 1950 – Michael Whelan, 70.  Seven artbooks, from Wonderworks (edited by Kelly & Polly Freas) through Beyond Science Fiction with this exhibit.  Fifteen Hugos.  Fourteen Chesleys, recently for "In a World of Her Own", which was made the Beyond cover.  Spectrum Award; SF Hall of Fame; 370 book and magazine covers, plus interiors.  Many times Guest of Honor including 56th and 65th Worldcons.  Among the very best.  [JH]
Born June 29, 1956 – David Mattingly, 64.  Hundreds of book and magazine covers for us, two thousand in all, plus interiors;  Chesley for the Amazing Sep 91 cover; two Magazine & Bookseller Best Cover of the Year awards.  Here is the Aug 81 Asimov's.  Here is A Rising Thunder.  Guest of Honor at Boskone 25, Con*Stellation XX (some use Roman numerals, some don't), Lunacon 49, Bubonicon 36 & 38, Canvention 38, Loscon 42.  [JH]
Born June 29, 1957 – Fred Duarte, Jr.  Chaired Fandom Ass'n of Central Texas; member of NESFA.  Chaired ArmadilloCon 9-10, 14, 17, Fan Guest of Honor at ArmadilloCon 33.  Co-chaired Westercon 49.  Chaired World Fantasy Con in 2000, 2006.  Chaired Smofcon 13.  Copperhead Award.  OGH's appreciation is here.  (Died 2015) [JH]
(9) JUST NEEDS SOME BIPLANES PILOTED BY MICE. Mlex asks, "Does this count as genre?  I was thinking: King-Kong-esque."
(10) LESS SUPER. "Betelgeuse: Nearby 'supernova' star's dimming explained". BBC will tell you all about it.
Astronomers say big cool patches on a "supergiant" star close to Earth were behind its surprise dimming last year.

Red giant stars like Betelgeuse frequently undergo changes in brightness, but the drop to 40% of its normal value between October 2019 and April 2020 surprised astronomers.

Researchers now say this was caused by gigantic cool areas similar to the sunspots seen on our own parent star.

There had been speculation that Betelgeuse was about to go supernova.

But the star instead began to recover and by May 2020 it was back at its original brightness.

Betelgeuse, which is about 500 light-years from Earth, is reaching the end of its life. But it's not known precisely when it will explode; it could take as long as hundreds of thousands of years or even a million years.

When the giant star does run out of fuel, however, it will first collapse and then rebound in a spectacular explosion. There is no risk to Earth, but Betelgeuse will brighten enormously for a few weeks or months.
(11) ROWLING REITERATES. Incredibly, J.K. Rowling was back for another round on Twitter this weekend. Thread starts here:
And near the end:
Stephen King retweeted Rowling's thread. He did not say why. Shortly afterward, another Twitter user told King: "You should address the TERF tweet. By telling us constant readers if you believe trans women are women." He responded: "Yes. Trans women are women."
(12) PUPPY ACTS OUT. P. Alexander, publisher of Cirsova, a 2017 Hugo nominee courtesy of the Rabid Puppies slate, today proclaimed "SFWA is a Terrorist Organization" [Internet Archive copy] due to its statement in support of Black Lives Matter.
…And it is for this reason that Cirsova Publishing has officially adopted the policy of recognizing the SFWA as a terrorist organization.

We strongly recommend any authors with good conscience leave this malign organization.

We strongly recommend any authors considering membership to avoid it.

While we will not make it a policy to ask, Cirsova Publishing will no longer consider submissions from new authors with SFWA credentials in the bio materials that they send us until the organization takes a real stand against racism and disavows and ceases supporting domestic terrorist groups.
(13) YOU WILL BELIEVE A MAN CAN FLY. They think this Hollywood artifact might go for $40,000. "Christopher Reeve's Superman Cape Can Be Yours—For a Sky-High Price" – at Mental Floss.
…The cape appeared in 1978's Superman: The Movie, 1980's Superman II, and possibly 1983's Superman III. According to Julien's Auctions, the trademark red cape was used to film Reeve while he was mounted on a wire harness, for both blue screen and front projection work, to make it appear as though he was flying. Slits in the fabric accommodated the wires. There are also pockets at the bottom of the cape so rods could be inserted to make it seem as though it were flapping in the air.
(14) VIDEO OF THE DAY. In "The Last Airbender Pitch Meeting" on YouTube, Ryan George explains why boiling down hours of anime into a 90-minute movie doesn't work.
[Thanks to John Hertz, JJ, Chip Hitchcock, Cat Eldridge, Michael Toman, Martin Morse Wooster, Andrew Porter, Mike Kennedy, Mlex, and John King Tarpinian for some of these stories. Title cedit goes to File 770 contributing editor of the day Anna Nimmhaus.]