(1) F&SF COVER. Gordon Van Gelder, publisher of The Magazine of Fantasy and Science Fiction, shares a preview of their July/Aug. 2019 cover. The cover art is by Mondolithic Studios.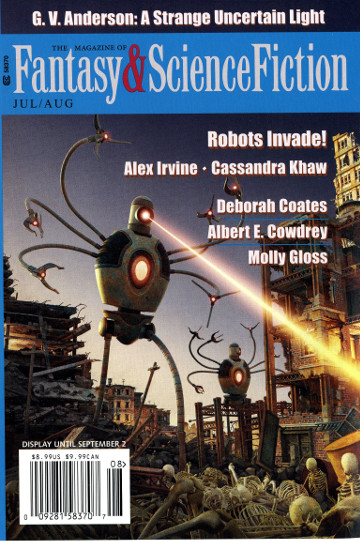 (2) RANKING SPACE OPERA. The readers of Discover Sci-Fi voted these as "The Top 10 Space Opera books or series of all time". Coming in first place —
1. Honor Harrington series by David Weber

And the number one, all time best space opera as selected by DiscoverSciFi readers is the Honor Harrington series! Otherwise known as The Honorverse, most of the more than 20 novels and anthology collections cover events between 4000 and 4022 AD. Much of the series' political drama follows that of Europe's political scene from the 1500's to 2000's.
(3) PRIDE MONTH. Tor.com invites readers to celebrate with free novellas: "Happy Pride Month! Download These 4 Free LGBTQ+ Sci-Fi/Fantasy Novellas Before June 8!"
Download In Our Own Worlds now, featuring:
The Lamb Will Slaughter The Lion by Margaret Killjoy
Passing Strange by Ellen Klages
A Taste of Honey by Kai Ashante Wilson
The Black Tides of Heaven by JY Yang
(4) SUPER JOB. LAist interview Mark Waid about "How To Become A Comic Book Writer In LA: From A Legendary Superman Writer".
STEP 2: BUILD A NETWORK

Waid attributes getting the chance to write comics to dumb luck. But there was also a lot of hard work. He started his career at Fantagraphics in Thousand Oaks, doing editing, layout, and other production on comic book fan magazine Amazing Heroes.

He also had the chance to write for the magazine, doing interviews that he described as puff pieces — but discovered that he was inadvertently networking, since he was now in touch with every editor and creator in comics.

When an editorial position opened up at DC Comics in 1987, he was known there for his work in those fan magazines.

"Was I interested in coming in for an interview? Well, yes. Jesus, yes," Waid said.
(5) DRAINING THE SWAMP. At this DC they really did it — "'Swamp Thing' Canceled Less Than a Week After DC Universe Debut" in The Hollywood Reporter.
Just six days after its debut on DC Universe, Swamp Thing has been canceled.

Only one episode of the series has aired on DC Universe. The remainder of the show's 10-episode run will play out on the streaming platform, but it won't return after that. 
(6) IF YOU WILL. In "The Race to Venus", Nature reviews the initiatives to explore Venus.
After decades of neglect, the world's space agencies can no longer resist the pull of Earth's evil twin.

…Venus is Earth's double. Recent research has even suggested that it might have looked like Earth for three billion years, with vast oceans that could have been friendly to life. "That's what sets my imagination

on fire," says Darby Dyar, a planetary scientist at Mount Holyoke College in South Hadley, Massachusetts. "If that's the case, there was plenty of time for evolution to kick into action." That could mean that Venus was (somewhat surprisingly) the first habitable planet in the Solar System — a place where life was just as likely to arise as it was on Earth. That alone is a reason to return to the former ocean world.
(7) LEAVING MEATSPACE. [Item by Jonathan Cowie.] Nature this week reviews an SF novel in a substantive way – we perhaps get a full page SF novel a review once a year or twice if we are lucky.  Up this time is Neil Stephenson's new novel Fall. "A digital god: Neal Stephenson rides again"
Neal Stephenson likes to blow things up. In Seveneves (2015), for instance, the prolific science-fiction writer detonated the Moon, then played out how humanity tried to save itself from extinction. In his new tome, Fall, the metaphorical explosion kills just one man.  But this is an individual sitting on a few billion dollars, and longing to escape the shackles of mortality. The aftermath of the blast is thus just as powerful, and changes the fate of humanity just as profoundly.
(8) NASA COLLECTIBLES. [Item by Daniel Dern.] This Orion appears to be a spacecraft, rather than the boom-boom drive discussed in a recent scroll; submitted here for the souvenir-turtles (1) aspect: "Orion Collectibles".
(1) If you don't recognize the Heinlein reference, you won't be gathering moss. Or syng pngf, aka Zamboni'd credentials.
(9) BEGIN AGAIN. The American Scholar's George Musser weighs in on the future of the space program: "Our Fate Is in the Stars".
…In space, no one can hear your echo chamber. Those who worked on Apollo were not immune to human foibles, such as being a little too fond of their own reasoning, but the mission came first. Fishman recalls disputes over the mission plan. Engineers in Huntsville wanted to fly directly from Earth orbit to the lunar surface. Engineers in Houston wanted to use lunar orbit as a way station. The meetings got heated. NASA commissioned two studies, with the twist that each team had to flesh out the other's plan. Making the engineers step into each other's shoes unstuck the debate, and Huntsville came around to Houston's approach. That one decision ended up saving billions of dollars.

But as much as the Apollo program inspires, it also taunts. The unity of purpose, the technological virtuosity, and the exploratory achievements seem beyond us today—not just in space, but in every domain. I almost wish we didn't remember Apollo, because the remembrances fill a void. The space program still does amazing things, but nothing like Apollo. The world has made itself a safer and healthier place, but some problems demand direction from the top, and we don't get much of that.
(10) TODAY'S BIRTHDAYS.
[Compiled by Cat Eldridge.]
Born June 6, 1853 — Charles Howard Hinton. British mathematician and writer of SF works titled Scientific Romances. He's largely known now for coining the word "tesseract" which would get used by writers as diverse as Charles  Leadbeater, H.P. Lovecraft, Robert Heinlein and  Madeleine L'Engle. He and his, errr, unique family would in turn figure into the fiction of Alan Moore, Carlos Atanes, Aleister Crowley, John Dewy and Jorge Luis Borges. (Died 1907.)
Born June 6, 1915 — Tom Godwin. He published three novels and twenty-seven short stories in total. SFWA selected his story, "The Cold Equations", as one of the best SF short stories published before 1965, and it is therefore included in The Science Fiction Hall of Fame, Volume One, 1929–1964. (Died 1980.)
Born June 6, 1947 — Robert Englund, 72. I think his best performance was as Blackie on the very short-lived Nightmare Cafe. Of course, most will remember him playing Freddy Krueger in the Nightmare on Elm Street franchise. He actually appeared in a couple of now forgotten horror films, Dead & Buried  and Galaxy of Terror, before landing that role. And he's continued to do myriad horror films down to the years ranging from CHUD to Strippers vs Werewolves. Versatile man, our Robert.  
Born June 6, 1951 — Geraldine McCaughrean, 68. Fifteen years ago, she wrote Peter Pan in Scarlet, the official sequel to Peter Pan commissioned by Great Ormond Street Hospital, the holder of Peter Pan's copyright which J.M. Barrie granted them. So has anyone here read it? 
Born June 6, 1959 — Amanda Pays, 60. I first encountered her as Thero Jones on Max Headroom, a series I think could be considered the best SF series ever made. She also had a guest role as Phoebe Green in the episode "Fire" of The X-Files, and and as Christina "Tina" McGee in The Flash. She appeared as Dawn in the Spacejacked film. 
Born June 6, 1961 — Lisabeth Shatner, 58. Uncredited as child along with her sister Melanie in "Miri" episode. Also appeared uncredited on TekWar entitled "Betrayal" which she wrote. The latter also guest-starred her sister, and was directed by their father.  Co-wrote with father, Captain's Log: William Shatner's Personal Account of the Making of Star Trek V the Final Frontier.
Born June 6, 1963 — Jason Isaacs, 56. Captain Gabriel Lorca, the commanding officer of the USS Discovery in the first season of Discovery and also provided the voice of The Inquisitor, Sentinel, in Star Wars Rebels, and Admiral Zhao in Avatar: The Last Airbender. Oh, and the role of playing Lucius Malfoy in the Harry Potter film franchise.
Born June 6, 1964 — Jay Lake. Another one who died far too young. If you read nothing else by him, read his brilliant Mainspring Universe series. Though his Green Universe is also entertaining and I see Wiki claims an entire Sunspin Universe series is forthcoming from him. Anyone know about these novels? (Died 2014.)
(11) COMICS SECTION.
Love of books features in Grant Snider's Incidental Comics:
(12) WW84. On Twitter, Patty Jenkins posted a photo of Gal Gadot's snappy new costume for Wonder Woman 1984.
(13) GO WITH THE FLOW. Tor.com shows Sparth's cover for the third book in the series — "Revealing John Scalzi's The Last Emperox". (Coming in April 2020.)
The collapse of The Flow, the interstellar pathway between the planets of the Interdependency, has accelerated. Entire star systems—and billions of people—are becoming cut off from the rest of human civilization. This collapse was foretold through scientific prediction… and yet, even as the evidence is obvious and insurmountable, many still try to rationalize, delay and profit from, these final days of one of the greatest empires humanity has ever known.
(14) CAT TUBE. Science Direct has an article on "The use of animal-borne cameras to video-track the behaviour of domestic cats".
…Free roaming domestic animals can have a profound effect on wildlife. To better understand and mitigate any impact, it is important to understand the behaviour patterns of the domestic animals, and how other variables might influence their behaviour. Direct observation is not always feasible and bears the potential risk of observer effects. The use of animal-borne small video-cameras provides the opportunity to study behaviour from the animal's point of view….
A nontechnical article about the study in the Washington Post makes it sound like their effect isn't as profound as advertised: "Catcam videos reveal cats don't sleep all day. (Just some of it.)"
Indoors, Huck said, most cats' No. 1 activity would almost certainly be sleeping. But these cats' lives were recorded when they were outdoors, and they had a higher priority: Their top activity was "resting" — not sleeping, but not exactly up and at 'em. Another preferred pastime was "exploring," which Huck said amounts to "sniffing at plants or things."

Although "cats are famous for being lazy," Huck said, even their alfresco resting was active, if subtly so. The cat's-eye-view videos revealed many instances of felines sitting for some time in one spot, but "constantly scanning the area," as evidenced by faint shifts in the camera angle — left to right, up and down.

"They are really very patiently watching the environment, not wasting energy," Huck said.
(15) THE SOON TO BE LATE AUTHOR. You'll need to hurry. In LA, it's opening weekend for "The Assassination of Edgar Allan Poe" at the Downtown Repertory Theater. Tickets for Poe on June 7th, 7:30pm are $25 (discount)
(16) RETRO REVIEWS. Steve J. Wright has completed his Retro Hugo Novelette finalist reviews.
Novelette
(17) DRACULA'S BALLS. You didn't know he lost them? Well, strictly speaking, "Dracula the Impaler's 15th century cannonballs unearthed in Bulgaria" — SYFY Wire's has the story.
According to a report in Archaeology in Bulgaria, the balls were "most likely" used by Count Vlad in the winter of 1461-1462 during his "siege and conquest" of the Zishtova Fortress being held by the Ottoman Turks. The balls were used for culverins, an early, primitive form of the cannon.  
[Thanks to JJ, Chip Hitchcock, Jonathan Cowie, Mike Kennedy, Martin Morse Wooster, Cat Eldridge, SF Concatenation's Jonathan Cowie, John King Tarpinian, Carl Slaughter, and Andrew Porter for some of these stories. Title credit goes to File 770 contributing editor of the day Jack Lint.]