(1) HAN SOLO DIRECTORS AXED. The untitled Star Wars Han Solo spinoff started principal photography on February 20 at London's Pinewood Studios, but progress has come to an ass-grinding stop with the departure of directors Phil Lord and Christopher Miller, who cited "creative differences" for the split.
Variety's article puts it a bit differently — "'Star Wars' Han Solo Spinoff: Lord & Miller Fired After Clashing With Kathleen Kennedy".

Phil Lord and Chris Miller's reputation for writing irreverent, poppy films such as "21 Jump Street" and "The Lego Movie" helped the white-hot writing and directing duo land one of the most coveted gigs in Hollywood — a chance to call the shots on a "Star Wars" film.

But their chance to put their stamp on a galaxy far, far away collapsed on Tuesday with the stunning announcement that the pair would be departing the still untitled Han Solo spin-off movie in the midst of production. Their exit comes after months of conflict with producer Kathleen Kennedy, others from her LucasFilm team, and co-writer and executive producer Lawrence Kasdan, and the two directors hired to infuse the "Star Wars" universe with a tongue-in-cheek sensibility.

Miller and Lord were stunned to find that they were not being granted freedom to run the production in the manner that they were accustomed to. They balked at Kennedy's tight control on the set.
(2) SAY IT OUT LOUD. Madeleine E. Robins has some advice about dialect in "'Ow's that, Guv'nor?: The Art of Reading to an Audience".
So maybe, even if you hear the words you've written with a perfect what-ever-it-is accent, you'll want to think carefully before giving voice to their accents. This is a time when enlisting the assistance of a friend can be useful. Read aloud to them and ask them to tell tell you if it works. If your listener says you're more [Dick Van Dyke's Bert the chimney sweep] than Sir Ben Kingsley, rethink.

But my dialogue is written in dialect! Okay, but you don't have to read inflections that are not in the page. If you've got a character saying "I don't know 'ow!" you can soften the presumed "Oi" in I; if you aren't good at the vowels, don't hit 'em hard. And remember, it's more important that your listeners follow the sense and meaning of the words than that they get a full theatrical performance.
(3) RED PLANET INTERIOR DECORATORS. Jeremy White in WIRED ("IKEA designers are living in a Mars simulator to get inspiration for future collections. Really") says that IKEA sent an in-house design team to spend seven days at the Mars Desert Research Station in Utah, who then decided how to make a Mars mission "more homey" and then use that knowledge to aid in IKEA's product development.
At its annual Democratic Design Day event in Älmhult, Sweden, IKEA has revealed its latest collaborations and products, with a focus on millennials and space travel. Yes, space travel.

To this end, IKEA has done something rather drastic. It's banished a delegation of its in-house design team to live in a simulated Mars habitat at the Mars Desert Research Station in Utah, America, to learn what it's like to live in the inhospitable and cramped environs of off-world settlements.

When the company learned that Nasa and students from Sweden's Lund University School of Industrial Design were working on what would be needed for a three-year space mission to Mars, IKEA requested to join the project.

The home furnishings giant wants to tap in to what scientists and engineers learn from spaceflight to Mars, and apply these discoveries to products and methods for everyday life at home. Marcus Engman, head of design at IKEA, said the company wants to find out what could make space travel "homey" and to identify the boundaries and restraints needed to work in that environment, and then port that knowledge into IKEA's own product development and "use space knowledge for a better everyday life on Earth".
(4) TENTACLE TIME. Camestros Felapton reviews a science fictional-themed brew, complete with photos of its exotic label, in "Tuesday Beer: Galactopus @LittleBangBrew".
…I know my readers would WANT me to drink a beer called "Galactopus", which features a planet devouring octopus on the label.

The sacrifices I make for you all.
The label has some very clever copy. I wonder how many beer labels a person has to author to qualify for SFWA?
(5) RHETORICAL QUESTION. Having seen the Wonder Woman movie Daniel Dern wants to know, "Why no kangas on Paradise Island?"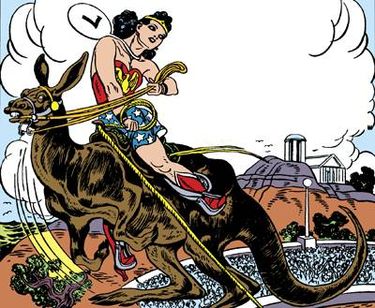 (6) HOWARD. The duck's cameos in Guardians of the Galaxy give his leading lady a new excuse to brag: "Lea Thompson Talks 'Howard the Duck,' Claims Her Crown as First Queen of Marvel".
Lea Thompson couldn't give a quack about what you think of Howard the Duck, the puntastic 1986 Marvel Comics-based action-comedy that ran afowl of movie critics and has lived in film infamy ever since. The George Lucas-produced movie has a fan base out there, and that's good enough for her.

"People love that movie!" Thompson said of "HTD," as she likes to call it, during a Facebook Live interview with Yahoo Movies (watch the full interview below). "They're releasing it again in Blu-ray or something… They don't just do that because they're nice." (The film was made available on Blu-ray for the first time last May.) "It's a hilariously bizarre movie," Thompson continued. "The only thing that I can say that I don't like about it is that I thought it was a little long."

The film, which featured the Back to the Future breakout as a Cleveland singer who helps the anthropomorphic duck acclimate to life on Earth, runs 110 minutes, which is still well short of the average runtime of today's Marvel movies, including the two Guardians of the Galaxy films that have briefly resuscitated Mr. HTD
(7) FIVE STARS. Marion Deeds and Kat Hooper each take a cut at Daryl Gregory's Spoonbenders at Fantastic Literature. Here's Marion's first paragraph:
Spoonbenders (2017) by Daryl Gregory, is multi-generational family saga. It's a coming-of-age story. It's a psychic adventure story and a weird conspiracy tale for lovers of shadowy CIA projects like MKULTRA. It's a gangster story. There's a heist. There is a long con, and a madcap comedy along the lines of classic Marx Brothers routines. There are a couple of romances, a direct-distribution scheme, a medallion, a cow and a puppy. If we're talking genre, I don't know what Spoonbenders is. I know I loved it. I know it was fun and made me laugh, I know it was scary at times and I know I closed the book feeling happy and sad. And I know it's a five-star book.
(8) COMIC SECTION. John King Tarpinian notes an amusing sf reference today in Bliss.
(9) SAD PUPPIES PROGRESS REPORT. Sarah A. Hoyt returned to tell Mad Genius Club readers what happened to Sad Puppies 5 in "About Those Lost Puppies". After a lengthy recap of her version of history, she reaches the tentative present:
…Our intention was always to just create a page, in which those who register can post reading recommendations, not just of recent years, but of anything that struck their fancy.  There will be a place where you can say when the book was published and if it's eligible for an award — and not just a science fiction award — and a link to the award page for people to follow, if so minded.  Yeah, we'll include the Hugo, but probably with a note saying the award is in the process of self-destructing.

Thing is, I meant to have this up before nominations for the Dragon Award opened.  But on top of the comedy of errors above, our website provider either crashed or was hacked, so while trying to survive auto-immune and meeting more deliveries than UPS, I've been trying to get it up and running again.  (My author site is down also.)

So, that's where we are.  We'll put it up sometime in the next couple of months, and then Amanda and I will run it, and then Amanda will take over  Or Amanda, Kate and I will continue shepherding it.

When we said this before and pointed out that PARTICULARLY indie books need some place to mention them, we were linked to/lectured by someone one the rabid side, because apparently they already have a site, so we don't need one of our own.

Tips hat to the right.  Thank you kindly.  But you guys are aware your aesthetics and goals aren't ours, right?

You just turned Marxist aesthetics on their head, and are judging books by being anti-Marxist and how much they don't support the neo Marxist idea of justice.  That's cool and all.  To each his own.  And since, so far, your crazy isn't being taught in schools, it's slightly less annoying than the Marxist crazy.

It is still annoying, though, because you're still judging literary value by whether it fits your (at least as crazy-cakes' as the Marxists) narrative and your precepts….
(10) I ATE THE WHOLE THING. It's been reliably reported that Whole Foods was not long for existence if Bezos or the like hadn't bought them. "Amazon Eats Up Whole Foods as the New Masters of the Universe Plunder America" japes The Daily Beast's Joel Kotkin.
Unlike our old moguls, the new Masters don't promise greater prosperity but a world where most people are to be satiated by a state-provided basic income and occasional 'gig' work.
(11) PLAY BALL The Washington Post's Scott Allen, in a piece called "Nationals will hide 'dragon eggs' ahead of 'Game of Thrones' Night",  says the Washington Nationals have hidden 10 "dragon eggs" in the D.C. area, and if you find one fabulous prizes can be yours at the Nationals' Game of Thrones night.
Nationals Park will look and feel a bit more like Westeros, the fictional continent from the popular HBO series based on George R.R. Martin's novels, when the Nationals host the Reds on "Game of Thrones" Night on Friday.

Ahead of the event, the Nationals will hide 10 prize-filled "dragon eggs" in D.C., Maryland and Virginia. A Westeros-themed map posted on the team's social channels and in The Washington Post Express on Tuesday morning will guide fans to the eggs, which contain a Nationals and "Game of Thrones" co-branded T-shirt, two tickets to Friday's game and a fast-pass to pose for a photo on the 800-pound Iron Throne that will be located in the Right Field Plaza.

…The Racing Presidents will wear different-colored cloaks with faux fur designed by Ingrid Crepeau, the same woman behind the elaborate costumes that the Racing Presidents have worn on "Star Wars Day" since 2015. Teddy and George showed off their costumes at AwesomeCon in D.C. over the weekend. Screech will be dressed as his favorite "Game of Thrones" character, the three-eyed Raven.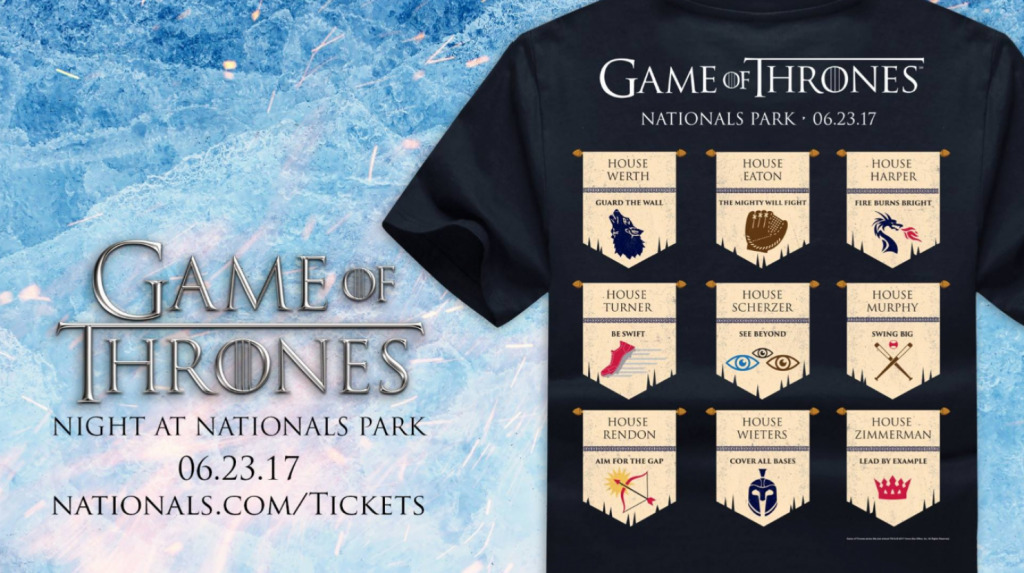 (12) SEUSS MUSEUM. The Washington Post's Andrea Sachs asks, "Will the Dr. Seuss museum be one of the places you'll go?" Her article reports on the Amazing World of Dr. Seuss museum in Springfield, Massachusetts, where museumgoers can make small books or "a Lorax mustache on a wooden stick, look at his art, and see the rooms where he wrote and drew his books, including hats given him from fans of The 500 Hats of Bartholomew Cubbins.
The ground floor brings to life several of his 40-plus children's books. The front door opens up to "And to Think That I Saw It on Mulberry Street," the first children's book Seuss published. A statue of a police officer patrols a zany parade painted on the wall. Around the bend, step into McGrew's Zoo, a riot of animals, most not found in the wild. A diagram shows some of the pretend creatures from "If I Ran the Zoo." There is a preep, a proo, a nerkle and a nerd. Yes, a nerd — a word Seuss made up. Continue onward to make the acquaintance of Thing One and Thing Two, the Cat in the Hat, the Lorax and the tower of turtles from — burp — "Yertle the Turtle."
Here's the direct link to "The Amazing World of Dr. Seuss Museum".
The Amazing World of Dr. Seuss is a permanent, bilingual museum designed to introduce children and their families to the stories of Ted Geisel, promote joy in reading, and nurture specific literacy skills. The 3,200-square-foot first floor exhibition will provide opportunities to explore new sounds and vocabulary, play rhyming games, invent stories, and engage in activities that encourage teamwork and creative thinking.

The second floor will be filled with personal memorabilia belonging to Ted Geisel, including original oil paintings, a collection of zany hats and bowties, the original Geisel Grove sign which used to hang in Forest Park, and furniture from Ted's sitting room and studio, including his drawing board, breakfast table, sofa, and armchair.
(13) NAZI RELICS. Matt Novak of Gizmodo covers the "Huge Collection of Nazi Artifacts Discovered Inside Secret Room in Argentina".
Federal police in Argentina recently discovered a time capsule of evil, hidden inside a house near Buenos Aires. Roughly 75 Nazi artifacts, including everything from a large knife to Nazi medical devices to a photo negative of Adolph Hitler, were uncovered in a secret room. Police are investigating when and how the items entered the South American country….

One reason that authorities in Buenos Aires has some degree of certainty that they are originals is that some items from the collection are pictured in photographs with Nazi leaders. For example, one item in the collection is a magnifying glass. The same magnifying glass is seen in a photo negative from the collection showing Hitler himself. Investigators showed the photo to the Associated Press on the condition that the photo not be published.

"This is a way to commercialize them, showing that they were used by the horror, by the Fuhrer. There are photos of him with the objects," said Bullrich.
 [Thanks to JJ, Daniel Dern, Cat Eldridge, Martin Morse Wooster, and John King Tarpinian for some of these stories. Title credit goes to File 770 contributing editor of the day Peer Sylvester.]