(1) $100 MILLION WEEKEND. (Redundant word "dollars" omitted in keeping with our new style sheet…) Moviegoers showed up with cash in hand: "'Wonder Woman' Shatters Box Office With Biggest Female Director Opening. Ever."
A box office wonder.

"Wonder Woman" smashed records this weekend to become the biggest domestic opening for a female director ever. Directed by Patty Jenkins and starring Gal Gadot under Warner Bros. and DC Entertainment, the film grossed an estimated $100.5 million at more than 4,000 theaters domestically, according to a statement from Warner Bros. Sunday. Thursday night's pre-show raked in $11 million alone.
(2) WONDERFUL. Eileen L. Wittig declares "Yes, I'm a Feminist. Yes, I Enjoyed 'Wonder Woman'" in a review for the Foundation for Economic Education.
I don't care that she wore heels the entire time. They looked very supportive, and are probably better weapons for spin kicks than sneakers. And maybe she just likes wearing heels. Maybe they make her feel powerful. They have that effect on me.

Beyond Her Looks

I do care about how Diana managed to walk that thin, thin line between literally being a weapon, and having empathy.

I care that she saw an unknown life and saved it, because she could, and because she cared.

I care that she was moved to tears when she heard about the suffering of millions of people she'd never even met, and then took that sorrow and turned it into motivation to save the rest.

I care that she was willing to sacrifice her own future life of peace among her family to save strangers.
(3) SECRET ORIGINS. Jill Lepore's "The Surprising Origin Story of Wonder Woman" appeared in Smithsonian in 2014, but David K.M. Klaus is right in thinking it makes a timely item after this weekend. He comments, "Information about comics history and the people involved in the creation of Wonder Woman never published before so far as I know, as well as the reasoning behind her creation. Also, the first reveal of the deliberately vicious and jealous motives of Frederik Wertham in the censorship of comics: He didn't give one damn about children, he was angry at a professional superior who didn't share his anti-woman attitudes. Frederik Wertham was the true advocate of bondage for Wonder Woman, psychological, emotional, and political bondage."
Here's an excerpt from Lepore's article:
Marston was a man of a thousand lives and a thousand lies. "Olive Richard" was the pen name of Olive Byrne, and she hadn't gone to visit Marston'she lived with him. She was also the niece of Margaret Sanger, one of the most important feminists of the 20th century. In 1916, Sanger and her sister, Ethel Byrne, Olive Byrne's mother, had opened the first birth-control clinic in the United States. They were both arrested for the illegal distribution of contraception. In jail in 1917, Ethel Byrne went on a hunger strike and nearly died.

Olive Byrne met Marston in 1925, when she was a senior at Tufts; he was her psychology professor. Marston was already married, to a lawyer named Elizabeth Holloway. When Marston and Byrne fell in love, he gave Holloway a choice: either Byrne could live with them, or he would leave her. Byrne moved in. Between 1928 and 1933, each woman bore two children; they lived together as a family. Holloway went to work; Byrne stayed home and raised the children. They told census-takers and anyone else who asked that Byrne was Marston's widowed sister-in-law. "Tolerant people are the happiest," Marston wrote in a magazine essay in 1939, so "why not get rid of costly prejudices that hold you back?" He listed the "Six Most Common Types of Prejudice." Eliminating prejudice number six "Prejudice against unconventional people and non-conformists" meant the most to him. Byrne's sons didn't find out that Marston was their father until 1963 — when Holloway finally admitted it'and only after she extracted a promise that no one would raise the subject ever again.

Gaines didn't know any of this when he met Marston in 1940 or else he would never have hired him: He was looking to avoid controversy, not to court it. Marston and Wonder Woman were pivotal to the creation of what became DC Comics. (DC was short for Detective Comics, the comic book in which Batman debuted.) In 1940, Gaines decided to counter his critics by forming an editorial advisory board and appointing Marston to serve on it, and DC decided to stamp comic books in which Superman and Batman appeared with a logo, an assurance of quality, reading, "A DC Publication." And, since "the comics' worst offense was their blood-curdling masculinity," Marston said, the best way to fend off critics would be to create a female superhero.
(4) PUT THE LID ON. Tales From the Crypt is not even being allowed to linger in development hell: "M. Night Shyamalan's Tales From the Crypt Reboot Shelved Due to Rights Issues".
M. Night Shyamalan's Tales From the Crypt reboot for TNT is currently no longer in the works due to rights issues, though the network may revisit the project in the future.

In an interview with Deadline, TNT and TBS president Kevin Reilly confirmed that, because of "a very complicated underlying rights structure," Shyamalan's reboot is no longer in development. The project faced legal issues since it was first announced back in 2016.

"That one got really caught up in a complete legal mess unfortunately with a very complicated underlying rights structure," Reilly said. "We lost so much time, so I said, "Look, I'm not waiting around four years for this thing.'"

…The Tales From the Crypt reboot was set to use the original William Gaines-created Tales From the Crypt EC Comics from the 1950s for some episodes, mixed in with original stories, with one of the episodes directed by Shyamalan.

In lieu of the Tales From the Crypt reboot's cancellation, Reilly revealed that TBS is currently working with Ridley Scott on an unannounced sci-fi series. The network is considering a straight series order and is aiming for a 2018 release, with Scott also potentially directing.
(5) HOW ALARMING. They're here. "First Wave Of Twin Peaks Funko Pops And Action Figures Includes Dale Cooper, Killer BOB, And The Log Lady".
Are you prepared for a tsunami of official Twin Peaks merchandise? The first wave of official Twin Peaks Funko Pops and Action Figures inspired by the original series is expected to hit the stores by April and May 2017 respectively.

The initial group of Pop! figures includes Dale Cooper, Audrey Horne, Killer BOB, the Giant, Laura in Plastic Wrap, the Log Lady, Leland Palmer, and the Giant.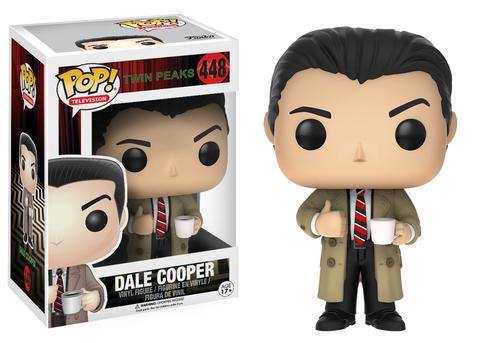 (6) STILL SUPER. Carl Slaughter calls your attention to this 2013 edition — Capes, Cowls, and the Creation of Comic Book Culture by Laurence Maslon and Michael Kantor.
Together again for the first time, here come the greatest comic book superheroes ever assembled between two covers: down from the heavens'Superman and the Mighty Thor'or swinging over rooftops'the Batman and Spider-Man; star-spangled, like Captain America and Wonder Woman, or clad in darkness, like the Shadow and Spawn; facing down super-villains on their own, like the Flash and the Punisher or gathered together in a team of champions, like the Avengers and the X-Men!

Based on the three-part PBS documentary series Superheroes, this companion volume chronicles the never-ending battle of the comic book industry, its greatest creators, and its greatest creations. Covering the effect of superheroes on American culture — in print, on film and television, and in digital media — and the effect of American culture on its superheroes, Superheroes: Capes, Cowls, and the Creation of Comic Book Culture appeals to readers of all ages, from the casual observer of the phenomenon to the most exacting fan of the genre.

Drawing from more than 50 new interviews conducted expressly for Superheroes! creators from Stan Lee to Grant Morrison, commentators from Michael Chabon to Jules Feiffer, actors from Adam West to Lynda Carter, and filmmakers such as Zach Snyder — this is an up-to-the-minute narrative history of the superhero, from the comic strip adventurers of the Great Depression, up to the blockbuster CGI movie superstars of the 21st Century. Featuring more than 500 full-color comic book panels, covers, sketches, photographs of both essential and rare artwork, Superheroes is the definitive story of this powerful presence in pop culture.
Check out interviews from PBS Superheroes: A Never Ending Battle.
(7) TRIVIAL TRIVIA
Did Sam Clemens get it wrong? "'Tom Sawyer' was NOT the first typewritten novel"
(8) TODAY IN HISTORY
June 4, 1982 — The Wrath of Khan debuted in theatres.
June 4, 1982 — Poltergeist premieres.
(9) MAJOR LEAGUE QUIDDITCH. The season has just begun: "There May Not Be Flying, But Quidditch Still Creates Magic".
When Colby Palmer started his freshman year at Virginia Commonwealth University, some students approached him in his dorm and asked whether he wanted to play quidditch.

Palmer had read all of the Harry Potter books and knew about the sport but said he felt reluctant to try it out.

"My impressions of quidditch was just that it's for nerds by nerds ' that they wouldn't be like people who I would find things in common with," Palmer says.

Despite his hesitations, Palmer did give it a try and found he loved it and the community. Now, he's heading into his senior year at VCU and is spending the summer playing for the Washington Admirals, one of 16 Major League Quidditch teams. The season starts this weekend.
(10) I'M MELTING…. These are the jokes, folks.
Apparently, I have lurkers from MikeGlyer's Fille770. Here's a little something for you. I call it: Why the Dragon is superior to the Hugo. pic.twitter.com/L5dDCVUzRk

— Richard Paolinelli (@ScribesShade) June 1, 2017
(11) NOT YOUR NAME HERE. "Colossus Con Rebrands After ColossalCon files Trademark Complaint" — Nerd & Tie's Trae Dorn has the story.
After running two events, California based Colossus Con has now been forced to rename their comic conventions. This has happened in the wake of a trademark complaint from Ohio based anime con ColossalCon. The Colossus Con events planned for Merced, CA and Campbell, CA have been renamed California Republic Comic Con and Campbell Con respectively.

As a 2018 Pleasanton, CA event hasn't been announced yet, we don't know what that event will be called if it happens again.
(12) GAME OVER. In "End-Times for Humanity", Claire Colebrook, a Penn State English professor, looks at the recent spate of apocalpytic movies and asks what these films say about the fragility of our culture.
What contemporary post-apocalyptic culture fears isn't the end of "the world" so much as the end of "a world" — the rich, white, leisured, affluent one. Western lifestyles are reliant on what the French philosopher Bruno Latour has referred to as a "slowly built set of irreversibilities –, requiring the rest of the world to live in conditions that "humanity" regards as unliveable. And nothing could be more precarious than a species that contracts itself to a small portion of the Earth, draws its resources from elsewhere, transfers its waste and violence, and then declares that its mode of existence is humanity as such.

To define humanity as such by this specific form of humanity is to see the end of that humanity as the end of the world. If everything that defines "us" relies upon such a complex, exploitative and appropriative mode of existence, then of course any diminution of this hyper-humanity is deemed to be an apocalyptic event. "We" have lost our world of security, we seem to be telling ourselves, and will soon be living like all those peoples on whom we have relied to bear the true cost of what it means for "us" to be "human'.
(13) LINGUINISTICS. It's always news to someone…
okay this is the best I've got #covfefe pic.twitter.com/CAD8UrP9hI

— Jackson Dame (@jacksondame) May 31, 2017
(14) WALKING THE TALK. "World Bank Economist Demoted for Demanding Clear Prose". Why? The explanation is simplicity itself.
This week, the financial press reported the downfall of a high-profile grammar pedant, Professor Paul Romer, the World Bank's chief economist, who was hoist(ed) on his own pedantic petard.

He is being replaced as head of the bank's research arm after he demanded that his colleagues write succinct, clear, direct emails, presentations and reports in the active voice with a low proportion of "and's". Romer will remain the bank's chief economist.

In fact, he had threatened not to publish the bank's central publication, World Development Report, "if the frequency of "and" exceeded 2.6 per cent€. He had also cancelled a regular publication that he believed had no clear purpose.

Why, you may ask, did the economists who work in the World Bank's research department take exception to these strictures? Who wouldn't want the corporate report that was a flagship publication of the bank to be narrow and "penetrate deeply like a knife"? Romer's 600 colleagues, that's who. But why?

It seems that, while he was encouraging his staff to avoid their customary convoluted "bankspeak"and consider their readers, he failed to follow his own advice. He was apparently curt, abrasive and combative. The troops refused to fall into line and he was ousted.
[Thanks to JJ, Cat Eldridge, Martin Morse Wooster, David K.M. Klaus, Chip Hitchcock, Peer Sylvester, John King Tarpinian, and Carl Slaughter for some of these stories. Title credit goes to File 770 contributing editor of the day Peer Sylvester.]