(1) BETTER: LATE OR NEVER? Barbara Hambly talks about "One of the problems I've had in writing historicals" at her LiveJournal.
One of the problems I've had in writing historicals – particularly earlier on, when I was researching from libraries rather than the Internet – is when after the book came out (usually about a year after), a book that would have been REALLY REALLY USEFUL for my research on a particular topic will appear, and cause me to say, Grrr, dammit… In one case the discrepancy was great enough that I phoned the editor and asked that a couple of paragraphs be changed in the next printing… I don't know if they ever did that or not….
(2) THE DIFFERENCE BETWEEN ZEROS. How can I not link to something with this title? "Is This The End of Our Hero, Coke Zero, Part III: The Final Zeronation" – by John Scalzi at Whatever. The subject turns out to be less mysterious than one might expect.
…As with last time the formula was tweaked, people are wondering what I, who basically lives on Coke Zero (not because I have fragile masculinity I SWEAR but because I prefer the taste to Diet Coke), thinks of the plan to fiddle with the taste profile. My response is basically the same as last time: If it ends up tasting more like regular Coke, great, because that's what I want; if it goes horribly wrong and I hate it, well, then, it's a very fine time for me to give up my cola addiction, which as a 52-year-old man is probably doing neither my pancreas or my kidneys any favors. That said, the last time Coke tweaked the Zero formula, I was perfectly fine with it; it was only subtly different….
(3) LIBERTYCON WILL HOST DEEPSOUTHCON 61. Newly-elected Southern Fandom Confederation President Randy Boyd Cleary announced that next year's DeepSouthCon will be hosted as part of LibertyCon in Chattanooga, Tennessee in 2023. [After the Scroll was posted, Cleary has issued a correction that 2023 is the year DSC and LibertyCon will be jointly held.]
LibertyCon has a membership ceiling – recently raised from 750 to 1000 paid attendees – and the available memberships for the 2022 convention go on sale July 23 at Noon Eastern time.
(4) TEEN LIFE IS UNBEARABLE. Disney and Pixar's Turning Red releases March 11, 2022.
Growing up is a beast. …Mei Lee [is] a 13-year-old who suddenly "poofs" into a giant red panda when she gets too excited (which is practically ALWAYS). Sandra Oh voices Mei Lee's protective, if not slightly overbearing mother, Ming, who is never far from her daughter—an unfortunate reality for the teenager….
(5) HEAD'S UP. [Item by Meredith.] YouTube's making a change to their rules which will render a lot of linked videos inaccessible, but people can opt out if they know about it.
(6) A LITTLE DIP. Shat showed up on Shark Week! Let Yahoo! tell you about it: "90-year-old William Shatner conquers his fear of sharks by swimming with them".
As Discovery's Shark Week swims on, Monday's special called Expedition Unknown: Shark Trek, featured Captain Kirk himself, William Shatner, trying to conquer his fear of sharks by boldly going and jumping into the water with them.

"I am deathly afraid of sharks," Shatner told the show's host, Josh Gates. "I really am."

So to ease the Star Trek actor into things, Gates started by taking Shatner through a couple of relatively safe visits with hammerhead and reef sharks, neither of which are known to eat or attack humans. But those were just the appetizer courses, the main course was swimming with potentially deadly tiger sharks, and hoping not to become the main course….
(7) QUIZ TIME. Heroes & Icons challenges viewers: "How well do you remember the colors of 'Star Trek'?" I only scored 4 out of 8 and was derisively told "You've either never seen Star Trek, or you're color blind." Surely you can do better!
(8) SCANNERS LIVE. Stuff reports New Zealand's "National Library signs 'historic' agreement to donate 600,000 books to online archive" Cat Eldridge, who sent the link, wonders how that's supposed to work because, "Errr, they don't own the copyright to those books."
The National Library will donate 600,000 books that it was planning to cull from its overseas collection to a United States-based internet archive that will make digital copies of the works freely available online.

National Librarian Rachel Esson announced the "historic" agreement on Monday, saying books left at the end of the library's review process would be donated to the Internet Archive, a digital library with the self-stated mission of universal access to all knowledge.

"This is a great outcome for us," Esson said…
(9) MEDIA BIRTHDAY.
July 13, 1984 – Thirty-seven years ago, The Last Starfighter premiered. It was produced by Gary Adelson and directed by Nick Castle and Edward O. Denault. It was written by Jonathan R. Betuel who would later write and direct Theodore Rex. It starred Lance Guest, Dan O'Herlihy, Robert Preston and Catherine Mary Stewart. It was nominated for a Hugo at Aussiecon Two which was the year 2010: Odyssey Two won. Reception among critics was remarkably middlin' for it with even Ebert neither really liking or not liking it. The Box Office likewise was just OK with it breaking even. The audience reviewers at Rotten Tomatoes currently give it a excellent rating of seventy percent.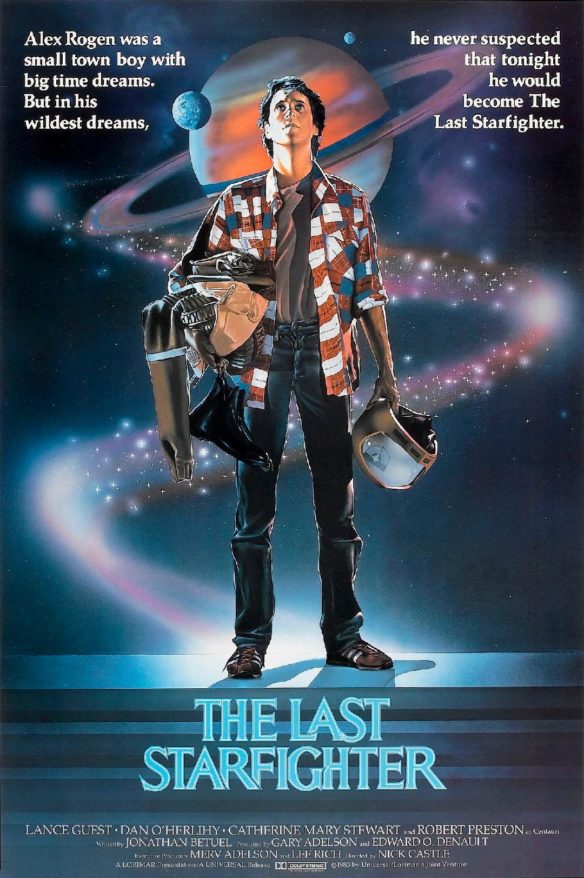 (10) TODAY'S BIRTHDAYS.
[Compiled by Cat Eldridge.]
Born July 13, 1904 — Norvell W. Page. Chief writer of The Spider pulp series as Grant Stockbridge. He started out by writing a backup story in the first issue of The Spider pulp: "Murder Undercover" and by the third issue was writing the main Spider stories which he did for some seventy stories. He also wrote The Black Bat and The Phantom Detective pulps. (Died 1961.)
Born July 13, 1926 — Robert H. Justman. Producer and director who worked on many a genre series including Adventures of Superman, The Outer Limits, Star Trek, Mission: Impossible, Man from Atlantis and Star Trek: The Next Generation. He was the assistant director for the first two Star Trek episodes: "The Cage" and "Where No Man Has Gone Before". (Died 2008.)
Born July 13, 1937 — Jack Purvis. He appeared in three of director Terry Gilliam's early fantasy films, with roles in Time Bandits, The Adventures of Baron Munchausen and Brazil. He's in three of the Star Wars films, the only actor who claims to have played three different roles, and he's also in Wombling Free (based on The Womblies, a UK Children's series), The Dark Crystal and Willow. (Died 1997.)
Born July 13, 1940 — Sir Patrick Stewart OBE, 81. Jean-Luc Picard starting with being Captain of the USS Enterprise (NCC-1701-D) on Star Trek: The Next Generation up through the current Star Trek: Picard. (They're filming two seasons of Picard back to back.) Also had some minor role in the MCU as Professor Charles Xavier, and played Leodegrance in Excalibur. Though only slightly genre adjacent, I'm fond of his role as King Henry II in the second version of The Lion in Winter.
Born July 13, 1942 — Harrison Ford, 79. Three great roles of course, the first being Dr. Henry Walton "Indiana" Jones, Jr. in the Indiana Jones franchise which is four films deep with a fifth on the way. The second of course being Han Solo in the Star Wars franchise, a role he's done four times plus a brief cameo in The Rise of Skywalker. And the third being Rick Deckard in Blade Runner, a role he reprised for Blade Runner 2049. Oh, and he played the older Indy at age fifty in the Young Indiana Jones Chronicles in the "Young Indiana Jones and the Mystery of the Blues" episode.
Born July 13, 1955 — David J. Schow, 66. Writer of splatterpunk horror novels, short stories, and screenplays. (He's oft times credited with coining the splatterpunk term.) His screenplays include The Crow and Leatherface: The Texas Chainsaw Massacre III. He's also done scripts for Masters of Horror, Perversions of Science and The Outer Limits. As an editor, he did the very impressive three-volume collection of Robert Bloch fiction, The Lost Bloch.
Born July 13, 1981 — Monica Byrne, 40. Her debut novel The Girl in the Road which is stellar won the Otherwise Award and was nominated for the Locus and Kitschies awards. The Actual Novel, her next novel, is due out in September. She's written a generous handful of short fiction which you can find some of at her excellent website.
Born July 13, 1985 — Holly Lyn Walrath, 36. I don't acknowledge SFF genre poetry nearly enough here, so let's do it now. Her Glimmerglass Girl collection won the Elgin Award given by the Science Fiction Poetry Association. She's also been a four-time finalist for the Rhysling Award which is given by the same group for the best genre poem of the year. Now who's calling to tell me who these Awards are named after?
(11) COMICS SECTION.
Speed Bump shows a traffic encounter with some clever wordplay.
(12) KRAFTWERK. The Takeout's reviewers actually loved it — "Taste Test: Kraft Macaroni & Cheese Ice Cream (yes, it's real)".
Look, you're about to read a lot about bright orange, macaroni-and-cheese-flavored ice cream. If that's objectionable to you, we completely understand. It wasn't something we expected to find information about in our own inboxes, either. But find it we did, and according to a press release, Kraft Macaroni & Cheese Ice Cream is, in fact, an intentional product and not some horrible mistake….

The reviewers trade comments in realtime –

MS: It's kind of… noodly. I'm getting the starchy noodle flavor as much as the cheese.

LS: It actually tastes startlingly like Kraft mac and cheese. [laughing]

MS: Have you ever had goat cheese ice cream? It tasted a lot like that on the front end. I wonder if I would have tasted "mac and cheese" if it wasn't orange, and if it didn't say Kraft right on it….
(13) FEELING BETTER. There's a saying about the permanence of LASFS membership, "Death will not release you. Even if you die!" It came to mind when I saw the trailer for Risen.
Disaster unfolds when a meteor strikes a small town, turning the environment uninhabitable and killing everything in the surrounding area. Exobiologist Lauren Stone is called to find answers to the unearthly event. As she begins to uncover the truth, imminent danger awakens and it becomes a race against time to save mankind.
(14) SEVENTIES TV. CrimeReads shows that in the early 1970s TV movies often focused on sf, fantasy, and horror. "In 1970s America, Bizarre TV Movie Thrillers Were All the Rage". Although I mainly remember reading the TV listings for these and thinking, "There's something I won't have to watch."
The series of movies was promoted as "an original motion picture produced especially for the Movie of the Week." The use of the phrase "motion picture" seemed to imply class, of course.

The anthology film series began on September 23, 1969 with the airing of "Seven in Darkness," about a plane crash whose seven survivors are all blind and must make their way out of the wilderness together. It starred old-school comedian Milton Berle, so perhaps there were bugs to be worked out of the prestige made-for-TV movie machine.

The first year's worth of TV movies were dominated by thrillers starring the likes of Christopher George in the pilot for "The Immortal," a TV series that I previously wrote about for CrimeReads, as well as films starring Eva Gabor, Sammy Davis Jr., Larry Hagman and Karen Valentine as the new Gidget. That movie, "Gidget Grows Up," was a pilot for a TV series, a practice to be repeated many times during the 1970s TV-movie era.

The second season of the ABC movie anthology gave viewers more dynamic thrillers, though. "How Awful about Allan" starred Anthony Perkins. James Franciscus of "Longstreet" and Leslie Nielsen starred in "Night Slaves." "The House That Would Not Die" featured Barbara Stanwyck….
(15) SUPER MARIO GOES FOR SUPER PRICE. "'Super Mario' cartridge sold for video game record $1.5 million" reports Yahoo! Presumably the buyer isn't going to take it out of the package.
A cartridge of Nintendo's classic video game "Super Mario 64" set a world record Sunday, selling at auction for $1.56 million.

The sale, the first ever of a game cartridge to surpass $1 million, came just two days after a sealed copy of "The Legend of Zelda" — made for the old Nintendo NES console — sold for a then-record of $870,000.

Dallas-based Heritage Auctions, which handled both sales, has not identified the buyers. Before Friday, the record for a video game auction was the sale in April of a 1986 "Super Mario Bros." cartridge: it went for $660,000….
(16) FOLLOW THE BOUNCING APPLE. Daniel Dern has decided, "Rather than wait until late Sept (when Foundation starts) — we're turning in for… Schmigadoon!" – "Apple's musical comedy series 'Schmigadoon!' breaks into song with new trailer".
… Apple TV+ today released the trailer for its new musical comedy series "Schmigadoon!," executive produced by Lorne Michaels and starring Emmy Award nominee Cecily Strong and Emmy Award winner Keegan-Michael Key. The first two episodes will premiere globally on Friday, July 16, 2021 exclusively on Apple TV+, followed by one new episode weekly every Friday.

A parody of iconic Golden Age musicals, "Schmigadoon!" stars Strong and Key as a couple on a backpacking trip designed to reinvigorate their relationship who discover a magical town living in a 1940s musical. They then learn that they can't leave until they find "true love." The six-episode season also stars Alan Cumming, Kristin Chenoweth, Aaron Tveit, Dove Cameron, Ariana DeBose, Fred Armisen, Jaime Camil, Jane Krakowski and Ann Harada. Martin Short guest stars….
(17) VIDEO OF THE DAY. In the Honest Game Trailers "World of Warcraft: the Burning Crusade Classic," Fandom Games says in this reissue of a 2008 expansion."Everyone playing it is at least 30, so you can discuss your burgeoning health problems!"
[Thanks to Michael Toman, John King Tarpinian, Cat Eldridge, Meredith, Lise Andreasen, Daniel Dern, Mike Kennedy, Andrew Porter, Martin Morse Wooster, and JJ for some of these stories. Title credit belongs to contributing editor of the day Daniel Dern.]