(1) THE COUNT OF MOUNT TSUNDOKU. "100 Most Popular Fantasy Books on Goodreads". I've read 16 of 100 – I'm not a voracious fantasy fan. See how well you do. Here's what ranks at the top of the heap:
Dragons, demons, kings, queens, and the occasional farm boy (with a special destiny, of course): Fantasy literature has it all! To celebrate our favorite fictional worlds and characters, we went on a quest for the 100 most popular fantasies of all time on Goodreads, as determined by your fellow members.

Of course, as fantasy readers know, the journey itself matters just as much as the destination. To create our list, we first sought out the most reviewed books on our site. Additionally, each title needed at least a 3.5-star rating to join our fellowship of titles. And, since fantasy is known for its epic sagas, in the case of multiple titles from the same series we chose the one with the most reviews.

Here are the top fantasy books on Goodreads, listed from 1 to 100.
(2) VIRTUAL SPACE AND SFFCON. CosmoQuest, a citizen science research organization, is holding a virtual con Friday, July 17 through Sunday, July 19 focused on space and science fiction. CosmoQuest-a-Con's main events are free to watch at https://www.twitch.tv/cosmoquestx, but you can also buy a $20 ticket for other space talks, author readings, concerts, and demos. The funds go to providing benefits to CosmoQuest's part-time staff. The con's home page is here.
(3) HARASSMENT REPORTED. Extreme horror author Tim Miller was called out as a harasser by M.M. Schill and others. Thread begins here. Miller's social media is no longer available (Facebook, Twitter, Instagram). His website remains online. (Note: It's not the director of the same name.)
Schill also indicated this callout could be shared.
(4) AFROFUTURISM. Essence of Wonder with Gadi Evron will offer "Sheree Renée Thomas and Friends on Afrofuturism and the Magic of Storytelling and Music" on July 18. Register at the link.
Sheree has more knowledge on the topic of the history of Afrofuturism than anyone we ever met, not to mention an incredible ability to bring it to life through nothing less than magic and wonder. Also coming on the show will be Andrea Hairston, Pan Morigan, and Danian Darrell Jerry. This Saturday, the 18th of July.

We will explore the magic of storytelling and music, and the power of community and art to affect personal and prophetic change.
(5) NOTHING UP MY SLEEVE. James Davis Nicoll comes up with "Five Strategies for Hiding a 'Lost' Civilization" at Tor.com.
Suppose for the moment that one is a science fiction or fantasy author, and further suppose that one wanted to posit a past great civilization whose existence comes as a complete surprise to modern folk. Let us also suppose that one wanted overlooking this lost civilization to be plausible… How might one go about this?

I'd tend to reject the "a secretive cabal always knew but kept it secret" explanation. People gossip. People love to show off their insider knowledge. People sometimes accidentally cut and paste entire sections of texts they'd really rather the world not know about into their tweets. Even valuable trade secrets tend to leak out given enough time. So where to hide a lost civilization? Here are five possibilities, to be used together or in concert….
(6) SOME TRUTH IS OUT THERE. "I recently discovered that—unlike in my twenties—at 46 years old I am able to spend innumerable hours watching The X-Files unassisted by marijuana." "I don't want to believe" at Affidavit.
… Over the last three months, two things have happened to me. Firstly, I've come to recognize my younger self in the character of Agent Fox Mulder, and feel shame appropriate to such an identification. Secondly, I've entered that most dangerous of all psychological terrain: nostalgia.
(7) PRO TIP. Ligtspeed's "Author Spotlight" is on Adam-Troy Castro:
You reference Chekhov's Gun, but adhere more scrupulously to the original quote than commonly seen: What's your favorite advice to writers? Is there advice you commonly flout?

My favorite advice to writers is to wring the emotional reaction from yourself, first. When writing humor, you need to barely stand how witty you're being; when you're writing tragedy, you need to weep; when writing horror, you need to be appalled that this monstrous stuff is coming out of you. Hell, if you're writing a thriller, you need to fear for your characters. Honestly, if you don't react yourself, if it's just a technical exercise, no one else is going to care either.
(8) IMAGINARY PAPERS 3. Today the Center for Science and the Imagination published the third issue of Imaginary Papers, their quarterly newsletter on science fiction worldbuilding, futures thinking, and imagination. This issue features writing from SF author Troy L. Wiggins and the science writer Kate Greene. Here is a direct link, and here is a link to subscribe for future issues.
(9) GÖRG OBIT. Galyn Görg, a dancer and actress who appeared on such shows as Twin Peaks and The Fresh Prince of Bel-Air and in films including Point Break and RoboCop 2, has died of cancer at the age of 55.
… Görg starred as police detective Leora Maxwell on the 1994-95 Fox sci-fi drama M.A.N.T.I.S., co-created by Sam Raimi, and played Nancy O'Reilly, the sister of One Eyed Jacks madam Blackie O'Reilly (Victoria Catlin), on three episodes of ABC's Twin Peaks in 1990.
(10) MEDIA BIRTHDAY.
July 16, 1955 — Commando Cody: Sky Marshal of the Universe serial first aired. This black-and-white movie serial from Republic Pictures, originally began life as a proposed syndicated television series. It was written by Ronald Davidson and Barry Shipman, and was directed by Harry Keller, Franklin Adreon and Fred C. Brannon. The cast was Judd Holdren as Commando Cody, Aline Towne as Joan Gilbert, William Schallert as Ted Richards and Richard Crane as Dick Preston . There would be twelve twenty five episodes. You can see the first episode, 'Enemies of the Universe" here.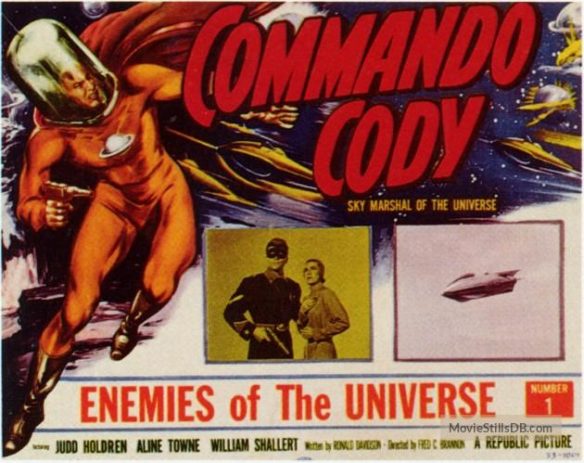 (11) TODAY'S BIRTHDAYS.
[Compiled by Cat Eldridge and John Hertz.]
Born July 16, 1723 –  Sir Joshua Reynolds.  First President of the Royal Academy of Arts.  Famed as a portraitist.  Intellectual enough to keep company with Burke, Goldsmith, Johnson.  Painting mythological subjects calls for fantasy: here is Juno Receiving the Cestus from Venus, here is Diana Disarming Cupid, here is Theory.  (Died 1792) [JH]
Born July 16, 1882 — Felix Locher. He is considered the oldest Star Trek actor of all time by birth year, appearing in  "The Deadly Years" episode. 0ther genre appearances included Curse of the Faceless Man,  The Twilight Zone, Frankenstein's Daughter, The Munsters, House of the Damned, The Man from U.N.C.L.E. and Mission Impossible. His entire acting career was from 1957 to 1969. (Died 1969.) (CE)
Born July 16, 1916 – Paul Freehafer.  Joined the SF League in 1934, thus part of First Fandom (active at least as early as the first Worldcon, 1939) although 1F was not organized, if the word may be used, until much later.  So helpful to his local club the LASFS (L.A. Science Fantasy Soc.) that its service award is the Evans-Freehafer (after E. Everett Evans and PF).  Fanzine, Polaris.  More here. (Died 1944) [JH]
Born July 16, 1920 – Stan Woolston.  Printer and fan.  Life member of the Nat'l Fantasy Fan Fed'n (N3F), edited Tightbeam, served on Welcommittee, earned the Kaymar.  Lifelong friend of Len Moffatt (published SF Parade with him), Rick Sneary.  Big Heart (our highest service award, community-wide).  (Died 2001) [JH]
Born July 16, 1928 — Robert Sheckley. I knew that his short story "Seventh Victim" was the basis of The 10th Victim film but I hadn't known 'til now that Freejack was sort of based of his Immortality, Inc. novel.  I've read a lot by him with Bring Me the Head of Prince Charming (written with Zelazny) and Babylon 5: A Call to Arms being my favorite works by him. Sheckley is very well stocked on the aKindle store but not in the iBook store. H'h. (Died 2005.) (CE)
Born July 16, 1943 – Bruce Boston, 77.  Two novels; a hundred shorter stories in Amazing, Asimov's, Realms of Fantasy, SF Age, Strange Horizons; poems dusting our skies like strange stars.  Seven Rhyslings; Pushcart Prize; first Grand Master of the SF Poetry Ass'n.  Has chaired the Nebula Award jury for novels, the Philip K. Dick Award jury.  [JH]
Born July 16, 1951 – Sue Thomas, 69.  Coined the term "technobiophilia" and wrote a book about it.  Two novels; anthology Wild Women.  Correspondent, reviewer, in Focus, Foundation, Matrix, Paperback Inferno, Vector.  [JH]
Born July 16, 1951 — Esther Friesner, 69. She's won the Nebula Awards for Best Short Story twice with "Death and the Librarian" and "A Birthday".  I'm particularly fond of The Sherwood Game and E.Godz which she did with Robert Asprin. She's better stocked in the Kindle store than in the iBooks Store. (CE) 
Born July 16, 1956 — Jerry Doyle. Now this one is depressing. Dead of acute alcoholism at sixty, his character Michael Garibaldi was portrayed as an alcoholic, sometimes recovering and sometimes not on Babylon 5. Damn. (Died 2016.) (CE)
Born July 16, 1963 — Phoebe Cates, 57. Ok, do her entire genre appearance credit is as Kate Beringer in Gremlins and Gremlins 2: The New Batch. It's two films that I have an inordinate fondness for that the Suck Fairy cannot have any effect upon them what-so-ever. (CE)
Born July 16, 1967 — Will Ferrell, 53. His last film was Holmes & Watson in which he played Holmes. It won Worst Picture, Worst Director, Worst Screen Combo and, my absolute favorite Award, Worst Prequel, Remake, Rip-off or Sequel. Wow. He was also in Land of the Lost which, errrr, also got negative reviews. Elf however got a great response from viewers and critics alike. He also was in two of the Austin Powers films as well. (CE)
Born July 16, 1975 – Lucian Dragos Bogdan, 45.  Author, caricaturist (the "s" in his name should have a tiny comma under it for the sound English spells "sh"). Likes rock music and the Tao Tê Ching (or, if you'd rather, Daodejing).  A dozen novels, thirty short stories, in our field; also mystery & thriller, romance.  Website in English, French, Romanian. [JH]
(12)COMICS SECTION.
(13) NOW A SHADOW OF ITS FORMER SELF. Silvia Moreno-Garcia sketches "A Brief History of Mexican Horror Comic Books" at Tor.com.
When people ask me if I like comic books I always have a split-second reaction. The answer is no. But it's a nuanced no. I don't like superhero comic books, but I grew up reading plenty of other stuff.

While in the United States "comic book" can be read as a synonym for "superhero," such a correlation has not traditionally existed in Mexico. Mexican artists during their Golden Age were more interested in other kinds of content. This doesn't mean there weren't any superheroes—Fantomas, El Santo and Kalimán come to mind—but you were more likely to find other sorts of local comic books. And when people thought comic books, they probably thought historietas, monitos, una de vaqueros, all of which conjure something very far from Superman, Batman or the X-Men….
(14) TIME AFTER TIME. In the Washington Post, Michael Cavna interviews Garry Trudeau about his new book Lewser! More Doonesbury In The Age Of Trump. Trudeau discusses how he satirizes Trump, including how he draws the president's hair, and how "for the most part, I've stayed away" from satirizing Trump's children "and I'm not sure why." "Garry Trudeau is spoofing the Trump presidency by treating it as 'a hostile takeover'".
… "There has been never the slightest danger of running out of inspiration — Trump serves up a banquet of lies, obfuscation and cruelty almost daily," says Trudeau, whose new material runs every Sunday. "Steve Allen once said that comedy is tragedy plus time, but in Trump's case, the passage of time is wholly optional."
(15) THEY HAVE A LITTLE LIST. "So which comics companies got PPP loans?" ComicsBeat will satiate your curiosity on this score.
… Back when this pandemic thing first began, several economic relief packages were floated as part of the CARES Act, including small business loans known as PPP (Payment Protection Program) loans. The loans were to help with payroll to keep people employed – with the loans forgivable if 60% of the money went to payroll.

… It's also not anything to be ashamed of – applying for aid during an economic shutdown is a smart move to keep people on the payroll and keep companies afloat, and it's good that these comics companies were able to receive aid.

Now, we did hear that many actual small businesses, including comics shops, had a harder time getting loans, and there are lots of stories about billionaires getting payouts, from Kanye West to Soho House. And of course there was fraud, like using PPP money to pay for a new house in the case of the CEO of Wendy's. Nice one!
(16) HEROES ASSEMBLE. In "Chris Evans Sends Captain America Shield to Young Boy Who Saved His Sister From Dog Attack", Variety reports that Evans joined a bunch of other actors who play superheroes to cheer up Bridger Walker, a nine-year-old who got 90 stitches after protecting his four-year-old sister from a charging dog.
…"I'm sure you've heard this a lot over the last couple of the days, but let me be the next one to tell you: Pal, you're a hero," Evans said. "What you did was so brave, so selfless, your sister is so lucky to have you as a big brother. Your parents must be so proud of you."
(17) IG NOBEL NOMINEE. Snakes! It has to be snakes – who can out-eat hot dog chugging humans. "Scientists Have Finally Calculated How Many Hot Dogs a Person Can Eat at Once".
The world's best hot dog eaters could outeat a grizzly bear or a coyote, but would fall far behind a wolf or a Burmese python, a new study finds.

Over the Fourth of July weekend, with streams of sweat pouring down his face, Joey Chestnut broke his own world record for hot dog eating, by downing 75 hot dogs (with buns) in 10 minutes at the Nathan's Famous Hot Dog Eating Contest. It was his 13th win at the annual contest. And Miki Sudo set a women's record, 48.5 hot dogs, to grab her seventh straight Nathan's win.

Because of the coronavirus crisis, the event was held virtually this year, and Dr. James Smoliga was glued to his screen, rooting for new records. For the past few months, Dr. Smoliga, a veterinarian and exercise scientist, had been working on a mathematical analysis of the maximum number of hot dogs that a human could theoretically consume in 10 minutes.

"The answer is 83," said Dr. Smoliga, a professor at High Point University in North Carolina.

He has now published the full analysis, which calculated this number based on 39 years of historical data from the Nathan's contest, as well as on mathematical models of human performance that consider the potential for extreme athletic feats.

"It's a great paper," said Dr. Michael Joyner, a physician at the Mayo Clinic who studies human performance, adding that the analysis shows the classic fast rise in performance followed by more gradual improvements that happen when an event becomes professionalized. The best part, he said, is that Dr. Smoliga wrote it with a straight face.
(18) SPACE: 1999 REDUX. "Nuclear blast sends star hurtling across galaxy". Looking for a gas station?
A star has been sent hurtling across the galaxy after undergoing a partial supernova, astronomers say.

A supernova is a powerful explosion that occurs when some stars reach the ends of their lives; in this case, the blast was not sufficient to destroy it.

Instead, it sent the star hurtling through space at 900,000 km/hr.

Astronomers think the object, known as a white dwarf, was originally circling another star, which would have been sent flying in the opposite direction.

When two stars orbit each other like this, they are described as a "binary". Only one of the stars has been detected by astronomers, however.

The object, known as SDSS J1240+6710, was previously found to have an unusual atmospheric composition.

Discovered in 2015, it seemed to contain neither hydrogen nor helium (which are usually found), appearing to be composed instead of an unusual mix of oxygen, neon, magnesium and silicon.
(19) WRINKLES IN TIME. "Desert telescope takes aim at ageing our Universe" – BBC has the story.
Another telescope has entered the debate about the age and expansion rate of the Universe.

This topic has recently become the subject of an energetic to and fro among scientists using different astronomical facilities and techniques.

The new entrant is the Atacama Cosmology Telescope in Chile.

It's been studying the "oldest light" on the sky and has concluded the Big Bang occurred 13.77 billion years ago, give or take 40 million years.

That's almost exactly the same number we got from Europe's flagship Planck space observatory mission, which mapped the ancient light in the early 2010s.

But therein lies the problem because other telescopes using different methods have come out with ages that are a few hundred million years younger.

What they've all been trying to do is measure what's known as the Hubble Constant – the value used by astronomers to describe cosmic expansion.
(20) OLD GUARD, NEW LOOK. The Washington Post's Ann Hornaday interviews The Old Guard director Gina Prince-Bythewood, the first Black director of a superhero movie, about what it was like to direct the film and the choices she made in directing women that were different than what male directors would do. "Gina Prince-Bythewood is the first black woman to direct a major comic-book movie. It looks like the future."
… When she began tackling the material, she adds, her identity as an African American woman informed nearly every decision she made. "The things that I influenced, that I noticed, that I corrected, that I amplified, absolutely come from a black female lens," she says firmly. Although she was thrilled with Rucka's original script, she asked him to flesh out Nile's backstory, adding layers having to do with her family and experience in the military (where, not incidentally, her colleagues are women of color, much like the institution itself). Even the film's many fight scenes bear the signature of someone who is coming from a different angle than the usual white male gaze. One in particular, between Andy and Nile on a cargo plane, was particularly sensitive for Prince-Bythewood.
(21) COGNITIVE DISSONANCE TIME. What's gotten into Tor.com's headline writers? "Let Henry Cavill Show You Parts You've Never Seen Before… As He Assembles This Gaming PC". But Emmet Asher-Perrin says —
It's not what you think, promise.

In fact, Cavill used this opportunity to play some very sexy music while he… assembled his gaming PC….
Does it seem strange to see such humor in a headline after reading one of the items above?
(22) DEBUT NOVELIST. From Goodreads: "Lindsay Ellis: How Science Fiction Makes Sense of the Present".
Until this summer, Lindsay Ellis was mainly known as a super smart and witty film critic and YouTube essayist… This month, Ellis' debut science fiction novel, Axiom's End, arrives….

I was eight years old when Lois Lowry's The Giver was released in 1993, and it became an instant turning point for me, not only for my relationship to books in general, but to science fiction in particular. Anti-authority narratives for children are extremely common—it's pretty much the basis for all of Nickelodeon's marketing—but narratives for young children tend to have cartoonishly evil authority figures who are obviously in the wrong. The Giver, in contrast, presents us with what appears to be a utopia, challenging the young reader with a simple, comforting authority structure that over the course of the narrative the protagonist Jonah learns not only has sapped his community's members of their humanity, but does monstrous things in its bid to maintain control.

One of the main hallmarks of science fiction is the use of social constructs, technologies, and futures that do not yet exist—and may never exist—as a means of exploring our present. In the case of The Giver, it was the first book I read that used science fiction to create (to an eight year old, anyway) mind-blowing revelations about the nature of society and the individual's relationship to it. The Giver is one of those books that serves as a perfect gateway for children who are just beginning to learn that change is inevitable, that well-meaning people can be wrong, and that solutions to problems are not always obvious. …
(23) LEFANU ON TV. "Carmilla–Official UK Trailer" on YouTube is a trailer for a "reimagined" version of J.S. LeFanu's great horror novella which is now being streamed in the U.S.
Isolated from the outside world, fifteen-year-old Lara (Hannah Rae, "Broadchurch", Fighting with My Family) lives in seclusion on a vast country estate with her father and strict governess Miss Fontaine (Jessica Raine, "Patrick Melrose", "Jericho"). Late one evening, a mysterious carriage crash brings a young girl (Devrim Lingnau) into their home to recuperate. Lara immediately becomes enchanted by this strange visitor who arouses her curiosity and awakens her burgeoning desires.
[Thanks to Stephen Granade, John King Tarpinian, Martin Morse Wooster, Mike Kennedy, JJ, John Hertz, Cat Eldridge, Andrew Porter, Lise Andreasen, Joey Eschrich, Michael Toman, and Chip Hitchcock for some of these stories. Title credit goes to File 770 contributing editor of the day Xtifr.]