(1) OKORAFOR BRANCHES OUT. The Black Panther's sister, Shuri, is getting her own comic series. Marvel's press release says:
All hail Wakanda's technological genius! As revealed exclusively on Bustle, Marvel is thrilled to announce that this fall, award winning author Nnedi Okorafor and Eisner-nominated artist Leonardo Romero (Hawkeye) will be bringing SHURI #1 to readers everywhere! And revealed for the first time, Marvel is excited to share the dazzling cover to issue #1 by industry-acclaimed artist, Sam Spratt, best known for his cover art work on Janelle Monae's "Electric Lady."

The world of Wakanda is facing a tragic crisis: Black Panther is lost in space, and everyone is looking at who will step up to lead their country in his absence. But Shuri is happier in a lab than she is on the throne…how does a princess choose between her duties to her country and her own ideals?

"Shuri is an African young woman of genius level intelligence who is obsessed with technology and has traveled spiritually so far into the past that she's seen Wakanda before it was Wakanda," Okorafor told Bustle in an interview. "The Ancestors call her Ancient Future. And she's super ambitious. What do I love about her? Alllll that and more. She's a character in the Marvel Universe who really sings to me."
(2) OVERLORD TRAILER. J.J. Abrams' zombie horror movie Overlord is in theaters November 9.
On the eve of D-Day, US paratroopers drop behind enemy lines, to infiltrate a small village. Unfortunately, they realize the Nazis are experimenting with supernatural forces to fight them.
(3) BATWOMAN ON THE WAY. SYFY Wire has two stories about the development of a Batwoman TV show to join the other DC Comics properties running on the CW network (the "Arrowverse"). CW is already the home of The Flash, Arrow, Legends of Tomorrow, and Supergirl, with a tradition of doing a set of crossover episodes as an annual event since the 2014–2015 season. In "Batwoman TV Series in Development at the CW to Join the Arrowverse" some of the basics are discussed:
Vampire Diaries writer/producer Caroline Dries is locked in as a writer and producer on the project, along with Greg Berlanti, Sarah Schechter, and Geoff Johns. To that end, the casting and tonal decisions made for the crossover event would likely carry over into a potential series. Think of it as one heck of a big backdoor pilot, basically.
That article also speculates on which version of Batgirl would be filmed, noting that the original 1956 character is not in the modern comics:
However, this iteration of the hero was wiped out of DC's continuity during 1985's seminal limited series, Crisis on Infinite Earths. Batwoman was reestablished into existence in 2006 in the form of Kate Kane, a Jewish LBGTQ character, one of the first-openly gay characters in the DC universe.
The story "Report: The CW Seeking Lesbian Actress With Open Ethnicity to Play Batwoman in Solo Series" pursues that aspect more thoroughly as well as sounding a cautionary note [emphasis added]:
TVLine is reporting the network has put out the call for an actress of any ethnicity who can play in the age range of 24-29, and that it's looking for a lesbian for the role if possible. The right person would join scriptwriter and co-producer Caroline Dries (The Vampire Diaries) to develop the standalone Batwoman series. Greg Berlanti, Sarah Schechter, and Geoff Johns are also co-producing.

News that The CW is eyeing Batwoman for the series treatment is still super-fresh, and it's not guaranteed that her appearance in the crossover will lead directly to a green-lit show. If the network does move forward with Batwoman, the show is expected to debut sometime next year.
(4) SHAZAM! Yahoo! Entertainment reports Shazam! will be released April 5, 2019 — "Shazam! on EW's special Comic-Con cover: 'It's Superman meets Big'".
Zachary Levi throws off the perfect Shazam! pitch: "It's Superman meets Big!" declares the affable former Chuck star who's squeezing into a skin-tight suit to play what's perhaps the ultimate daydream-come-true superhero across all of comic book lore: An ordinary 14-year-old kid named Billy Batson who can transform into a grown-up superhero with an array of heroic powers by uttering a single world ("Soundhound!" No wait: "Shazam!") and then return to his regular self whenever he wants.
(5) THAT SOUND YOU HEARD. JJ read this tweet and squeed — "This is by the same guy who did The Silence space SF trilogy which I really loved last year (under pen name D. Nolan Clark)."
COVER LAUNCH: The Last Astronaut by @LastTrilobite! Was super excited to design this cover bc I was asked to ADD signs of aging to make it really obvious the hero is a middle-aged woman. Yay for diversity in SFF! https://t.co/GafpfMZRJS pic.twitter.com/dD2cD3FwTk

— Lauren Panepinto (@Planetpinto) July 17, 2018
(6) TODAY'S BIRTHDAYS
Born July 18, 1948 — James Faulkner, who played Mr. K in Martian Chronicles (TV edition in the US)
Born July 18 – Paul Verhoeven, 80. Director of RoboCop, Total Recall and Starship Troopers. Also Hollow Man which has a gratuitous nude scene fitting a man who responsible for Basic Instinct. Also Producer of the animated Starship Troopers series which is quite excellent. Writer for the apparently forthcoming RoboCop Returns film.
Born July 18 – Vin Diesel, 51. Guardians of The Galaxy ("I am Groot!") and other MCU films, The Iron Giant, xXx and Chronicles of Riddick franchises and The Fifth Element.
Born July 18 – Kristen Bell, 38. The forthcoming animated Teen Titans Go! To the Movies, also Deadwood, Flatland: The Movie, Heroes and the Astro Boy franchise and iZombie.
(7) COMICS SECTION.
SJW credential tech in Arlo and Janis.
Fantasy tropes face retrenchment in Bizarro.
Something has two possible explanations, and since you're reading this blog the odds are you'll prefer Last Kiss' second choice.
(8) MARKET REPORT. According to Yahoo! Finance, "Comic sales are down as readers abandon print".
Comic book and graphic novel sales fell 6.5% in 2017 from a 2016 high of $1.015 billion. Graphic novels brought in $570 million while comic books brought in about $350 million.

A report posted to Comichron notes that comic stores are still the biggest source for revenue while $90 million is attributable to digital downloads.

"After a multiyear growth run, the comics shop market gave back some of its gains in 2017, with lackluster response to new periodical offerings and, consequently, graphic novel sales," wrote Comichron's John Jackson Miller. "The third quarter of 2017 saw the worst of the year-over-year declines, leading into what has turned out to be a stronger spring for stores in 2018."
(9) THE OVERPRICE GUIDE. (Or so Bruce Pelz used to call it….) Heritage Auctions encourages comics collectors to "Download the Complete 2018-19 48th Edition Overstreet Comic Book Price Guide!" at a cost of $30.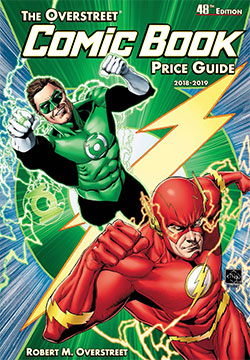 In conjunction with the release of the book the new 2018-19, 48th edition of the electronic Overstreet Comic Book Price Guide is now available for immediate download! (Compatible with both Mac and PC!) No serious collector should be without an Overstreet, and this is even more true of the searchable electronic version. Available exclusively through Heritage Auctions, this new version is:

Alphabetically indexed
Searchable (by any keyword)

At a cost of only $30, this revolutionary new format is one of the best investments available in our hobby. Begin enjoying the benefits right now. Download your copy to your hard drive today.
(10) SEE IT FREE. On July 22 the community will get in free to the Dreaming the Universe sf exhibit at the Pasadena Museum of History.
(11) OWN BOND'S RIDE. Lego has come out with the official James Bond Aston Martin DB5 which you can make out of Lego elements.
It's here! The LEGO Creator Expert Aston Martin DB5… clean lines and cool gadgets. #LicenceToBuildhttps://t.co/bUc1Nr0aNX pic.twitter.com/J7vI44LuvU

— LEGO (@LEGO_Group) July 18, 2018
(12) MORE LEGO CREATIONS. Here are a couple more cool projects, including a ferocious Lego SJW credential….
From 881,470 bricks, something awesome can bloom ? Check out this life-sized #LEGO replica of a Japanese Sakura tree ?? @LEGOLAND_Japan pic.twitter.com/VkekbRLVUO

— LEGO (@LEGO_Group) July 8, 2018
The claws are out! ?? #TheLEGOMovie2's #Ultrakatty makes for an impressive #SDCC2018 model with almost 56,000 LEGO elements! ? #LEGOSDCC #SDCC @TheLEGOMovie @Comic_Con pic.twitter.com/SK61NSrSz8

— LEGO (@LEGO_Group) July 13, 2018
(13) DOUBLE PARKED. When Bob Shaw MC'd the Hugos in 1986, one of his humorous interludes involved a job assignment to write copy about a submarine prone to take "unplanned depth excursions." "Spain's new submarine 'too big for its dock'".
An attempt to deploy a new submarine for Spain's navy has run aground again, after it emerged it cannot fit in its dock, Spanish media report.

The S-80 boat was redesigned at great expense after an earlier mistake meant it had problems floating, and it was lengthened to correct the issue.

Spanish newspaper El País now reports that after the changes, the docks at Cartagena can no longer fit the vessel….

The original problem with the submarine dates back to 2013, when it was discovered that it was about 100 tons heavier than it needed to be.

That caused a problem for its buoyancy – so it could submerge, but might not come back up again.

A former Spanish official told the Associated Press at the time that someone had put a decimal point in the wrong place, and "nobody paid attention to review the calculations".
(14) BIG LIFTER. Clip of the An-124 in action: "Business booming for giant cargo planes". Possibly highest capacity — internal crane, kneeling landing gear — what's not to like?
$7tn of goods travel by air every year. Most goes in the hold of normal airliners. But for those big, awkward loads, something rather larger is required.
(15) TAKING A BITE OUT OF DEVELOPMENT. "Anne Rice's 'Vampire Chronicles' Lands at Hulu" – The Hollywood Reporter has the news.
Two years after being put into development, Anne Rice's Vampire Chronicles TV series has found a home.

In a competitive situation with multiple outlets pursuing the project, Hulu has landed Vampire Chronicles. The streamer, home to Emmy darling The Handmaid's Tale, has put the drama into development.

Bryan Fuller, who boarded the Paramount Television and Anonymous Content effort as showrunner in January, exited the project six months ago. Fuller opted to step back rather than step on the toes of longtime friends Rice and her son, Christopher, who penned the original script. (Christopher is a four-time New York Times best-selling author and recipient of the Lambda Literary Award.)

Anne and Christopher Rice will executive produce the potential series, alongside Anonymous Content's David Kanter and Steve Golin.

Paramount Television and Anonymous Content optioned the rights to 11 books from the Vampire Chronicles franchise back in April 2017. More than 100 million copies have been sold worldwide. Rice's Interview With the Vampire was first published in 1976 and served as the basis for the 1994 feature of the same name starring Tom Cruise, Brad Pitt, Kirsten Dunst and Antonio Banderas.
(16) COURT RULES ON PARENT'S NOTE. Dear Judge, please excuse my boy from having the pants sued off him for thieving on the internet….. From Techspot we learn that a "Federal court says Epic can go ahead with its lawsuit against teen".
Judge says mother's letter does not establish a strong enough claim to dismiss…

According to TorrentFreak, most of the arguments put forth in the document were irrelevant because they failed to state a claim. The only complaint that held any water was whether or not C.R. could have entered into the EULA agreement.

Epic argued that minors cannot invalidate the terms of a contract while receiving the benefits of said contract. In other words, C.R. illegally misrepresented himself as an adult and is therefore still obligated to the contractual terms.

According to court rules, an accuser's complaint holds more weight than a motion to dismiss. Judge Howard ruled that the letter from the mother was not enough to throw out the suit.

"As detailed in plaintiff's response memorandum, defendant has not shown that the complaint fails to allege sufficient facts to state a claim for relief that is plausible on its face. [T]herefore, in the light most favorable to the plaintiff, plaintiff has stated a plausible claim, and the motion to dismiss must be denied."

The defendant now has two weeks to file a response to the complaint. Failing that, Epic can proceed to ask for a default judgment in the case.
(17) ENCHANTMENT UNDER THE SEA.  Deadline has the art: "'Aquaman' Poster Revealed: Jason Momoa Dives In To The Crowded DC Pool"
The film will have [a] Comic-Con panel this week, where director James Wan has said the fir.st trailer will be revealed. The initial footage shown at CinemaCon showed the undersea kingdom of Atlantis, replete with swimming fish people — some riding sea horses — and futuristic submarines. Aquaman is challenged by his brother (Patrick Wilson) for the throne, with Amber Heard's Mera begging Aquaman, "Unless you help us, millions will die."
[Thanks to JJ, Cat Eldridge, John King Tarpinian, Martin Morse Wooster, Mike Kennedy, Chip Hitchcock, Carl Slaughter, and Andrew Porter for some of these stories. Title credit goes to File 770 contributing editor of the day Daniel Dern.]