(1) FOR PARENTS OF TEENS AT WORLDON. A Facebook group has been created for parents who will have minors at Dublin 2019, to set up reciprocal chaperoning arrangements: Dublin2019parents.
This COMPLETELY UNOFFICIAL group is for parents of young people who will be attending Dublin2019, an Irish Worldcon, to discuss the logistics of Kids In The Space. We all want to have a great time, make sure our offspring are safe, and work within the rules set forth by the convention regarding unaccompanied children and responsible adults. Let's collaborate!
(2) KGB. Fantastic Fiction at KGB reading series presents Paul Witcover & Lara Elena Donnelly on Wednesday, August 21, 2019, 7 p.m. at the KGB Bar. Chandler Klang Smith & Mercurio D. Rivera will be subbing for hosts Ellen Datlow and Matt Kressel, who will be traveling.
Paul Witcover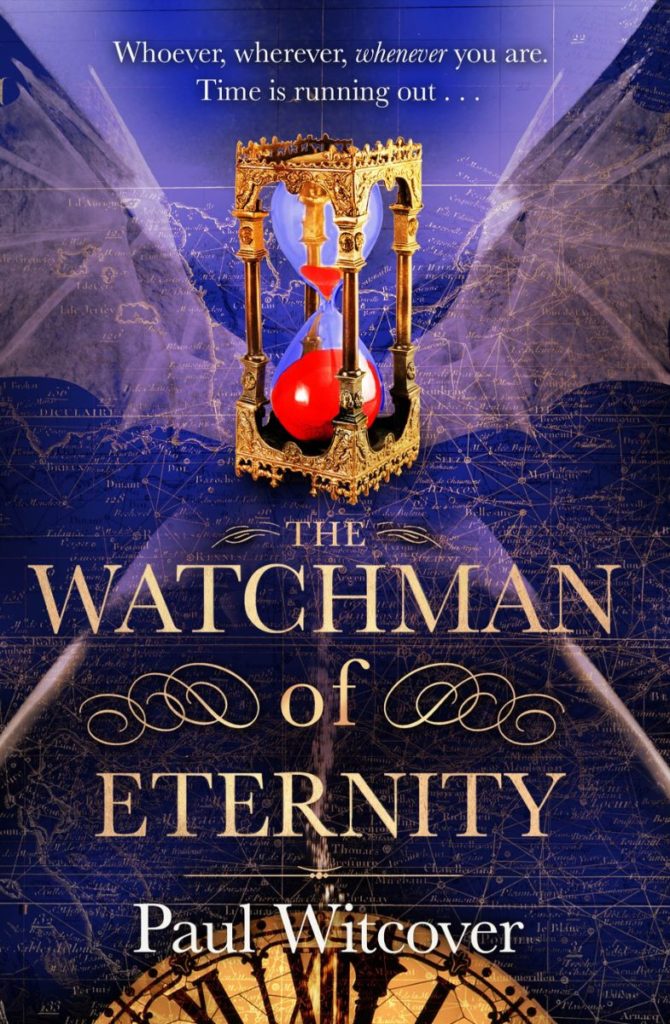 Paul Witcover is the author of five novels, most recently The Watchman of Eternity. He has been a finalist for the Nebula, World Fantasy, and Shirley Jackson awards. He hopes one day to win something!
Lara Elena Donnelly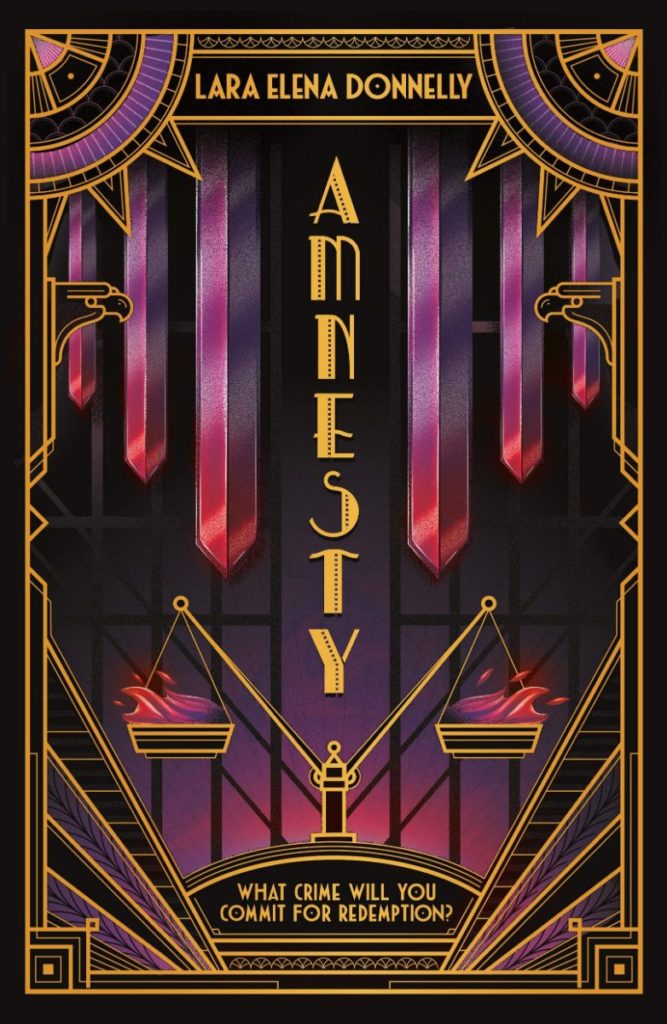 Lara Elena Donnelly is the author of the Nebula- Lambda, and Locus-nominated trilogy The Amberlough Dossier, as well as short fiction and poetry appearing in venues including Strange Horizons, Escape Pod, Nightmare, and Uncanny. Lara teaches at the Catapult Classes in New York City and is a thesis adviser in the MFA program at Sarah Lawrence College.
KGB Bar, 85 East 4th Street (just off 2nd Ave, upstairs.) New York, NY.
(3) WATCHMEN COMIC-CON TRAILER. Watchmen debuts on HBO this October.
There is a vast and insidious conspiracy at play…. From Damon Lindelof and set in an alternate history where masked vigilantes are treated as outlaws, this drama series embraces the nostalgia of the original groundbreaking graphic novel of the same name while attempting to break new ground of its own. The cast includes Regina King, Jeremy Irons, Don Johnson, Jean Smart, Tim Blake Nelson, Louis Gossett Jr., Yahya Abdul-Mateen II, Hong Chau, Andrew Howard, Tom Mison, Frances Fisher, Jacob Ming-Trent, Sara Vickers, Dylan Schombing, and James Wolk.
(4) BID MAD FAREWELL. The New York Times letters section is filled with expressions of sentiment offered "In Fond Remembrance of Mad Magazine".
I wholly endorse Tim Kreider's views and mourn Mad's effective demise to the extent it ceases the publication of new material.

As the beneficiary of slightly distracted conservative parents, I subscribed to and have collected Mad since I was a preteenager. Bill Gaines's "usual gang of idiots" offered intellectual freedom from the confining dictates of the 1950s, and that freedom continues to inform my thinking.

The art was as meticulous as the writing. Each artist's style was perfectly attuned to the text of the particular piece. What can compare to George Woodbridge's illustrations of hippies and beatniks?

In contrast to so many publications, those many issues of Mad reflect no typographical errors, misspellings, grammatical mistakes or instances of poor usage, unless intentional. At least I have never spotted any.

Literate, entertaining, enlightening and inspirational.

R.I.P., Mad!

Barbara Jaffe
New York
The writer is a New York State Supreme Court justice.
Tim Kreider's opinion piece "The World According to Mad Magazine" appeared July 12.
(5) ALL YOUR COMIC-CON BELONG TO US. Writers and editors at The Hollywood Reporter have picked "Comic-Con Winners and Losers From Film, TV and Comics Panels." Each entry includes a paragraph on why it was selected, but the roundup is:
Winner: Marvel Studios
Loser: Veronica Mars (Hulu)
Winner: Paramount
Winner: The Witcher (Netflix)
Winner: The Walking Dead (AMC)
Loser: The Eisner Awards
Winner: It Chapter Two (New Line/Warner Bros.)
Loser: Game of Thrones (HBO)
Winner: Westworld (HBO)
Winner: Watchmen (HBO)
Loser: Ruby Rose
Winner: Tom Hooper
Winner: Tom King
Winner: The X-Men (Marvel)
Winner: Undiscovered Country (Image Comics)
Winner: Riverdale (The CW)
Loser: Agents of SHIELD (ABC)
Winner: Star Trek (CBS All Access)
Here's one example:
Loser: Veronica Mars (Hulu)
Surprise! All episodes of the highly anticipated revival are available to stream a week early! In what was designed as a reward for diehard fans of the Kristen Bell-led series from creator Rob Thomas, those packed into Ballroom 20 were delighted at the early arrival before likely realizing they'd be unable to stream it given that they already had weekend plans — at Comic-Con — and would likely be spoiled by that heartbreaking finale. The early drop was a regular topic on Friday but by Saturday, it had already been drowned out amid a glut of hundreds of other film, TV, video game and comic book panels and trailers.
(6) MORE COMIC-CON COVERAGE. San Diego's Fox 5 has a 45-photo gallery of "Best costumes of Comic-Con weekend".
The Comic-Con Blood Drive was the most successful ever:
(7) FULL LID REFILLED. Blade Runners, alien invasions of several kinds and the retirement of an all-time great are all part of this week's "The Full Lid 19th July 2019". Alasadair Stuart outlines what's inside —
We open with a look at the first issue of Titan Comics' Blade Runner 2019 featuring a new member of the division with some very new problems. Then we're off to curdled suburban horror with Jeremy C. Shipp's superbly unsettling Bedfellow. A house guest turns a family's lives on their heads, but he's always been there, hasn't he? An uncle, a brother, a god, a monstrous cuckoo nesting in their lives. Marv is here to stay and a superbly unsettling villain.

Then we salute the comics career of Alan Moore, godfather of the UK scene, film-maker, actor, magic user and architect of an age. But for all his legendary skill and gravitas, Moore is a hell of a comedian and my favorite work of his falls in that field. Finally, with the recent and much deserved Clarke Award win, we re-run the review of Tade Thompson's excellent Rosewater from last year. Rounded out with the latest work from Anne Fortune, Claire Rousseau and You Suck At Cooking, that's the Full Lid for the week.
(8) LEGO'S APOLLO PROGRAM. The Verge: "A Lego designer talks about designing spaceships and collaborating with NASA". Tagline: "More than 40 years of LEGO Space"
The Verge spoke with Lego designer Simon Kent recently, who explained that he and his colleagues recently visited with NASA engineers and personnel to compare their toys against the real spaceships, rovers, and space stations currently in operation today. "Across the company, space is such a big theme, that we can tap into it in many different ways, whether its a plaything like Lego City, or a display model that goes into the fine details of the spacecraft's design," like the recently-released Apollo 11 Lunar Lander [list price $99.99].
(9) THAT'S NOTABLE, NOT NOTORIOUS. Camestros Felapton fills everyone in about "Today's right wing author meltdown…" which commenced when Michael Z. Williamson learned his Wikipedia entry was slated for deletion on grounds that he is not sufficiently notable. In fact, the page has been deleted and restored pending debate while this has been going on.
Last night Michael Z. Williamson's blog was brought to my attention, who if you are unfamiliar with him, was (is) one of the pioneering fiction writers in the wild west of the early-mid 2010s who bucked the system of social justice-focused "woke" writing in order to focus on craft and excellent storytelling.
Now, years later, big tech is taking its revenge on Michael as they've deleted his wikipedia page.
(10) KRAFT OBIT. NASA pioneer Chris Kraft died July 22. The Houston Chronicle headline: "Legendary NASA flight director Chris Kraft has died at 95".
Christopher C. Kraft Jr. — NASA's first flight director and a legendary scientist who helped build the nation's space program — died Monday, just two days after the world celebrated the historic Apollo 11 walk on the moon. He was 95.

"#RIP Dr. Christopher Kraft," former astronaut Clayton Anderson posted on Twitter soon after. "You were a true leader for this nation and our world. So glad you were able to witness #Apollo50th…we felt your presence everywhere.

"Godspeed and thank you."

Kraft's name is emblazoned in bold letters on the side of the mission control building at NASA's Johnson Space Center in Houston, home to the base of operations where Kraft guided astronauts from launch to landing as the organization grew to a full-blown agency that required multiple flight directors to oversee a mission.

…During an era with no calculators and only rudimentary computers, Kraft essentially built NASA's mission control to manage human operations in space. As the agency's sole flight director, with a simple black-and-white monitor and listening to eight different communications loops, he had the final say for NASA's first five manned missions, including the Mercury flights of Alan Shepard and John Glenn.
(11) HEDISON OBIT. Actor David Hedison, best known for his role in Sixties sci-fi series Voyage To The Bottom of the Sea, hdied July 18 at the age of 92 reports Deadline.com. He also was in the original version of horror sci-fi classic The Fly.
(12) TODAY'S BIRTHDAYS.
[Compiled by Cat Eldridge.]
Born July 22, 1881 — Margery Williams. The Velveteen Rabbit (or How Toys Become Real) is the work that is by far her best known work. Is it genre? Sure. And it has been adapted as video, audio and theatre myriad times. One audio version was narrated by Meryl Streep with music by George Winston. (Died 1944.)
Born July 22, 1912 — Stephen Gilbert. His final novel, Ratman's Notebooks was adapted as the Willard film. Thirty's years later, it was made into a film yet again. Kindle has most of his books available, iBooks just Ratman's Notebooks. (Died 2010.)
Born July 22, 1932 — Tom Robbins, 87. Author of such novels as Even Cowgirls Get the Blues and Another Roadside Attraction. ISFDB lists everything he's done as genre and who am I to argue with them? Now Jitterbug Perfume, that's genre!
Born July 22, 1941 — Vaughn Bodé. Perhaps best known for the Cheech Wizard character and his art depicting erotic women. For our purposes, he's a contemporary of Ralph Bakshi and has been credited as a major influence on Bakshi's The Lord of the Rings and Wizards. He's been inducted into the Will Eisner Award Hall of Fame. (Died 1975.)
Born July 22, 1944 — Nick Brimble, 75. His first genre role was in Lust for a Vampire as the First Villager. He next shows up in Roger Corman's Frankenstein Unbound as The Monster.  He's Sir Ectot in A Knight's Tale which I really be it genre or not. His lastest film genre role is as Dr. Zellaby in Soulmate, and he's the voice of Owsla in the Watership series. 
Born July 22, 1959 — Nigel  Findley. He was a game designer, editor, and an author of science fiction and fantasy novels and RPGs. He was also part of the original core group of Shadowrun RPG core group and has sole writing credit on both sourcebooks and Shadowrun world novels. Yes, I played Shadowrun, a most enjoyable experience. (Died 1995.)
Born July 22, 1972 — Colin Ferguson, 47. Best known for being Sheriff Jack Carter on  Eureka. I miss that series. Did it win any Hugos? He's also been in Are You Afraid of the Dark, The Hunger, The X-Files, The Outer Limits, the Eureka "Hide and Seek" webisodes (anyone seen these?) and The Vampire Diaries. 
Born July 22, 1976 —Karen Cliche, 43. She's known for her roles on Flash Gordon, Mutant X, Vampire High and Young Blades. She's does two horror films, Pact with the Devil and Saw VI. 
(13) COMICS SECTION.
Cul de Sac shows how hard it can be to be a space flight dreamer.
(14) GRRM AND FORBIDDEN PLANET. The Irish Film Institute will start selling tickets to this event on Thursday:
(15) KEEPING THE R IN HARLEY. You've been warned. "Kaley Cuoco's Harley Quinn Show Is A 'Tad R-Rated,' She Warns With New Trailer" – CinemaBlend explains the rating:
There's gratuitous swearing, Joker shooting someone at point-blank range, and he's taking a shot to the groin courtesy of Harley? Yeah, I can see why Kaley Cuoco wanted to get the warning out on her Instagram, especially when the animation for Harley Quinn looks like something DC would run on Cartoon Network in primetime.
(16) THE UK'S OWN STORM. They made a big splash on social media – will they really try to do the same in the Loch? "RNLI warning over 'Storm Loch Ness' monster hunt".
A suggestion for a mass search for the Loch Ness Monster later this year has gone viral on social media, and caused concern for the Royal National Lifeboat Institute.

On Facebook, about 18,000 people say they are going to a Storm Loch Ness event with 38,000 "interested".

It has been inspired by Storm Area 51, an idea tens of thousands of people could storm a US Air Force base to uncover the truth to a UFO conspiracy.

But Loch Ness RNLI is warning of the dangers of the loch's deep water.

Concerned that hundreds, or even thousands, of people head out on to the loch for Storm Loch Ness on 21 September, the volunteer crew said it could not match the resources being used by the US military to deal with Storm Area 51.
(17) BOILED IN LEAD. Lest you think James Davis Nicoll is being too negative about this idea, he explains how it could have been even worse: "Bad SF Ideas in Real Life: NASA's Never-Realized Plans for Venus".
Many readers may find the plots of some SF novels deeply implausible. "Who," they ask, "would send astronauts off on an interstellar mission before verifying the Go Very Fast Now drive was faster than light and not merely as fast as light? Who would be silly enough to send colonists on a one-way mission to distant worlds on the basis of very limited data gathered by poorly programmed robots? Who would think threatening an alien race about whom little is known, save that they've been around for a million years, is a good idea?"

Some real people have bad ideas; we're lucky that comparatively few of them become reality. Take, for example, a proposal to send humans to Venus. Not to land, but as a flyby.
(18) YA AWARD. Garik16's Lodestar Award finalist reviews: "Reviewing the 2019 Hugo Nominees: The Lodestar Award for Best Young Adult Book".
So yeah, there's a lot of great works to be nominated for this award, and this year's shortlist contains some pretty good works, including one book again that was one of my favorites from all of last year, one book that I really really liked, one I enjoyed a good bit which will probably win it all, and two other books that are at least solid – really only one nominee of the bunch do I think is unworthy, although I can understand why it's nominated. All in all, this award will give recognition to a work that definitely deserves it, which is the point of the matter.
(19) DOUBLE YOUR FUN. "Chandrayaan-2: India launches second Moon mission" – BBC has the story.
India has successfully launched its second lunar mission a week after it halted the scheduled blast-off due to a technical snag.

Chandrayaan-2 was launched at 14:43 local time (09:13 GMT) from the Sriharikota space station.

India's space chief said his agency had "bounced back with flying colours" after the aborted first attempt.

India hopes the $145m (£116m) mission will be the first to land on the Moon's south pole.

The spacecraft has entered the Earth's orbit, where it will stay for 23 days before it begins a series of manoeuvres that will take it into lunar orbit.

If successful, India will become the fourth country to make a soft landing on the Moon's surface. Only the former Soviet Union, the US and China have been able to do so.
(20) FASTER THAN TUNNELING? Most SF posits living under the surface of the moon, but there's an alternative: "Why 3D printing could be key to a Moon base".
The European Space Agency (Esa) is researching technologies based on 3D printing to see how materials found on the lunar surface could be made into products to help with habitation on the Moon.

Dusty powdered rock found on the Moon's surface could be made into construction materials, explains the Esa's James Carpenter.
(21) I SPY, WITH MY LITTLE APP. Pixels, please! "Kazakhstan's new online safety tool raises eyebrows".
Kazakhstan's drive to obtain government access to everyone's internet activity has raised concerns among privacy advocates.

Last week, telecoms operators in the former Soviet republic started informing users of the "need" to install a new security certificate.

Doing so opens up the risk that supposedly secure web traffic could be decrypted and analysed.

Some users say the move has significant privacy and security problems.

Much of the concern focuses on Kazakhstan's human rights record, which is considered poor by international standards.

…A statement from the Ministry of Digital Development said telecoms operators in the capital, Nur-Sultan, were carrying out technical work to "enhance protection" from hackers, online fraud and other cyber-attacks.

It advised anyone who had trouble connecting to some websites to install the new security certificate, from an organisation called Quaznet Trust Network.

…One user filed a bug report with Mozilla, maker of the internet browser Firefox, characterising the move as a "man in the middle" cyber-attack and calling for the browser to completely ban the government certificate.
(22) REQUEST FOR ASSISTANCE. Frequent contributor Martin Morse Wooster says:
"I have a question I want to ask Filers but it's guaranteed not to provoke a flame war. My question:

"I would like to eat more tomatoes. What are the best recipes Filers have for using tomatoes from the farmers' market?

"I am very serious about this."
Your culinary advice is welcome in comments.
[Thanks to Mike Kennedy, JJ, Chip Hitchcock, Cat Eldridge, Martin Morse Wooster, John King Tarpinian, Darrah Chavey, James Davis Nicoll, Carl Slaughter, and Andrew Porter for some of these stories. Title credit goes to File 770 contributing editor of the day Jon Meltzer.]