(1) RED HOT RETRO-HUGOS. The 1945 Retro-Hugos were presented at CoNZealand today – see the winners here.
The full voting stats are online, and Deputy Hugo Awards Administrator Nicholas Whyte also has done a quick analysis of the results.
(2) PETITIONS AND PUBLISHING. Seanan McGuire has a quite interesting series of tweets inspired by social media petitions flogging certain authors to produce their next book now, in which she tries to open readers' eyes about the traditional publishing process. Thread starts here.
(3) ABOUT THE GUARDIAN'S "OPEN LETTER" COVERAGE. Chris Barkley posted his letter of complaint sent to The Guardian's Reader Service about their article.
Hello,

I am writing to complain about Alison Flood's article on the Saudi Arabian bid to hold the 2022 World Science Fiction Convention.

While Ms. Flood's reporting was informative, it did lack ANY reaction directly from the current co-chairs of the current Worldcon in New Zealand (Kelly Buehler and Norman Cates) or any member of the Worldcon who could explain the function of the Constitution of the World Science Fiction Convention and how it relates to the multi-year bidding process works.

Nor had she any quotes or commentary from any other fans who could have offered additional information or insights about sf fandom.

It would be very much appreciated if she were to update this important story with more of these elements rather than the somewhat sensationalized version that was posted.

Chris M. Barkley
Cincinnati, Ohio
USA

I have worked in Worldcon Press Offices since 1983. In this day and age there is NO EXCUSE for sloppy reporting…
(4) TOASTMASTER WARMS UP THE AUDIENCE. George R.R. Martin previews the CoNZealand Hugo Ceremony in "Worldcon… Virtually" at Not A Blog.
…Anyway, here is how the Hugos are going to work… I have already pre-recorded all of my opening remarks, introductions of the guest presenters (we will have several), amusing (one hopes) anecdotes and bits of history, discussions of each category, and readings of the names of the finalists (in the cases where I am presenting myself, rather than throwing the ball to a guest presenter). ConNZealand has all those videos. The rest of it will be live streamed from my theatre in Santa Fe, the Jean Cocteau, where a member of worldcon's tech team will be helping me Zoom. I will have the envelopes with the names of the winners sealed therein. I may actually have a Hugo to wave about.

So the drill will go like this: for each category, you will get a pre-recorded video of me as a lead-in. Then I will either read the finalists, so throw it to another presenter who will do the same. Most of their remarks are pre-recorded as well. Then back to me, this time live at the JCC, where I will rip open the envelope and announce the winner. Then we cut to the happy winner, somewhere in the world… assuming they are in front of their computers and know how to Zoom and all. (No, unlike the other major awards shows, we have no plans to show the fake smiles on the faces of the sad losers). The happy winner will make an acceptance speech, long or short as may be, that is entirely up to them. Then back to me… either live me at the JCC, or pre-recorded me for the next category.

And on and on, starting with the Lodestar and ending with Best Novel….
(5) CONZEALAND DAILY NEWZINE. Cruise Log has found a substitute for the Worldcon daily zine's usual "warm body count" —
1400 people have logged into the CoNZealand discord server as of 09:00 Thursday morning!
(6) POCKET CHANGE FOR NEVERNEVERLAND. "New Peter Pan and Tinkerbell 50p coins launch – and they look magical" in the Mirror.
The new collection of Peter Pan British Isles 50p coins have been developed in partnership with Great Ormond Street Hospital to celebrate 90 years since author, J.M. Barrie, gifted all future rights of the book to them.

The new set will be the first ever collection of its kind in the UK – but won't be released by the Royal Mint and therefore won't be entering circulation.

Prices start at £6.25, and for every coin sold, a donation will go directly to GOSH Charity to support the hospital's most urgent needs: fund support services, pioneering research, equipment and refurbishment.
(7) DREAM FOUNDRY WRITING CONTEST. The Dream Foundry Writing Contest will be open for submissions from August 10 to October 11, 2020. Full guidelines here.
We're looking for complete and finalized stories of speculative fiction of up to 10,000 words. This year, we're proud to announce monetary prizes for 1st, 2nd, and 3rd places.

1st: $1000; 2nd: $500; 3rd: $200

There is no submission fee. All rights remain with the creators.
(8) MEDIA BIRTHDAY.
July 29, 1953 — George Pal's adaptation of H.G. Wells' The War Of The Worlds premiered in Atlantic City, New Jersey. It was directed by Byron Haskin from the screenplay by Barré Lyndon. It starred Gene Barry and Anne Robinson. It was narrated by Cedric Hardwicke. The film was both a critical and box office success earning back its budget in its first release. And it would win an Academy Award for Special Effects. Audience reviewers at Rotten Tomatoes currently give it a 71% rating.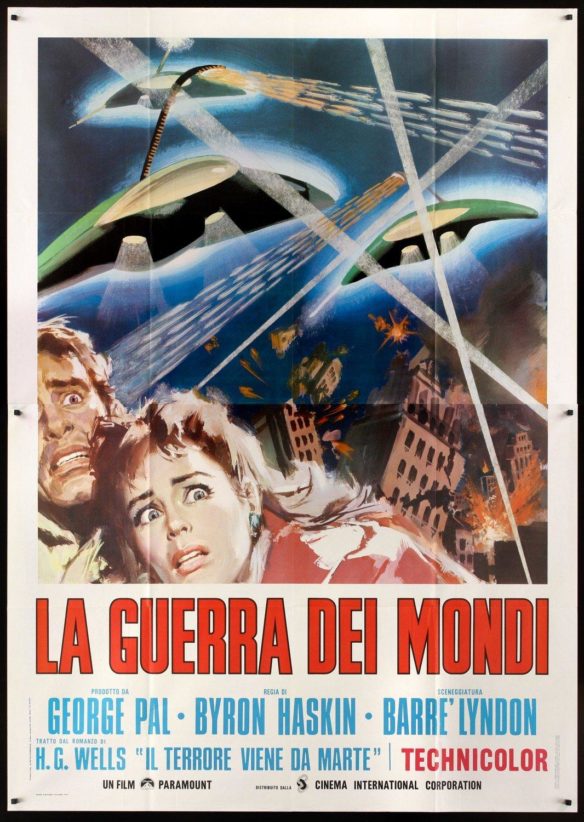 (9) TODAY'S BIRTHDAYS.
[Compiled by Cat Eldridge and John Hertz.]
Born July 29, 1876 — Maria Ouspenskaya. In the Forties, she did a run of pulp films, to wit The Wolf Man, Frankenstein Meets the Wolf Man and Tarzan and the Amazons. A decade or so earlier, she was in Beyond Tomorrow. (Died 1949.) (CE)
Born July 29, 1878 – Don Marquis. (name pronounced "mar-kwis") At The Sun, New York, a column "The Sun Dial" 1912-1922; at The Herald Tribune, "The Tower" (later "The Lantern"); three novels; plays, poems, essays, sketches. Introduced, famously and of interest to us, a cockroach whose writings DM found in the typewriter next morning; the cockroach wrote by diving onto the keys, could not get capitals, and so is known as archy; in turn archy knew a cat, mehitabel; they, illustrated by George Herriman who meanwhile drew Krazy Kat, outcreated everything. (Died 1937) [JH]
Born July 29, 1888 — Farnsworth Wright. Editor of Weird Tales. editing an amazing 179 issues from November 1924–March 1940. Mike Ashley in EoSF says, "Wright developed WT from a relatively routine horror pulp magazine to create what has become a legend." His own genre fiction is generally considered undistinguished. He also edited during the Thirties, Oriental Stories and The Magic Carpet. The work available digitally is a poem, "After Two Nights of the Ear-ache". (Died 1940.) (CE)
Born July 29, 1907 — Melvin Belli. Sole genre role is that of Gorgan (also known as the "Friendly Angel") in the Star Trek "And the Children Shall Lead" episode. Koenig objected to his playing this role believing the role should have gone to someone who was an actor. (Died 1996.) (CE)
Born July 29, 1927 — Jean E. Karl. She founded Atheneum Children's Books, and she edited Ursula K Le Guin's Earthsea sequence and Susan Cooper's The Dark Is Rising sequence. As an author, she wrote three genre novels, Strange Tomorrow, Beloved Benjamin Is Waiting and But We Are Not of Earth, and a reasonable amount of short fiction, all of which is In the Clordian Sweep series. Nine of those stories are in The Turning Point collection. (Died 2000.) (CE)
Born July 29, 1939 — Curtis C. Smith, 81. Editor of Twentieth-Century Science-Fiction Writers, plus two genre biographies, Olaf Stapledon: A Bibliography with co-author Harvey J. Satty, and Welcome to the Revolution: The Literary Legacy of Mack Reynolds. Not active since the mid-Eighties as near as I can tell. (CE)
Born July 29, 1941 — David Warner, 79. Being Lysander in that A Midsummer Night's Dream was his first genre role. I'm going to do just highlights after that as he's got far too extensive a genre history to list everything. So he's been A Most Delightful Evil in Time Bandits, Jack the Ripper in Time After Time, Ed Dillinger / Sark In Tron, Father in The Company of Wolves, Chancellor Gorkon in Star Trek VI: The Undiscovered Country, The Creature in Frankenstein, voice of Ra's al Ghul on Batman: The Animated Series and Abraham Van Helsing on Penny Dreadful. (CE)
Born July 29, 1945 – Sharon Creech, 74. First person to win both the Newbery & Carnegie Medals. Three novels for us, many more (two, for adults, under another name). Some verse, some prose. "While teaching literature I learned so much about writing"; Website here. [JH]
Born July 29, 1948 – John Harris, 72. Two hundred covers, as many interiors. Two artbooks. Chesley for Lifetime Achievement. Commissions for NASA, Royal Caribbean cruise ships, Philips, Shell. Here is Stand on Zanzibar. Here is The Ringworld Throne. Here is Ancillary Mercy. Here is The Best of Gregory Benford. [JH]
Born July 29, 1953 – David Lee Anderson, 67. A score of covers, half that many interiors. Lately Oklahoma landmarks and landscapes. Here is the Oct 93 Tomorrow. Here is A Glimpse of Splendor (collection). Here is ISS Repairs (Int'l Space Station). Here is Rioghain ("ree-ann") from Afterwalker (D. Glaser dir.; in post-production as of Mar 2020). Website here. [JH]
Born July 29, 1956 – Chitra Divakaruni, Ph.D., 64. Five novels for us; much more. The Palace of Illusions, her re-telling of the Mahabharata from Drapaudi's perspective, was an India best-seller for a year; here (Web archive) is an India Reads review whose author confesses having known the Mahabharata only from television. American Book Award, Light of India Award, Pushcart Prize, Ginsberg Poetry Prize. Website here. [JH]
Born July 29, 1969 – Forrest Aguirre, 51. Two novels, five dozen shorter stories in Apex, Asimov's, Vasterien. Edited two Leviathan anthologies (one with Jeff Vandermeer; World Fantasy Award). Speaks Swahili. Collections, The Butterfly Artist, Fugue XXIX. Ranks Thank You, Jeeves above Gorky Park (agreed). Interview at SF Site here. [JH]
(10) COMICS SECTION.
(11) POPULARITY CONTEST. Camestros Felapton produced a highly scientific graph that confirms "Martians are more popular than Venusians".
…However, I realised that the Google n-gram site would provide a neat empirical confirmation of Mars bias in popular culture. I did a search on Martians and Venusians, choosing the inhabitants rather than the planets to avoid hits about astronomy or the gods….
(12) WHAT A CONCEPT. "You can now boot a Windows 95 PC inside Minecraft and play Doom on it" reports The Verge.
If you've ever wanted to build a real and working Windows 95 PC inside Minecraft, now is the time. A new VM Computers mod has been created for Minecraft that allows players to order computer parts from a satellite orbiting around a Minecraft world and build a computer that actually boots Windows 95 and a variety of other operating systems.

The mod uses VirtualBox, free and open-source virtual machine software, to run operating systems like Windows 95. Within Minecraft you simply place a PC case block and then use it to create virtual hard drives to install operating systems from ISO files….
(13) SMALL MONSTER STORY. NPR's Jason Sheehan writes that the ~interstitial "'Empire Of Wild' Tells A Small Story — But Not A Slight One".
I like a small book. I trust a small book. I appreciate a small book for all the things it doesn't do, for all the stories it does not tell.

Big books? They're dangerous in their excess. Bloated (often) with words they do not need and larded (often) with detail that no one asked for. You can slip into a big book and lose your way too easily. But a small book is intimate. Close. Every word it says matters. The writer of a small book knows that every page has to count.

Cherie Dimaline wrote a small book called Empire Of Wild. It isn't small in pages (320, give or take) or in words (it has the normal amount), but it is tiny in consequence. In the scope and reach of the story it tells.

It is about Joan, who has lost her husband. And who means to get him back. That's all. There are no worlds to be saved, no history to be altered. Joan's actions, and the reverberations of those actions, are felt only close by. Her family, her community, the barrooms and living rooms and Walmart parking lots of the small towns around Georgian Bay, Ontario are the only places where her footsteps are felt. And that's enough. That's more than enough.

…Down in its bones, Empire Of Wild is a monster story. Mythic but not epic, swimming in Indigenous medicine, not magic. Calling it urban fantasy gives it a gloss it doesn't possess. Magical realism implies something absurdist, asynchronous, and doesn't speak to the way that the medicine of the Métis elders is woven into every breath and line.

Here, Dimaline uses the Métis legend of the rogarou to square her narrative architecture — to give weight and nightmares to Joan's private hurt. The rogarou is the bogeyman that scares children home before it gets too dark outside. It makes Métis girls walk home in pairs. It keeps men from doing wrong by women, each other or the community. The rogarou is part man, part dog, a wolfman that makes itself through bad choices. And Joan believes in the rogarou because she's seen one before. She knows the smell of one when it's close — and with a cell phone, some salt bone, her aunt Ajean's medicine and her chubby, mopey nephew Zeus by her side, she knows that she's going to have to meet one, fight one, slay one to bring Victor back home.
(14) LANDSHIP TROOPERS? Yahoo! News reports "Marines to Test Exoskeleton Suit That Can Do the Work of Up to 10 Troops". Includes a photo.
The Marine Corps is moving ahead with plans to test a wearable robotic exoskeleton that conjures up images of that power-loader suit Ellen Ripley wore to take down a space monster in the movie "Aliens."

By the end of the year, the service will have a Guardian XO Alpha full-body robotic exoskeleton that allows one person to do the work of four to 10 people, depending on the task. The wearable suit can do hours of physical labor that would otherwise be impossible for a Marine to do alone, lifting and moving up to 200 pounds of gear repeatedly for eight hours straight.
(15) I WALK TO THE TREES. NPR declares,"Believe It Or Not, Forests Migrate — But Not Fast Enough For Climate Change".
We're all familiar with migration: Wildebeests gallop across Africa, Monarch butterflies flit across the Americas … but did you know that forests migrate, too?

In his new book The Journeys of Trees, science writer Zach St. George explores an agonizingly slow migration, as forests creep inch by inch to more hospitable places.

Individual trees, he writes, are rooted in one spot. But forests? Forests "are restless things." As old trees die and new ones sprouts up, the forest is — ever so slightly — moving.

"The migration of a forest is just many trees sprouting in the same direction," St. George writes. "Through the fossils that ancient forests left behind, scientists can track their movement over the eons. They shuffle back and forth across continents, sometimes following the same route more than once, like migrating birds or whales."
(16) NOT SO FAR. We knew the smaller stones came from Wales, but now the BBC reports "Mystery of origin of Stonehenge megaliths solved".
The origin of the giant sarsen stones at Stonehenge has finally been discovered with the help of a missing piece of the site which was returned after 60 years.

A test of the metre-long core was matched with a geochemical study of the standing megaliths.

Archaeologists pinpointed the source of the stones to an area 15 miles (25km) north of the site near Marlborough.

English Heritage's Susan Greaney said the discovery was "a real thrill".

The seven-metre tall sarsens, which weigh about 20 tonnes, form all fifteen stones of Stonehenge's central horseshoe, the uprights and lintels of the outer circle, as well as outlying stones.
(17) PERSEVERING THROUGH THE PLAGUE. FastCompany tells how "Even amid COVID-19, NASA's Mars 2020 rover is ready for takeoff".
…"Putting together a spacecraft to Mars and not making a mistake is hard no matter what," said NASA deputy project manager Matt Wallace. "Trying to do it during the middle of a pandemic is a lot harder. Everyone told us we could not have come up with a better name than Perseverance." (Wallace and others in this story spoke during or in videos presented at a virtual June press conference.)

Despite this seismic hurdle, the Mars 2020 rover is on track for a July 30 launch toward its seven-month, 314-million-mile journey to the Red Planet. Its two-year mission is to gather samples suggesting past microscopic life for subsequent retrieval and return to Earth, explore the 4-billion-year-old geology of the Jezero Crater landing site, and demonstrate technologies for future robotic and human exploration. The mission has cost $2.4 billion from development through launch, with another $300 million earmarked for operations and surface science.
(18) MOVING UP. "Airbus to build 'first interplanetary cargo ship'".
Airbus-France will build the huge satellite that brings the first Martian rock samples back to Earth.

This material will be drilled on the Red Planet by the US space agency's next rover, Perseverance, before being blasted into orbit by a rocket.

It'll be the Airbus satellite's job to grab the packaged samples and then ship them home.

The joint American-European project is expected to cost billions and take just over a decade to implement.

But scientists say it's probably the best way to confirm whether life has ever existed on the Red Planet.

Any evidence is likely to be controversial and will need the powerful analytical tools only found in Earth laboratories to convince the doubters, the researchers argue.
(19) SORRY CHARLY. No longer smart, these glasses soon will be mainly useful as paperweights: "Google offers refunds after smart glasses stop working".
Smart glasses company North has told customers that their $600 (£460) purchases will stop working in a few days' time.

The Canadian company, recently purchased by Google, says its Focals glasses will cease functioning on Friday.

From then, owners will not be able to use "any features" of the glasses, or connect to the companion app.

But the company has also said it will automatically refund all customers.

It promised to send the purchase price back to the original payment method, and to contact those customers whose refunds it could not process.

At the end of June, North announced it was being acquired by Google, and would not release a planned second-generation device.

It also said it would "wind down" its first generation smart glasses, released last year.
(20) VIDEO OF THE DAY. [Item by Martin Morse Wooster.] The YouTube algorithm says I should watch "The Secret Every Tolkien Nerd Knows" by Diana Glyer. What do you think of the algorithm's judgment?
[Thanks to Rich Lynch, JJ, John King Tarpinian, Daniel Dern, Chip Hitchcock, Martin Morse Wooster, Michael Toman, Mike Kennedy, Cat Eldridge, John Hertz, and Andrew Porter for some of these stories. Title credit goes to File 770 contributing editor of the day Cliff.]