(1) FREE READ. The final free story in The Sunday Morning Transport's month-long adventure of free reading is John Wiswell's "Demonic Invasion or Placebo Effect?" "which shares a unique perspective on an experiment of sorts, gone very, very wrong."
The Sunday Morning Transport is a reader-supported publication. To receive new posts and support our work and our authors, consider becoming a free or paid subscriber.
(2) HOME COOKING. Media Death Cult posted two videos of conversations with author Claire North. First, "Meeting Claire North".
I made myself comfortable in Catherine Webb's kitchen, otherwise known as the Arthur C. Clarke Award nominated author, Claire North.
Then, "Claire North Recommends Some Books".
I hung around with Catherine Webb (Claire North), we talked about books.
(3) LIKE MOTHS TO A CANDLE. "Does Twitch Fame Have to Come With a Stalker?" The New York Times shows this is not a rhetorical question.
…Twitch, more than Instagram, Twitter or TikTok, is an intimate platform, designed to make its stars seem like actual friends of their fans, hanging out virtually with them. Those cozy relationships are a core part of the site's business model. But they sometimes turn unhealthy.

"In livestreams, they see into your home, into your bedroom, and it feels very personal with them," Ms. Siragusa said. "I think that is what contributes to a lot of the stalking: They feel like they know you."

Streamers on Twitch and other platforms have had stalkers show up at their homes and at fan conventions, been targeted by armed and violent viewers or dealt with swatting, a sometimes deadly stunt in which someone calls the local police to report a fake crime at a streamer's home, hoping the raid will be caught live on camera.

In response to the harassment, threats and stalkers she has endured since joining Twitch in 2016, Ms. Siragusa has bought guns, installed security cameras and gotten a Caucasian shepherd, a breed of guard dog, named Bear. She has been swatted so often that law enforcement agencies in her area know to check her Twitch stream when they get a call. Last year, when a trash can outside Ms. Siragusa's house caught on fire, police suspected arson….
(4) ORIGIN STORY. George Jetson was born today, July 31, 2022. Don't ask me where – I only know that in The Jetsons he lived in Orbit City. But NPR can tell you why the date is a logical inference.
…Here's how the math works: The show first aired in 1962, but was set 100 years in the future. That would be 2062.

During the first season of the show, George reveals that he's 40 years old. So 2062 minus 40, and there you go.

The fact-checking website Snopes looked into the claim and concluded it is, in fact, a "reasonable estimation of his birth year."…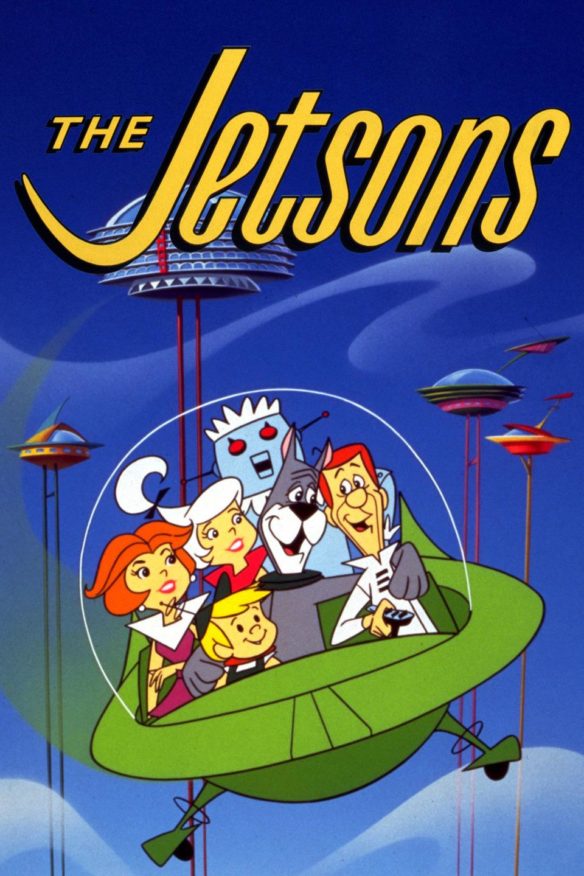 (5) TONOPAH TALES. You can read "John Hertz's Westercon Notebook" at Cheryl Morgan's Salon Futura.
… Holding a Westercon there was Lisa Hayes' idea. The Tonopah Convention Center had been a USO hall (United Services Organization; entertainment, hospitality for armed-forces personnel and their families) when armed forces had bases nearby. The Belvada Hotel 100 yards (90 m) away, and the Mizpah Hotel 150 yards (140 m) away, are historic buildings. A 2,000-person Westercon wouldn't fit there, but a 200-person Westercon, about what could be expected even with COVID-19 easing, would. Hayes was vindicated. 278 attending memberships were sold (and 59 supporting memberships); 159 people arrived. This was an intimate con. It was also hybrid, with some programming available virtually via Zoom. The Convention Center was its hub, like a great Hospitality Suite….
(6) CLARION NEWS. The Clarion Write-a-Thon ended July 30. They raised $4,232.00, which is not as much as they hoped. However, they are still accepting donations.
As it is the last day of our annual Write-a-Thon, there's still time to squeeze in some writing towards your goal or help us get closer to our fundraising goal! A huge thank you to all of the participants, cheerleaders, signal-boosters, and donors who have helped us with the Write-a-Thon this summer. This annual fundraiser is an essential source of scholarships that provide opportunities for future students.
(7) MEMORY LANE.
1966 – [By Cat Eldridge.] Robert Bloch was a very prolific genre writer and among those writings were three scripts for the original Trek series. (IMDb says that he wrote fifty-five tv and film scripts in total.) I would argue that his three Trek episodes were among the best episodes done. So let's look at them
The first of them was the one I was least aware that he'd done, "What Are Little Girls Made Of?" A season one undertaking, this is a straight SF story involving androids, one of whom of is played by Ted Cassidy as Ruk. I'd rate it a decent story. The make-up on Cassidy is quite wonderfully done. And yes, we get a bit of eye candy as well, something Trek did in its female androids more than once.
Now the next Trek story, "Wolf in the Fold", from the second season, with its take off the Ripper mythos is delightful indeed. Bloch does horror very, very well and within the restrictions of Sixties television governing what can be shown for blood and violence, he does quite a bit here. I'll single out the acting of the nebbish like killer Administrator Hengist as played by John Fiedler.
Now I admit that I had to go back and rewatch "Catspaw", another second season episode, as I sort of remembered it but not quite though I knew Bloch had scripted it. Fortunately I subscribe to Paramount+, home of everything Trek. Ahhh, now I remember the All Hallows episode with the delightful Antoinette Bower as Sylvia and Theo Marcuse as Korob. And let's not forget the cat as where would All Hallows' Eve be without a cat. All in all a most wonderful tale.
Bloch I'd say acquitted himself most admirably in these three scripts.
(8) TODAY'S BIRTHDAYS.
[Compiled by Cat Eldridge.]
Born July 31, 1932 — Ted Cassidy. He's best known for the role of Lurch on The Addams Family in the mid-1960s. If you've got a good ear, you'll recall that he narrated The Incredible Hulk series. And he played the part of the android Ruk in the episode "What Are Little Girls Made Of?" on Trek which is mentioned above in today's featured essay and provided the voices of the more strident version of Balok in the "The Corbomite Maneuver" episode and the Gorn in the "Arena" episode. In The Man from U.N.C.L.E. "The Napoleon's Tomb Affair" episode, he was Edgar, who kidnapped, tortured, and repeatedly attempted to kill Napoleon and Illya. And failed magnificently.  I watched a few months back. (Died 1979.)
Born July 31, 1939 — France Nuyen, 83. She showed up in the original Trek as "Elaan of Troyius" as Elaan and was on the new Outer Limits in the "Ripper" episode.  She was in the original Fantasy Island series, also the Battle for the Planet of the Apes, Automan, and The Six Million Dollar Man series.
Born July 31, 1950 — Steve Miller, 72. He is married to Sharon Lee, and they are the creators of the vast and throughly entertaining Liaden universe. I was surprised though they've won both a Golden Duck and Skylark that they have never been nominated for a Hugo. 
Born July 31, 1951 — Jo Bannister, 71. Though best known as a most excellent British crime fiction novelist, she has three SF novels to her credit, all written in the early Eighties — The Matrix, The Winter Plain and A Cactus Garden. ISFDB lists one short story by her as genre, "Howler", but I wasn't at all aware that Ellery Queen's Mystery Magazine printed genre fiction which is where it appeared first though y'all corrected me when I first ran this Birthday note several years back. 
Born July 31, 1956 — Michael Biehn, 66. Best known in genre circles as Sgt. Kyle Reese in The Terminator and Terminator 2: Judgment Day, Cpl. Dwayne Hicks in Aliens and Lt. Coffey in The Abyss. He was also The Sandman in a single episode of Logan's Run. Though not even genre adjacent, he was Johnny Ringo in the magnificent Tombstone film. Likewise he was in The Magnificent Seven series as Chris Larabee.
Born July 31, 1959 — Kim Newman, 62. Though best known for his Anno Dracula series, I'd like to single him out for his early work, Nightmare Movies: A critical history of the horror film, 1968–88, a very serious history of horror films. It was followed up with the equally great Wild West Movies: Or How the West Was Found, Won, Lost, Lied About, Filmed and Forgotten. He's also a prolific genre writer and his first published novel, The Night Mayor, sounds very intriguing. 
Born July 31, 1962 — Wesley Snipes, 60. The first actor to be Blade in the Blade film franchise where I thought he made the perfect Blade. (There's a new Blade actor though they name escapes right now. Most likely deservedly.) I also like him a lot as Simon Phoenix in Demolition Man. And he was Aman in Gallowwalkers, a Western horror film.
Born July 31, 1976 — John Joseph Adams, 46. Anthologist of whom I'm very fond. He did The Improbable Adventures of Sherlock Holmes and Dead Man's Hand: An Anthology of the Weird West. He was the Assistant Editor at The Magazine of Fantasy & Science Fiction for nearly a decade, and he's been editing both Lightspeed Magazine since the early part of the previous decade. He is the series editor of The Best American Science Fiction and Fantasy. Nominated for the Hugo many times, he won for the Lightspeed prozine at Loncon 3 (2014) with Rich Horton and Stefan Rudnicki and at Sasquan (2015) with Horton, Rudnicki, Wendy N. Wagner and Christie Yant. 
(9) COMICS SECTION.
Eek! has a plan for a more powerful monster.
Off the Mark reveals the original French name of the movie Jaws.
Calvin and Hobbes is about Calvin's science fiction story.
(10) SPLISH, SPLASH. Amazon is taking a bath. "Amazon reports $2B net loss in Q2" reports Becker's Health IT.
Amazon reported a $2 billion net loss in the second quarter ending June 30, a blow to the company that reported net income of $7.8 billion in the same period last year.

Andy Jassy, CEO of Amazon, blamed inflation among other issues for the disappointing quarter.

"Despite continued inflationary pressures in fuel, energy, and transportation costs, we're making progress on the more controllable costs we referenced last quarter, particularly improving the productivity of our fulfillment network," Mr. Jassy said.

The announcement comes on the heels of Amazon's plans to purchase One Medical for $3.9 billion last week.
(11) FOR YOUR MT. TBR. Leonard Maltin's Movie Crazy makes recommendations in "New And Notable Film Books July 2022 – Part One". For example —
THE DISNEY REVOLT: THE GREAT LABOR WAR OF ANIMATION'S GOLDEN AGE by Jake S. Friedman (Chicago Review Press)

This deeply researched book tells the backstory of the notorious strike that occurred at the Walt Disney studio in 1941. It was a life-altering event for Walt and its aftereffects were still felt decades later. One of its many ironies is that it pitted Disney against the man he once regarded as his star animator, Art Babbitt. They would become blood enemies as a result of Babbitt's passionate unionism—and his strident nature.

Students and followers of Disney know his side of the story by now, but may not recall that his father Elias was an active socialist. His upbringing wasn't so very different from that of Arthur Babitsky, the son of Russian immigrants, who was born in Omaha, Nebraska. Fate brought these two gifted and strong-willed individuals together as Disney was envisioning new horizons for animation in the early 1930s….
(12) BARKING UP THE WRONG TREE. CNN's reviewer Brian Lowry finds "'DC League of Super-Pets' goes to the dogs in more ways than one".
Who's a good movie? Not "DC League of Super-Pets," a big colorful idea that proves promising in theory – tailor-made for a two-minute trailer – but a rather tedious slog as a full-length animated film. Dwayne Johnson and Kevin Hart's "Jumanji" reunion as the central voices and an intriguing start to serve up a few bones fun-wise, but not nearly as much as there should be….
(13) PREPARE TO DIE. Paul Weimer tells us what he heard while listening to The Killing Machine, second in the audio reissue of Jack Vance's Demon Princes series: "Microreview: The Killing Machine by Jack Vance" at Nerds of a Feather.
…Something I didn't appreciate when I first read (and re-read) these novels previously but is now clear to me know is the role of serendipitous luck in how these novels kick off. It is luck and chance in both volumes that puts Gersen in the path of this latest foe, quite by chance and accident, and he spends the rest of the novel trying to force a decisive confrontation with the Demon Prince. Also in both novels, there is a sense of "I want you to know it was me" Olenna Tyrell sort of feel to Gersen's revenge. Shooting the Demon Prince out of the sky is not quite satisfactory enough for Gersen  The Prince must face his avenger…. 
(14) ARTIFICIAL INNUENDO. On The Tonight Show artificial intelligence doesn't sound any smarter than the ordinary kind. So should I admit that I listened 'til the end? "Bruce the Robot Performs a Freestyle Rap About Hot Dogs and Taylor Swift".
The world's first autonomous AI-powered robot, Bruce the Robot, talks about his desire to fly first class, tells Jimmy his best pickup line and shows off his rapping skills.
(15) VIDEO OF THE DAY. [Item by Martin Morse Wooster.] Adam Savage's Tested looks at an animatronic Baby Yoda at Comi-Con built by Garner Holt Productions. The price of this "bespoke" object isn't mentioned, because, if you have to ask you can't afford him! "Lifelike Animatronic Grogu Puppet at Comic-Con 2022!"
The highlight of Comic-Con 2022 so far is this fully animatronic Grogu from EFX Collectibles, designed by the engineers and artists at Garner Holt Productions. We get up close with this incredible animated puppet, which uses 15 servos to recreate all of the character's joyful expressions seen in The Mandalorian. Star Wars fans at San Diego Comic-Con have to check this out!
[Thanks to JJ, John King Tarpinian, Andrew Porter, Chris Barkley, Rich Lynch, SF Concatenation's Jonathan Cowie, Michael Toman, Cat Eldridge, Mike Kennedy, and Martin Morse Wooster for some of these stories. Title credit belongs to File 770 contributing editor of the day Soon Lee.]