Five videos, seven stories, and a pair of tweets make up the Scroll today.
(1) The plush talking Admiral Ackbar doll was advertised as a limited run several years ago, however, Craig Miller bought one at Comic-Con.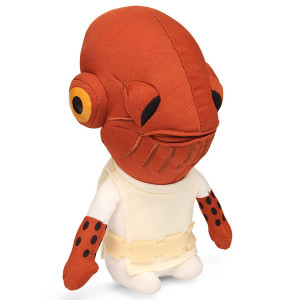 Do you remember the Admiral's line?
(2) Crystal Huff is interviewed about the Helskinki 2017 bid by Ed Fortune for Starburst:
STARBURST: Why Helsinki?

Crystal Huff: Helsinki is a location where Worldcon has never been. It has a lot of amazing fans and convention runners who are experienced at running Finncon, which moves around every year (like Worldcon does) and has a variable number of attendees (like Worldcon does). They have a useful skillset. The Finnish government gives grants to science fiction events to help them happen, and Worldcon will be eligible for that should we win. The program would be in English and other languages. The city of Helisinki has said that if we win the bid, all Worldcon members will receive free public transport to and from the convention. Not only will they be able to run around the city, they'll be able to see all the tourist attractions in Helsinki very easily.

Most people probably only know Finland for The Moomins. Is there much science fiction in Helsinki?

Yes. Recently, there's Emmi Itäranta who wrote the Clarke nominated Memory of Water; such an amazing book. It's haunting and lyrical, and Emmi wrote it in English and Finnish simultaneously. There's also Hannu Rajaniemi, who missed the Hugo nomination for The Quantum Thief by two votes. There's Pasi Ilmari Jääskeläinen with The Rabbit Back Literature Society which came out in 2013. Also check out Sing No Evil, an excellent graphic novel.
(3) And the competition in DC also has a new local attraction to brag about:
https://twitter.com/DCin17/status/620651289655951360
The Museum of Science Fiction's first physical exhibit, now on display at Ronald Reagan Washington National Airport, is "The Future of Travel".
Most people passing by baggage claim No. 12 in Terminal C craned their necks to see the 6-foot replica of the Orion III Space Clipper from "2001: A Space Odyssey." Every so often someone would even belly-up to the glass and inspect the ship in detail.

By Thursday, museum officials expected to add 1950s-style travel posters for several planets to help travelers daydream about the future. Could they one day race a car on Pluto? What would it be like to rock climb on Saturn's largest moon? And there is a smartphone app that allows anyone to plan a fictitious trip to the moon.
Founded in 2013, the museum has existed solely online until this week. "The Future of Travel" exhibit continues until October.
(4) ArmadilloCon takes place July 24-26 in Austin, Texas. They're looking for people to take their Fannish Feud game show survey.
(5) For those combing the internet for their daily Sad Puppy news fix, Cute Overload has this Public Service Announcement From The Department of Science Fiction:
Remember, this is radioactive mutant giant spider season in the southern United States, portions of South America, and of course Australia. Protect yourself and loved ones by keeping pets and children away from webs, making an escape plan in case of invasion, and keeping your flamethrower fully fueled at all times.
A Public Service Announcement from the Department of Science Fiction http://t.co/p7GemSzYFa pic.twitter.com/Nmsc65sUNU

— Shed Ninja (@ShedNinjaBrush) July 13, 2015
(6) Those who prefer their critters untamed are directed by George R.R. Martin to the Direwolves On Staten Island. The Yankees minor league team will wear Game of Thrones themed jerseys when George attends their August 8 match with Hudson Valley:
Normally the home team is the Staten Island Yankees… but for one night only, they are changing their name to the Staten Island Direwolves, and will be wearing special jerseys. The visitors, normally the Hudson Valley Renegades, will be clad in gold and red jerseys emblazoned with the Lion of Lannister. So it will be Winterfell v. Casterly Rock once more.
(7) Even wilder life rendezvoused in Paris over the weekend. Vox Day's report GGinParis's salute to #GamerGate contains a link to a short video of Vox's speech, plus remarks by Mike Cernovich and Milo Yiannopoulos.
Someday there will be a plush talking Vox Day doll who answers Admiral Akbar, "Yes, just as I planned!"
(8) More trailers that debuted at the San Diego Comic-Con:
Suicide Squad – Comic-Con First Look
The Man from U.N.C.L.E. – Comic-Con Trailer
Official Comic Con Trailer: Into the Badlands: World Premiere