(1) TRAFFIC. How do you get more pageviews for your blog? Talk about politics. But, of course, these things must be done delicately. Notice the daft, er, deft touch in Camestros Felapton's post "Well, He Kept That Quiet".
The local newspaper reports:

In a surprising move, presumptive Democratic nominee for President of the United States, Hillary Clinton, has chosen local vermin catcher Timothy the Talking Cat as her Vice Presidential pick….
(2) SPACE, THE FASHION FRONTIER. Mayim Bialik of Big Bang Theory did a Star Trek-themed photo shoot. There are six pictures in the gallery, with Bialik costumed as a series of characters from classic Trek.
Mayim Bialik and fans everywhere geek out over Star Trek at 50. To celebrate, we boldy go where no man—or woman—has gone before, with a little help from this Trekkie pinup girl and The Big Bang Theory star. "I watched a lot of Star Trek when I was a kid, and being able to not only dress up like some of the most iconic characters from that universe," Mayim Bialik said, "but be made up by some of the original innovators who created these looks, was personally so meaningful."
She also appears in a two-minute "making of" video.
(3) LEGO SPACEWOMEN. LEGO has been asked to do a Women of NASA project about five female scientists and astronauts:
Women have played critical roles throughout the history of the U.S. space program, a.k.a. NASA or the National Aeronautics and Space Administration. Yet in many cases, their contributions are unknown or under-appreciated — especially as women have historically struggled to gain acceptance in the fields of science, technology, engineering, and mathematics (STEM).

This proposed set celebrates five notable NASA pioneers and provides an educational building experience to help young ones and adults alike learn about the history of women in STEM. The five Women of NASA are: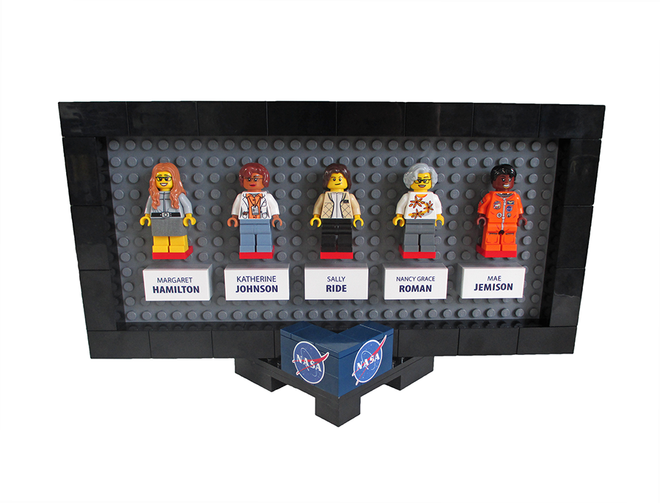 Margaret Hamilton, computer scientist: While working at MIT under contract with NASA in the 1960s, Hamilton developed the on-board flight software for the Apollo missions to the moon. She is known for popularizing the modern concept of software.

Katherine Johnson, mathematician and space scientist: A longtime NASA researcher, Johnson is best known for calculating and verifying trajectories for the Mercury and Apollo programs — including the Apollo 11 mission that first landed humans on the moon.

Sally Ride, astronaut, physicist, and educator: A physicist by training, Ride became the first American woman in space in 1983. After retiring as a NASA astronaut, she founded an educational company focusing on encouraging children — especially girls — to pursue the sciences.

Nancy Grace Roman, astronomer: One of the first female executives at NASA, Roman is known to many as the "Mother of Hubble" for her role in planning the Hubble Space Telescope. She also developed NASA's astronomy research program.

Mae Jemison, astronaut, physician, and entrepreneur: Trained as a medical doctor, Jemison became the first African-American woman in space in 1992. After retiring from NASA, Jemison established a company that develops new technologies and encourages students in the sciences.In addition to a desktop frame that displays these five minifigures and their names, the set includes vignettes depicting: a famous photo of the reams of code that landed astronauts on the moon in 1969; instruments used to calculate and verify trajectories for the Mercury and Apollo missions; a microscale Hubble Space Telescope and display; and a mini space shuttle, complete with external tank and solid rocket boosters.
The idea has gathered 2,513 supporters as of this writing – with 541 days left (that's what it says). It needs 10,000 supporters to qualify for an official LEGO review.
(4) GHOSTBUSTER TOYS. Meanwhile, some toy shelves have become ghost towns due to strong sales  – "Mattel Reports 'Ghostbusters' Toy Sales Have 'Exceeded Expectations'".
Mattel is reporting strong early sales for its line of toys based on the female-led "Ghostbusters" — from both boys and girls.

In keeping with the tagline "Everybody wants to be a Ghostbuster," Mattel's retail strategy was to sell the female-led Ghostbusters action figures in the boys' toy aisle. The sales figures at the top retailers in the country have exceeded expectations, the toymaker reported Friday.
(5) PULP STUDIES. James Madison University will host the 1st Annual Pulp Studies Symposium on October 7-8. One of the speakers is today's Munsey Award winner, Laurie Powers.
Nestled in the Shenandoah Valley, James Madison University's Special Collections hosts one of the finest publicly accessible collections of pulp magazines in the United States, including a recent acquisition of over eighty issues of Street and Smith's romance pulp Love Story.
Speakers
Associate Professor of Transatlantic Modernism and Print Culture at the University of West Florida

David M. Earle is Associate Professor of Transatlantic Modernism and Print Culture at the University of West Florida. He is author of Re-Covering Modernism: Pulps, Paperbacks, and the Prejudice of Form (2009) and All Man!: Hemingway, 1950s Men's Magazines, and the Masculine Persona(2009). More recently, he has published on pulp magazines and modernism for The Oxford Critical and Cultural History of Modernist Magazines, Volume 2; the influence of pulps on William Faulkner for Fifty Years after Faulkner; and pulps and the modernist genre novel for The Cambridge History of the Modernist Novel (2016). His online projects include the Digital Newsstand, an online re-creation of a newsstand from 1925.

Laurie Powers, an Ada Comstock Scholar graduate of Smith College, developed her interest in pulp fiction in 1999 when she discovered that her paternal grandfather, Paul S. Powers, (1905–1971) had been a successful writer of stories that appeared in magazines such as Weird Tales, Wild West Weekly, Western Story Magazine, Real Detective Tales, Thrilling Western, and many more. Since then, Laurie has been very active in the community of pulp fiction historians, writers, and collectors. She wrote the prologue and epilogue that appear in her grandfather's memoir, Pulp Writer: Twenty Years in the American Grub Street (University of Nebraska Press, 2007), has published several collections of her grandfather's stories, and has spoken to a variety of audiences on the history of pulp fiction. Laurie is now writing a biography of Daisy Bacon, editor of Love Story Magazine, and has written articles and book introductions about Bacon and the romance pulps
(6) ONE WRITER'S PROCESS.
When revising:
Day 1: Getting better! Might get represented w/ it.
Day 2: WTH? This is dog vomit!
Day 3: CALL UP THE HUGO AWARDS.#amwriting

— Rachel A. Chaney (@VoloCaballus) July 22, 2016
(7) KISS ANOTHER HISTORIC HOUSE GOODBYE. According to Los Angeles Magazine, "The Home Where Walt Disney Founded His First Studio Is Set to be Demolished".
New owners have requested a demolition permit for Walt Disney's first home in California. The well-preserved 1914 Craftsman bungalow at 4406 Kingswell Avenue in Los Feliz belonged to Walt's aunt Charlotte and uncle Robert Disney, who in July of 1923 invited their young nephew to board in their home (at a rate of $5 per week) as he pursued his dream of becoming a film director. The 2-bedroom, 1458 square-foot home would stay in the Disney family for 30 years. Charlotte moved next door in 1955, spending five decades on Kingswell. When it was sold again in 1977 the owners described it as having "lots of wood trim, fireplace & cheery breakfast room." The home exhibits tremendous architectural integrity, with the same porch, gables, shingles, windows, and beveled glass door that greeted 22-year-old Walt Disney.

According to the Los Angeles County Assessor the property was sold two months ago to Sang Ho and Krystal Yoo of Studio City, who submitted plans on Friday for a new 2-story, 1 or 2-family home they plan to build on the site. In November, the City of Los Angeles Survey L.A. program declared the property eligible for the National Register of Historic Places for its role as Walt Disney's first studio in California. The same city planning department is now considering issuing a permit for its destruction.
(8) TODAY IN HISTORY
July 23, 1982 — Actor Vic Morrow and two child actors were killed when a helicopter crashed on the movie set of The Twilight Zone.
July 23, 1999 — Disney's Tarzan became the first all-digital film.
(9) TODAY'S BIRTHDAY BOY
Born July 23, 1989 – Daniel Radcliffe
(10) WISE CRACKS. Ethan Mills at Examined Worlds reviews "Tectonic Fantasy: Fifth Season by N.K. Jemisin".
N. K. Jemisin's The Fifth Season is a difficult, complex, and engrossing tale.  Let me focus on the plot structure, the worldbuilding, and the major theme of living within unjust social structures….

Building a Volatile World The worldbuilding is amazing.  The Stillness (the sarcastically-named continent where it all takes place) is on a world of intense geological activity, which every few hundred years creates a "Fifth Season" that wipes out a lot of the life on the planet.  Worldbuilding aficionados will love the historical appendix that tells the history of each Fifth Season going back several thousand years.  There's also a glossary for more general terms, which is helpful for forgetful readers like me (although most of the terms can be understood in context as you read the novel).  It's obvious as you're reading that this is the first book of a trilogy, so while I look forward to learning more about the characters, I'm most interested to learn more about the world.
(11) HUGO CHANGES. Steve Davidson gives "A 3SV Endorsement" at Amazing Stories.
3SV would insert an additional vote between nominations and final voting.  (Nominations > 3SV > Final Vote.) Up to the top 15 nominees in each category are presented to the voters, who in effect have an opportunity to preemptively vote No Award for each of the 15 nominees.  Based on the criteria of the proposal (here), nominees that receive above a certain threshold of "reject" votes during this round are removed from the list of 15 and the remaining top 5 nominees – based on the original nomination counts – are then placed on the final ballot.

Nominees of questionable origin, undeserving nominees and nominees gamed onto the ballot can be removed at this second stage, which will prevent bad actors from acquiring a "Hugo Award Finalist" designation;  voters will not have to choose to vote for something reprehensible or No Award the entire category;  the effectiveness of slate voting will be seriously reduced, if not eliminated.

The bar for rejection is high – 60% – so it is unlikely that anything but those works generally perceived as having arrived on the ballot through unfair means will be eliminated during the process.
(12) FANTASTIC BEASTS. There's been an inundation of trailers tailored for showing at the San Diego Comic-Con. I'm including several in today's Scroll.
Fantastic Beasts and Where to Find Them – Comic-Con Trailer
(13) JUSTICE LEAGUE. Warner Bros. and DC Entertainment showed footage of Zack Snyder's Justice League in Hall H.
The first look at the #JusticeLeague, straight from #SDCC2016 in Hall H. pic.twitter.com/jyjHZXFdtf

— Justice League Movie (@justiceleaguewb) July 23, 2016
#FlewAllNight #NeverMissHallH #JusticeLeaguehttps://t.co/PH2loOdHOY

— ZackSnyder (@ZackSnyder) July 23, 2016
(14) KONG. SciFiNow has a good intro: "Kong Skull Island trailer crash-lands in modern day".
The first trailer for Kong: Skull Island has come rampaging in…

Letting us know that this is brought to us by same folks who created Godzilla, this should have given us a hint of what to expect from Kong: Skull Island. We'll be honest though: we weren't prepared for this.

Leads Tom Hiddleston and Brie Larson don't get a single line of dialogue. Instead, co-stars Samuel L Jackson and John Goodman get their time to shine in this modern-day reimagining of the King Kong mythos.
(15) MARVEL AND NETFLIX AT SDCC.
San Diego Comic Con Sizzle presented by Marvel and Netflix

A look back at Daredevil and Jessica Jones as we get ready for Luke Cage. All episode of Daredevil and Jessica Jones now streaming on Netflix. Luke Cage premieres on September 30.
Marvel's Iron Fist – SDCC – First Look – Netflix [HD]
Marvel's The Defenders – SDCC Teaser – Netflix [HD]
Marvel's Luke Cage – SDCC – Teaser – Netflix [HD]
(16) MARCHING DOWN THE AISLE. Elaborate cosplay at SDCC.
Xena Warrior Disney Princess. #SDCC pic.twitter.com/996ZJEC1sc

— Liz Smith (@Dammit_Liz) July 21, 2016
(17) SOME DARE CALL IT ACTING. Hello Giggles really likes Margot Robbie.
This brand new "Suicide Squad" trailer ONLY features Harley Quinn and thus, it is awesome

Is it too early to start an Oscar campaign for Margot Robbie in Suicide Squad? This is a very serious question. She shouldn't just with an Oscar for her role in the upcoming DC movie, but maybe like, four. And also probably an Emmy, and a Tony, and let's just give her a Pulitzer and a Nobel Peace Price, why not. All the awards for Robbie, who is about to make WAVES as Harley Quinn.
(18) EVERYBODY NEEDS A CRISIS. Time Magazine explains "Why Aliens Are So Important to Star Trek" – but are they right?
"Gene was very big on not wanting to create conflict among the characters on the show," says Rick Berman, who led the Star Trek franchise after Roddenberry died in 1991 until 2005 and produced several series and feature films. "He felt that humans, especially Starfleet humans, had evolved to a point where he didn't want to see conflict between them."

Yet conflict is at the core of all great storytelling. So if the Enterprise crew couldn't squabble with one another, Star Trek writers had to find friction elsewhere. Aliens came to the rescue. "Often we were telling stories of how humans had progressed, or not, in the far reaches of space," says longtime Star Trek writer D.C. Fontana. "But sometimes the theme of the tale was better told by demonstrating how aliens approached or solved problems, or how they failed."
(19) ROGUE ONE. JJ says, "They've done a great bit of spot-on casting for this character, whose original actress is now 83." Movie Pilot has the story: "Mon Mothma Sure Has Changed Since We Last Saw Her"
While the original Mon Mothma, Caroline Blakiston, is now 83, and thus a little too old to play the Rebel leader in a prequel, it seems that Star Wars: Rogue One has still managed to find a way to go old school with its Mon Mothma-related casting.

Our new Mon Mothma is the same Mon Mothma we (kind of) saw in Episode III: Revenge of the Sith, Genevieve O'Reilly.
[Thanks to Carl Slaughter, JJ, and John King Tarpinian for some of these stories. Title credit goes to File 770 contributing editor of the day Rob Thornton.]